Resort Restaurants | Contemporary Resort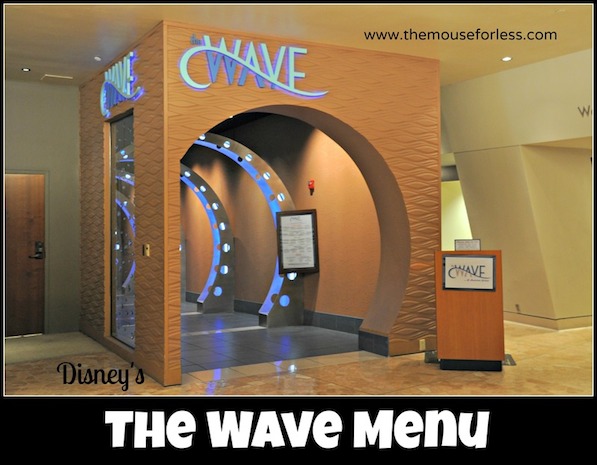 Breakfast Menu   Kids' Breakfast Menu  Lunch Menu   Dinner Menu   Kids Lunch/Dinner Menu
Located in Disney's Contemporary Resort, this new restaurant takes casual dining into the health-conscious 21st century. Guests enter the stylish new space on the first floor of the hotel through a brushed steel arch "tunnel" into The Wave's lounge, one of the largest at Walt Disney World Resort.
Restaurant Info: American, Breakfast, Lunch/Dinner A la carte, $ – $$
Find out how you can save money on dining at Walt Disney World by using one of Disney's Dining Plans.
The Wave Breakfast Menu
Menu Date: 04/2019
Breakfast Buffet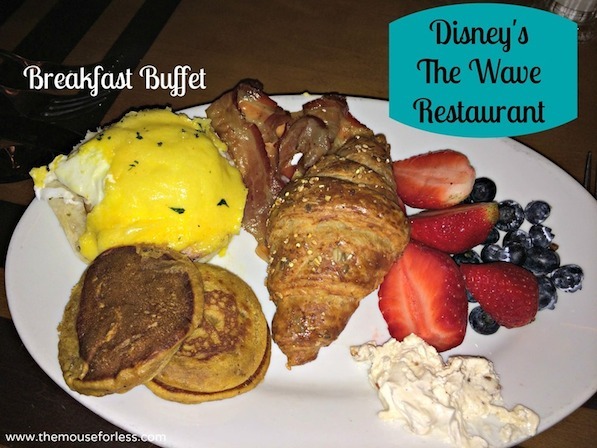 Wave Specialties
Classic Breakfast Favorites
Choice of Juice, Coffee, Tea or Soft Drink
Entrées
American – Two Eggs cooked to order with Breakfast Potatoes and choice of Bacon, Pork Sausage, or Chicken Sausage – $14.00
Egg White Frittata – With Spinach, Mushrooms, Poblano Peppers, Pico de Gallo, and Cheddar – $15.00
Glazed Donut French Toast – Salted Banana-Caramel and Chocolate-Hazelnut Whipped Cream – $15.00
Omelet Your Way – Choice of Ham, Bacon, Mushroom, Onion, Tomato, Cheese, or Spinach served with Breakfast Potatoes – $16.00
Eggs Benedict – Two-poached Eggs atop an English Muffin with Canadian Bacon and Hollandaise – $15.00
Wave Signature Sweet Potato Pancakes – With Pecan-Honey Butter and choice of Bacon, Pork Sausage, or Chicken Sausage – $14.00
Floridian Eggs Benedict – Two-poached Eggs, Crab Cake with Hollandaise atop toasted English Muffins served with Breakfast Potatoes – $17.00
Avocado Toast – Buttered Brioche Toast, Avocado, Applewood-smoked Bacon, Poached Eggs, and Watercress Salad – $10.00
Beverages
Tinkerbell and Friends or Buzz Lightyear Punch – Minute Maid® Light Lemonade Punch served in a souvenir Fairies or Toy Story 3 cup with a glowing Tinker Bell  or Buzz Lightyear Clip-on Light – $8.00
Mega-Berry Smoothie – Raspberry Purée and Nonfat Yogurt blended with Odwalla® Berries GoMega, an excellent source of Omega-3 – $6.00
Odwalla Berries GoMega – $5.00
Odwalla All-Natural Lemonade – $4.50
Alto Mayo Protected Forest Coffee Roasted by Joffrey's Coffee – Disney supports Conservation International's Alto Mayo Protected Forest project in Peru, which promotes sustainable coffee growing and economic growth – $8.00
Freshly Brewed Joffrey's Coffee – Espresso, Cappuccino, Latte, Café Mocha, Freshly Brewed Coffee
Cold Brew Joffrey's Coffee – Full-bodied French Roast or Shakin' Jamaican with hints of Caramel and Vanilla
Twinings of London Assorted Specialty Teas
Minute Maid Juices
2% Milk, 1% Milk, Chocolate, Skim or Soy
Premium Sparkling and Still Water
Morning Cocktails
Bay Lake Bloody Mary – St. Augustine Florida Cane Vodka and Bloody Mary mix garnished with Chorizo, Cheddar, and Olives – $11.00
Mimosa – Gruet Sparkling Wine and Orange Juice – $10.00
Refillable Mimosa – Prosecco and Orange Juice – Limit two (2) refills per Guest – $18.00
Seasonal Spiked Latte – The Wave's blend of Organic Coffee with Spirits and Flavors influenced by the Season – $9.00
Seasonal Sangria – Red Wine and fresh Seasonal Fruit
The Wave Kids' Breakfast Menu
For Kids Ages 9 and Under
Menu Date: 04/2019
Mickey Check Meals
Served with choice of Small Lowfat Milk or Small Dasani Water

Cheese Omelet – Served with goldfish toast, sliced apples and strawberry yogurt – $9.50

Egg White Omelet with Spinach and Tomatoes – with Chicken Sausage, Goldfish Toast, and Sliced Apples – $9.50

Oatmeal and Dried Cranberries – with Chicken Sausage and Sliced Apples – $9.50

Scrambled Egg – with Chicken Sausage, Goldfish Toast, and Sliced Apples – $9.50

Meets Disney Nutrition Guidelines for Complete Meals without substitutions
Kid's Meal
Served with choice of small lowfat milk, small water, or small apple juice
Silver Dollar Sweet Potato Pancakes – With Butter and Maple Syrup and Choice of Bacon or Sausage – $9.00
One Egg – With Bacon, Potatoes, and a Biscuit – $9.50
Mickey Multigrain Waffles – With Butter and Maple Syrup and Choice of Bacon or Sausage – $9.00
The Wave Lunch Menu
Menu Date: 04/2019
Appetizers
Steamed Bao Bun – Seeded Multigrain, Focaccia, and Lavosh with Seasonal Spreads – $10.00
Caesar Salad – with Buttermilk Caesar Dressing. Brown Butter Croutons, and Shaved Pecorino Romano – $8.50
Prince Edward Island Mussels – Chardonnay Broth, Fines Herbes, Garlic Butter, Grilled Focaccia – $13.00
Seasonal Salad – Seasonal Accoutrements with Local Greens in a House-made Vinaigrette – $8.50
Seasonal Soup – with Chef's Accompaniment – $9.50
Rock Shrimp Taco – Beer-battered Rock Shrimp, Chipotle Aïoli, Cabbage Slaw, Salsa Verde – $13.00
Jumbo Lump Crab Cakes – Old Bay Rémoulade with a Tomato, Fennel, and Arugula Salad – $15.00
Entrées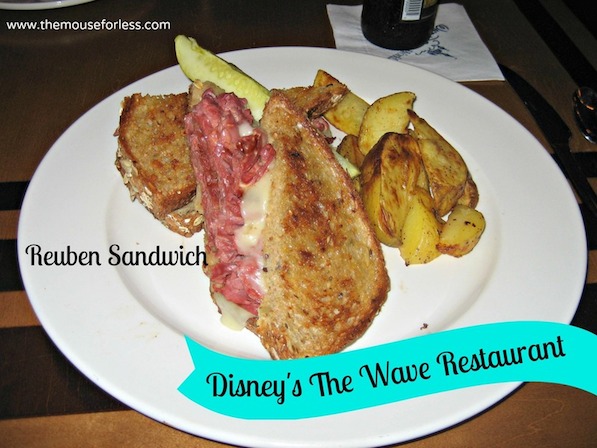 Grilled Chicken Sandwich – Herb-marinated Chicken, Avocado, Applewood-smoked Bacon, Lemon Aïoli, Lettuce, and Tomato on a Brioche Bun – $14.00
Reuben  Sandwich – Swiss Cheese, Sauerkraut, Sunflower Seed Bread – $14.50
Fish of the Day – Quinoa Tabbouleh, Lime Vinaigrette, Pomegranate Molasses, Toy Box Tomatoes – Market Price
Noodle Bowl – Braised Short Ribs, Stir-fried Vegetables, Sesame Soy-marinated Soft-boiled Egg, Udon Noodles, Fragrant Broth – $24.00
Signature Burger – Char-Frilled Grass Fed Florida Beef, Applewood-smoked Bacon, Cheddar, and Vidalia Onion Glaze – $19.00
Pappardelle Pasta – Pappardelle Pasta, Buttered Pea Puree, Spring Vegetables, Arugula, Parmesan, Truffle, Soft-poached Egg – $20.00
Soup, Salad, Sandwich – Cup of Soup, Petite Harvest Salad, Wave Turkey Club – $18.00
Protein Bowl – Quinoa, Beans, Corn, Roasted Sweet Potato, Bibb Lettuce, Avocado Green Goddess Dressing, and Soft-boiled Egg – $14.00
Seared King Salmon (Market Price) – Cauliflower Rice, Roasted Summer Vegetables, Olive-Peppadew Tapenade, Lemon Beurre Blanc
French Dip Sandwich – Shaved Roast Beef, Caramelized Onions, Swiss Cheese, Arugula, Lemon Caper Aïoli, Au Jus – $17.00
Desserts
Seasonal Flight – Blueberry-Almond Tart with Blueberry-Buttermilk Ice Cream, Pineapple Cheesecake, Angel Food Cake with Strawberry Mousse – $11.00
Trio of Sorbet – Apple-Moscato Sorbet, CranCherry-Rosé Sorbet, Tropical Sorbet – $11.00
Chocolate Flight – Trio of Petite Chocolate Desserts – $11.00
Crème Brulee – Vanilla Crème Brûlée with fresh Berries, A No Sugar added Dessert – $7.00
Artisanal Cheese Selection – with Seasonal Accompaniment – $16.00
Beverages
Alto Mayo Protected Forest Coffee Roasted by Joffrey's Coffee – Disney supports Conservation International's Alto Mayo Forest project in Peru, which promotes sustainable coffee growing and economic growth – $8.00
Cold Brew Joffrey's Coffee – Full-bodied French Roast or Shakin' Jamaican with hints of Caramel and Vanilla
Loose Leaf Tea
Espresso
Cappuccino
Café Mocha
Coffee
Twinings of London Assorted Specialty Teas
Premium Sparkling and Still Water
Glowing Character Punch – Minute Maid Light Lemonade Punch served in a souvenir cup with a glowing Disney Character Light – $8.00
Odwalla All-Natural Lemonade – topped with a Wildberry Foam – $4.50
Mega Berry Smoothie – Raspberry Puree and nonfat Yogurt blended with Odwalia berries Go Mega – $6.00
Mango Smoothie – Mango Purée and Nonfat Yogurt blended with Odwalla® Mango Tango – $6.00
Local Draft Beer
Orlando Brewing Blonde Ale – This local favorite is a light-bodied blonde ale with subtle malt sweetness and a crisp, dry finish – $8.50
Bold City Duke's Cold Nose Brown Ale – A mild brown ale named after Duke, the owner's late, beloved Boxer. This local favorite has hints of chocolate and caramel with a smooth nutty finish. A well-balanced, flavorful brown ale that's perfect for any time of year – $8.50
Florida Beer Co. Key West Sunset Ale – Mild fruity quality, with some candied orange peel and a hint of candied ginger, along with a bit of apple skin. Sunset Ale sort of fills the role of a golden ale, but with some caramel and a bit more of a hop presence that leans herbal/spicy and dries the beer completely by the finish as it lingers with a bit of a hoppy bite – $8.50
Florida Road Trip – Three Samplings, 5-oz each – $8.50
Specialty Cocktails
Magical Star Cocktail – X-Fusion Organic Mango and Passion Fruit Liqueur, Parrot Bay Coconut Rum, Pineapple Juice, and a souvenir Multicolored Glow Cube – $12.75
Forever Young – Tito's Handmade Vodka, Cedilla Açaí Liqueur, Muddled Blueberries, Agave Nectar, and fresh Lemon Juice – $11.50
Seasonal Sangria – Red Wine and fresh Seasonal Fruit
Azul Clasico Margarita – Patrón Silver Tequila, Blue Curaçao, Orange Juice, Agave Nectar, and fresh Lime Juice – $11.75
Seven Seas Lagoon Shared Cocktail – Skyy Vodka, Parrot Bay Coconut Rum, Blue Curaçao, Lime, Pineapple, Fruit Boba, and Gummy Fish – $22.00
Godiva Chocolate Martini – Godiva Chocolate Liqueur, Stoli Vanil Vodka, White Crème de Cacao, and Frangelico – $12.50
Cold Brew XO – Patrón XO Cafe Coffee Liqueur, Heavy Cream, and Joffrey's Cold Brew Coffee – $11.00
The Wave Dinner Menu
Menu Date: 06/2018
Appetizers
Artisanal Cheese Selection – with Seasonal Accompaniment – $16.00
Bacon and Eggs – Maple-lacquered Pork Belly with Perfect Egg and Tillamook Smoked Cheddar Grits – $14.00
Lump Crab Cakes – Old Bay Rémoulade with a Tomato, Fennel, and Arugula Salad – $15.00
Caesar Salad – with Caesar Dressing. Brown Butter Croutons, and Shaved Pecorino Romano – $8.50
Prince Edward Island Mussels – Chardonnay Broth, Fines Herbes, Garlic Butter, Grilled Focaccia – $13.00
Seasonal Salad – Seasonal Accoutrements with Local Greens in a House-made Vinaigrette – $8.50
Seasonal Soup – with Chef's Accompaniment – $9.50
Entrées
Grilled Beef Tenderloin – Potato Gratin, Jumbo Asparagus, Red Wine Reduction – $34.00
Spice Rubbed Chicken – Toasted Farro, Dried Fruits, Winter Greens, Caramelized Onions, Chicken Jus – $23.00
Braised Short Rib – Goat Cheese Polenta, Artichoke and Arugula Salad, Charred Onion Vinaigrette – $28.00
Pork Tenderloin – Seared Pork Tenderloin, crispy New Potatoes, Broccolini, Blueberry Barbecue, Pickled Local Blueberries – $25.00
Sustainable Fish of the Day – Carolina Gold Rice Perlou with Port Canaveral Rock Shrimp, Crab Beurre Blanc – Market Price
Cioppino – Sustainable Fish, Scallop, Shrimp, Mussels, Spiced Tomato-Clam Broth – Market Price
Noodle Bowl– Braised Short Ribs, Stir-fried Vegetables, Sesame Soy-marinated Soft-boiled Egg, Udon Noodles, Fragrant Broth – $24.00
Seared Potato Gnocchi – Forest Mushrooms, Sweet Potatoes, Rainbow Swiss Chard, Brown Butter-Parmesan-Sage Cream – $22.00
Desserts
Seasonal Flight – Blueberry-Almond Tart with Blueberry-Buttermilk Ice Cream, Pineapple Cheesecake, Angel Food Cake with Strawberry Mousse – $11.00
Trio of Sorbet – Apple-Moscato Sorbet, CranCherry-Rosé Sorbet, Tropical Sorbet – $11.00
Chocolate Flight – Trio of Petite Chocolate Desserts – $11.00
Crème Brulee – Vanilla Crème Brûlée with fresh Berries, A No Sugar added Dessert – $7.00
Artisanal Cheese Selection – with Seasonal Accompaniment – $16.00
Beverages
Alto Mayo Protected Forest Coffee Roasted by Joffrey's Coffee – Disney supports Conservation International's Alto Mayo Forest project in Peru, which promotes sustainable coffee growing and economic growth – $8.00
Cold Brew Joffrey's Coffee – Full-bodied French Roast or Shakin' Jamaican with hints of Caramel and Vanilla
Loose Leaf Tea
Espresso
Cappuccino
Café Mocha
Coffee
Twinings of London Assorted Specialty Teas
Premium Sparkling and Still Water
Glowing Character Punch – Minute Maid Light Lemonade Punch served in a souvenir cup with a glowing Disney Character Light – $8.00
Odwalla All-Natural Lemonade – topped with a Wildberry Foam – $4.50
Mega Berry Smoothie – Raspberry Puree and nonfat Yogurt blended with Odwalia berries Go Mega – $6.00
Mango Smoothie – Mango Purée and Nonfat Yogurt blended with Odwalla® Mango Tango – $6.00
Local Draft Beer
Orlando Brewing Blonde Ale – This local favorite is a light-bodied blonde ale with subtle malt sweetness and a crisp, dry finish – $8.50
Bold City Duke's Cold Nose Brown Ale – A mild brown ale named after Duke, the owner's late, beloved Boxer. This local favorite has hints of chocolate and caramel with a smooth nutty finish. A well-balanced, flavorful brown ale that's perfect for any time of year – $8.50
Florida Beer Co. Key West Sunset Ale – Mild fruity quality, with some candied orange peel and a hint of candied ginger, along with a bit of apple skin. Sunset Ale sort of fills the role of a golden ale, but with some caramel and a bit more of a hop presence that leans herbal/spicy and dries the beer completely by the finish as it lingers with a bit of a hoppy bite – $8.50
Florida Road Trip – Three Samplings, 5-oz each – $8.50
Specialty Cocktails
Magical Star Cocktail – X-Fusion Organic Mango and Passion Fruit Liqueur, Parrot Bay Coconut Rum, Pineapple Juice, and a souvenir Multicolored Glow Cube – $12.75
Forever Young – Tito's Handmade Vodka, Cedilla Açaí Liqueur, Muddled Blueberries, Agave Nectar, and fresh Lemon Juice – $11.50
Seasonal Sangria – Red Wine and fresh Seasonal Fruit
Azul Clasico Margarita – Patrón Silver Tequila, Blue Curaçao, Orange Juice, Agave Nectar, and fresh Lime Juice – $11.75
Seven Seas Lagoon Shared Cocktail – Skyy Vodka, Parrot Bay Coconut Rum, Blue Curaçao, Lime, Pineapple, Fruit Boba, and Gummy Fish – $22.00
Godiva Chocolate Martini – Godiva Chocolate Liqueur, Stoli Vanil Vodka, White Crème de Cacao, and Frangelico – $12.50
Cold Brew XO – Patrón XO Cafe Coffee Liqueur, Heavy Cream, and Joffrey's Cold Brew Coffee – $11.00
The Wave Kids' Lunch/Dinner Menu
For Kids Ages 9 and Under
Menu Date: 04/2019
Appetizers
Garden Salad – $3.00
Celery and Carrot Sticks – $3.00
Sliced Apples – $3.00
Mickey Check Meals
Served with choice of Small Lowfat Milk or Small Dasani Water

Grilled Fish of the Day – Quinoa Tabbouleh, Lime Vinaigrette, Pomegranate Molasses, Toy Box Tomatoes, and Sliced Apples – $12.00

Grilled Chicken Breast – Zucchini, Squash, Grape Tomatoes, Pearl Pasta, and Sliced Apples – $11.00

Penne Pasta – Whole-Grain Penne Pasta, Marinara Sauce, Mozzarella Cheese, Green Beans, and Sliced Apples – $11.00

Meets Disney Nutrition Guidelines for Complete Meals without substitutions
The Wave Kids' Choice
Choice of one (1) Entrée, one (1) Beverage and one (1) Dessert
Beverages:
Small Lowfat Milk
Small Dasni Water
Small Minute Maid Apple Juice
Entrées:
Cheeseburger – $11.00
Grilled Cheese – on Rainbow Bread – $9.00
Grilled Beef Kabob – $13.00
Desserts
Grapes
Create-Your-Own Sundae
Yogurt Parfait
Sliced Apples
** The Wave Menus and Prices are Subject to Change Without Notice **