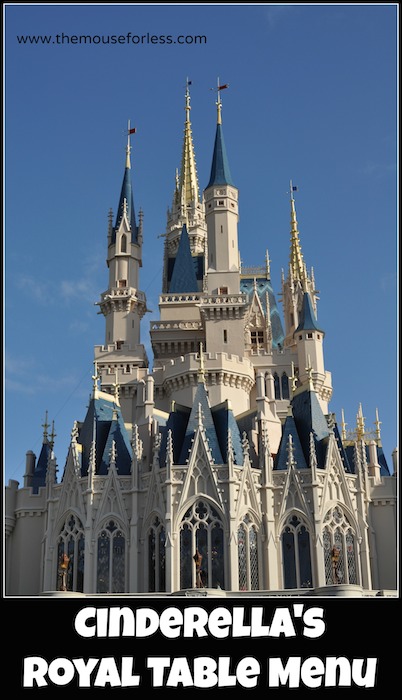 Make your once-upon-a-time dreams come true and dine in the one and only Cinderella Castle. Cinderella invites you into the grand private dining hall of her castle for a storybook meal at Cinderella's Royal Table.
Cinderella's Royal Table can be found in Disney's Magic Kingdom theme park.  Find more Walt Disney World dining locations on our Walt Disney World Resort menus page.
Restaurant Info: American, Breakfast/Lunch/Dinner, $$$ – $35.00 to $59.99 per adult) / $$$$ – over $60 per adult)
Find out how you can save money on dining at Walt Disney World by using one of Disney's Dining Plans.
Booking Information Signature Dining Package
Lunch & Dinner Menu Kids' Menu Alcohol Menu

Planning a Walt Disney World Vacation?
For a Free no-obligation quote, contact our sponsor
The Magic For Less Travel
. The Magic For Less Travel is an Authorized Disney Vacation Planner and has been helping guests plan magical vacations since 2002. Receive the best prices and free travel planning services. Their fee-free services will help you save time, money, and stress while planning a vacation designed around you and your needs!
Booking Information
Due to limited seating, Cinderella's Royal Table sells out quickly. Reservations can be made precisely 60 days in advance.
Before you ascend to the Banquet Hall, you'll have the opportunity for a meet and greet with Cinderella and have a photo taken with Cinderella and your group in the Grand Entry Hall.
Note: Dining Plans are currently unavailable at Cinderella's Royal Table.
Tiaras and glittering gowns are optional, although young guests are encouraged to dress up for the occasion.
Signature Celebration Package at Cinderella's Royal Table
The Experience
Your evening begins with a sumptuous dinner, where you'll be personally welcomed by Cinderella and Prince Charming. Attendees will receive keepsake menus as well as a complimentary glass of sparkling wine or specialty beverage. You'll then enjoy your choice from the Cinderella's Royal Table Dinner Menu.
With a beautiful box of Cinderella-inspired confections to take along, next you'll head to the West Plaza Garden priority viewing area to watch Happily Ever After, a grand fireworks extravaganza sure to warm hearts as favorite Disney songs help bring some of your best-loved tales to life.
After the show, send taste buds soaring at the After Fireworks Dessert Party, where you'll sample some pretty delicious dishes, including Cinderella-themed desserts, chocolate-dipped strawberries, hand-scooped ice cream, cookies, cupcakes and more—it's the pièce de résistance to an incredible Disney parks day!
Signature Celebration Package Details
Note: Signature Celebration Package currently unavailable.
$199 per adult—plus tax and gratuities
$169 per child (ages 3 and over)—plus tax and gratuities
Separate theme park admission is required and not included in the package price
Alcohol is only served to Guests age 21 and older with a valid ID
Cancellations received within 48 hours of the event will be charged full price
Space is limited. Reservations are highly recommended and can be booked online or by calling (407) WDW-DINE or (407) 939-3463 between 8:00 AM and 9:00 PM daily.
Use the Check Availability tool to find a table and book online.
Reservations can also be made the day of—on a limited basis and subject to availability—at Cinderella's Royal Table.
Check-in at Cinderella's Royal Table no later than 15 minutes before your designated reservation—the dining portion of the package will take approximately 90 minutes
Wristbands for Happily Ever After will be distributed at the restaurant.
Arrive at the West Plaza Garden to view Happily Ever After no later than 15 minutes before showtime.
After the show, Guests will be guided to the Fireworks Dessert Party
All menu items and event experiences are subject to change or cancellation without notice.
Please note that fireworks are not guaranteed and that your dining experience will take place even if the fireworks show is canceled.
Lunch & Dinner Menu at Cinderella's Royal Table
Menu Date: 10/2020
Lunch is served daily from 11:30 a.m. to 2:55 p.m.
Dinner is served daily from 3:00 p.m. to 7:00 p.m.
Adult Price: $62.00
Child Price (ages 3 – 9): $37.00
Prices vary by season and include tax and gratuity.
Two Table Service credits are required per person at Cinderella's Royal Table for those on the Disney Dining Plan.
Allergy-Friendly menus available upon request
Characters (princes vary at each meal): Cinderella, Ariel, Princess Aurora, Belle, Jasmine, and Snow White
Appetizers of the Court (choose one)
Soup of the Dayx
Charcuterie – A Chef's selection of Cured Meats, Castle Pickles, and Accompaniments
Castle Salad – Hearty Mixed Greens, Toasted Pumpkin Seeds, Riesling-marinated Golden Raisins, Pink Lady Apples, and Maple-Balsamic Vinaigrette
Entrees Royale (Choice of One)
Chickpea Panisse – Crispy Chickpeas Panisse, Tomato Jam, Roasted Carrots, Chermoula-spiced Garbanzos, and Chive Powder
Roasted All-Natural Chicken Breast – Pan-roasted Chicken and Fingerling Potatoes with Haricot Verts and Spinach in a Leek-Mustard Cream Sauce
Tenderloin of Beef – Grilled Beef Tenderloin, Celery Root Mash, Seasonal Vegetables, and Sauce Bordelaise
Chef's Fish of the Day – On Cinderella's request, the Royal Chef has prepared a delectable dish to showcase the Kingdom's Freshest Fish
Finales
The Clock Strikes Twelves – Dark Chocolate Mousse with Dark Chocolate Panache served with a Raspberry Coulis
Jaq & Gus  – Whipped Cheesecake with Seasonal Flavors and Garnishes
Coffee Pots de Creme – Coffee-infused Coconut Custard, Passion Fruit Gelee, and Crumbled Chocolate Espresso Beans
Kids' Menu
Menu Date: 10/2020
Kids' menu items for children ages 9 and younger.
Kids' Appetizers
Bite-sized Cheddar Cheese and Grapes
Garden Salad – with Fat-free Ranch Dressing
Kids' Entrées (Choose 1)
Seared Fish of the Day – Served with choice of two (2) Selections and choice of Small Lowfat Milk, Small Dasani® Water, or Small Minute Maid® Apple Juice
Chicken Nuggets – Served with choice of two (2) Selections and choice of Small Lowfat Milk, Small Dasani® Water, or Small Minute Maid® Apple Juice
Beef Tenderloin – Served with choice of two (2) Selections and choice of Small Lowfat Milk, Small Dasani® Water, or Small Minute Maid® Apple Juice
Macaroni and Cheese – Served with choice of two (2) Selections and choice of Small Lowfat Milk, Small Dasani® Water, or Small Minute Maid® Apple Juice
Kids' Create-Your-Own Selections (Choose 2)
Seasonal Vegetables
Kids' Desserts (Choose 1)
Build-Your-Own-Cupcake – Vanilla Cupcake with Cinderella's Blue Icing and decorations to garnish your Royal Dessert
Seasonal Sorbet
Yogurt Parfait
Beverages of the Court
Assorted Fountain Drinks
Freshly Brewed Joffrey's Coffee
Twinings of London Hot Tea 
Iced Tea
Hot Cocoa
Minute Maid Apple Juice
Minute Maid Orange Juice
Minute Maid Light Lemonade
1% Milk
Chocolate Milk
Alcoholic Beverages
Menu Date: 10/2020
Specialty Wine Cocktails
Mimosa with Paul Cheneau Lady of Spain Cava and Orange Juice – $12.00
Canella Bellini Sparkling Peach Cocktail – $11.00
Opici Family Selection Sangria Red or White – $11.00
Champagne & Sparkling Wine
Royal Sparkling Flight – Paul Cheneau Lady of Spain Cava, Banfi Rosa Regale Sparkling Red, and Enchantée Champagne Brut – $18.00
Martinelli's Sparkling Cider (Non-Alcoholic) – $4.29
Paul Cheneau 'Lady of Spain' Brut Cava, Spain – Bottle $49.00 | Glass $12.00
Enchantée Champagne Brut, Champagne – Bottle $79.00 | Glass $20.00
Banfi Rosa Regale Sparkling Red, Piedmont – Bottle $59.00 | Glass $15.00
Cuvée Dom Pérignon Brut, Champagne – Bottle $350.00
White & Rosé Wine
Castle Chardonnay Flight – MacMurray Estate Vineyards Chardonnay, Sonoma-Cutrer Chardonnay, and Silverado Vineyards Chardonnay – $14.00
Whispering Angel Rosé, Provence – Bottle – $49.00 | Glass $12.00
Saracco Moscato d'Asti, Piedmont – Bottle $69.00 | Glass $17.00
King Estate Pinot Gris, Willamette Valley – Bottle $53.00 | Glass $13.00
Domaine Zind-Humbrecht Gewürztraminer, Alsace – Bottle $49.00 | Glass $12.00
Sonoma-Cutrer Chardonnay, Russian River Valley – Bottle $55.00 | Glass $14.00
Drouhin Chablis, Burgundy – Bottle $53.00 | Glass $13.00
Silverado Vineyards Chardonnay, Carneros – Bottle $65.00 | Glass $16.00
Kurt Russell's Gogi Wines Goldie Chardonnay, Sta. Rita Hills – Bottle $89.00
Red Wine
Belle of the Ball Flight – Belle Glos Dairyman Vineyard Pinot Noir, Belle Glos Clark and Telephone Vineyard Pinot Noir, Belle Glos Las Alturas Vineyard Pinot Noir – $18.00
MacMurray Estate Vineyards Pinot Noir, Russian River Valley – Bottle $59.00 | Glass $15.00
Meiomi Pinot Noir, Coastal California – Bottle $65.00 | Glass $16.00
Hartford Court Pinot Noir, Russian River Valley – Bottle $69.00 | Glass $17.00
Belle Glos Las Alturas Vineyard Pinot Noir, Santa Lucia Highlands – Bottle $69.00 | Glass $17.00
Belle Glos Clark & Telephone Vineyard Pinot Noir, Santa Maria Valley – Bottle $69.00 | Glass $17.00
Markham Merlot, Napa Valley – Bottle $59.00 | Glass $15.00
Beringer Cabernet Sauvignon, Knights Valley – Bottle $65.00 | Glass $16.00
Simi Cabernet Sauvignon, Alexander Valley – Bottle $59.00, |Glass $16.00
Sequoia Grove Cabernet Sauvignon, Napa Valley – Bottle $99.00 | Glass $21.00
Frank Family Vineyards Cabernet Sauvignon, Napa Valley – Bottle $99.00
Stag's Leap Wine Cellars 'Artemis' Cabernet Sauvignon, Napa Valley – Bottle $110.00
Beer
Kronenbourg 1664 Blanc, France – $9.25
Kronenbourg 1664 Pale Ale Lager, France – $9.25
Trois Pistoles Dark Ale, Canada – $10.75
** Menu and Prices are Subject to Change Without Notice **