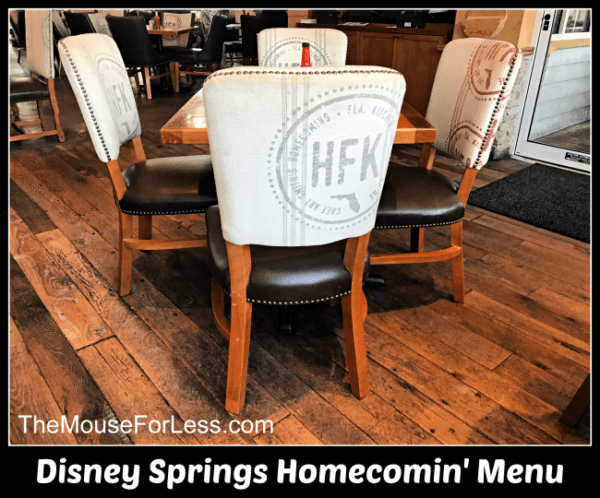 Art Smith's Homecomin': Florida Kitchen and Southern Shine showcase the cuisine of Chef Art Smith with a design inspired by turn-of-the-century Florida architecture of the late 1800s. The farm-to-fork cuisine at Art Smith's Homecomin' features the fresh bounty of Florida.
Check out the Rise 'n Shine Brunch menu here
Art Smith's Homecomin' is located in Disney Springs.  Find more Walt Disney World dining locations on our Walt Disney World menus page.
Restaurant Info: Farm-to-Fork Cuisine, Casual Dining, American Cuisine, $$ – $15.00-$34.99 per adult
Find out how you can save money on dining at Walt Disney World by using one of Disney's Dining Plans.
Brunch Menu Lunch & Dinner Menu

Planning a Walt Disney World Vacation?
For a Free no-obligation quote, contact our sponsor
The Magic For Less Travel
. The Magic For Less Travel is an Authorized Disney Vacation Planner and has been helping guests plan magical vacations since 2002. Receive the best prices and free travel planning services. Their fee-free services will help you save time, money, and stress while planning a vacation designed around you and your needs!
Chef Art Smith's Homecomin' Brunch Menu
Menu Date: 02/2021
Brunch is available Saturdays and Sundays from 9:30am to 1:00pm. 
Starters
Biscuits – Cheddar Cheese Drop Biscuits served with choice of Blackberry Fig Jam or Sawmill Gravy – $8.00
Bee Haven Bay Fried Green Tomatoes – Shaved Ham, Remoulade sauce, and dressed local Greens – $14.00
House Made Doughnuts – Mini iced Doughnuts piled with Pecans, bacon, and drizzled with house-made Caramel. Or dusted with Sugar and served with spiced Cane Syrup and seasonal Fruit – $8.00
Church Lady Deviled Eggs – HFK styled whole Boiled Eggs – $12.00
Shining Features
The Hamilton – Pimento Cheesy Grits topped with braised Kale and Collards, 2 over-easy Eggs, griddled Honey Ham, 2 strips of pecan smoked Bacon, spicy Hollandaise and crispy-fried Shallots – $20.00
Grand-Daddy Plate – 3 Eggs any style, pecan-smoked Bacon, griddled Country Ham, Cheddar Cheese Drop Biscuits and choice of 2 sides – $22.00
Hush Puppy Benedict –  Chef Art's spin of the classic, with house-made Hush Puppy cakes topped Fried Chicken Tenders, poached Eggs, griddled Ham, and Pimento Hollandaise. Choice of 1 side item – $21.00
French Toast – Thick slices of griddled Bread dusted with Powdered Sugar and served with spiced Can Syrup and seasonal Fruit. Choice of side item – $17.00
Short Rib Hash – 2 Sunny-side up Eggs over short rib hash, with grilled Corn Succotash, Potatoes, Onions, Red Bell and Fresno Peppers. Served with a Cheddar cheese Drop Biscuit and choice of 1 side item – $22.00
Hallelujah Biscuit – Open-faced Biscuits topped with Chef Art's Famous Fried Chicken, 2 over-easy eggs, Pimento Cheese, Pecan-smoked Bacon, and smothered in Sawmill Gravy. Choice of side item – $22.00
Fried Egg & Avocado Toast – Grilled Cuban Bread topped with fresh Avocado, Fried Egg, Arugula, Radish, and Pickled Red Onion drizzled with Olive Oil and Lemon. Served with a choice of side item – $20.00
Fried Chicken & Doughnuts – 2 pieces of Chef Art's Famous Fried Chicken served with house-made Sugar Doughnuts. Choice of side item – $28.00
Sides
Bradley's Grits – $6.00
Pecan-smoked Bacon – $6.00
Potato Gratin Mash – $5.00
Griddled Country Ham – $6.00
Seasonal Fruit – $5.00
Kids' Brunch
French Toast – 2 Slices of French Toast with a choice of ide item – $9.00
Junior Farmer Plate – 2 Eggs any style with a choice of side item – $8.00
Brunch Cocktails
Assorted specialty cocktails available – $10.00 – $15.00
Chef Art Smith's Homecomin' Lunch & Dinner Menu
Menu Date: 02/2021
Starters
Key West Shrimp Cocktail – Seasoned shrimp tossed with Avacado, Mango, Cucumber, and our house-made cocktail sauce served with buttermilk crackers – $17.00
Church Lady Deviled Eggs – Homecoming style whole deviled eggs – $12.00
Bunch of Puppies – House-made hush puppies served with pimento cheese and red jalapeno jelly – $10.00
Thigh High Chicken Biscuits – Three biscuits topped with Chef Art's famous fried chicken thighs and bread and butter pickles. Drizzled with hot honey – $16.00
Bee Haven Bay Fried Green Tomatoes – Shaved ham, rémoulade sauce and dressed local greens – $14.00
Okra Fries – Hand-cut Okra, lightly breaded and crispy fried served with icebox dressing – $12.00
Buns and Such
Fried Chicken Sandwich – Buttermilk-brined for 24 hours and double battered, dressed in hot sauce, aioli, iceberg lettuce, tomato and bread, and butter pickles – $18.00
The Art Burger – Two beef patties topped with American cheese, Art's special sauce, tomato-bacon jam, lettuce, tomato, onion and pickles on a brioche bun – $18.00
Cuban Sandwich – House Smoked pork, shaved country ham, house-made pickles, yellow mustard, and Swiss Cheese, pressed between two slices Cuban bread served with house-made barbecue chips drizzled with Icebox Dressing  – $18.00
The Country Club – Grilled chicken, topped with white cheddar, pecan-smoked bacon, real jalapeno jelly, lettuce and tomato on a brioche bun served with house-made barbecue chips and drizzled with icebox dressing – $19.00
HFK Barbeque Burger – Sweet and spicy Barbeque chopped Pork piled high and topped with a Fried Egg and our Southern Slaw – $18.00
Salads and Such
Fried Chicken Salad – Crispy Fried Chicken over Mixed greens, Pecan-smoked Bacon, egg, heirloom cherry tomatoes and cucumber tossed with icebox dressing, cheddar biscuit croutons, and fresh herbs – $18.00
1981 Salad – Chopped Iceberg Lettuce and Spring Mix Lettuce, Homey Ham, Roasted Artichokes, Tomato, Swiss Cheese, and Spanish Olives – $18.00
Harvest Salad – Mixed greens tossed with fire-roasted red peppers and corn, shredded white cheddar cheese, heirloom cherry tomatoes, and house-made balsamic dressing. Topped with grilled chicken, avocado, and hushpuppies – $18.00
Addie Mae's Chicken and Dumpling Soup – Simple, delicious, and filled with house-made dumplings, chicken, and veggies. Just like Momma used to make – $12.00
Main Plates
Art's Famous Fried Chicken – Buttermilk-brined for 24 hours then perfectly fried and served with creamy mashed potatoes, a cheddar drop biscuit, and love – $29.00
Chopped Pork Barbecue Plate – Dressed with HFK sweet and spicy barbecue sauce served with Momma's mac and cheese Southern Slaw, and a cheddar drop biscuit – $26.00
Fried Chicken and Doughnuts – Two pieces of Chef Art Smith's famous fried chicken served with house-made sugar doughnuts and creamy mashed potatoes – $28.00
Fried Catfish – Accompanied by hushpuppies, fries, and a side of remoulade – $23.00
Kitchen Plate – A sampling of three different house-made sides. Yum, yum, and yummy! – $19.00
Country-Fried Steak – Perfectly seasoned, battered then fried, and topped with Sawmill Gravy served with creamy Mashed Potatoes and French Green Beans sautéed with Caramelized Onions – $26.00
Braised Short Ribs – This fancy "pot roast" is made by slow-cooking boneless beef short ribs until they are fork tender. Served over creamy mashed potatoes with demi-glaze sauce and French Green Beans  – $32.00
Char-grilled Chicken – Two grilled Chicken Breasts served with a healthy portion of sliced Avocado and a side salad with a 1981 dressing – $26.00
Sides
Cheddar Cheese Drop Biscuits – $7.00
Creamy Mashed Potatoes – $7.00
French Green Beans – $7.00
Southern Slaw – $6.00
Momma's Mac and Cheese – $8.00
Roasted Sweet Potatoes -$7.00
Kid's Plates
Fish Sticks – served with a veggie and a starch – $10.00
Fried Chicken Tenders – (grilled upon request served) with a veggie and a starch – $10.00
Cheeseburger – served with a veggie and a starch – $10.00
Fried Chicken Sandwich – served with a veggie and a starch – $10.00
Kid's Veggie or Starch
Peas and Carrots or Salad
Momma's Mac & Cheese or Creamy Mashed Potatoes
Kid's Dessert
Doughnuts and Ice Cream – 6.00
Sweetness
Hummingbird Cake – The famous pineapple-banana cake with cream cheese frosting from Chef Art's bestselling cookbook "Back to the Table" served with a seasonal fruit gastrique and a scoop of vanilla bean ice cream – $12.00
Shine Cake – Chef Art's signature dessert. An adult only butter cake soaked with moonshine syrup served with a seasonal fruit gastrique and a scoop of vanilla bean ice cream – $11.00
Hamilton County Chocolate Pecan Pie – A 100-year-old traditional Smith Family Farm recipe served with a scoop of vanilla bean ice cream – $11.00
Doughnuts – Freshly made mini sugar doughnuts – $9.00
Chef Art's Alcoholic Beverages
Draft Beer
Bud Light – 16 ounces – $7.00
Yuengling – 16 ounces – $7.50
Blue Moon – 16 ounces – $8.50
Bold City Duke's Cold Nose Brown Ale, Jacksonville, FL – $9.00
Florida Avenue IPA, Tampa, FL – $10.00
Hidden Springs Orange Crush American Wheat, Tampa, FL – $10.00
Cans & Bottles
Miller Lite – $5.50
Michelob Ultra – $5.50
Corona – $6.50
Stella Artois – $7.50
Keybilly Island Ale, Lakeland FL – $8.00
Cigar City Florida Cracker – $8.00
Omission Ultimate Light – $8.00
Funky Buddha Hop Gun – $8.00
Angry Orchard Crisp Apple Hard Cider, Walden, NY – $9.00
Orlando Brewing Co. O-Town Brown – $8.00
Rome City IPA, Lakeland, FL – $8.00
O'Douls Non-Alcoholic, St. Louis, MO  –$6.00
Coors Light, Golden, CO – $5.50
Jet Sprays
Margarita – with a splash of fresh-squeezed orange – $12.00
Sweet Tea Shine – Sweet tea, fresh-squeezed lemon, and moonshine – $12.00
Craft Moonshine, Resort Cocktails, and Shine on Tap
Cucumber Cooler – Tito's Handmade Vodka with lime juice, simple syrup, and crisp cucumber slices. Just as refreshing with Hendrick's Gin – $13.00
Moonshine Mash – Watermelon-infused moonshine, fresh watermelon, lime juice, and simple syrup – $13.00
The Local – RumHaven coconut water rum, lime, simple syrup, and fresh pineapple – $13.00
Apple Pie A La Mode – Ole Smokey Apple Pie Moonshine, vanilla vodka, apple juice, cinnamon, house-made simple syrup and a dash of lemon – $13.00
White Peach Sangria – Peach moonshine, La Perlina Moscato and fresh peach puree muddled with orange and mango garnished with a moonshine-soaked peach wedge – $13.00
Muleshine – Tim Smith's Climax Moonshine, peach puree, fresh lime juice and a splash of Q Spectacular Ginger Beer – $13.00
Florida Crush – Tito's Handmade Vodka muddled with orange and strawberries, a splash of fresh squeezed Florida orange juice and agave syrup – $13.00
Royal Sangria – Pavo Real red wine, fresh seasonal fruits, agave, lime juice, and blackberry brandy – $13.00
Fig and Berries – Fresh muddled strawberries with Dobel Diamante Reposado Tequila, fig jam, agave, and lime juice – $13.00
Old Fashioned Elder – Michter's Bourbon St. Germain Elderflower, a dash of bitters, garnished with an orange peel and fancy cherry – $13.00
Red Wines
House Pinot Noir – $9.00 Glass, $36.00 Bottle
Meiomi Pinot Noir – $14.00 Glass, $56.00 Bottle
Sterling Valley Merlot – $12.00 Glass, $48.00 Bottle
House Cabernet – $9.00 Glass, $36.00 Bottle
Hess Allomi Cabernet – $14.00 Glass, $56.00 Bottle
Apothic Red Blend – $10.00 Glass, $40.00 Bottle
La Crema Pinot Noir – $12.00 Glass, $48.00 Bottle
House Merlot – $9.00 Glass, $36.00 Bottle
Frogs Leap Zinfandel – $16.00 Glass, $64.00 Bottle
Kendall-Jackson Cabernet – $12.00 Glass, $48.00 Bottle
Honig Cabernet  – $18.00 Glass, $72.00 Bottle
White Wines
House Chardonnay – $9.00 Glass, $36.00 Bottle
Cuvasion Chardonnay – $16.00 Glass, $64.00 Bottle
Kendall-Jackson Chardonnay – $11.00 Glass, $44.00 Bottle
House Pinot Grigio – $9.00 Glass, $36.00 Bottle
Santa Margherita Pinot Grigio – $15.00 Glass, $60.00 Bottle
Beringer White Zinfandel – $8.00 Glass, $36.00 Bottle
Honig Sauvignon Blanc – $12.00 Glass, $48.00 Bottle
La Perlina Moscato – $10.00 Glass, $40.00 Bottle
Shine on Tap
Moonshine Margarita – Tequila, moonshine with a splash of fresh-squeezed orange and lime (16-oz or 22-oz)
Blue Hooch – Blue Flame moonshine, lemon-infused moonshine, blue curaçao, house-made simple syrup, fresh lemon juice and a splash of Sprite®. Our strongest shine on tap (16-oz or 22-oz)
Sweet Tea Shine – Sweet Tea, fresh-squeezed lemon and moonshine (16-oz or 22-oz)
Rumshine Punch – Strawberry RumShine, blackberry brandy, banana liqueur, pineapple juice and house-made grenadine (16-oz or 22-oz)
** Art Smith's Homecomin' Menu and Prices are Subject to Change Without Notice **