Art Smith's Homecomin': Florida Kitchen and Southern Shine showcase the cuisine of Chef Art Smith with a design inspired by turn-of-the century Florida architecture of the late 1800s. The farm-to-fork cuisine at Homecomin features the fresh bounty of Florida.
Check out the Rise 'n Shine Brunch menu here
Restaurant Info: Farm-to-Fork Cuisine, Casual Dining, American Cuisine, $$ – $15.00-$34.99 per adult
Find out how you can save money on dining at Walt Disney World by using one of Disney's Dining Plans.
Art Smith's Homecomin': Florida Kitchen and Southern Shine Menu
Menu Date: 07/2018
Starters
Jasper Board – Assortment of Pimento cheese, Buttermilk crackers, smoked sausage, shaved ham, bread and butter pickles, and candied pecans – $20.00
Key West Shrimp Cocktail – Seasoned shrimp mixed with mango, avocado, sweet onion, herbs, and our house-made cocktail sauce served with buttermilk crackers – $15.00
Ham and Jam – Three drop biscuits layered with pimento cheese, Tasso ham, shaved country ham and blackberry fig jam – $12.00
Church Lady Deviled Eggs – Homecoming style whole deviled eggs – $12.00
Bunch of Puppies – House-made hush puppies served with pimento cheese and red jalapeno jelly – $10.00
Thigh High Chicken Biscuits – Three biscuits topped with Chef Art's famous fried chicken thighs and bread and butter pickles. Drizzled with hot honey – $15.00
Bee Haven Bay Fried Green Tomatoes – Shaved ham, rémoulade sauce and dressed local greens – $13.00
Buns and Such
Fried Chicken Sandwich – Buttermilk-brined for 24 hours and double battered, dressed with hot sauce, aioli, iceberg lettuce, tomato and bread and butter pickles – $17.00
Big Fish Sandwich – Fresh catch of the day netted locally and prepared back on dry land with the chef's special touch – $20.00
The Art Burger – Two beef patties topped with American cheese, Art's special sauce, tomato-bacon jam, lettuce, tomato, onion and pickles on a brioche bun – $18.00
HFK Barbecue Bun – Sweet and spicy barbecue chopped pork piled high on a brioche bun and topped with southern slaw served with house-made barbecue chips drizzled with icebox dressing – $16.00
The Country Club – Grilled chicken topped with white cheddar, pecan-smoked bacon, real jalapeno jelly, lettuce and tomato on a brioche bun served with house-made barbecue chips and drizzled with icebox dressing – $18.00
Salads and Such
Fried Chicken Salad – Mixed greens, egg, heirloom cherry tomatoes and cucumber tossed with icebox dressing, cheddar biscuit croutons, and fresh herbs – $18.00
Spinach & Kale Chopped Salad – Chopped baby kale and spinach tossed in strawberry-poppy seed vinaigrette and topped with seasonal strawberries, blueberries, shaved red onion, cucumber, crumbled goat cheese, candied pecans, fresh herbs and grilled chicken breast – $18.00
Harvest Salad – Mixed greens tossed with fire-roasted red peppers and corn, shredded white cheddar cheese, heirloom cherry tomatoes and house-made balsamic dressing. Topped with grilled chicken, avocado, and hushpuppies – $18.00
Addie Mae's Chicken and Dumpling Soup – Simple, delicious and filled with house-made dumplings, chicken and veggies. Just like Momma used to make – $10.00
Kitchen Plate – A sampling of three different house-made sides. Yum, yum and yummy – $18.00
Main Plates
Art's Famous Fried Chicken – Buttermilk-brined for 24 hours then perfectly fried and garnished with our house-made hot sauce served with creamy mashed-potatoes, cheddar drop biscuits, and love – $28.00
Chopped Pork Barbecue Plate – Dressed with HFK sweet and spicy barbecue sauce served with Momma's mac and cheese and cheddar drop biscuits – $26.00
Shrimp and Grits – Pan-seared shrimp with Tasso ham gravy and served over creamy Bradley's grits – $26.00
Fried Chicken and Doughnuts – Two pieces of Chef Art Smith's famous fried chicken served with house-made sugar doughnuts and creamy mashed potatoes – $26.00
Fried Catfish – Accompanied by hushpuppies and grits – $22.00
Florida Grouper – Fresh grouper grilled and served KC Greens with iron skillet sweet potatoes – $32.00
Braised Short Ribs – This fancy "pot roast" is made by slow-cooking boneless beef short ribs until they are fork tender. Served over creamy mashed potatoes with grilled corn succotash – $30.00
Capitol Meatloaf – Chef Art's delectable meatloaf, often requested during his service at the Florida Governor's Mansion, served over creamy mashed potatoes with roasted baby carrots, Brussels sprouts and sides of tomato and sausage gravies – $26.00
Sides
Cheddar Cheese Drop Biscuits – $7.00
Creamy Mashed Potatoes – $7.00
Grilled Corn Succotash – $7.00
Basket of Fries – $8.00
Southern Slaw – $5.00
Momma's Mac and Cheese – $8.00
Carrot Soufflé – $7.00
KC greens: Braised Kale and Collards -$6.00
Bradley's Grits – $6.00
Kid's Plates
Fish Sticks – served with a veggie and a starch – $9.00
Fried Chicken Tenders – (grilled upon request served) with a veggie and a starch – $9.00
Cheeseburger – served with a veggie and a starch – $9.00
Fried Chicken Sandwich – served with a veggie and a starch – $9.00
Kid's Veggie or Starch
Peas and Carrots or Salad
Momma's Mac & Cheese or Creamy Mashed Potatoes
Kid's Dessert
Doughnuts and Ice Cream – 6.00
Grab and Go Menu
Fried Chicken Sandwich – Buttermilk marinated and double-battered served with hot sauce aioli – $10.00
Chopped Barbecue Pork Sandwich – Line of Parker House rolls heaped with HFK sweet and spicy barbecue sauce – $10.00
Box of Fries – seasoned and crispy, perfect for sharing – $8.00
Fried Catfish Sandwich – Brioche bun with hot sauce aioli – $10.00
BBQ chips – $7.00
Shine Cake – A slice of chef Art's irresistible moonshine cake – $8.00
Draft Beer
Bud Light – 16 ounces – $7.00
Yuengling – 16 ounces – $7.50
Blue Moon – 16 ounces – $8.50
Funky Buddha Floridian – $10.00
Cigar City Jai Alai – $10.00
Angry Orchard Crisp Apple – 16 ounces – $9.00
Cans & Bottles
Miller Lite – $5.50
Michelob Ultra – $5.50
Corona – $6.50
Stella Artois – $7.50
Islamorada Beer Co. – $8.00
Cigar City Florida Cracker – $8.00
Omission Ultimate Light – $8.00
Funky Buddha Hop Gun – $8.00
Funky Buddha Seasonal – $10.00
Orlando Brewing Co. O-Town Brown – $8.00
Jet Sprays
Margarita – with a splash of fresh-squeezed orange – $12.00
Sweet Tea Shine – Sweet tea, fresh-squeezed lemon and moonshine – $12.00
Craft Moonshine & Resort Cocktails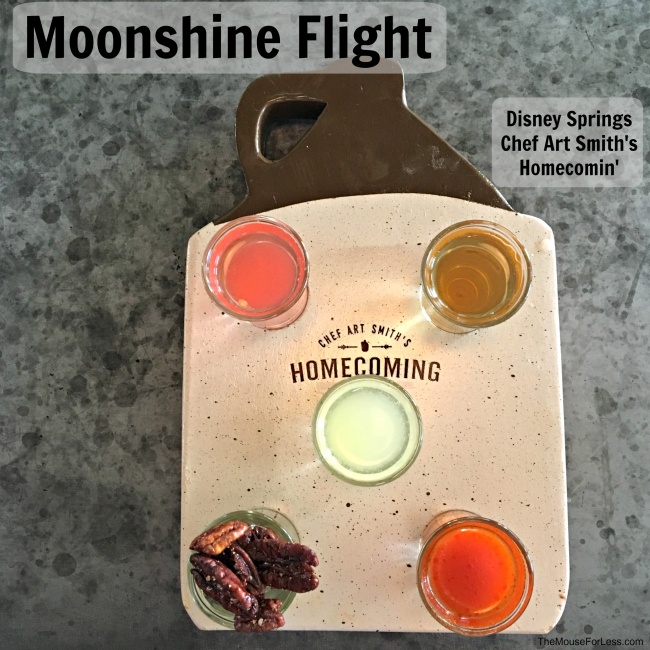 Moonshine Flight – Select any three of our house-made or branded moonshine flavors. Served with a spiced pickle juice chaser and candied pecans – $18.00
Cucumber Cooler – Tito's Handmade Vodka with lime juice, simple syrup, and crisp cucumber slices. Just as refreshing with Hendrick's Gin – $12.00
Memphis Belle – Ole Smokey Mango Habanero Whiskey, muddled strawberries, house-made simple syrup and fresh squeezed lime juice. Sweet meets spicy – $12.00
Moonshine Mash – Watermelon-infused moonshine, fresh watermelon, lime juice and simple syrup – $12.00
The Local – RumHaven coconut water rum, lime, simple syrup and fresh pineapple – $11.00
Apple Pie A La Mode – Ole Smokey Apple Pie Moonshine, vanilla vodka, apple juice, cinnamon, house-made simple syrup and a dash of lemon – $12.00
Muleshine – Tim Smith's Climax Moonshine, peach puree, fresh lime juice and a splash of Q Spectacular Ginger Beer – $13.00
Berry Lavender – Fresh strawberries and raspberries muddled with rosemary lavender vodka, lemon juice, honey syrup, and garnished with rosemary and a lemon twist – $12.00
Florida Crush – Tito's Handmade Vodka muddled with orange and strawberries, a splash of fresh squeezed Florida orange juice and agave syrup – $12.00
Mojito – Flor de Caña Premium Rum, muddled with fresh mint, lime and simple syrup – $11.00
Royal Sangria – Pavo Real red wine, fresh seasonal fruits, agave, lime juice and blackberry brandy – $11.00
Fig and Berries – Fresh muddled strawberries with Dobel Diamante Reposado Tequila, fig jam, agave and lime juice – $12.00
Basil Smash – Woodford Reserve Bourbon, sour mix, simple syrup and smashed basil leaves – $12.00
Blueberry Bliss – Blueberry vodka, fresh blueberry puree, agave syrup and fresh squeezed lime juice – $12.00
Old Fashioned Elder – Michter's Bourbon St. Germain Elderflower, dash of bitters, garnished with an orange peel and fancy cherry – $12.00
Red Wines
House Pinot Noir – $9.00 Glass, $36.00 Bottle
Meiomi Pinot Noir – $14.00 Glass, $56.00 Bottle
Alexander Valley Merlot – $12.00 Glass, $48.00 Bottle
House Cabernet – $9.00 Glass, $36.00 Bottle
Hess Allomi Cabernet – $14.00 Glass, $56.00 Bottle
La Crema Pinot Noir – $12.00 Glass, $48.00 Bottle
House Merlot – $9.00 Glass, $36.00 Bottle
Frogs Leap Zinfandel – $16.00 Glass, $64.00 Bottle
Kendall-Jackson Cabernet – $12.00 Glass, $48.00 Bottle
Honig Cabernet  – $18.00 Glass, $72.00 Bottle
Pavo Real Red Blend – $10.00 Glass, $40.00 Bottle
White Wines
House Chardonnay – $9.00 Glass, $36.00 Bottle
Cuvasion Chardonnay – $16.00 Glass, $64.00 Bottle
Kendall-Jackson Chardonnay – $11.00 Glass, $44.00 Bottle
House Pinot Grigio – $9.00 Glass, $36.00 Bottle
Santa Margherita Pinot Grigio – $15.00 Glass, $60.00 Bottle
Beringer White Zinfandel – $8.00 Glass, $36.00 Bottle
House Sauvignon Blanc – $9.00 Glass, $36.00 Bottle
Honig Sauvignon Blanc – $12.00 Glass, $48.00 Bottle
La Perlina Moscato – $10.00 Glass, $40.00 Bottle
Shine on Tap
Moonshine Margarita – Tequila, moonshine with a splash of fresh-squeezed orange and lime (16-oz or 22-oz)
Sweet Tea Shine – Sweet Tea, fresh-squeezed lemon and moonshine (16-oz or 22-oz)
Blue Hooch – Blue Flame moonshine, lemon-infused moonshine, blue curaçao, house-made simple syrup, fresh lemon juice and a splash of Sprite®. Our strongest shine on tap (16-oz or 22-oz)
Rumshine Punch – Strawberry RumShine, blackberry brandy, banana liqueur, pineapple juice and house-made grenadine (16-oz or 22-oz)
** Homecomin' Menu and Prices are Subject to Change Without Notice **