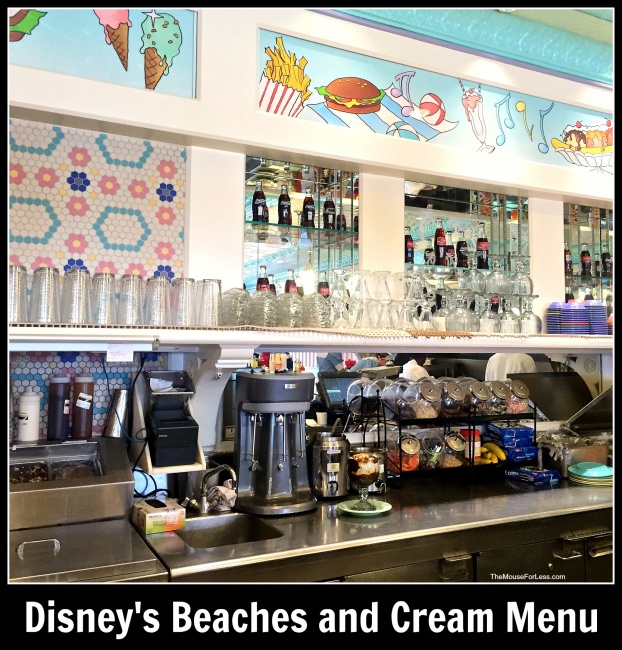 Rock 'n' roll into this grill and soda shop with its signature jukebox. Beaches and Cream is the home of the famous "Kitchen Sink Sundae" that includes every flavor of ice cream in the place AND a kitchen sink (see photo above). You'll also love the beach ball decor at Beaches and Cream!
Beaches and Cream is located in Disney's Beach Club Resort.  Find more Walt Disney World dining locations on our Walt Disney World menus page.
Restaurant Info: American, Lunch/Dinner/Snacks A la carte, $ – $14.99 and under per adult
Find out how you can save money on dining at Walt Disney World by using one of Disney's Dining Plans.

Planning a Walt Disney World Vacation?
For a Free no-obligation quote, contact our sponsor
The Magic For Less Travel
. The Magic For Less Travel is an Authorized Disney Vacation Planner and has been helping guests plan magical vacations since 2002. Receive the best prices and free travel planning services. Their fee-free services will help you save time, money, and stress while planning a vacation designed around you and your needs!
Beaches and Cream Lunch and Dinner Menu
Menu Date: 09/2021
Entrées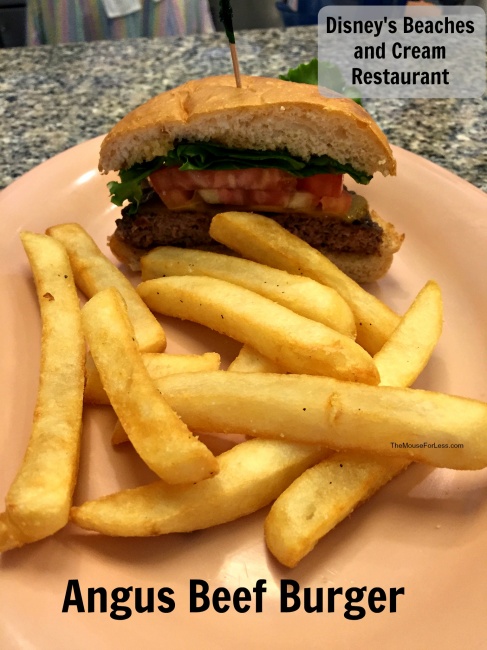 Angus Beef Burger*
with Cheddar, Lettuce, and Tomato on a Freshly Baked Bun – $17.00
French Dip Sandwich
Toasted French Roll served with Thinly-sliced Roast Beef, Swiss, and Au Jus topped with Crispy-fried Onions – $17.00
Plant-based Burger
with Plant-based Mayonnaise and Caramelized Balsamic-Onion Jam on a House-baked Multigrain Bun – $17.00
Cheddar-Bacon-Ranch Chicken Sandwich
with Sautéed Onion, Lettuce, and Tomato on a Multigrain Bun – $16.00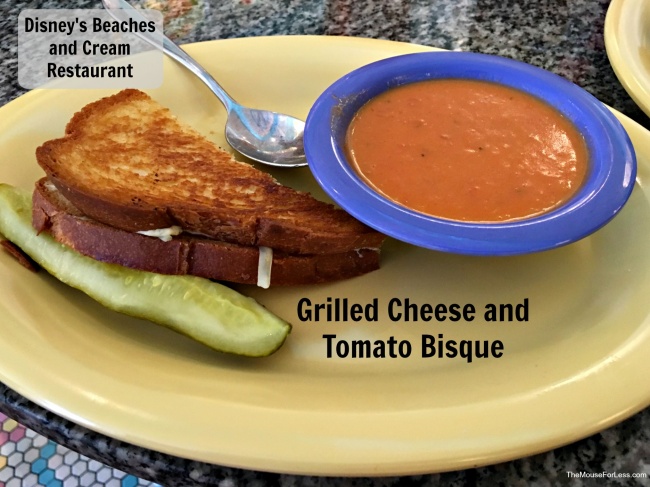 Beaches & Cream Grilled Cheese
with Creamy Tomato Soup. Add Bacon or Ham (5) – $13.00
Reuben Sandwich
Corned Beef, Sauerkraut, Swiss, and Thousand Island Dressing on Marbled Rye Bread – $16.00
Sides
Chili and Cheese Tots
Loaded Plant-based Tots with Chili, Cheese, Sour Cream, and Green Onions – $9.00
Chili and Cheese Tots
Tots with Chili, Cheese, Sour Cream, and Green Onions – $9.00
Cheese and Bacon Tots
Tots with Cheese Sauce, Bacon, Red Onions, and Garlic-Peppercorn Ranch – $9.00
Bowl of Chili
topped with Cheese and Green Onions – $9.00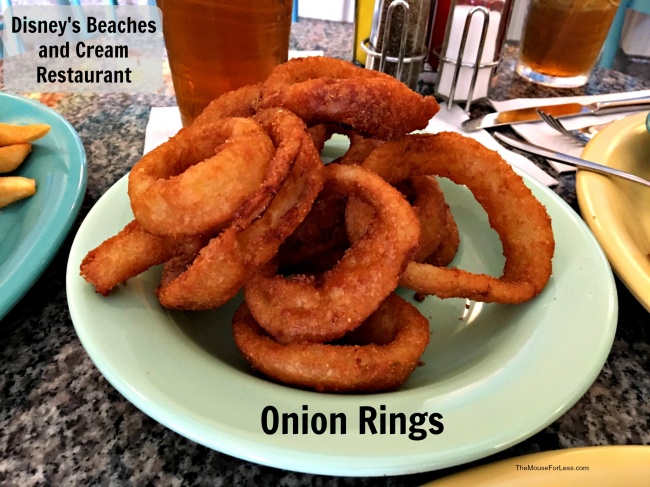 Onion Rings – $7.00
Potato Tots – $6.00
French Fries – $6.00
Sundaes on the Beach
Kitchen Sink (serves four)
Scoops of Vanilla, Chocolate, Strawberry, Cookies 'n Cream, and Mint Chocolate Chip topped with, Hot Fudge, Peanut Butter, SNICKERS® pieces, Fresh-baked Brownie, and smothered in every additional topping we have. Also available Chocolate Lovers or Neapolitan. – $35.00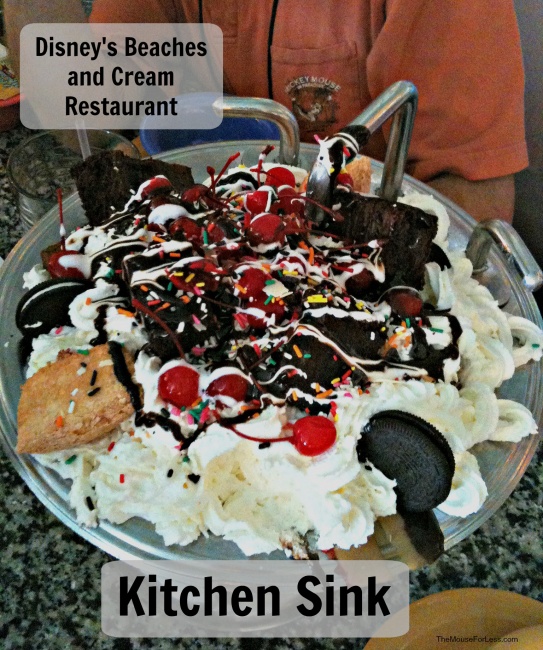 Mickey and Minnie Souvenir Sinks
Vanilla, Chocolate, and Strawberry Ice Cream topped with Pineapple, Strawberry, Hot Fudge, Peanut Butter, Whipped Cream, Oreo Cookies, chewy Brownie, assortment of Sprinkles and Morsels and Cherries – $23.00
Classic Banana Split
A ripe Banana, Three Scoops of Ice Cream (Vanilla, Chocolate, and Strawberry), Pineapple, Strawberry, and Marshmallow Topping finished off with Hot Fudge, Caramel, Toasted Almonds, Whipped Cream, and a Cherry – $12.00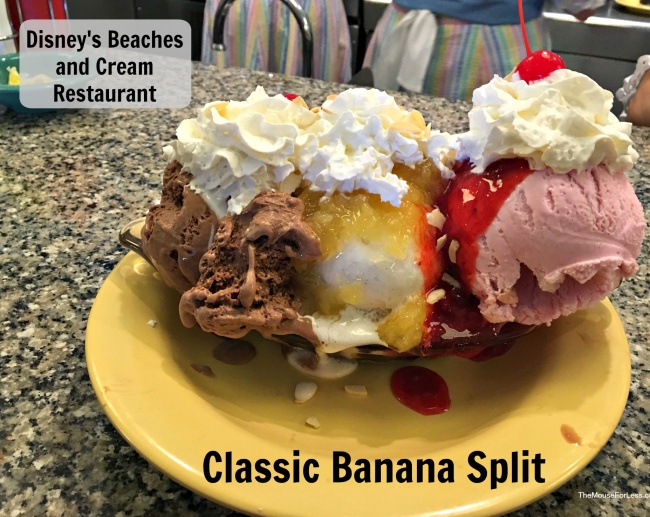 Fudge Mud Slide
A gooey, chewy Brownie covered with Hot Fudge, Three Scoops of Vanilla Ice Cream, Oreo Cookies, and Whipped Cream topped with Chocolate Syrup and a Cherry – $11.00
Snickers Sundae
Three Scoops of Vanilla Ice Cream smothered in Hot Fudge, Marshmallow topping, and Snickers pieces topped with Whipped Cream, chopped Peanuts, and a Cherry – $11.00
Old Fashioned Sundae – Two Scoops
Drenched with your choice of one of the following toppings: Marshmallow, Strawberry, Pineapple, Peanut Butter, Hot Fudge, Caramel, or Chocolate Syrup topped with Whipped Cream, Toasted Almonds, and a Cherry. Extra Toppings 1 dollar each – $8.00
Old Fashioned Sundae – Three Scoops
Drenched with your choice of one (1) of the following toppings: Marshmallow, Strawberry, Pineapple, Peanut Butter, Hot Fudge, Caramel, or Chocolate Syrup topped with Whipped Cream, Toasted Almonds, and a Cherry. Extra Toppings 1 dollar each – $10.00
No Way José
A Peanut Butter and Hot Fudge delight featuring Chocolate and Vanilla Ice Cream, Peanut Butter and Chocolate Morsels, Whipped Cream, and a Cherry – $11.00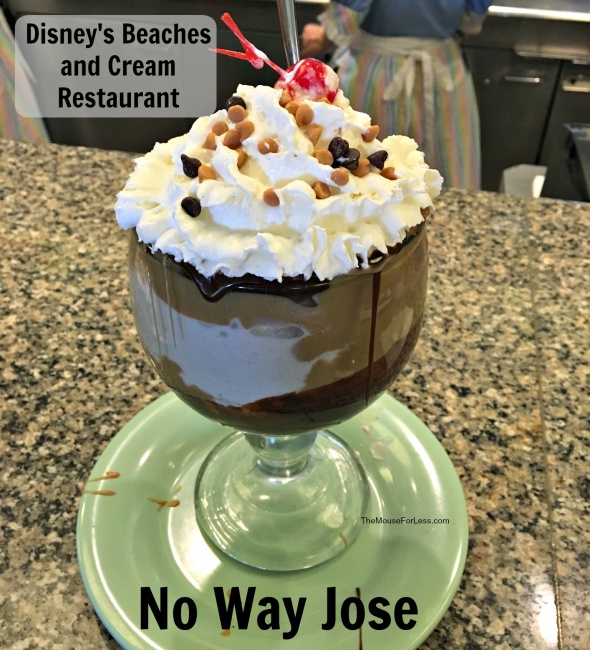 Desserts
Cookie Fries with Dipping Sauce
Cookie Fries with Assorted Dips (Plant-based) – $8.00
Strawberry Shortcake
Vanilla Shortcake, Strawberry Compote, Vanilla Ice Cream, and Whipped Cream – $8.00
Brownie À la Mode
A gooey, chewy Brownie, Hot Fudge, and Vanilla Ice Cream topped with Whipped Cream, Chocolate Sprinkles, and a Cherry – $9.00
Specialty Shakes
Mickey Confetti Shake
Vanilla Shake, Whipped Cream, and Rainbow Sprinkles topped with a Rainbow Confetti Cupcake and served in a souvenir cup – $15.00
Chocolate Brownie Shake
Chocolate Shake with an Ooey-gooey Brownie, Whipped Cream, and Chocolate shavings served in a souvenir cup – $15.00
Shakes and Soda
Frozen Sunshine
Rainbow Sherbet, Vanilla Ice Cream, and Seltzer blended to perfection topped with Whipped Cream and a Candied Orange Slice – $7.00
Malts & Shakes
Your choice of Ice Cream topped with Whipped Cream, Sprinkles, and a Cherry – $8.00
Ice Cream Soda
Your choice of Vanilla, Chocolate, Strawberry, Cherry, or Pineapple – $6.00
Coca-Cola® or Barq's® Root Beer Float – $7.00
Ice Cream Creations
Double Hand-Scooped Ice Cream
Vanilla, Chocolate, Strawberry, Mint Chocolate Chip, Cookies 'n Cream, Butter Pecan, Rainbow Sherbet and Coffee Ice Cream
Sugar Cone – $7.00
Waffle Cone – $7.50
Souvenir Shake
Chocolate or Vanilla – $15.00
Mini Mickey Sink
Vanilla, Chocolate, and Strawberry Ice Cream topped with Pineapple, Strawberry, Hot Fudge, Peanut Butter, Whipped Cream, Chocolate Sandwich Cookies, chewy Brownie, assortment of Sprinkles and Morsels and Cherries served in a souvenir Bowl – $23.00
Beverages
Fountains Soda Pop – $3.99
Freshly Brewed Joffrey's Coffee – Regular or Decaf – $3.79
Hot Tea – $3.79
Adult Hard Floats, Shakes, & Beverages
Heineken Lager – $8.50
Yuengling Traditional Lager – $8.25
Schöfferhofer Pink Grapefruit Hefeweizen – $10.25
New Belgium Fat Tire Amber Ale – $9.75
Guinness Stout – $8.50
Ace Pineapple Hard Cider – $10.00
Not Your Father's Hard Root Beer – $8.75
Truly Wild Berry Hard Seltzer – $9.00
Benvolio Pinot Grigio, Fruili – $10.00
Benziger Chardonnay, Sonoma County – $11.00
Columbia Crest H3 Merlot, Horse Heaven Hills – $11.00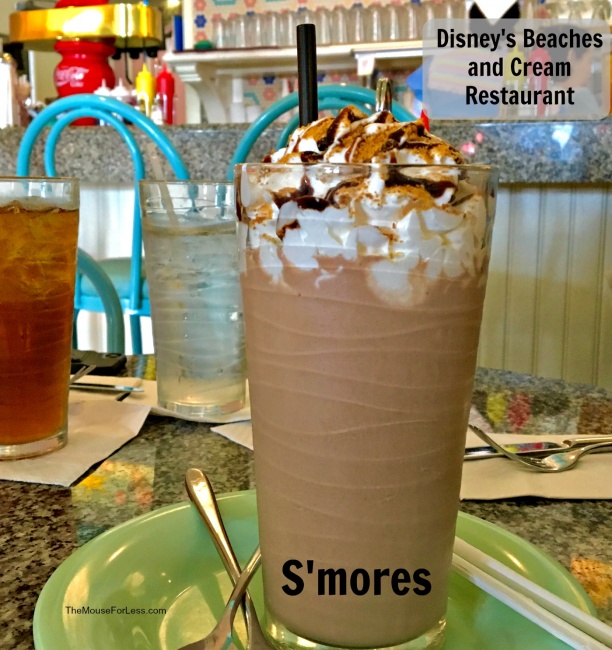 S'mores Shake
Chocolate and Vanilla Ice Cream, Amarula Cream, Crème de Cacao topped with Marshmallow, Chocolate Sauce, and Graham Crackers – $13.25
Stout Float
Guinness Stout with Chocolate Sauce and Vanilla Ice Cream – $12.75
Tropical Sunrise Float
Ace Pineapple Hard Cider with Rainbow Sherbet – $12.75
Grasshopper Float
Guinness Stout with Mint Chocolate Chip Ice Cream – $12.75
The Classic Root Beer Float
Not Your Father's Hard Root Beer with Vanilla Ice Cream – $12.75
Beaches and Cream Kids Menu
Menu Date: 09/2021
For Guests Ages 9 and Under
Kids' Appetizers
Applesauce – $3.00
Garden Salad – $3.00
Kids' Create-Your-Own Entrées
All meals served with 2 selections and choice of Small Lowfat Milk or Small Dasani Water
Grilled Chicken Sandwich – $10.00
Turkey Sandwich – $9.00
Hot Dog – $9.00
Cheeseburger – $11.00
Mac & Cheese – $9.00
Kids' Selections
All choice of two
Grapes
Watermelon
Carrots
Strawberry Yogurt
with Fresh Berries
Mickey Mouse Sundae
One Scoop of Ice Cream with Chocolate Cookies and a Cherry
** Beaches and Cream Menu and Prices are Subject to Change Without Notice **