Resort Restaurants | All Star Resort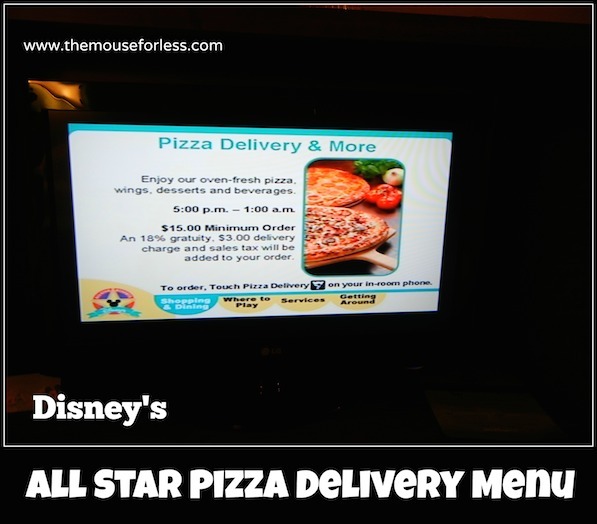 Enjoy oven fresh pizza, wings desserts and beverages delivered to your All-Star Resort room.
Restaurant Info: American, Dinner/Snack, $
All-Star Pizza Delivery Menu
Menu Date: 09/2018
All-Star Pizza Delivery serves all 3 All Star Resorts from 5:00 p.m. to 1:00 a.m. Entrees served until midnight. $15.00 minimum order. 18% Gratuity, $3.00 Delivery Charge, and 7% Sales tax added to all Delivery Orders. Two Adult Table Service credits are required to purchase one Large Pizza, two Desserts and one 2-liter Bottle of Soda.
Starters
Half Dozen Breadsticks – with Marinara – $5.99
Garden Salad or Caesar Salad – with choice of Dressing – $4.39
Buffalo Chicken Wings – with Celery Sticks and Blue Cheese Dressing – $9.99 – 8 pcs; $15.99 – 16 pcs; $21.99 – 24 pcs
Breaded Chicken Breast Bites – with Celery Sticks and choice of Honey Mustard, Barbecue, or Buffalo Sauce – $9.49 – 8 pcs; $15.49 – 16 pcs; $21.49 – 24 pcs
Main Event
Chicken Caesar Salad – Traditional Caesar Salad with Romaine Lettuce, Parmesan Cheese, Croutons, and Caesar Dressing –  $8.99
Italian Sandwich – Ham, Capicola Ham, Salami, Provolone Cheese, Red Onions, and Lettuce with House-made Chips –  $10.99
Turkey Croissant – Roast Turkey, Muenster Cheese, Spring Mix Lettuce, and Cranberry-Mayonnaise served on a Multigrain Croissant with House-made Chips –  $9.99
Roasted Vegetable Wrap – Zucchini Squash, Red Onions, Mushrooms, Tomato, Spinach, Oregano, and Garlic with House-made Chips –  $9.99
Meatball Sub – Pork and Beef Meatballs served on Hoagie Roll with Provolone Cheese and House-made Chips –  $10.49
Pasta with Meatballs – Pork and Beef Meatballs with choice of Marinara or Alfredo Sauce served with a Breadstick –  $10.79
Chicken Parmesan – Fried Chicken and Pasta with choice of Marinara or Alfredo Sauce served with a Breadstick –  $11.79
Pizza Selections
Cheese Pizza – $13.99
Pepperoni Pizza – $15.49
Mighty Meaty Pizza – Pepperoni, Ham, Pork Sausage and Ground Beef – $17.99
Very Veggie Pizza – Cheese, Peppers, Onions, Tomatoes and Mushroom Pizza – $17.99
Simply Supreme Pizza – Pepperoni, Onions, Black Olives, Tomatoes, Peppers and Mushroom Pizza – $17.99
Add Additional Toppings – $1.00
Add Caesar Salad or Breadsticks – $2.00
Add 8 Bone-In Wings – $8.00
Desserts
Cheesecake with Strawberry Compote – $4.29
Chocolate Mousse Parfait – $4.59
Fruit Cup – $3.79
Jumbo Cookie – $2.99
Beverages
20 ounce Bottled Soda – Coke, Sprite or Diet Coke – $3.29
1.5 Liter Dasani Water – $4.00
20 ounce Bottled Water – $3.00
Yuengling and Corona Extra – $8.00
Bud Light – $7.25
Stella Artois – $9.50
Sierra Nevada Torpedo Extra IPA – $9.25
Angry Orchard Crisp Apple Hard Cider – $8.50
Sutter Home Pinot Grigio, Chardonnay, or Merlot (187 mL) – $8.00
Beringer White Zinfandel (187 mL) – $8.00
Parducci Chardonnay or Merlot (375 mL) – $14.00

= Snack on the Disney Dining Plan
** All-Star Pizza Delivery Menu and Prices are Subject to Change Without Notice **