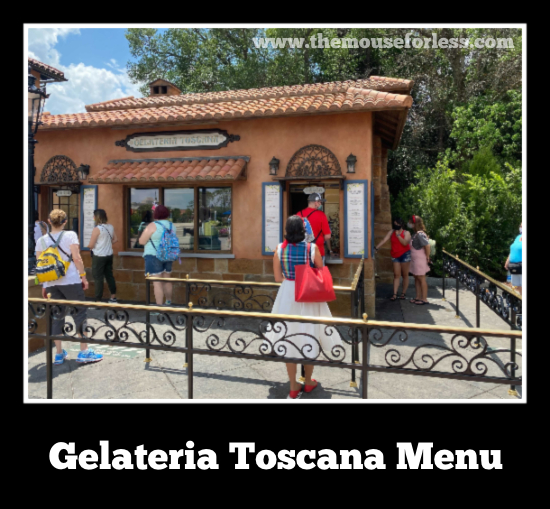 Journey into an old world of indulgence with 2 scoops of Italian gelato! Enjoy la dolce vita in a cono, a coppetta or sandwiched between 2 chocolate chip cookies. Beverages are also available, including fine Italian wine, espresso and more.
Gelateria Toscana is located in Disney's Epcot theme park. Find more Walt Disney World dining locations on our Walt Disney World Resort menus page.
Restaurant Info: Italian, Desserts and Beverages, $ – under $14.99 per adult
Find out how you can save money on dining at Walt Disney World by using one of Disney's Dining Plans.

Planning a Walt Disney World Vacation?
For a Free no-obligation quote, contact our sponsor
The Magic For Less Travel
. The Magic For Less Travel is an Authorized Disney Vacation Planner and has been helping guests plan magical vacations since 2002. Receive the best prices and free travel planning services. Their fee-free services will help you save time, money, and stress while planning a vacation designed around you and your needs!
Gelateria Toscana Snack Stand Menu
Menu Date: 08/2022
Gelati e Sorbetti
Gelati in a Waffle Cone – Two Scoops of Italian Ice Cream in a Waffle Cone. Choice of Chocolate, Vanilla, Pistachio, Cookies & Cream, Stracciatella, Amerena Cherry – $8.50
Gelati in a Cup – Two Scoops of Italian Ice Cream in a Cup. Choice of Chocolate, Vanilla, Pistachio, Cookies & Cream, Stracciatella, Amerena Cherry – $7.95
Sorbetti in a Waffle Cone – Two Scoops in a Waffle Cone. Choice of Lemon or Strawberry – $8.50
Sorbetti in a Cup – Two Scoops in a Cup. Choice of Lemon or Strawberry – $7.95
Gelati Floats
Naufrago – Root Beer, Vanilla Gelato – $9.00
Monella – Coca-Cola®, Vanilla Gelato – $9.00
Gelati Creations
Coppa Amarena
Vanilla, Amarena Cherry, Amaretto Cookies, Whipped Cream, Shaved Chocolate – $11.75
Coppa Del Nonno
Vanilla, Chocolate, Cookies & Cream, Chocolate Sauce, Whipped Cream, Amaretto Cookies – $11.75
"Affogato" Al Cioccolato
Homemade Hot Chocolate over Vanilla Gelato, Whipped Cream and a Wafer Cookie – $11.75
"Affogato" Espresso Gelato
Fresh Italian Espresso poured over Vanilla Gelato, Amaretto Cookies – $11.75
Pastiggeria
7-Layer Cake
Blue and White 7-Layer Cake topped with Chocolate Ganache and Gold Dust – $8.00
Cannoli Al Cioccolato
Crisp Pastry filled with Sweet Ricotta, Chocolate, and Candied Orange – $8.50
Zeppole
Ricotta Cheese Fritters – $9.00
Mocha Tiramisù
Mascarpone Cream, Espresso Coffee, Savoiardi Biscuits, Chocolate – $8.50
Frozen Beverages
Italian Margarita – Frozen blend of Limoncello, Tequila, and Margarita – $14.00
Frozen White Sangria – $11.00
Frozen Red Sangria – $11.00
Beer & Wine
Peroni Draft – $9.50
Pinot Grigio – $10.50
Chianti – $10.50
Prosecco – $10.50
Bellini – Peach Puree and Prosecco Sparkling Wine – $11.00
Rossini – Strawberry Puree and Prosecco Sparkling Wine – $11.00
Beverages
San Benedetto – Still or Sparkling – $4.00
Aranciata – Orange Sparkling Italian Soda – $5.50
Limonata – Lemon Sparkling Italian Soda – $5.50
Lemon Tea – $5.50
Peach Tea – $5.50
Assorted Fountain Beverages – $4.50
Coffee
Espresso – Single – $3.00
Espresso – Double – $4.50
Cappuccino – $6.00
Caffe Latte – $6.00
Caffe Americano – $5.00
Hot Beverages
Homemade Hot Chocolate
Hot Chocolate, Whipped Cream, Marshmallow – $9.50
** Gelateria Toscana Menu and Prices are Subject to Change Without Notice **