Resort Restaurants | Beach Club Resort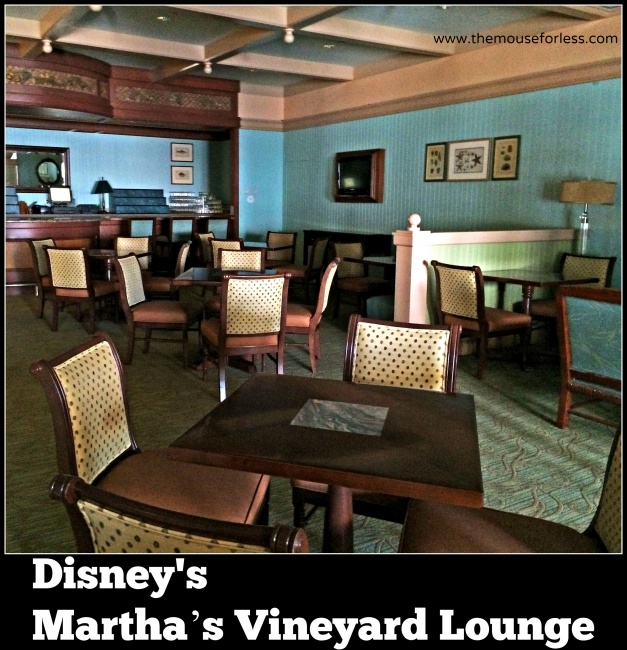 At Martha's Vineyard Lounge, canoodle over a signature cocktail from the full bar menu at this mellow New England beach house-inspired lounge. Appetizers are also available at Martha's Vineyard Lounge.
Restaurant Info: American, Dinner/Snack, $ – $14.99 and under per adult
Find out how you can save money on dining at Walt Disney World by using one of Disney's Dining Plans.
Martha's Vineyard Lounge Menu
Menu Date: 04/2019
Appetizers
Sautéed Mussels – served with Chorizo and Tomatoes in a White Wine-Garlic Sauce – $13.00
Salt and Pepper Calamari – served with Tomato Jam – $13.00
Buffalo-glazed Wings – served with Celery Sticks and Blue Cheese Dip – $8.99
Artisan Cheese Plate – Selection of Cheese and Seasonal Accompaniments – $14.00
Loaded Tots – Crispy Tater Tots with your choice of Sour Cream, Cheese, Green Onions, and Bacon or Chili, Cheese, and Green Onions –  $9.00
New England Clam Chowder – Clam Chowder with Sweet Corn, Lump Crab, and fresh Cornbread – $8.00
Fried Coconut Shrimp – Served with Mango Sauce – $14.00
Chips and Dip – House-made Chips served with a French Onion Dip – $9.00
Non-Alcoholic Mocktails
All-Natural Lemonade – Odwalla® Lemonade topped with Wildberry Foam – $4.99
Grapefruit Spritzer – Odwalla® Lemonade topped with Wildberry Foam – $5.49
Sparkling No-Jito – Lime Juice, Pure Cane Sugar, and Mint topped with Soda Water – $4.99
Watermelon Lemonade – Odwalla® Lemonade and Watermelon topped with Lemon-Lime Foam – $5.29
Wines
Mumm Napa Cuvée M, Napa Valley – Bottle $65.00, Glass $15.00
Ruffino Prosecco, Veneto – Bottle $45.00, Glass $10.00
Villa Rosa Moscato D'Asti, Piedmont – Bottle $45.00, Glass $10.00
Dr. Loosen Dr. L Riesling, Mosel – Bottle $49.00, Glass $11.00
Placido Pinot Grigio, Tuscany – Bottle $45.00, Glass $10.00
Helfrich Pinot Gris, Alsace – Bottle $45.00, Glass $10.00
Kim Crawford Sauvignon Blanc, Marlborough – Bottle $53.00 , Glass $12.00
Conundrum, California – Bottle $65.00 , Glass $15.00
Sauvion Vouvray, Loire Valley – Bottle $45.00, Glass $10.00
Baileyana Firepeak Chardonnay, Edna Valley – Bottle $53.00 , Glass $12.00
Deloach Vineyards Chardonnay, Russian River Valley – Bottle $49.00, Glass $11.00
Kenwood Vineyards Yulupa White Zinfandel, California – Bottle $39.00 , Glass $9.00
Meiomi Pinot Noir, California – Bottle $65.00 , Glass $15.00
Paul Hobbs CrossBarn Pinot Noir, Sonoma Coast – Bottle $65.00, Glass $15.00
Canyon Road Merlot, California – Bottle $45.00, Glass $10.00
EdMeades Zinfandel, Mendocino County – Bottle $49.00, Glass $11.00
Bodega Norton Reserva Malbec, Mendoza – Bottle $49.00, Glass $11.00
14 Hands Cabernet Sauvignon, Columbia Valley – Bottle $45.00, Glass $10.00
B.R. Cohn Silver Label Cabernet Sauvignon, North Coast – Bottle $53.00, Glass $12.00
Specialty Cocktails
Blood Orange Margarita – Sauza Conmemorativo Añejo Tequila, Cointreau, Lime Juice, and Blood Orange Sour – $13.00
Spicy Poblano Margarita – Patrón Silver Tequila, Ancho Reyes Verde, Liqueur, Lime Juice, and Pure Cane Sugar – $13.00
Paloma – Don Julio Blanco Tequila with Juices of Ruby Red Grapefruit and Lime topped with Soda Water – $13.00
Watermelon Margarita – Patrón Silver Tequila, Watermelon, and Lime Juice – $13.00
Bacardi Mojito – Bacardi Superior Rum, Lime Juice, Pure Cane Sugar, and Mint topped with Soda Water – $11.75
Raspberry Mojito – Bacardi Raspberry Rum, Lime Juice, Mint, and Rasberry Purée topped with Soda Water – $11.75
Rum Swizzle – Mount Gay Eclipse Rum with Tropical Juices and flavors of Guava and Mango – $11.25
Antioxidant Lemonade – Van Gogh Açai-Blueberry Vodka, Odwalla® Lemonade, and Pomegranate Juice topped with Sprite® – $11.25
Walk the Plank – Bulleit 95 Rye Whiskey, Orange Juice, Orgeat (Almond), and Lemon Juice garnished with Luxardo Gourmet Maraschino Cherries – $13.25
Smoked Turkey – Wild Turkey 101 Bourbon, Red Stag Black Cherry Bourbon, Grenadine, and Odwalla® Lemonade with a hint of Hickory Smoke, garnished with Luxardo Gourmet Maraschino Cherries – $13.25
Negroni – Bombay Sapphire Gin, Campari, and Carpano Antica Sweet Vermouth – $13.25
Moscow Mule – Russian Standard Vodka, Lime Juice, and Pure Can Sugar topped with Fever Tree Ginger Beer – $12.25
Kentucky Mule – Buffalo Trace Kentucky Straight Bourbon, Lime Juice, and Pure Cane Sugar topped with Fever Tree Ginger Beer – $13.50
Whiskey Breeze – Jim Beam Black Extra-aged Bourbon, Cointreau, and Lime Juice with flavors of Guava and Mango – $12.50
Bahama Mama – Parrot Bay Coconut Rum, Myers's Original Dark Rum, Bold Crème de Banana, and Tropical Juices – $11.50
Piña CoLAVA – Bacardi Raspberry Rum blended with flavors of Coconut, Pineapple, and Raspberry Purée – $12.00
Ultimate Long Island Iced Tea – Bacardi Superior Rum, Tito's Handmade Vodka, Hendrick's Gin, Corazón Blanco Tequila, Cointreau, and Sweet-and-sour with a splash of Coca-Cola® – $13.50
Captain's Mai Tai – Captain Morgan Original Spiced Rum, Bols Amaretto, and Tropical Juices topped with a float of Myers's Original Dark Rum – $11.75
Blue "Glow-tini" – Skyy Infusions Citrus Vodka, Bols Peach Schnapps, Bols Blue Curaçao, and Pineapple Juice with a Sugared Rim and a souvenir Glow Cube – $13.75
Magical Star Cocktail – X-Fusion Organic Mango and Passion Fruit Liqueur, Parrot Bay Coconut Rum, Pineapple Juice, and a souvenir multicolored Glow Cube – $13.75
Cold Brew XO – Patrón XO Cafe Coffee Liqueur, Heavy Cream, and Cold Brew Joffrey's Coffee® – $11.25
Godiva Chocolate Martini – Godiva Chocolate Liqueur, Stoli Vanil Vodka, Bols White Crème de Cacao, and Frangelico – $12.50
Red Sangria – Beso Del Sol Red Sangria made from 100% natural marriage of Spanish Tempranillo Grapes, Orange, Blood Orange, and Lemon Juices with a touch of natural Cinnamon – $10.00
White Sangria – Beso Del Sol White Sangria made from 1 100% natural blend of white Spanish Grapes, Lemon, Peach, and Mango Juices – $10.00
Crafty Drafts
3 Daughters Brewery Blonde Ale – A unique flavor with just enough hops to balance out the sweetness of the malts. Refreshing and light with a bright golden hue – $9.00
Harpoon UFO – Brewed with orange peel and coriander, light, crisp, refreshing UFO White follows in the tradition of spiced wheat beers that have been brewed in Belgium for well over 300 years – $9.00
Lagunitas Pilsner – Brewed with loads of imported Saaz hops and a bottom-fermenting yeast strain that leaves it light and crisp and easy to drink, yet it's full of real flavor and all the things you year for in a lager – $9.00
Fat Tire – Toasted caramel malts with a gentle sweetness and balanced addition of hops – $9.00
Bold City Duke's Cold Nose Brown Ale – A local favorite has hints of chocolate and caramel with a smooth nutty finish – $9.00
Reef Donkey APA – Dry-hopped American Pale Ale with a lemon-lime aroma with a citrus and slight tropical fruit flavor – $9.00
Beers and Cider
Budweiser or Bud Light – St. Louis, MO
Coors Light – Golden, CO
Corona Extra – Mexico
Heineken – Netherlands
Michelob Ultra – St. Louis, MO
Miller Lite – Milwaukee, WI
Modelo Especial – Mexico
Stella Artois – Belgium
Kona Longboard Island – Kona, HI
Samuel Adams Boston Lager – Boston, MA
Yuengling Traditional Lager – Pottsville, PA
Blue Moon Belgian White – Golden, CO
Goose Island 312 Urban Wheat Ale – Chicago, IL
Schöfferhofer Pink Grapefruit Hefeweizen – Germany
Crooked Can McSwagger's Own Amber Ale – Winter Garden, FL
New Belgium Fat Tire – Ft. Collins, CO
Sierra Nevada Pale Ale – Chico, CA
SweetWater 420 Extra Pale Ale – Atlanta, GA
SweetWater 420 Extra Pale Ale – Atlanta, GA
Cigar City Jai Alai IPA – Tampa, FL
New Belgium Citradelic Tangerine IPA – Ft. Collins, CO
Orlando Brewing I-4 IPA – Orlando, FL
Angry Orchard Crisp Apple Hard Cider – Cincinnati, OH
Truly Wild Berry Hard Sparkling Water – Boston, MA
** Martha's Vineyard Lounge Menu and Prices are Subject to Change Without Notice **