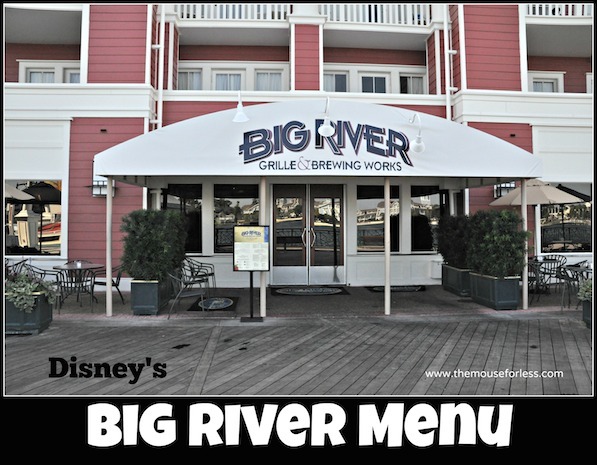 At Big River Grille, see what's "brewing" at this beer-making facility and restaurant. Enjoy terrific food and an assortment of award-winning ales, such as Red Rocket Ale, at Big River Grille. Occasionally, Big River Grille will throw a beer tapping party!
Big River Grille is located at Disney's Boardwalk Inn Resort.  Find more Walt Disney World dining locations on our Walt Disney World menus page.
Restaurant Info: American, Lunch/Dinner A la carte, $$ – $15 to $34.99 per adult
Find out how you can save money on dining at Walt Disney World by using one of Disney's Dining Plans.

Planning a Walt Disney World Vacation?
For a Free no-obligation quote, contact our sponsor
The Magic For Less Travel
. The Magic For Less Travel is an Authorized Disney Vacation Planner and has been helping guests plan magical vacations since 2002. Receive the best prices and free travel planning services. Their fee-free services will help you save time, money, and stress while planning a vacation designed around you and your needs!
Big River Grille Lunch and Dinner Menu
Menu Date: 2023
Shareables
Brewery Nachos – $12.50
Tortilla chips with pepper jack cheese, jalapeño, pico de gallo and sour cream
Brewery Nachos with Beef or Chicken – $17.00
Tortilla Chips with Pepper Jack Cheese, Jalapeño, Pico de Gallo, and Sour Cream
Jalapeño-Spinach Cheese Dip – $12.50
Spinach, Onions, Tomatoes, and Peppers with melted Jalapeño Jack Cheese served with Tortilla Chips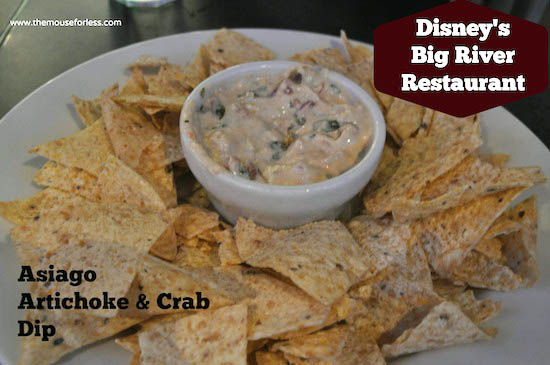 Asiago, Artichoke, and Crab Dip – $16.00
Topped with Pico de Gallo and served with Toasted Crostini – $16.00
Chips, Guacamole, and Salsa – $12.00
Avocado, Tomato, Onion, Cilantro, Jalapeño, Garlic, and Lime Juice served with Tortilla Chips and Salsa
Chicken Quesadilla – $15.00
Filled with Shredded Chicken, Peppers, Onions, Tomatoes, and Pepper Jack Cheese served with Sour Cream and Guacamole
Soup & Salad
Brewer's Cobb – $18.00
Grilled Chicken with Mixed Greens, Blue Cheese, Avocado, Tomatoes, and Eggs
Add Bacon – $2.00
Add Salmon – $7.00
Santa Fe Ranch Chicken – $18.00
Grilled Chicken over Greens with Corn, Avocado, Black Beans, Cheddar, and Pepper Jack Cheese, and Pico de Gallo tossed in Jalapeño-Ranch Dressing
Classic Caesar – $14.00
Romaine Lettuce with creamy Caesar Dressing
Add Chicken – $5.00
Add Salmon – $7.00
Greenhouse – $14.00
Mix Greens topped with Roma Tomatoes, Carrots, Cheddar Cheese, Sunflower Kernels, and Croutons
Add Chicken – $5.00
Add Salmon – $7.00
Beer Cheese Soup – Cup – $6.00
Beer Cheese Soup – Bowl – $8.00
Brewers Favorites
Classic Mac 'n Chicken – $19.50
with Grilled Chicken and topped with Asiago Breadcrumbs
Cajun Pasta – $23.00
scratch-made with Linguine, grilled Chicken, Andouille Sausage and Shrimp with Onions, Celery and Green Peppers in Cajun Cream Sauce
Signature Ribeye – $32.00
Char-grilled 12 oz. USDA Choice Rib-Eye Steak served with White Cheddar Mashed Potatoes and seasonal fresh Vegetables
Baby Back Ribs – $32.00
Smoked and Grilled with Honey-Chipotle BBQ Sauce served with White Cheddar Mashed Potatoes and seasonal fresh Vegetables
Habanero Chicken – $19.50
Grilled Chicken with Sweet and Spicy Habanero glaze topped with Pico de Gallo, Avocado, and Cilantro served with seasonal fresh Vegetables and Cilantro-Lime Rice
Blackened Creole Salmon – $24.00
with a creamy Cajun Sauce, Garlic Butter, and Green Onions served with seasonal fresh Vegetables and Cilantro-Lime Rice
Blackened Fish Tacos – $21.00
Blackened Fresh Fish on Flour Tortillas with Black Beans, Corn, and Lettuce served with Chipotle Crema and Cilantro-Lime Rice
Sandwiches
California Chicken – $15.50
Grilled Chicken, Swiss Cheese, Guacamole, Lettuce, Tomato, and Ranch served with Kettle Chips
Fish Sandwich – $18.00
Spicy Seared Fish Filet with Lettuce, Tomato, and Chipotle Mayonnaise served with Kettle Chips
Brewer's Club – $16.50
Roasted Turkey, Ham, Bacon, Cheddar and Swiss Cheeses, Tomato, and Lettuce with Chipotle Mayonnaise and Kettle Chips
Pub-grilled Sandwich – $16.50
Grilled Chicken, Swiss Cheese, Bacon, Beer-simmered Onions, Lettuce, Tomato, Pickles, and our Signature Pub Sauce served with Kettle Chips
Burgers
Wagyu Burger* – $20.00
American-style Wagyu Beef Burger served with Lettuce, Tomato, Pickles, and Kettle Chips
Big Brew Cheeseburger* – $15.00
our Burger grilled with our Southern Flyer Light Lager and served with Lettuce, Tomato, Pickles, and Kettle Chips
Bacon Cheddar* – $16.00
Cheddar Cheese, Bacon, Lettuce, Tomato, Pickles, and BBQ-Jalapeño-Ranch Dressing served with Kettle Chips
Black & blue – $17.00
Blue Cheese Crumbles, Lettuce, Tomato, Blue Cheese Sauce, and Beer-simmered Onions served with Kettle Chips
Desserts
Chocolate Confusion – $10.00
Chocolate Mousse layered between Oreo-Brownie Cake with Icing and Chocolate Chips
New York-style Cheesecake – $11.00
served with Strawberry Purée
Non-Alcoholic Beverages
Lemonade – $4.50
Strawberry Lemonade – $4.50
Peach Iced Tea – $4.50
Raspberry Iced Tea – $4.50
DASANI Water – $4.50
Wine & Beer
Assorted Wines
Assorted Beer 
Ask your server for current seasonal selections
Cocktails
American Mule – $13.00
Handmade Vodka, fresh Lime Juice, and Ginger Beer
Blackberry Whiskey Lemonade – $13.00
Ole Smoky Blackberry Moonshine and House Lemonade
Pom-Berry Cosmo – $13.00
Fresh Blueberries and Stoli Blueberi Vodka shaken with fresh Lime and Cranberry
Cuban Mojito – $13.00
Bacardi Limón and Sugar muddled with fresh Lime and Mint. Add Strawberry or Peach
Pineapple Mojito – $13.00
Malibu Pineapple Rum, fresh Mint, Pineapple, Fresh-squeezed Lime Juice, and a splash of Soda
Margarita – $14.00
Patrón Silver, Cointreau, Agave Nectar, and fresh Lime Sour
Sangria Margarita – $13.00
Milagro Silver Tequila and Housemade Sangria shaken with fresh Lime Juice and Agave Nectar
Blueberry Lemonade – $12.00
Stoli Blueberi Vodka, fresh Blueberries, and Mint shaken with Lemon Juice and Sugar
Long Island Iced Tea – $13.00
Svedka, Bacardi, Beefeater, and Cointreau shaken with Lemon and Lime Sour, topped with Coke
Mai Tai – $13.00
Cruzan Coconut Rum, Cointreau, Pineapple Juice, and Cherries with a float of Myers's Dark Rum
Lemon Drop Martini – $14.00
Absolut Citron, Cointreau, fresh Lemon Juice shaken and served with a Sugar rim
Sangria – $12.00
Red Wine and Blackberry Liqueur combined with fresh Fruit, Pineapple Juice, and a blend of Berries
Big River Grilled Kids Menu
Kids' Appetizers (Choose 1)
Carrot Sticks
Iceberg Salad
Kid's Entrées
Kid's Meal includes a choice of one Appetizer, one Entrée, one Side, one Dessert, and any Beverage
Macaroni & Cheese – $9.50
Hot Dog – $9.50
Hamburger – $9.50
Grilled Cheese – $9.50
Cheeseburger – $9.50
Grilled Chicken Sandwich – $9.50
Kid's Sides (Choose 1)
Cheddar Mashed Potatoes
Kettle Chips
Fresh Fruit
Vegetables
Kid's Desserts (Choose 1)
Chocolate Cake
Tropical Fruit Cocktail
Kid's Beverages
Choice of Soda
Apple Juice
Shirley Temple
Bottled Water
Strawberry Lemonade
** Big River Grille Menu and Prices are Subject to Change Without Notice **