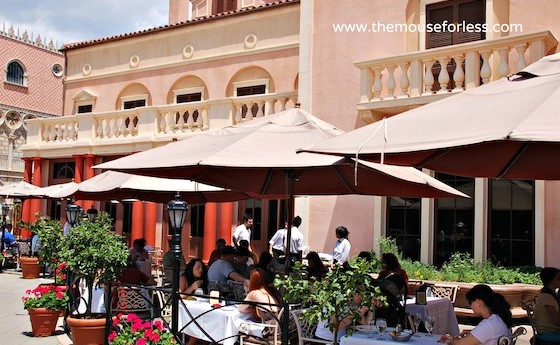 Enjoy the ambiance and classic tastes of Italy in friendly, inviting surroundings at Tutto Italia.
Tutto Italia is located in Disney's Epcot theme park. Find more Walt Disney World dining locations on our Walt Disney World Resort menus page.
Restaurant Info: Italian, Lunch/Dinner A la carte, $$ – $15 to $34.99 per adult
Find out how you can save money on dining at Walt Disney World by using one of Disney's Dining Plans.

Planning a Walt Disney World Vacation?
For a Free no-obligation quote, contact our sponsor
The Magic For Less Travel
. The Magic For Less Travel is an Authorized Disney Vacation Planner and has been helping guests plan magical vacations since 2002. Receive the best prices and free travel planning services. Their fee-free services will help you save time, money, and stress while planning a vacation designed around you and your needs!
Tutto Italia Ristorante Lunch & Dinner Menu
Menu Date: 06/2023
Antipasti
Tagliere – Serves two people. Prosciutto di Parma, Salame San Gennaro e Felino, capocollo, pecorino tartufato, asiago, gorgonzola, fontina, artichoke, Cerignola olive, grissini – $42.00
Polipo Grigliato – Grilled Mediterranean octopus, potatoes, pancetta, Calabrian chili, caperberry, parsley, lemon, extra virgin olive oil – $28.00
Caesar Salad – Romaine lettuce, olive crostini, cherry tomatoes, shaved Grana Padano DOP. Add grilled chicken breast $11 or Oishii shrimp $15.
Carpaccio di Manzo – Charred Wagyu beef, Arugula, Parmesan Cheese and Lemon Dressing – $24.00
"Fior Di Latte" Caprese – Red and yellow grape tomato salad, balsamic emulsion, extra virgin olive oil – $18.00
Ensalata di Gamberi – Chilled Oishii shrimp, cantaloupe, mint, extra virgin olive oil – $25.00
Tortino di Melanzane – Baked eggplant parmigiana, pomodoro, mozzarella, parmesan – $19.00
Prosciutto di Parma – Parma ham, melon carpaccio – $20.00
Calamari Fritti – Served with Marinara Piccante – $23.00
Secondi
Salmone – Pan seared filet of salmon, green asparagus, herb sauce – $34.00
Bisteca – 12 oz grilled NY Strip Steak, crispy Rosemary Potatoes – $43.00
Parmigiana – Breaded chicken breast, mozzarella, parmesan, fresh spaghetti and tomato sauce  – $34.00
Mare e Monti –  Slow braised chuck short rib, Maine lobster ravioli, rosemary butter – $48.00
Pasta
Lasagna alla Bolognese – Traditional preparation from Emilia-Romagna with beef, veal, and pork ragù, béchamel, parmesan – $29.00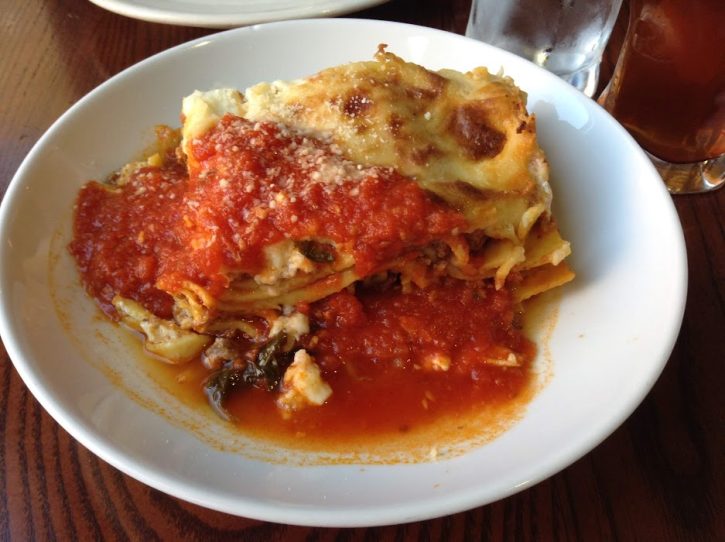 Fettuccine  – Homemade fettuccine pasta, creamy alfredo sauce. Add grilled chicken or meatballs $11 add Oishii shrimp $15 – $26.00
Spaghetti – Beef, veal and pork meatballs, pomodoro sauce – $28.00
Gnocchi Sorrentina – Potato dumplings, roasted tomatoes, pomodoro sauce, burrata cheese – $29.00
Risotto Gamberi Melone – Creamy Arborio rice, Oishii shrimp, cantaloupe – $36.00
Dolci
Cannoli – Crisp pastry filled with sweet ricotta, chocolate, and candied orange  – $11.00
Tiramisu – The classic coffee-flavored Italian dessert. Ours is created with ladyfingers dipped in coffee, layered with a whipped mixture of eggs, sugar and mascarpone cheese and topped with fresh cocoa powder – $13.00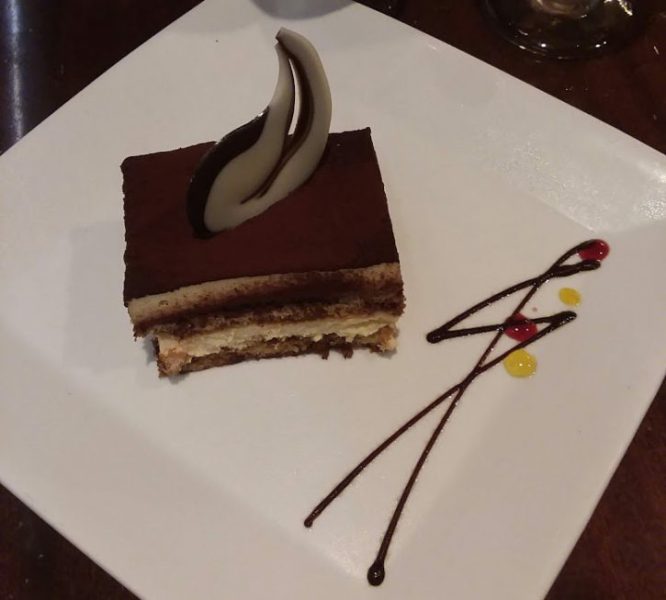 Torta di Ricotta – Lemon ricotta cheesecake, macerated berries – $13.00
Gelati e Sorbetti – Choice of one – chocolate, vanilla, strawberry, or lemon – $11.00
Limoncello Float – Sicilian limoncello over homeade limocello gelato and fresh raspberry (menu offering contains alcohol) – $19.00
Frizzante Cocktails
Italicus Spritz – Italicus Rosolio di Bergamotto, prosecco, Cerignola Olive – $20.00
White Wine Spritzer – A splash of sparkling mineral water with a lemon twist – $12.00
Bellini – Peach purée, prosecco – $16.00
Frizzante – Campari, mandarin juice, prosecco – $18.00
Distinctly Italian
Italian Margarita – Tequila, Caravella Limoncello, fresh lime juice – $18.00
Pomegranate Cosmopolitan – Citrus vodka, triple sec, pomegranate juice – $17.00
Campari & Soda – $14.00
Martini Your Way – Up or on the rocks – $20.00
Red Passion – Campari, grapefruit juice – $17.00
Expresso Martini – Vanilla vodka, coffee liqueur, Italian espresso – $18.00
Italian Martini – Citrus vodka, limoncello, triple sec, lemon juice, sour mix – $18.00
Italian Sangria – Cabernet Terre di Bacco, rum, fruit juice – $16.00
Cynar & Soda – $14.00
Sicilian Iced Tea – Amaro Averna, Caravella Orangecello, lemon juice – $17.00
Americano – Campari, sweet vermouth, club soda, orange twist – $17.00
Limoncello Flight – Limoncello, Limoncello Cream, Limoncello Pistachio – $24.00
Bierra
Peroni
Bud Light
Michelob Ultra
Blue Moon
Vino
Assorted Wines
Tutto Italia Kids Lunch & Dinner Menu
Menu Date: 06/2023
Kids' Entrées
Spaghetti – with tomato sauce and Beef & Pork meatballs. – $11.00
Mozzarella Sticks – with Marinara sauce – $11.00
Chicken Tenders – with green beans – $11.00
Cheese or Pepperoni Pizza – $11.00
Kids' menu items for children ages 9 and younger.
Look for the Disney Check icon on printed menus to find options that meet Disney's nutrition guidelines.
** Tutto Italia Menu and Prices are Subject to Change Without Notice **