Disney's Water Parks | Typhoon Lagoon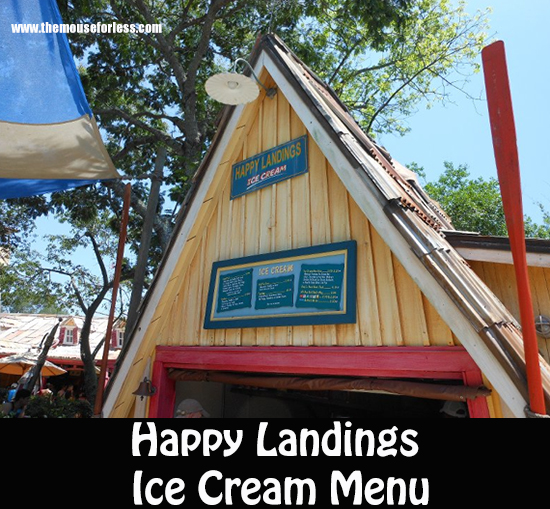 At Happy Landings Ice Cream, drift by for root beer floats, sundaes and other treats at this hut tucked beside Castaway Creek. Or grab a "shovel" and dig in to a Sand Pail—2 kinds of soft-serve topped with waffle cone and cookie pieces, hot fudge, sprinkles and more!
Restaurant Info: Snacks, $
Find out how you can save money on dining at Walt Disney World by using one of Disney's Dining Plans.
Happy Landings Ice Cream Menu
Menu Date: 08/2018
Ice Cream
Sand Pail – Chocolate and Vanilla Soft-serve Ice Cream, Waffle Cone Pieces, Oreo Cookie Pieces, Sprinkles, Hot Fudge, Caramel Sauce, Whipped Cream and a Cherry. Layered into a Sand Pail to be scooped out with a Shovel – $13.99
Hot Fudge Brownie Sundae – Vanilla Ice Cream with Hot Fudge, Whipped Cream and a Cherry served over a Brownie – $5.99
Ice Cream Sundae – Chocolate, Vanilla, or Swirl Soft-serve Ice Cream with Whipped Cream and a Cherry and your choice of Hot Fudge or Caramel – $4.99

Toppings – choice of Rainbow Sprinkles, Chocolate Sprinkles, Oreo Cookie Pieces or Waffle Pieces – $0.69

Waffle Cone – chocolate, vanilla or swirl ice cream – $4.49

Bananas Foster Sundae – $7.99
Nestlé Mickey's Ice Cream Sandwich – $4.69
Nestlé Mickey's Ice Cream Bar – $4.69
Strawberry Fruit Bar – $4.19
Nestlé Orange & Cream Bar – $4.49
Minute Maid Frozen Lemonade Cup – $4.49
Minute Maid Frozen Strawberry Lemonade Cup – $4.49
Beverages
All Day Refillable Mug – $11.99
Barq's Root Beer Float – $4.99
Assorted Fountain Beverages – $3.29

Dasani Bottled Water – $3.00

smartwater – $4.50


= Snack on the Disney Dining Plan
** Happy Landings Ice Cream Menu and Prices are Subject to Change Without Notice **