General Public Disney Visa Annual Passholder Military Other Disneyland Discounts
Already Booked Through Disney? Find Out How to Get More!
Did you know that you can receive incentives even if you've already booked your vacation directly through Disney? Simply TRANSFER any existing reservation made directly through Disney that is within 30 days of the initial booking and has not yet been paid in full to The Magic For Less Travel. Plus, when you transfer or book a reservation with The Magic For Less Travel, there are never fees of any type, and you'll be assigned a travel counselor to answer all of your questions, provide you with magical tips for your trip and make your Advanced Dining Reservations. To discover what incentives your reservation may qualify for and any restrictions that may apply, please contact The Magic For Less Travel for details.
Disneyland Resort Discounts – Exclusive Disneyland Special From The Magic for Less Travel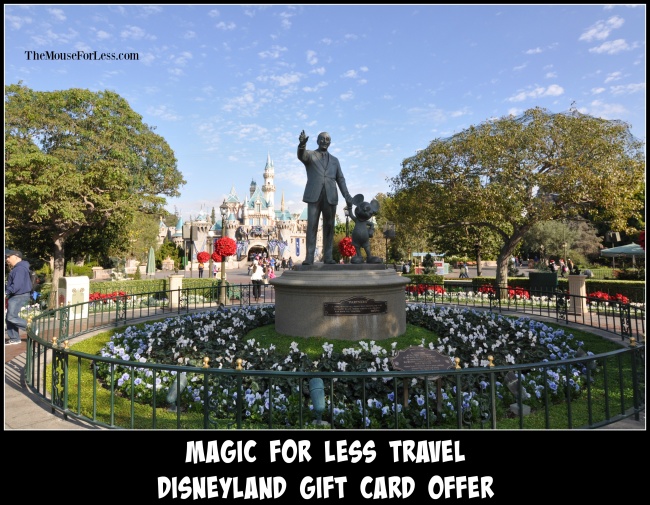 Gift Card Special Offer!
Book by: 02/28/2021
Book a Disneyland package or transfer an existing Disneyland package reservation of $750 or more and receive a $25 Disneyland Resort Gift Card. Guests who book a Disneyland package of $1500* or more with The Magic for Less Travel and receive a $50 Disneyland Resort Gift Card. Book a Disneyland package of $3000 or more with The Magic for Less Travel and receive a $75 gift card! The gift cards are accepted at many Disneyland Resort shopping and dining locations and can be used to pay for shopping, dining and even theme park admission. We are sure you will find a way to put the gift card to good use!
*This promotion is valid for new and transferred Disneyland package reservations booked with The Magic for Less Travel. This is valid for the on-site Disneyland resort packages as well as the Good Neighbor hotel packages priced at $750 or more before taxes, airfare and other non commissionable package components. This offer CAN be combined with other Disney package offers and discounts.
Due to customs restrictions, we can not send Disney Gift Cards to guests located outside the US. International guests will receive a $25 e-mailable Gift certificate to Amazon or another e-mailable gift certificate.
---
Disneyland Resort – General Public Offers
General Public Offers are currently not available.
---

Those considering a trip to Disneyland AND the surrounding area should consider a Disney Southern California Adventure by Adventures by Disney, which includes a visit to Disneyland and other area highlights AND qualifies for a Gift Card valued at up to 5% of your vacation price when you book through The Magic For Less Travel (use quote button below to obtain additional info and pricing).
---
For a limited time, you can purchase a 3-day ticket with admission to 1 park per day for a child ages 3 to 9 for as little as $67 per day. Tickets are valid January 7, 2020 through December 16, 2021.
Between Character Greetings, live shows, seasonal parades, nighttime spectaculars and attractions that tell a story, there are countless, fun-filled moments to be had with your young explorer at Disneyland Park and Disney California Adventure Park.
Take advantage of this great offer and purchase tickets now through May 18, 2020.
Specially Priced Child Tickets at a Glance:
3-Day, 1 Park Per Day Ticket: $199
3-Day, 1 Park Per Day Ticket with Disney MaxPass: $244
3-Day Park Hopper Ticket: $254
3-Day Park Hopper Ticket with Disney MaxPass: $299
FASTPASS selections with Disney MaxPass service are subject to availability which is limited and not guaranteed. Disney MaxPass is nonrefundable.*
Important Details:
Offer valid for children ages 3 to 9.
Tickets valid for use beginning January 7, 2020 and expire 13 days after the first day of use or December 16, 2021, whichever occurs first.
Each day of use constitutes one full day of use.
May purchase up to 8 tickets per person per day.
Tickets are nonrefundable, may not be sold or transferred for commercial use and exclude activities/events separately priced.
Offer may not be combined with other ticket discounts or promotions.
Subject to capacity, restrictions and change without notice.
Blockout days of December 19, 2020 – January 4, 2021; March 26 – April 11; July 4; November 20 – 27, 2021
*Disney MaxPass is nonrefundable, nontransferable and may not be redeemed for cash. Guests are strongly advised to check the day's FASTPASS availability and other park details before purchasing Disney MaxPass or using a park ticket with Disney MaxPass. FASTPASS selections for preferred attractions or entertainment may not be available at the time of Disney MaxPass purchase or use as FASTPASS selections are limited and availability is not guaranteed. FASTPASS selections may be made only while you are in the parks, and may change without notice. Not all attraction, entertainment or experience FASTPASS selections may be available through Disney MaxPass. Disney PhotoPass service is subject to the Disney PhotoPass terms and expiration policy found at https://disneyland.disney.go.com/photopass-terms-conditions/ . Online registration required. Disney PhotoPass photos captured during the day your Disney MaxPass feature is used must be linked to your Disney account. Not responsible for missing, lost or damaged photos. Downloads are restricted to personal use by Disney account holder only and may not be used for a commercial purpose. The Disney MaxPass feature will expire at the end of the day of use. Subject to other restrictions and change or cancellation without notice.
---
Disneyland Resort Discounts – Military Offers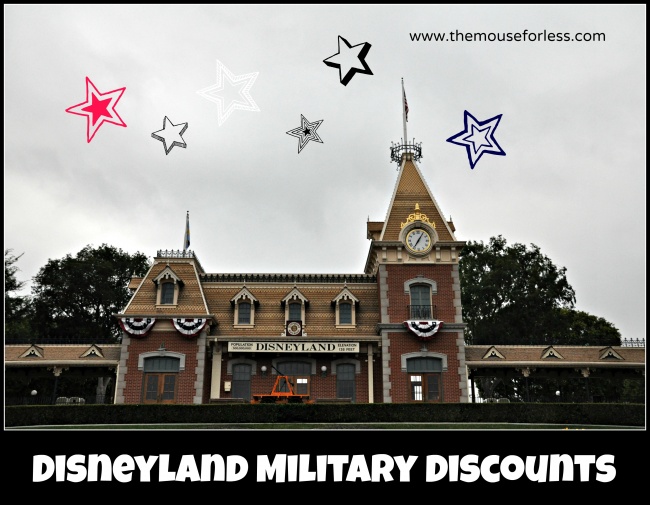 Military Salute Ticket Offer
2020 Disneyland Military Salute Ticket Offer
Disneyland Resort is saluting active and retired U.S. military personnel by offering Military Promotional 3-Day and 4-Day Park Hopper Tickets. You can visit both theme parks each day of your ticket!
Purchase from November 5, 2019 through December 18, 2020 and receive admission for 3 days for just $184 or 4 days for $204 from January 1 through April 4 and April 12 through December 21, 2020. Plus, you can purchase the Disney PhotoPass Collection product for a discounted price—$49 plus tax from November 5, 2019 through December 18, 2020.The Disney PhotoPass Collection product includes:
Digital downloads of all Disney PhotoPass photos in your account at time of redemption
A voucher for a Dining Print Package (Voucher may not be redeemed online. See voucher for restrictions.)
A Disneyland Resort Gallery Disc, featuring more than 350 high-resolution professional photos from around Disneyland Resort
This product can only be purchased at Main Street Photo Supply Co. in Disneyland Park or at Kingswell Camera Shop in Disney California Adventure Park. For additional information, visit disneymilitaryoffers.com.
---
Disneyland Resort Discounts – Annual Passholder Discounts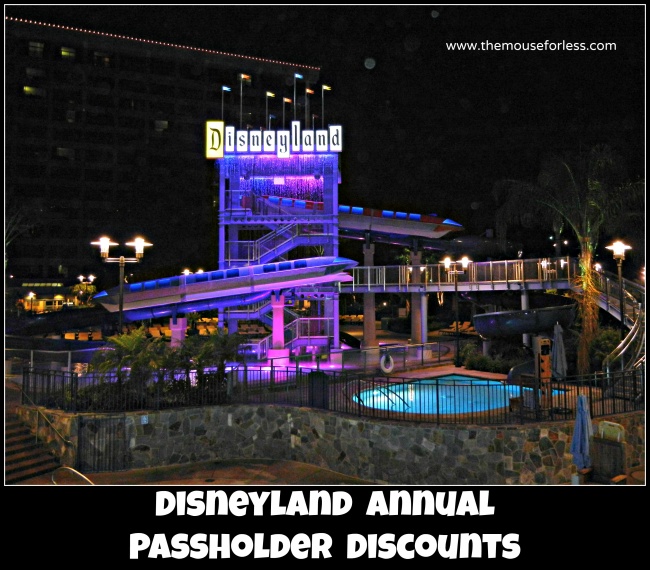 Occasionally, Disneyland offers special promotions for Annual Passholder; discounts can be up to 40% off. When offered, these special promotions are available on select Disneyland Resort hotel rooms on select dates. In general, Annual Passholders receive a 10% Disneyland hotel rooms discount, subject to availability. Discounts may not be available during peak times of the year. Rates are lowest on Sunday through Thursday nights. Hotel Guest must be a valid Annual Passholder at the time of stay. Valid Annual Passport must be presented at check-in and Passholder must stay in the room. Limit two (2) rooms per Annual Passholder per reservation and five (5) people maximum per room. Not valid in combination with any other discounts or offers.
---
Get Great Disneyland Ticket Deals
To learn how to get GREAT Disneyland ticket deals from ARES Travel and save $5 per ticket! Visit our Disney Ticket page for more info or to purchase.

See other great Disneyland packages and rates offered by The Magic For Less Travel OR visit or our Disneyland Ticket Discount page.