Round out your day at Pizzafari counter-service restaurant featuring individual pizzas fresh from the oven. It's a taste trek to savor. For some mealtime entertainment, search for the animals hiding in the murals on the walls in these themed rooms: Home Room, Nocturnal Room, Upside Down Room, Camouflage Room, Four Seasons Room, Bug Room.  Also, check out the unique family-style counter-service dining option.
Pizzafari is located in Disney's Animal Kingdom theme park. Find more Walt Disney World dining locations on our Walt Disney World Resort menus page.
Restaurant Info: American, Lunch/Dinner/Snack, $ – under $14.99 per adult
Find out how you can save money on dining at Walt Disney World by using one of Disney's Dining Plans.

Planning a Walt Disney World Vacation?
For a Free no-obligation quote, contact our sponsor
The Magic For Less Travel
. The Magic For Less Travel is an Authorized Disney Vacation Planner and has been helping guests plan magical vacations since 2002. Receive the best prices and free travel planning services. Their fee-free services will help you save time, money, and stress while planning a vacation designed around you and your needs!
Pizzafari Lunch & Dinner Menu
Menu Date: 10/2018
Entrées
Shrimp Flatbread – Roasted Shrimp, Tomato, Red Pepper, Alfredo Sauce, savory Pesto topped with Arugula served with Antipasto Salad – $13.49
Cheese Pizza – served with Tomato and Cucumber Salad – $9.99
Pepperoni Pizza -Flatbread topped with tangy Tomato Sauce, Mozzarella and spicy Pepperoni Slices served with Tomato and Cucumber Salad – $10.49
Sausage & Pepperoni Pizza – Freshly-baked Pizza topped with Tomato Sauce, Sausage and Pepperoni served with a small Caesar Salad – $10.99
Vegetable Pizza – Freshly-baked Pizza with Red Peppers, Green Peppers, Onions, and Kalamata Olives served with a small Caesar Salad – $10.49
Caesar Salad – Chopped Romaine, Croutons, Parmesan Cheese and Caesar Dressing – $7.99
Caesar Salad With Chicken – fresh Heart of Romaine with Herb-Marinated Chicken Breast, crunchy Croutons, and tangy Caesar Dressing – $9.99
Family-Style Dining – 2 appetizers, 3 classic Italian entrees, one dessert, and one non-alcoholic beverage per person. Served 5:00-8:00 PM nightly. Advanced reservations are accepted. – $19.99 for adults and $11.99 for children age 9 and under.
Accompaniments
Garlic Knots – Basket of Fresh-baked Garlic Knots topped with Cheese and served with Marinara Sauce – 6 pieces – $6.99
Tomato Basil Soup – $3.69
Small Caesar Salad – $3.49
Kids' Meals
For Guests Ages 9 and Under
All meals include two selections: Grapes, Carrot Sticks or Fresh Steamed Broccoli and choice of small low-fat Milk or small Dasani Water

Mickey Pasta with Turkey Marinara Sauces – $6.69

Smucker's Uncrustables – $6.19
Macaroni & Cheese – $6.69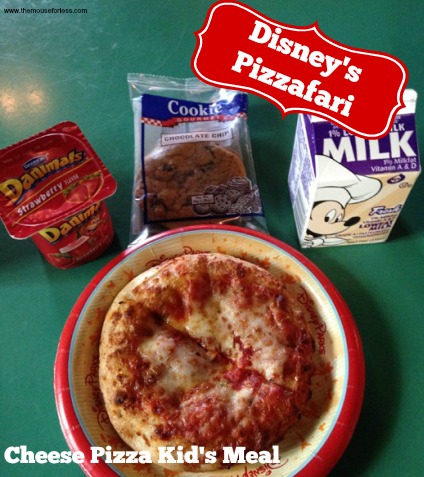 Child's Cheese Pizza – $7.19

Mickey Check Meals meet Disney nutrition guidelines for complete meals without substitutions
Desserts
Cannoli Cake – Chocolate Cake with Chocolate-Chip Cannoli filling topped with Chocolate Ganache and garnished with a mini Cannoli filled with Sweet Ricotta Cheese with Chocolate Chips – $4.99
Beverages
Mandarin Orange Lemonade – $4.99
Assorted Fountain Beverages – $3.99 Regular | $4.49 Large
Assorted Beverage with Souvenir Mug – $8.99
Dasani Bottled Water – $3.50
Smartwater – $5.50
NesQuik Chocolate Milk – $3.79
Coffee – Regular or Decaf – $3.29
Hot Tea – $3.29
Hot Cocoa – $3.29
Alcoholic Beverages
Bud Light – $8.00
Safari Amber – $9.75
Mandarin Orange Vodka Lemonade – featuring Skyy Mandarin Orange Vodka with ripe flavors of Tangerine and Lemon Zest – $9.75
** Pizzafari Menu and Prices are Subject to Change Without Notice **