Disney Springs | Marketplace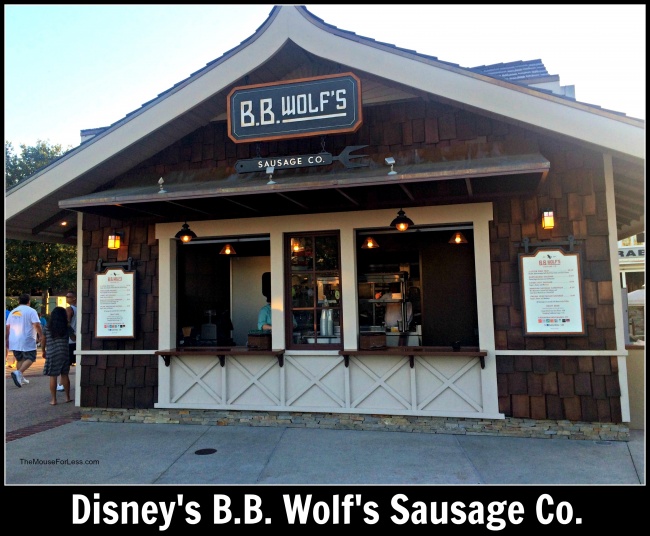 Located across from landmark T-REX restaurant on the Marketplace Causeway in Disney Springs, B. B. Wolf's Sausage C has a menu that features artisan sausages served with homemade pickles in a variety of options including a vegetarian one or three little ones to share, all available from a convenient walk up kiosk.  Look or listen for some of the free musical entertainment nearby, sit down and enjoy a quick bite or drink before your return to your shopping or entertainment.
Restaurant Info: American, Snack A la carte, $ – $14.99 and under per adult
Find out how you can save money on dining at Walt Disney World by using one of Disney's Dining Plans.
B. B. Wolf's Sausage Co Menu
Menu Date: 03/2019
B. B. Wolf's Sausage Co Menu Entrées
All Sausages are served with House-made Pickles
3 Little Pigs Trio – three mini versions of our Specialty Dogs: Pastrami Reuben Dog, Hawaiian Island Dog and Texas Chili-Cheese Dog served with Chips – $13.99
Hawaiian Island Dog – All-Beef Foot-long Hot Dog topped with Grilled Pineapple Salsa, Spam and Teriyaki on a House-made Roll served with Chips – $13.49
New York Pastrami Reuben – All-Beef Foot-long Hot Dog with Shaved Pastrami, Swiss, Sauerkraut and Russian Dressing on a House-made Roll served with Chips – $13.49
Texas Chili-Cheese Dog – All-Beef Foot-long Hot Dog topped with Chili, Cheddar and Corn Chips on a House-made Roll served with Chips – $13.49
Lamb Sausage – Tomato Chutney, Yogurt Sauce and Arugula on Pita Bread served with Chips – $11.49
Bratwurst Sausage – Sauerkraut and German Mustard on a Pretzel Roll served with Chips – $11.29
Italian Sausage – Sautéed Peppers and Onions with Marinara on a Roll served with Chips – $11.29
Vegetarian Bratwurst Sausage – Sauerkraut and German Mustard on a Pretzel Roll served with Chips – $11.29
B. B. Wolf's Sausage Co Menu Sides
Chips – $2.99
B. B. Wolf's Sausage Co Menu Desserts
Maple Bacon Chocolate-Chip Cookie Dough – with Candied Bacon – $4.49
B. B. Wolf's Sausage Co Menu Alcoholic Beverages
Seasonal Draft Beer – $8.25 – $10.25
B. B. Wolf's Sausage Co Menu Non Alcoholic Beverages
Assorted Fountain Beverages – $3.99
Dasani Bottled Water – $3.50
smartwater – $4.50
Frozen Lemonade -$4.99
Frozen Sweet Tea -$4.99
Frozen Sweet Tea Lemonade -$4.99
** B. B. Wolf's Sausage Co Menu and Prices are Subject to Change Without Notice **