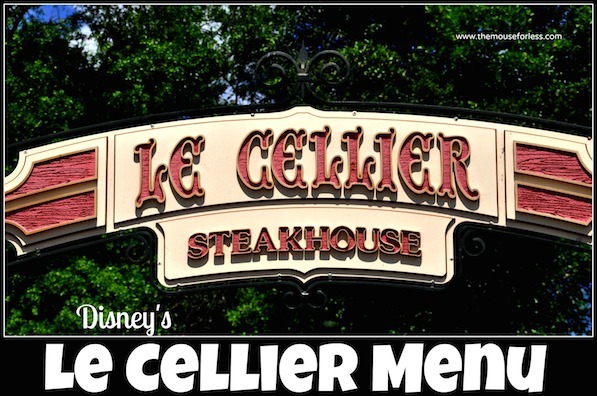 Step down into the cozy confines of the cellar of a magnificent Canadian château for an incredible sizzling steakhouse experience. Le Cellier Steakhouse menu items change seasonally. Featuring Beer and Wine from Canada. Lunch and Dinner at Le Cellier requires 2 table service credits when using the Disney Dining Plan.
Le Cellier Steakhouse is located in Disney's Epcot theme park.  Find more Walt Disney World dining locations on our Walt Disney World Resort menus page.
Restaurant Info: Steakhouse, Lunch/Dinner, A la carte, $$$ – $35.00 to $59.99 per adult
Find out how you can save money on dining at Walt Disney World by using one of Disney's Dining Plans.
Lunch and Dinner Menu   Kids' Menu

Planning a Walt Disney World Vacation?
For a Free no-obligation quote, contact our sponsor
The Magic For Less Travel
. The Magic For Less Travel is an Authorized Disney Vacation Planner and has been helping guests plan magical vacations since 2002. Receive the best prices and free travel planning services. Their fee-free services will help you save time, money, and stress while planning a vacation designed around you and your needs!
Le Cellier Steakhouse Lunch and Dinner Menu
Menu Date: 12/2019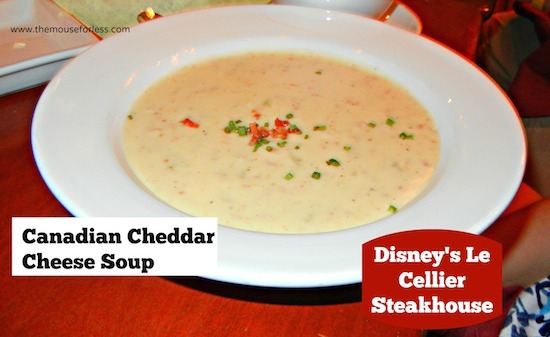 Appetizers
Prime Beef Tartare with Asain Flavors – Spicy mayonnaise, Tempura crunch, Tobikp Roe, Lotus Root, Yuzu Cucumbers, Charred Shishito Peppers – $19.00
Canadian Cheddar Cheese Soup – Moosehead Beer and Nueske's Applewood-smoked Bacon – $12.00
French Onion Soup – Brioche, Gruyere, Fontina, Asiago, and Parmesan Cheeses  – $13.00
Jumbo  Shrimp Cocktail  –   Spicy  house – made cocktail sauce, Lemon gel, old bay  – $21.00
Baby Iceberg Wedge Salad  – Marinated Toy Box Tomatoes, Edamame, Applewood -smoked bacon, Fourme d' Ambert Blue Cheese, Buttermilk Ranch, Crispy Onions – $16.00
Farmhouse Salad – Artisanal Lettuces, Pickled Vegetables, Heirloom Radish, Edamame, Multigrain Croutons, Sherry- Thyme Vinaigrette – $16.00
Artisan Cheese Plate – Selection of Canadian, French, and House – made Cheeses with Seasonal Accompaniments – $19.00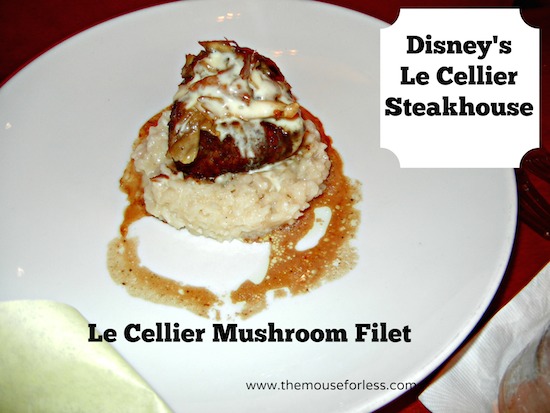 Entrees
Le Cellier Filet Mignon – AAA Canadian Beef Tenderloin, Mushroom Risotto, Heirloom Toy Box Tomatoes, Truffle-Butter Sauce – $59.00
Char – crusted USDA Prime Rib- EYe Steak  – Sweet Corn and Edamame Succotash, Applewood – smoked bacon, Toy Box Tomatoes, Maple Bordelaise Butter  – $57.00
Steak and Frites – USDA Prime New York Strip Steak, Chimichurri Butter, Smoked paprika – Yucca Fries, Saffron – Lime Aioli  – $55.00
Barbecue- smoked Half Chicken  – Green Beans, Wax Beans, Toy box tomatoes, Buttermil Ranch, barbecue Vinaigrette, Fennel – Arugula Salad  – $39.00
Steamed Asian Dumplings – Plant -based Meat Dumplings, Bok Choy, Chinese Long Beans, Red Peppers, Radish, Fragrant asian Broth – $33.00
Pan-seared Red Snapper – Middleneck Clams, Corn Fritters, Clam Chowder Cream, marble Potatoes, bacon Vinaigrette, Hot sauce Gel  – $49.00
Seared George's banks scallops – Fregola Pearl pasta, Summer Zucchini, Confit artichokes, Kalamata olives, Sun -dried Tomato vinaigrette – $44.00
Chateabriand For Two – snake River Farms wagyu Tenderloin, Bone marrow, Truffled Fingerling Potatoes, Sauce bearnaise Au Poivre Red Wine Reduction – $129.00
Enhancements
Creamed Spinach – $10.00
Four-Cheese Mac & Cheese – $11.00
Loaded Boursin Mashed Potatoes – $10.00
Sautéed Asparagus with Béarnaise – $11.00
Lobster Macaroni & Cheese  – $18.00
Cabernet -glazed Crimini Mushrooms
Poutine Offerings
Le Cellier Signature Poutine – Fresh-cut French Fries, Canadian Cheddar, Truffles, Red Wine Reduction – $13.00
Le Cellier Beef Bourguignon Poutine – Fresh-cut French Fries, Beef bourguignon Gravy, Gruyère , garlic Aioli, Truffle – $15.00
Le Cellier Seasonal Poutine – Chef's Monthly creation – $13.00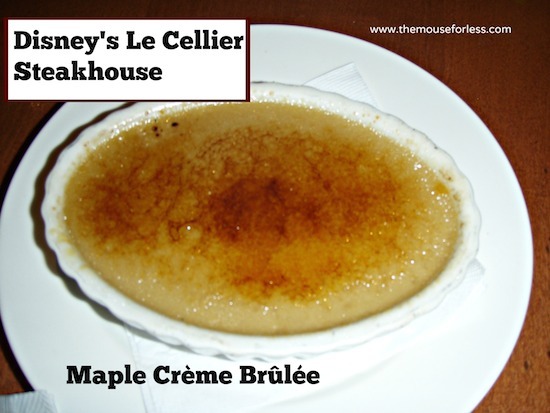 Desserts
Warm Pecan-Brown Butter Tart – Maple Ice Cream, Brown Sugar Anglaise, Whisky Caramel – $11.00
Strawberry Cheesecake – Lemon Cheesecake with Strawberry Glaze Garnished with Meringue Kisses and Fresh Strawberries – $11.00
Chocolate Maple Yukon Bar – Chocolate Mousse, Chocolate Maple Ganache, Shortbread Cookie Crust, Whisky Caramel Sauce, Raspberry – $11.00
Chocolate Mousse Maple Leaf (No Sugar Added) – Whipped Cream, Sesame Tuile – $11.00
Maple Crème Brûlée – $9.00
Featured Wines
Domaine Faury Saint Joseph Syrah  – $18.00
Château Beau-Site Bordeaux Blend, Saint-Estephe – $20.00
Silverado Cabernet Sauvignon, Napa Valley – $21.00
Silverado Chardonnay, Carneros – $16.00
Le Cellier Icewine Flight – Meeker FroZin, Inniskillin Vidal, Neige Apple – $21.00
Specialty Cocktails
Le Cellier Lot 40 Bloody Caesar – A Canadian Favorite featuring Lot 40 Canadian Rye Whisky, Clamato Juice, Bitterman's Hellfire Bitters, and a blend of Seasonings  – $13.00
The Montreal 75 – Dillon's Craft Gin #22 with Neige Sparkling Wine blended with Peach Purée and fresh Lime Juice – $14.75
Blueberry Icewine Martini – Dillon's Small Batch Vodka, Château des Charmes Vidal, and Muddled Blueberries – $14.00
Victoria Raspberry – Dillon's Small Batch Vodka with Fresh-squeezed Lime Juice and Raspberry Purée – $13.00
Cucumber Cooler – Dillon's Small Batch Dry Rye with Fresh-squeezed Lime Juice and Muddled Cucumber – $13.00
The Toronto – Lot 40 Canadian Rye Whisky with Bitters, Simple Syrup, and Fernet-Branca – $13.00
Winter Old Fashioned – Featuring Lot 40 Canadian Rye Whisky with Muddled Fruit, Chocolate and Orange Bitters, and a splash of Soda. A classic with a Canadian Twist – $13.00
Ottawa Apple – Crown Apple Maple Whisky, Apple Infusion, and Cranberry Juice – $11.50
Unibroue Selections
La Fin Du Monde – $9.50
Maudite – $9.50
Blanche de Chambly – $9.50
Trois Pistoles – $9.50
Ephemere – $9.50
Canadian Draft and Bottled Beer
Moosehead Pale Ale Draft – $7.75
Molson Canadian – $7.00
Moosehead Lager – $7.00
Labatt Blue or Labatt Blue Light – $7.00
St-Ambroise Oatmeal Stout – $8.75
St-Ambroise Apricot Wheat – $8.75
Le Cellier Steakhouse Kids' Menu
Menu Date: 07/2019
Kids' Appetizers
Cheddar Cheese Soup – $3.00
House Green Salad – with Fat-free Ranch Dressing – $3.00
Kids' Mickey Check Meals
All Meals served with choice of Lowfat Milk or small Dasani Water

Grilled Chicken – served with Brown Rice, Green Beans, and Fresh Fruit Salad – $15.00

Seared Salmon – served with Brown Rice, Green Beans, and Fresh Fruit Salad – $18.00

 Mickey Pasta – with Marinara Sauce, Vegetables, and Fresh Fruit Salad – $11.00

Meets Disney Nutrition Guidelines for Complete Meals without substitutions.
Kids' Meals
Meals served with choice of Small Lowfat Milk, Small Dasani Water, or Small Minute Maid Apple Juice
Mickey Macaroni & Cheese – with White Cheddar Cheese Sauce – $11.00
Grilled Cheese – with French Fries and Vegetables – $10.00
Grilled Sirloin – with French Fries and Vegetables – $15.00
Kid's Desserts
Carrots
Grilled Beans
Fingerling Potatoes
Boursin Cheese Mashed Potatoes
Brown Rice
Mushroom Risotto
Ice Cream Sundae
Fruit Salad
Chocolate Mousse
Kids' Specialty Drink
Toy Story 3 or Little Mermaid Punch – Minute Maid® Light Lemonade Punch served in a souvenir cup with a glowing Clip-on Light – $8.00
** Le Cellier Steakhouse Menu and Prices are Subject to Change Without Notice **