Disney's Water Parks | Blizzard Beach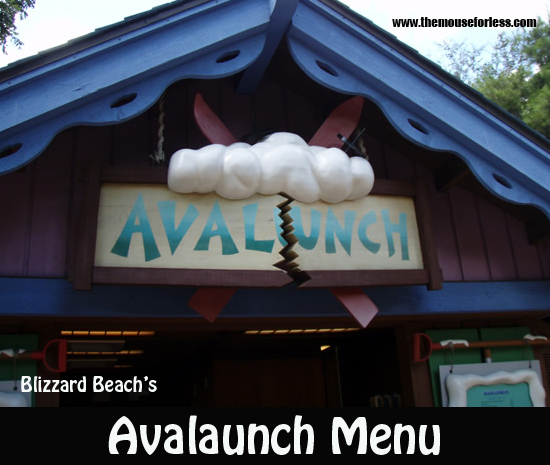 Stop that mountain of hunger by grabbing a light entrée, snack or dessert at Blizzard Beach's Avalunch restaraunt. Next to the entrance to the Chair Lift, this is a great last stop before you take on the conquest of Mount Gushmore.
Restaurant Info: American, Lunch/Dinner, $
Find out how you can save money on dining at Walt Disney World by using one of Disney's Dining Plans.
Avalunch Menu
Menu Date: 08/2018
Entrées
Barbeque Beef Brisket – Pimento Cheese and Fried Onion Straws with Chips – $10.99
Bacon Macaroni & Cheese Foot-long – with Chips – $10.79
Chili-Cheese Footlong – with Chips – $10.99
Barbecue Slaw Foot-long – with Chips – $10.99
Harvest Salad with Chicken – $10.49
Kids' Macaroni & Cheese – $8.99
Kids' Turkey Sandwich – $9.29
Slope Snacks and Sweets
Crisped Rice Treat – $4.69
Fresh Fruit Cup – $3.99
Chocolate Chip Cookie – $3.29
Brrr-everages
Assorted Fountain Beverages – Coca Cola, Diet Coke, Sprite, Fanta Orange, Minute Maid Light Lemonade, Iced Tea, Powerade – $3.29 | $3.69
All Day Refillable Mug – $11.99
Dasani Bottled Water – $3.00
smartwater – $4.50
Alcoholic Brrr-everages
Bud Lite Draft – $7.50
Yuengling Draft – $7.25
Samuel Adams Seasonal – $9.25
Beso Del Sol Sangria – $9.50
** Avalunch Menu and Prices are Subject to Change Without Notice **