Epcot | World Showcase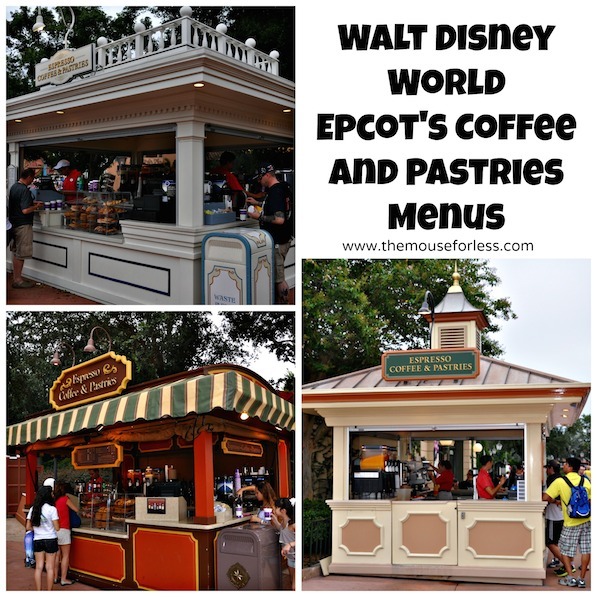 Four kiosks, featuring Joffrey's Coffee, are located throughout Epcot park – in Future World, at the rear of Innoventions East and in World Showcase between UK and Canada, between American Adventure and Italy, and between the entrance to World Showcase and Mexico. There is also an Espresso Coffee & Pastries located in the entrance plaza outside of Epcot park that sometimes features non-alcoholic specialty coffees.
Restaurant Info: Beverage Kiosk, $ – under $14.99 per adult
Find out how you can save money on dining at Walt Disney World by using one of Disney's Dining Plans.
MouseForLess Tip: If you visit Joffrey's Kiosks at Walt Disney World often, ask for the unadvertised loyalty card that gives guests a free beverage for every seven purchased. Valid with any Joffrey's coffee, tea, espresso, smoothie or alcoholic beverage purchase. Free drink excludes alcoholic beverages. Available at Joffrey's Kiosks Throughout Walt Disney World Resort.
Epcot Espresso Coffee & Pastries Menu
Menu Date: 05/2018
Bakery
Cookies – $3.99

Donuts – $3.99

Muffins – $3.99

Other Assorted Pastries – $3.99

Beverages
Dasani Bottled Water – $3.00

Hot Chocolate – $3.89

Hot Tea – $3.39

Peach Iced Tea – $3.99

Coffees
All Coffee Drinks Available Hot or Cold.
Coffee – $3.39

Double Espresso – $3.49

Cafe Latte – $4.89

Chai Latte – $4.89

Mocha Latte – $4.89

Vanilla Latte – $5.39

Iced Latte – Vanilla, Caramel, Hazelnut, or Irish Cream – $5.39

Specialty Beverages
Frozen Drinks – $5.39

Frozen Cappuccino – $5.39

Shakin' Jamaican – cappuccino topped with Bailey's – $9.49
Tea Breeze – freshly brewed tea and lemonade topped with vodka – $9.49
Make it Spirited – add Baileys Irish Creme, Grey Goose Vodka, Kahlua or Jameson Irish Whiskey – $9.49 / 8oz
Seasonal Beverages
Dreamsicle Iced Latte – espresso, white chocolate sauce, and candied orange syrup – $5.39

Dulce de Leche Iced Latte – espresso and creamy dulce de leche with whipped cream and dulce de leche drizzle – $5.39

Island Swizzle Iced Tea – iced tea with tropical fresh fruit flavors – $3.99

Dreamsicle Iced Latte with alcohol – espresso, white chocolate sauce and candied orange syrup, with alcohol – $9.49
Island Swizzle Iced Tea with rum – iced tea with tropical fresh fruit flavors and Captain Morgan Spiced Rum – $9.49
Dulce de Leche Iced Latte with alcohol – espresso and creamy dulce de leche with whipped cream and dulce de leche drizzle, with alcohol – $9.49

= Snack on the Disney Dining Plan
** Espresso Coffee & Pastries Menu and Prices are Subject to Change Without Notice **