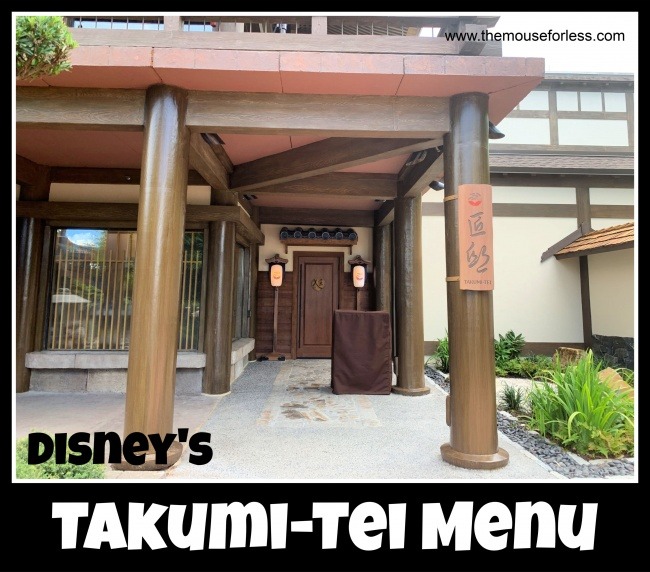 Immerse yourself in a truly creative dining experience in a sublime setting at Takumi-Tei—Japanese for "house of the artisan."
At Takumi-Tei, the beauty of Japan is in its cuisine. Choose from the a la carte or multicourse tasting menus offering creatively prepared, Japanese-inspired dishes like braised wagyu beef, roasted duck, maki sushi and yuzu cheesecake. Guests may also enjoy signature cocktails, premium sake, wine and craft beer.
Takumi-Tei is located in Disney's Epcot theme park. Find more Walt Disney World dining locations on our Walt Disney World Resort menus page.
Restaurant Info: Asian, Japanese, Seafood, Sushi Dinner, $$$$ – over $60.00 per adult
Takumi-Tei Dress Code:
In order to preserve the atmosphere of this dining experience, Guests are asked to adhere to the dress code. The minimum dress code is required—and dressier attire is also welcome. Please review the minimum dress code requirements:
Men must wear khakis, slacks or dress shorts and collared shirts. Jeans may be worn if in good condition. Sport coats are optional.
Women must wear Capri pants, skirts, dresses or dress shorts. Jeans may be worn if in good condition.
Not permitted are tank tops, flip-flops, swimsuits, swimsuit cover-ups, hats for gentlemen, cut-offs, torn clothing and t-shirts with offensive language and/or graphics.
Find out how you can save money on dining at Walt Disney World by using one of Disney's Dining Plans.

Planning a Walt Disney World Vacation?
For a Free no-obligation quote, contact our sponsor
The Magic For Less Travel
. The Magic For Less Travel is an Authorized Disney Vacation Planner and has been helping guests plan magical vacations since 2002. Receive the best prices and free travel planning services. Their fee-free services will help you save time, money, and stress while planning a vacation designed around you and your needs!
Takumi-Tei Dinner Menu
Menu Date: 12/2019
Appetizers
Miso – Silken Tofu, Scallion, Toasted Nori – $10.00
Katsuo Dashi – Bonito broth, Furikake White Rice, Toasted Nori – $12.00
Kinoko Dashi – Mushroom broth, Baby Shiitake, White Rice, and Furikake – $12.00
Daikon no Nimono – Seared Daikon, Sean beans, Yuzu, Tentsuyu – $18.00
Teien – Garden – Compressed Watermelon, Tuna Sashimi, Frisée, Grapefruit, Daikon and Watermelon Rind Tsukemono, Yuzu Dust, Watermelon Vinaigrette – $24.00
Nikomi Wagyu – Braised Wagyu – Roasted Bone Marrow, Braised Jackman Farms Wagyu Shortrib, Yuzu Kosho, Wasabi Shiso Bavaroise Warishita – $29.00
Hama no Kani – Crab on the Beach – Ponzu Crab, Toasted Crab, Frisée, Heirloom Tomato, Watermelon Radish Tsukemono, Leek Gel, Sesame Pollen, Plum Wine Reduction – $26.00
Agedashi Tofu – Fried Silken Tofu, Tentsuyu Brown Butter Black Rice, Shimeji Mushroom, Daikon Tsukemono, Carrot Ginger Purée, Lotus Root – $21.00
Main Course

Takumi Gyuniku – Artisan Beef – Japanese A-5 Wagyu Tenderloin, Leek Sauce, Warishita, Shortrib Gyoza, Roast Cippolini Onion, Curried Potato, Seasonal Mushroom – $120.00
Ushikai no Shukaku – Cattleman's Harvest – Jackson Farms Wagyu Tenderloin, Yuzu Kosho, Arima Sansho Pepper Reduction, Potato and Lotus Root, Shiitake Mushroom, Wasabi Emulsion, Roasted Cippolini Onion – $115.00
Makiba no Megumi – Gift of Ranch – Jackman Farms Wagyu Strip Steak, Purple Sweet Potato, Fresh Wasabi, Maitake Mushroom, Matcha Maldon – $85.00
Misoyaki Ochazuke – Misoyaki Sea Bass, Karikari Sushi, Shirasu, Tsukemono, Toasted Nori, Shimeji Mushroom, Ocha Dashi Broth – $52.00
Tataki – Misoyaki Salmon,Citrus curry, Asparagus, Baby Siitake Mushrooom, Black Sesame tofu, Ikura – $42.00
Kamo Rosu – Roasted Duck – Marinated Duck, Kabocha Squash, Edamame Beans, Japanese Mizuna, Cured Duck Egg Yolk, Grape Reduction – $46.00
Tempura Ebi – Tempura Tiger Prawns – Tempura Tiger Prawns, Crisped Silken Tofu, Green Tea-smoked Black Rice, Caramelized Togarashi Cream, Sea Beans, Shimeji Mushroom – $44.00
Maki Sushi

Mozaiku – Tuna, Yellowtail, Asparagus, Tobiko, Red Shiso Rice, Lemon Grass Ponzu – $22.00
Aburi Wagyu – Japanese A -5  Wagyu Beef, Asparagus, Siitake Mushroom, Cured Duck Egg Yolk, Warishita – $26.00
Ebi – Tempura Tiger Prawn,Curry Emulison, Tobiko – $25.00
Tsukemono – Pickled Cucumber, Watermelon Radish, Daikon Shiso, Avocado, Leek  Gel – $18.00
Sashimi Entrée

Takumi Sashimi – Tuna, Toro, Salmon, Yellowtail, Uni, Ikura – $40.00
Irodori Temari – Chelf selected assortment of  fresh vegetables and accompaniments – $21.00
À la Carte, 2 pieces per order – Tuna (12), Salmon (12), Yellowtail (12), Ikura (16), Toro (24), Uni (24)
Nigiri Entrée
Temari Sushi – Chef-selected Assortment of Oceanic Delicacies – $37.00
À la Carte, 2 pieces per order – Tuna (13), Salmon (13), Yellowtail (13), Ikura (17), Toro (26), Uni (26)
Omakase Tasting Menu

Pricing starts at $150 per person
Otoshi – Imagined daily by the Chefs at Takumi-Tei
Temari Sushi – Chef-selected Assortment of Oceanic Delicacies
Nikomi Wagyu – Braised Wagyu – Roasted Bone Marrow, Braised Jackman Farms Wagyu Short Rib, Yuzu Kosho, Wasabi Shiso Bavaroise, Warishita
Hashiyasume – Palate cleansing course
Wagyu Pairing – Japanese A5 Wagyu Strip Steak paired with Jackman Farms Wagyu Strip Steak, Roast Cipollini Onion, Curried Potato, Seasonal Mushroom, Daikon and Watermelon Radish Tsukemono, Yuzu Kosho, Fresh-grated Wasabi, Arima Sansho Pepper Reduction, Matcha Maldon
Suiren Dani – Water Lilly Valley – Japanese Water Cake, Rose, Kuromitsu, Kinako Crumb
Tea Ceremony – Traditional ceremony featuring Matcha Green Tea prepared in front of the Guest
Dessert
Kumo – Cloud Cake – Yuzu Cheesecake, Spiced Kabocha, Candied Yuzu Gel, Blackberry Sake – $16.00
Shizuku – Japanese Water Cake, Yuzu Crumb, Black Grape, Blackberry Sake – $14.00
Hachimitsu Castella – Castella Cake, Honey Meringue, Sesame brittle, Hojicha Custard, Honey Caramel – $16.00
Children's Appetizers

Teien – Garden  – Compressed Watermelon, Frisée, Grapefruit, Daikon and Watermelon Rind Tsukemono, Heirloom Tomatoes, Watermelon Vinaigrette – $10.00
Miso Soup – with Silken Tofu, Scallion, Toasted Nori – $10.00
Agedashi Tofu – Fried Silken Tofu, Tentsuyu, White Rice, Shimeji Mushrooms, Carrot-Ginger Purée – $10.00
Edamame – with Sea Salt – $5.00
Children's Main Course

Kamo Rosu – Roasted Duck – Marinated Duck, Kabocha Squash, Japanese Mizuna, Grape Reduction – $18.00
Wagyu Strip Steak – Jackman Farms Wagyu Strip Steak, Arima Sansho Pepper Reduction, Curried Potato, Roasted Cippolini Onion – $29.00
Misoyaki Salmon – Potato and Lotus Root, Shimeji Mushroom, Edamame, Leek Sauce – $29.00
Children's Dessert

Castells – Castella cake, Honey Meringue, Sesame Brittle, Hojicha Custard, Honey Caramel – $8.00
Kumo – Cloud Cake – Yuzu Cheesecake, Spiced Kabocha, Candied Yuzu, Orange Yuzu Emulsion – $8.00
Non-Alcoholic Beverages
Soft Drinks – Coca-cola, Sprite, Diet Coke, Sprite, Ginger Ale, Lemonade
Blood Orange Spritzer – Blood Orange Syrup, Lemon, Mint, Falernum, Sparkling Water – $8.00
Ginger Mimosa – Ginger Ale, Orange Juice, Falernum, Fresh Ginger – $8.00
Okinawa Sunshine –  Calpico, Pineapple, Orange, Yuzu juice, Sprite, Mint – $8.00
Specialty Cocktails
Kochi – Joto Yuzu Citrus Sake, Rum, Fresh Mint, Yuzu Juice, Orange – $16.00
Yogan – Haku Japanese Vodka, Ginger Beer, Lime– $15.00
Raiju – Haku Japanese Vodka, Spiced Ginger Beer, Lime – $14.00
Sakurajima – Kaiyo Japanese Whisky Sour with Smoked Cherrywood – $16.00
Kami – Roku Gin, Sayuri 'White Lilly' Nigori Sake, Calipco, Lychee – $15.00
Wine
Piper Heidsieck Brut Sparkling, Champagne, France – Bottle $150.00, Glass $25.00
Emmolo Sauvignon Blanc, Napa Valley – Bottle $75.00, Glass $19.00
Raeburn Chardonnay, Sonoma – Bottle $50.00, Glass $12.00
Zen Garden Riesling, Pfalz, Germany – Bottle $46.00, Glass $12.00
Jean-Claude Boisset Les Ursulines Pinot Noir, Burgundy, France – Bottle $66.00, Glass $13.00
Donnafugata Sul Volcano Etna Rosso, Etna, Sicily – Bottle $120.00, Glass $23.00
Scattered Peaks Cabernet Sauvignon, Napa Valley – Bottle $98.00, Glass $18.00
Stag's Leap Cabernet Sauvignon, Napa Valley – Bottle $145.00, Glass $30.00
The Choya Single Year Plum Wine – Bottle $70.00, Glass $15.00
Japanese Beer
Asahi Super Dry Draft – $12.00
Kirin Light Bottle – $10.00
Coedo Beniaka Amber Bottle – $16.00
Coedo Kyara IPL Bottle – $16.00
Coedo Shikkoku Black Bottle – $16.00
Orion Premium Lager Bottle – $14.00
** Takumi-Tei Menu and Prices are Subject to Change Without Notice **