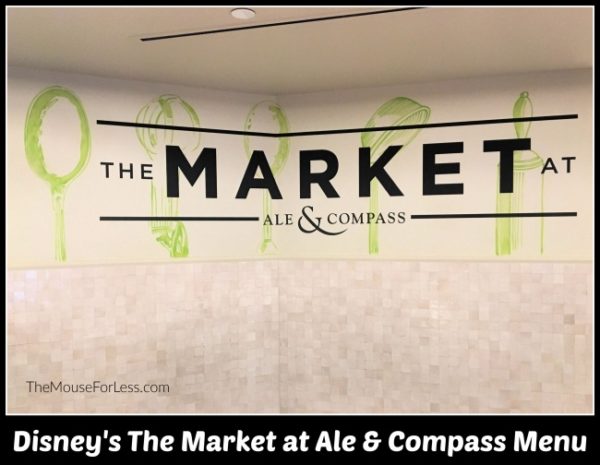 At The Market at Ale & Compass at Disney's Yacht Club Resort, there are some great grab and go food and snack options throughout the day.
Find more Walt Disney World dining locations on our Walt Disney World menus page.
Restaurant Info: American, Breakfast/Lunch/Dinner/Snack, $ – $14.99 and under per adult
Find out how you can save money on dining at Walt Disney World by using one of Disney's Dining Plans.
Breakfast Menu Lunch & Dinner Menu  Drinks Menu

Planning a Walt Disney World Vacation?
For a Free no-obligation quote, contact our sponsor
The Magic For Less Travel
. The Magic For Less Travel is an Authorized Disney Vacation Planner and has been helping guests plan magical vacations since 2002. Receive the best prices and free travel planning services. Their fee-free services will help you save time, money, and stress while planning a vacation designed around you and your needs!
Breakfast Menu
Menu Date: 2023
Souvenir Specialties
Resorts Refillable Mug – Eligible for refills at Beverage Islands at Quick Service locations at any Disney Resort Hotel during the length of the stay – $21.99
Entrées
Breakfast Bowl
Scrambled Eggs served with a Mickey Waffle, Potato Barrels, Bacon and a Biscuit – $12.99
Mickey-shaped Waffles – $10.49
Egg-White Breakfast Wrap
Egg Whites, Spinach, and Oven-roasted Tomatoes served on a Whole-Wheat Wrap – $5.99
Ham and Cheese Breakfast Sandwich
Eggs, Ham, and Cheddar served on a Pretzel Roll – $6.99
Turkey and Cheese Breakfast Sandwich
Oven-roasted Turkey, Eggs, Swiss, Peppers, and Onions served on Ciabatta – $7.29
Kids' Meals
Mickey-shaped Waffles
Served with choice of Sides and a Beverage – $7.59
Sides
Potato Barrels – $4.49
Gourmet Oatmeal
Served with choice of Cinnamon, Brown Sugar, Dried Cranberries, or Golden Raisins – $3.49
Bacon – $2.99
Fresh Fruit
Grape Cup – $3.99
Strawberry Fruit Cup – $3.99
Pineapple Cup – $4.19
Bakery
Caramel Cheesecake
Vanilla Cheesecake with Caramel Sauce, Chocolate Stripes, Whipped Cream, and a Chocolate Mickey Face – $5.79
Cookies 'n Cream Trifle
Layers of Chocolate Cookie Sandwich Mousse, Chocolate Cake, and Whipped Cream – $5.49
Cinnamon Bun – $4.49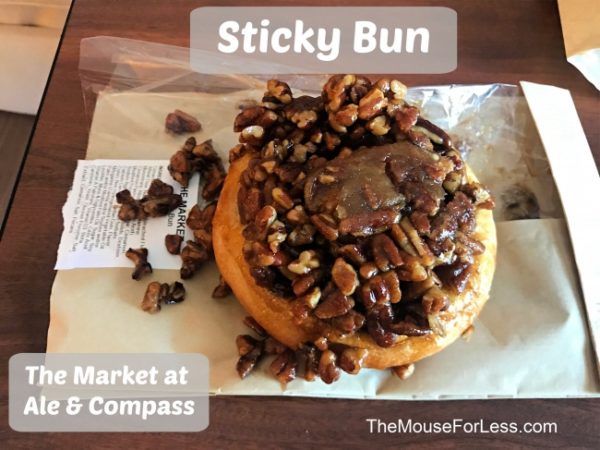 Sticky Bun – $4.49
Croissant – $3.79
Muffin Assortment – $3.99
Chocolate Chunk Cookie – $3.99
Snacks
Allergy-Friendly Cookies – $6.99
Nestlé® Mickey Premium Bar – $5.99
Cereal with Milk – $4.99
Mickey's Crisped Rice Treat – $4.69
Mixed Berry Fruit Cup – $4.19
Apples with Caramel – $3.99
Hummus with Carrots & Celery – $4.49
Allergy-Friendly Chocolate Chip Cookie – $3.49
Assorted Chips – $2.99
Kind Bar – Almond Apricot – $2.99
Kind Bar – Dark Chocolate Sea Salt – $2.99
White Cheddar Popcorn – $2.99
Fruity Gummy Bears – $2.49
Grapes – $2.39
Banana – $2.29
M&M'S® Milk Chocolate – $2.49
M&M'S® Peanut – $2.49
Orange – $2.29
Red Apple – $2.29
SKITTLES® – $2.49
Snickers® Original – $2.49
Chocolate Cookie Sandwich – $1.29
Beverages
smartwater® – $5.75
Monster™ Energy – $5.29
Monster™ Energy Zero Ultra – $5.29
Simply® Orange – $4.99
POWERADE® Fruit Punch Bottle – 20-oz Bottled Beverage – $4.69
POWERADE® Mountain Blast – $4.69
vitaminwater® Power-C Dragonfruit – $4.69
vitaminwater® Zero Rise – $4.69
Barq's® Root Beer Bottle – 20-oz Bottled Beverage – $4.69
Cherry Coke® Bottle – 20-oz Bottled Beverage – $4.69
Coca-Cola® Bottle – 20-oz Bottled Beverage – $4.69
Coca-Cola® Zero Sugar Bottle – 20-oz Bottled Beverage – $4.69
Diet Coke® Bottle – 20-oz Bottled Beverage – $4.69
Fanta® Orange Bottle – 20-oz Bottled Beverage – $4.69
Minute Maid® Lemonade Bottle – 20-oz Bottled Beverage – $4.69
Chocolate Milk – $4.19
Sprite® Bottle – 20-oz Bottled Beverage – $4.69
Assorted Fountain Beverages – Assorted Coca-Cola® Offerings – $4.29
Minute Maid® Cran-Apple Raspberry Juice – $3.99
Minute Maid® Grapefruit Juice – $3.99
Small Chocolate Milk – 8-oz Bottled Beverage – $3.59
DASANI® Bottled Water – $3.75
Freshly Brewed Joffrey's Coffee™ Decaf – $3.49
Freshly Brewed Joffrey's Coffee™ Regular – $3.49
Hot Cocoa – $3.49
Twinings of London® Hot Tea – $3.49
Small DASANI® Water – 12-oz Bottled Beverage – $2.50
Lowfat Milk – $1.99
Specialty Coffee
Large Caramel Macchiato – $5.49
Caramel Macchiato – $4.99
Large Cappuccino – $4.79
Large Caffé Latte – $4.59
Caffé Latte – $4.29
Cappuccino – $3.99
Americano – $3.49
Espresso – $2.49
Lunch & Dinner Menu
Menu Date: 07/2023
Hot Sandwiches
Foot-Long All-Beef Chili-Cheese Hot Dog
Chili-Cheese All-Beef Foot-long Hot Dog with Chili and Cheddar on the Side – $12.29
Cuban Sandwich
Ham, Slow-roasted Pork, Swiss, Pickles, Mayonnaise, and Mustard on a Hoagie Roll served with Chips – $12.29
Grilled Chicken Panini
Basil Pesto, Fresh Mozzarella, and Oven-roasted Tomatoes on Ciabatta served with Chips – $11.29
Ham and Cheese Sandwich
Served on a Pretzel Roll with Chips – $11.29
Cold Sandwiches
Roast Beef Sandwich
Roast Beef, Horseradish Cream, Caramelized Onions, and Arugula on Multigrain Bread served with Chips – $11.29
Spicy Italian Sandwich
Capicola, Salami, Ham, Provolone, Tomato Pesto, and Giardiniera served on Herbed Focaccia served with Chips – $11.79
Turkey and Brie Sandwich
Roasted Turkey, Brie, Lettuce, Apples, and Dijon-Mayonnaise on Multigrain Bread served with Chips – $10.79
Salads
Chicken Caesar Salad
Chicken, Romaine, Parmesan, and Croutons with Caesar Salad Dressing – $11.29
Greek Salad
Romaine and Kale Mix with Tomatoes, Cucumbers, Onions, Olives, and Feta – $9.29
Garden Salad
Romaine, Arugula, and Spinach Blend with Grape Tomato, Cucumber, Edamame, Roasted Garbanzo Beans, and Carrots – $9.29
Kids' Meals
Turkey Sandwich
Served with choice of two Sides and choice of Small Lowfat Milk or Small DASANI® Water. Meets Disney Nutrition Guidelines for Complete Meals without substitutions – $7.79
PB&J Uncrustable
Served with choice of two Sides and choice of Small Lowfat Milk or Small DASANI® Water. Meets Disney Nutrition Guidelines for Complete Meals without substitutions – $6.79
Grilled Cheese
Served with choice of Sides and a Beverage – $7.29
Ham Sandwich
Served with choice of Sides and a Beverage – $7.79
Macaroni & Cheese
Served with choice of Sides and a Beverage – $7.29
Fresh Fruit
Pineapple Cup – $4.19
Grape Cup – $3.99
Strawberry Fruit Cup – $3.99
Bakery
Caramel Cheesecake
Vanilla Cheesecake with Caramel Sauce, Chocolate Stripes, Whipped Cream, and a Chocolate Mickey Face – $5.79
Cinnamon Bun – $4.49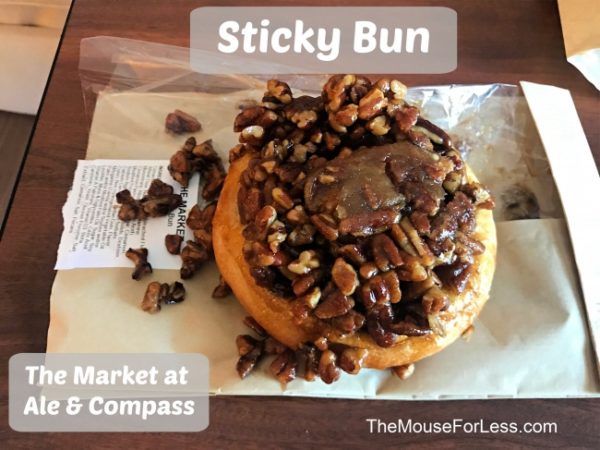 Sticky Bun – $4.49
Croissant – $3.79
Muffin Assortment – $3.99
Chocolate Chunk Cookie – $3.49
Dessert
Cookies & Cream Trifle
Layers of Chocolate Cookie sandwich Mousse, Chocolate Cake, and Whipped Cream – $5.49
Snacks
Allergy-Friendly Cookies – $6.99
Nestlé® Mickey Premium Bar – $5.99
Cereal with Milk – $4.99
Mickey's Crisped Rice Treat – $4.69
Mixed Berry Fruit Cup – $4.19
Apples with Caramel – $3.99
Hummus with Carrots & Celery – $4.49
Allergy-Friendly Chocolate Chip Cookie – $3.49
Assorted Chips – $2.99
Kind Bar – Almond Apricot – $2.99
Kind Bar – Dark Chocolate Sea Salt – $2.99
White Cheddar Popcorn – $2.99
Fruity Gummy Bears – $2.49
Grapes – $2.39
Banana – $2.29
M&M'S® Milk Chocolate – $2.49
M&M'S® Peanut – $2.49
Orange – $2.29
Red Apple – $2.29
SKITTLES® – $2.49
Snickers® Original – $2.49
Chocolate Cookie Sandwich – $1.29
Beverages
smartwater® – $5.75
Monster™ Energy – $5.29
Monster™ Energy Zero Ultra – $5.29
Simply® Orange – $4.99
POWERADE® Fruit Punch Bottle – 20-oz Bottled Beverage – $4.69
POWERADE® Mountain Blast – $4.69
vitaminwater® Power-C Dragonfruit – $4.69
vitaminwater® Zero Rise – $4.69
Barq's® Root Beer Bottle – 20-oz Bottled Beverage – $4.69
Cherry Coke® Bottle – 20-oz Bottled Beverage – $4.69
Coca-Cola® Bottle – 20-oz Bottled Beverage – $4.69
Coca-Cola® Zero Sugar Bottle – 20-oz Bottled Beverage – $4.69
Diet Coke® Bottle – 20-oz Bottled Beverage – $4.69
Fanta® Orange Bottle – 20-oz Bottled Beverage – $4.69
Minute Maid® Lemonade Bottle – 20-oz Bottled Beverage – $4.69
Chocolate Milk – $4.19
Sprite® Bottle – 20-oz Bottled Beverage – $4.69
Assorted Fountain Beverages – Assorted Coca-Cola® Offerings – $4.29
Minute Maid® Cran-Apple Raspberry Juice – $3.99
Minute Maid® Grapefruit Juice – $3.99
Small Chocolate Milk – 8-oz Bottled Beverage – $3.59
DASANI® Bottled Water – $3.75
Freshly Brewed Joffrey's Coffee™ Decaf – $3.49
Freshly Brewed Joffrey's Coffee™ Regular – $3.49
Hot Cocoa – $3.49
Twinings of London® Hot Tea – $3.49
Small DASANI® Water – 12-oz Bottled Beverage – $2.50
Lowfat Milk – $1.99
Specialty Coffee
Large Caramel Macchiato – $5.49
Caramel Macchiato – $4.99
Large Cappuccino – $4.79
Large Caffé Latte – $4.59
Caffé Latte – $4.29
Cappuccino – $3.99
Americano – $3.49
Espresso – $2.49
Drinks Menu – Available All Day
Menu Date: 07/2023
Cocktails
Cutwater Bloody Mary
354 mL Can – Fugu Vodka, All-Natural Tomato Juice and a dash of Spice – $11.00
Cutwater Gin & Tonic
12-oz Can – Cutwater clean and fragrant Gin with Grapefruit Cucumber Tonic – $11.00
Cutwater Rum & Ginger
12-oz Can – Cutwater White Rum, crafted from pure cane sugar, with Spicy Ginger Beer – $11.00
Truly Wild Berry Hard Seltzer
12-oz Can – Low carb flavored Hard Seltzer, naturally sweet flavors of juicy California Strawberries, Raspberries, and Marion Blackberries – $9.75
Beer
Schöfferhofer Pink Grapefruit Hefeweizen – Germany
16-oz Can – Easy and refreshing with light notes of Citrus and Spice with low bitterness – $10.75
New Belgium Fat Tire Amber Ale – Fort Collins, CO
16-oz Can – Toasted caramel malts with a gentle sweetness and balanced addition of hops – $10.50
Sierra Nevada Pale Ale – Chico, CA
16-oz Can – Gold to amber in color with the flavor and aroma centered around the citrus and pine character of American hops – $10.50
Sweetwater 420 – Atlanta, GA
16-oz Can – Gold to amber in color with the flavor and aroma centered around the citrus and pine character of American hops – $10.50
Corona Extra Lager – Mexico
16-oz Can – Golden-colored with flavors that are dry, clean, crisp, and refreshing with subtle bitterness – $9.25
Blue Moon Belgian White Ale – Golden, CO
16-oz Can – Easy and refreshing with light notes of Citrus and Spice with low bitterness – $9.00
Bud Light Lager – St. Louis, MO
16-oz Bottle – Golden-colored with flavors that are dry, clean, crisp, and refreshing with subtle bitterness – $8.50
Heineken Lager – Netherlands
16-oz Can – Golden-colored with flavors that are dry, clean, crisp, and refreshing with subtle bitterness – $9.25
Budweiser Lager – St. Louis, MO 
16-oz Bottle – Golden-colored with favors that are dry, clean, crisp, and refreshing with subtle bitterness – $8.50
Coors Light Lager – Golden, CO
16-oz Bottle – 16-oz Bottle – Golden-colored with favors that are dry, clean, crisp, and refreshing with subtle bitterness – $8.50
Miller Lite Lager – Milwaukee, WI
16-oz Bottle – Golden-colored with favors that are dry, clean, crisp, and refreshing with subtle bitterness – $8.50
Wine List
Moët & Chandon Imperial Sparkling Wine
750 mL Bottle – Delicate and well-balanced with generous fruit and toasted flavors, supple on the palate with a lingering, rich finish – $70.00
Chateau Smith Cabernet Sauvignon, California
750 mL Bottle – Richly extracted black currant and dark cherry flavors extend to a long, polished finish – $32.00
Martin Ray Cabernet Sauvignon, California
750 mL Bottle – Richly extracted black currant and dark cherry flavors extend to a long, polished finish – $32.00
BR Cohn Silver Label Cabernet Sauvignon, California
750 mL Bottle – Richly extracted berry, black currant and dark cherry flavors with hints of vanilla in the background – $26.00
La Crema Pinot Noir, California
375 mL Bottle – Light, fresh floral and mineral aromas with refreshing flavors of Citrus and Green Apple, and a clean, fresh Lemon Zest finish – $26.00
Kung Fu Girl Riesling, California
750 mL Bottle – Crisp and refreshing flavors of Peach, Apple, and Apricot, with a bright, clean finish – $24.00
Simi Cabernet Sauvignon, Alexander Valley
750 mL Bottle – Richly extracted black currant and dark cherry flavors extend to a long, polished finish – $21.00
Parducci Chardonnay, California
375 mL Bottle – Tropical Fruit and Buttery Pear aromas overlay a smooth, creamy texture – $16.00
Copa Cabernet Sauvignon, Oregon
187 mL Glass – Richly extracted black currant and dark cherry flavors extend to a long, polished finish – $10.00
Copa Pinot Grigio, Oregon
187 mL Glass – Light, fresh floral and mineral aromas with refreshing flavors of citrus and green apple, and a clean, fresh lemon zest finish – $10.00
** The Market at Ale & Compass Menu and Prices are Subject to Change Without Notice **