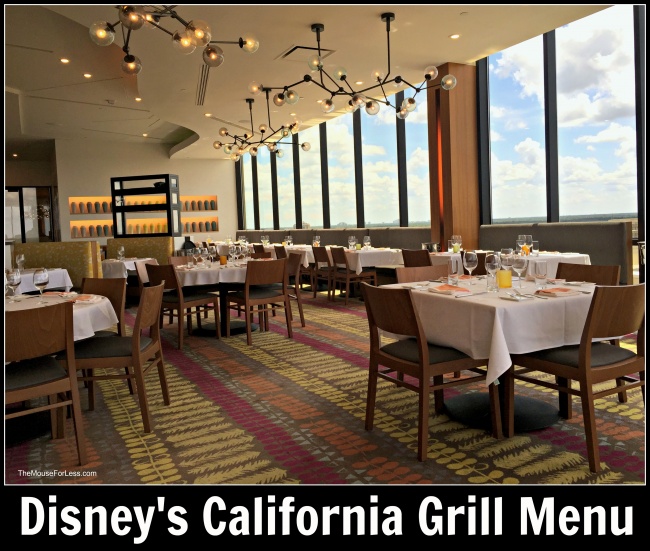 Enjoy a spectacular view and elegant dining with a focus on fresh seasonal creations. Opens daily at 5 p.m. Check in at the podium on the second floor before taking an elevator to the 15th floor. Guests who exit the elevator on the 15th floor will notice a new display case with 1,600 bottles of wine on display.
California Grill offers club service, delivering a magnum to the table to pour by the glass in an entertaining presentation. In all, there will be about 250 wines on the list, with more than 20 sommeliers on staff to help guests select a wine pairing. Guests who dine at the restaurant any time during the evening can return with their receipts and take advantage of the California Grill's outdoor fireworks viewing area.
Guests looking for a unique experience should consider participating in the Celebration at the Top exclusive dining event.
Califonia Grill is located in Disney's Contemporary Resort.  Find more Walt Disney World dining locations on our Walt Disney World menus page.
Restaurant Info: Californian Brunch/Dinner A la carte, $$$
Dinner Menu Kids' Menu Tea Selections

Planning a Walt Disney World Vacation?
For a Free no-obligation quote, contact our sponsor
The Magic For Less Travel
. The Magic For Less Travel is an Authorized Disney Vacation Planner and has been helping guests plan magical vacations since 2002. Receive the best prices and free travel planning services. Their fee-free services will help you save time, money, and stress while planning a vacation designed around you and your needs!
California Grill Dinner Menu
Menu Date: 08/2023
California Grill Pricing
$89 per adult + tax and gratuity
$39 Add Signature Wine Pairing
$69 Add Deluxe Wine Pairing
$39 per child + plus tax and gratuity
Market Inspirations (choose one)
Sonoma Goat Cheese Ravioli – Basil-Saffron Pasta, Tomato Broth, Mushroom Ragout, Fennel
Spicy Kazan Roll – Crab, Shrimp, Scallops, Tuna, Fireball sauce
Rainbow Roll – Tuna, Salmon, Hamachi, Avocado, Mango, Pickled Watermelon Radish
Cascade Roll – Tuna, Hamachi, Salmon Poke, Mango Shallot, Yuzu Avocado Puree, Soy Gel
Braised Beef Short Rib Wontons – Doenjang Miso-Cola-Onion Sauce, Crispy Garlic-Chili Oil, Radish, Pickled Lotus Root
Stone Fruit & Burrata Pizza – California Stone Fruit, Prosciutto di Parma, Salted Pistachio, Mozzarella, Pickled Hot Peppers
Sashimi & Nigiri Sampler – Tuna, Salmon, and Hamachi served with traditional garnishes
Stone Fruit & Burrata Salad – Pistachio Praline, Peach Variations, Petite Heirloom Lettuces, Apricot Vinaigrette (plant-based)
Chef's Journey (choose one)
Oak-fired Filet of Beef* – Brown Butter Château Potatoes, Braised Carrots, Carrot Romesco, Cabernet Veal Jus
Pan Seared All Natural Chicken – Sunflower Pea Pesto, Asparagus, Artichokes, Medeira Wine Jus
Cast Iron-grilled Pork Tenderloin* – Goat Cheese Polenta, Forest Mushrooms, lacquered Pork Belly, Root Spinach, Corn, Zinfandel Glaze
Fire-roasted Venison* – Hasselback Potatoes, Leek Soubise, Roasted Chantrelle Mushrooms, Braised Cippolini Onion, Ramp Pesto
Saffron Cavetelli – Petite Heirloom Squash, Spinach, Roasted Cippolini Onions, Blistered Tomatoes, Sunflower-basil Pistou
San Francisco Cioppino – Black Grouper, Clams, Mussels, Pink Shrimp, Casarecce Pasta, Uni Toast
Black Sea Bass – Romanesco, Creamy Red Quinoa, Squash-Yogurt Puree, Charred Onion Butter, Citrus Agrodolce
Wagyu Strip Loin* – Kimchi Fried Rice, Steamed Dumplings, Bok Choy, Crispy Lotus Root – $47 additional
*consuming raw or undercooked meats, poultry, seafood, shellfish, or eggs may increase your risk of foodborne illness
Sweet Creations (choose one)
Valrhona Chocolate Torte – Coffee Cream, Praline Crunch, Salted Caramel, Cocoa Nibs
Meyer Lemon Chiffon Cake – Chevre Whip, Meringue, Blueberry Foam, Blueberry Gel
Peanut & Banana Torte – Short Bread, Peanut Ganache, Miso Caramel, Nut Crumble, Caramelized Bananas
Chef's Selections of California Cheeses – Featuring 3 unique cheese and house-made accompaniments
White Chocolate Creme Brulee – Almond Chiffon, Dark Chocolate Cremeux,  Almond Crunch, Morello Cherry Gel, Fresh Cherries
California Grill Kids' Menu
08/2023
Kids' Appetizers (à la carte)
Chicken Noodle Soup – House-made Chicken Broth, Shells, Vegetables
Hearts of Romaine – Ranch Dressing, Tomatoes, Bacon, Croutons
Kids' Entrées (choose one)
Grilled Beef Tenderloin
Grilled Citrus-glazed Chicken
Seared Sustainable Salmon
House-made Shells & Cheese
Kids' Selections (choose two)
Roasted Yukon Gold Potatoes
Steamed Green Beans
Goat Cheese Polenta
Brown Basmati Rice
Kids' Dessert Selections
Seasonal Fruit
Signature Puffed Rice Sushi
Celebrate with me Chocolate Chip Cookie Ice Cream Sundae
Tea Selections
Eros – Sweet mandarin orange and warm vanilla passionately embraced medium-bodied Ceylon tea leaves in this sensory delight
Imperial Orange Pekoe – This regal tea is steeped in rich history of the House of Orange, has a blend of estate high-grown Ceylon black teas
English Breakfast – A Complex blend of malty Indian and copper-liquor Ceylon teas with brightness of a China keemun
Thunderbolt Darjeeling – Charged with the distinct Darjeeling character, this second flush is named for the region
Mad Hatters Tea Party – A velvety combination of bright and flowery Ceylon with passion fruit, pomegranate, and vanilla
Organic Pear Tree Green – Estate China is a green tea, perfumed with the essence of freshly plucked ripe pears. It is crisp and sweet, just as a pear should be
Organic Health and Well-being Green Tea – This mild green tea is full of natural vitamins and antioxidants
Organic Chamomile Flowers (Egypt) – This tea has a tranquil and calming herbal infusion of sweet and fragrant golden chamomile blossoms: mild and sweet
Lemon Verbena – Let your heart be light with this naturally caffeine-free infusion of lemon verbena, lemon grass, and lemon balm
Osmanthus – Delicately scented with rare osmanthus flowers, champagne aroma, and rich flavor
Silver Leaf – Harvested south of the Yangtze River, this white tea is named for the silver downy hairs that cover the young, unopened buds
Beverages with Alcohol
Full Bar Available for additional charge – Premium Spirits, Beer, Hard Ciders, and More
Featured Sparklings & White Wines 
** California Grill Menu and Prices are Subject to Change Without Notice **