Resort Restaurants | Contemporary Resort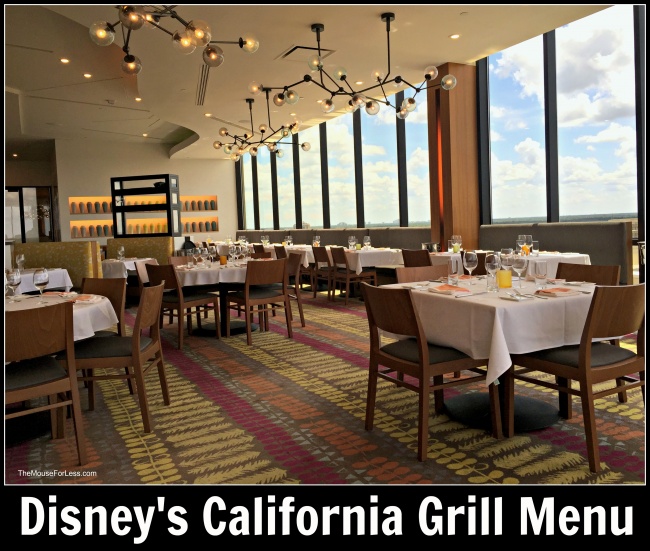 Brunch Menu Dinner Menu   Kids' Menu
Enjoy a spectacular view and fine dining with a focus on fresh seasonal creations. Opens daily at 5 p.m. Check in at the podium on the second floor before taking an elevator to the 15th floor. Guests who exit the elevator on the 15th floor will notice a new display case with 1,600 bottles of wine on display.
California Grill offers club service, delivering a magnum to the table to pour by the glass in a really fun presentation. In all there will be about 250 wines on the list, with more than 20 sommeliers on staff to help guests select a wine pairing. Book your seat at the Sushi Bar to enjoy the 10 to 14 course Omakase Menu. Seatings are at 8:00 p.m. each evening and cost is $175 per person. Guests who dine at the restaurant any time during evening can return with their receipts and take advantage of the California Grill's outdoor fireworks viewing area.
Guests looking for a unique experience should consider participating in the Celebration at the Top exclusive dining event.
Restaurant Info: Californian Brunch/Dinner A la carte, $$$
California Grill 'Brunch at the Top' Menu
Menu Date: 07/2018
Booking Info
The new 'Brunch at the Top' is available at the California Grill on Sundays from 10:00 a.m.-1:00 p.m. Brunch will showcase fresh, market-driven cuisine, an over-the-top Bloody Mary Bar as well as wines, cocktails, craft brews, and a new signature brunch cocktail. Reservations can be made by visiting DisneyWorld.com/dine or by calling 407-WDW-DINE.
Start your experience with an assortment of house-made breakfast pastries and jams delivered to your table. Enjoy a California Grill Signature Brunch Cocktail or Custom Roast California Grill Blend French Press Coffee. Guests will also have the get the chance to interact with the culinary team in the open show kitchen while savoring charcuterie, sushi and market-inspired salads. Finally, enjoy an entree delivered tableside and finish with dessert!
For the Table
Assortment de Patisserie – Croissant, Pecan Sticky Bun, Country Cheddar Biscuit, Huckleberry Muffin
House-made Jam and Orange Blossom Honey Butter                
California Grill Signature Brunch Cocktail                
Custom Roast California Grill Blend French Press Coffee
Children's "Sparkling Mimosa"
Self-serve Selections
House-made Charcuterie – Orange-Honey Ham, Bison and Sweetbread Terrine, Pork Belly Rillettes, Whole-Grain Mustard, Zellwood Pickles, Pickled Pero Farms Peppers, Sweet Onion Jam
Deviled Lake Meadow Naturals Eggs – with crispy Lardons, Spiced Aïoli
Greek Yogurt – with Vanilla-scented Granola, Mixed Berries, Honeycomb
Apple Salad – Tiny Reds and Greens, Apples, Young Goat's Milk Cheese, Candied Pecans, Vanilla-Golden Raisin Vinaigrette
Bacon and Egg Salad – Greens, Frisée, Quinoa, Avocado, Cherrywood Bacon Lardon, Pecorino Romano, Sherry Vinaigrette, Egg
Soba Noodle Salad – Amazu-Ginger Vinaigrette
Hardwood Smoked Salmon – with Capers, Egg, and Red Onion
California Rolls with Jumbo Lump Crabmeat
Spicy Tuna Tekka Maki Rolls
Shrimp Tempura with Orange Drizzle and Mango
Salmon, Tuna, and Himachi Nigiri Selections

Entree Selection
(Choose One Per Person)
Crispy-fried Chicken Breast – Korean-style Sweet and Spicy Sauce, House-made KimChi, Cilantro
Blueberry Pancakes – Buttermilk Pancakes, Florida Blueberries, Vanilla Custard, Blueberry Compote, Powdered Sugar, warm Canadian Maple Syrup
Vanilla Bean French Toast – Parker House Bread, Crème Brûlée Custard, Caramelized Bananas, Walnuts
Carrot Cake – Cream Cheese Cream, Maple-Bourbon Syrup, Pecans
Buttermilk Pancakes – with Maple Syrup
Shashuka – Organic and House Pita
U-10 Shrimp – Gulf White Shrimp, Gruyère-Piquillo Pepper-Antebellum Grit Cake, Smoked Paprika Aïoli
Eggs Benedict – Two Soft-poached Eggs, Toasted English Muffin, Honey Ham, Classic Hollandaise. Additionally available with Butter-poached Main Lobster or Smoked Salmon
Chef's Omelette Selection – Three Eggs, Marble Potato Hash, Toscano Vinaigrette. Choice of Garden, Spanish, Alsace, or Lobster Omelette
Grilled Hanger Steak – Two Eggs-Any Style, Chimichurri, Marble Potato Hash and Charred Red Onion.
Sweet Endings
Sweet Mini-Desserts
Macaroons
Chocolate Truffles
Cocktails
Seasonal Yuzu Bellini –  Prosecco Sparkling Wine, Seasonal Liqueur, Yuzu – $11.00
Bittersweet Harvest –  Selbach Riesling, Campari, Orange Juice – $11.00
Elderflower Gin & Tonic –  Hendrick's Gin, St~Germaine Liqueur, Fever-Tree Tonic – $11.00
Rosemary Lemontini –  Belvedere Vodka, Lemon Juice, Rosemary Syrup, Fever-Tree Bitter Lemon – $11.00
Featured Wines by the Glass
Roederer Sparkling Brut, Anderson Valley NV – $18.00
Roederer Sparkling Brut Rosé, Anderson Valley, NV – $18.00
Eberle Winery Canelli Muscat, California – $10.00
Merry Edwards Sauvignon Blanc, Russian River Valley – $19.00
Lafond SRH Pinot Noir, Santa Rita Hills – $13.00
Textbook Cabernet Sauvignon, Napa Valley – $14.00
Paul Hobbs CrossBarn Cabernet Sauvignon, Sonoma Coast – $17.00
Acre Zinfandel, California – $14.00
California Grill Dinner Menu
Menu Date: 07/2018
Book your seat at the Sushi Bar to enjoy the 10 to 14 course Omakase Menu. Seatings are at 8:00 p.m. each evening and cost is $175 per person. A La Carte Dining items are listed below.
Artisanal Hand-formed Pizzas from the Wood Burning Oven
Pepperoni – House-made Pepperoni, Tomato Conserva, Fontina, Asiago, Parmesan, Mozzarella, Basil-Oregano Pistou – $16.00
Mushroom – Mixed Mushrooms, White Onion Soubise, Preserved Bergamot, Burrata Cheese – $17.00
The Farmer – House-cured Pancetta, Roasted Garlic, Sweet Onion-Olive Agrodolce, Soft-cooked Egg, Arugula, Aged Pecorino – $17.00
Charcuterie Selection
Italian Sausage – House-made Pork Sausage, Fennel, Coriander, Oregano, Basil, Paprika
Duck Pastrami – House-cured and Smoked, Coriander-spiced
Asian Pork Sausage – Berkshire Pork Shoulder, Ginger, Soy Sauce, Clove, Star Anise, Brown Sugar
Napoli-style Salame – Made Hormone-free with Italian Spices
Pork and Bacon Terrine – Terrine made with Pork Shoulder and Bacon then accentuated with Quatre épices, Pistachio, and Dried Subarashii Kudamono Asian Pears
Hand-Rolled Sushi
New Moon Roll – Maine Lobster, Avocado, Barbecue Eel, Rice Pearls, Gochujang Dragon Sauce – $26.00
Tuna Three Ways – Kaku-Zukuri, Miso, Toasted Hazelnut,Shishito, Tataki, Aji Amarillo, Onion-Soy Vinaigrette, Tuna Roll – $26.00
Sashimi (sah-SHEE-mee) – Tuna, Salmon, Hamachi, Octopus, Citrus Ponzu, Ají Amarillo, Furikake Rice – $23.00
Spicy Kazan Roll – Crab, Shrimp, Scallops, Tuna, Fireball Sauce – $26.00
California Combination Roll – Jumbo Lump Crab, Avocado, Cucumber, Shrimp Tempura – $24.00
Crudo – Yellowfin Tuna, Purple Radish, Truffle-Soy | Salmon, Coconut-Citrus, Sweet Potato | Hamachi, Popcorn, Shishito Vinaigrette | Escolar, Leche de Tigre, Habanero Tobiko – $24.00
Double Tuna Crunch Roll – Yellowfin Tuna, Escolar, Avocado, Togarashi-spiced Corn-Tapioca Crunch, Spicy Umami Sauce – $22.00
Soup and Salads, and Appetizers
A Selection of Farmhouse and Artisanal Cheeses – Selection of Five unique Cheeses with Accompaniments – $21.00
Handcrafted Charcuterie – Butcher's Variety of House-made Charcuterie with Seasonal Accompaniments – $20.00
Hearts of Romaine – Avocado Dressing, Point Reyes Blue Cheese, Miso-Honey Bacon, Yuzu Kosho-Sourdough Croutons – $16.00
Florida Corn Soup – Dungeness Crab, Sweet Corn-Pepper Salsa, Corn Crema, crispy Plantains – $14.00
Strawberry and Golden Kiss Melon Salad – Frisée, Burrata, Puffed Rice Granola, Pistachio Financier, Honey Vinaigrette – $16.00
Sonoma Goat Cheese Ravioli – Tomato-Fennel Broth, crispy Mushrooms, Tiny Basil, Benziger Estate Olive Oil – $15.00
Prince Edward Island Mussels and Frites – Salsa Verde Butter, Cipollini Onion, Tomato Confit, Cilantro Pesto, Chili-Honey Aïoli – $17.00
Meyer Lemon-poached Shrimp – Bloody Mary Cocktail Sphere, Avocado, Gooseberry, Jicama, Old Bay Snow – $18.00
Rotisserie-smoked Beef Short Ribs – Cracked Hominy Grits, Green Mango Kimchi, Blood Orange Oil, Citrus-Chili Barbecue – $17.00
Entrées
Black Grouper – Herb Basmati Rice, Cashew Chutney, Bok Choy, Baby Shiitake, Rock Shrimp, Kaffir Lime-Coconut Nage – $46.00
Ramp Spaghetti – Dungeness Crab, Confit Tomatoes, Artichokes, Bone Marrow Crumb, Blue Crab Butter Sauce – $39.00
One King Salmon – Brentwood Corn Spoon Bread, Lychee Glaze, Grilled Hearts of Palm, Pommery Vinaigrette – $45.00
Oak-fired Filet of Beef – Beef Fat Potatoes, Romano Beans, Grilled Sweet Onion, Tomato, Tamarind Barbecue Sauce – $51.00
Colorado Rack of Lamb – Punjabi Eggplant, Curry-Potato Samosas, Courgettes, Cucumber Yogurt, Lamb Jus – $49.00
Atlantic Yellowfin Tuna – Bún-style Rice Noodles, Pickled Vegetables, crispy Tuna Roll, Nuoc Cham – $47.00
Young Spring Chicken – English Peas, Mushroom Croquette, Morels, Wild Leeks, Lemon-Chicken Jus – $37.00
Cowboy-cut 19-oz Rib-Eye Steak – Honey Saffron-glazed Carrots, Aged Gouda Mac and Cheese, Triple Garlic Butter – $75.00
Grilled Pork Tenderloin – Goat Cheese Polenta, Citrus Artichokes, Button Mushrooms, Lacquered Belly, Zinfandel Glaze – $42.00
Desserts
A Selection of Farmhouse and Artisanal Cheeses – Selection of Five unique Cheeses with Accompaniments – $21.00
Warm Valrhona Chocolate Cake – Vanilla Bean Ice Cream, Milk Chocolate-whipped Panna Cotta, Cashew Clusters – $14.00
White Chocolate Crème Brûlée – Cornflake Crunch, Sponge Cake, Coconut-whipped Ganache, Plant City Strawberry Textures – $13.00
House-made Churros – Spiced Chocolate Ganache, Caramelized Puffed Rice Clusters, Horchata Ice Cream – $13.00
Carrot Cheesecake, No Sugar Added Dessert – Candied Carrot Ribbons, Spiced Walnuts, and Pineapple Compote – $13.00
Yuzu Matcha Cake – Graham Crumble, fresh Raspberries – $13.00
Pear-Blueberry Crostata – Local Blueberry Crostata with Cornmeal Crumble, Popcorn Ice Cream, Salted Popped Sorghum – $13.00
Blackberry-Lime Sorbet – Lemon Manjari Soil, Pear-Poppy Seed Glass – $10.00
Featured Wines
Heitz Wine Cellars Chardonnay, Napa – $16.00
Honig Cabernet Sauvignon, Napa – $19.00
Frog's Leap Zinfandel, Napa – $16.00
Roederer Sparkling Brut, Anderson Valley NV – $18.00
Signature Cocktails
Anaheim Mule – Hangar 1 Mandarin Blossom Vodka and Fever-Tree Premium Ginger Beer with a splash of Orange Juice – $11.25
Sake Martini – Karen "Coy" Sake, Licor 43, and Cruzan Mango Rum with a splash of Orange and Pineapple Juices – $11.00
Twisted Mai Tai – Mount Gay Rum, Crème de Noyaux, Orange Juice, and Pineapple Juice with a splash of Lime – $9.75
Napa Blue Martini – Charbay Vodka and Olive Juice with Blue Cheese-stuffed Olives – $11.00
Cucumber Fizz – Chopin Vodka, Limoncello, and Cucumber Water with a splash of Sprite® – $11.00
Passion Fruit Margarita – Patrón Silver Tequila and Cointreau Noir with Passion Fruit Purée – $11.00
Monte Ray – Mount Gay Rum, Pineapple Juice, and Licor 43 with a splash of Sweet-and-Sour – $9.50
Classic Side Car – Rémy Martin VSOP and Cointreau with a splash of Sweet-and-Sour – $11.50
Santa Monica Cider – Rekorderlig Strawberry-Lime Cider, Hendrick's Gin with Agave Nectar, Lime Juice, and Micro Basil – $11.50
Classic Beers
Bud Light – $5.25
Michelob Ultra – $6.50
Heineken – $6.50
Amber O'Doul's – Non-Alcoholic – $4.75
Beer and Ciders
Harp Lager, Ireland – This Irish style pale lager features pleasant, aromatic hops and light malt. Its flavor has a balance of sweet, light malts with mellow, leafy, and floral hops – $9.00
Bell's Oberon, Michigan – A wheat ale fermented with Bell's signature house ale yeast, mixing a spicy hop character with mildly fruity aromas. The addition of wheat malt lends a smooth mouthfeel, making it a classic seasonal beer – $9.00
Cigar City "Maduro," Florida – A Northern English-style brown ale with some American affectations. Maduro features flaked oats in the malt bill which imparts a silky body featuring notes of caramel, toffee, chocolate and espresso – $8.00
Napa Smith Crush, California – This seasonal beer draws upon a classic European malt profile and noble hops; it is a distinctly Napa Valley expression by brewing it with Sauvignon Blanc grapes. Well balanced and complex – $9.00
Corsendonk Abbey Brown Ale, Belgium – Corsendonk Abbey Brown Ale is fermented twice, making it a lively, bubbly beer with a rich head. The flavor is yeasty, fruity, and slightly smoky, with a dry finish – $11.00
Left Hand Milk Stout, Colorado – This English style of beer, also known as Sweet Stout or Cream Stout showcases a well-rounded sweetness in this dark beer – $10.00
Ace Joke Cider, California – A dry, champagne-like cider from Sonoma, CA. It has the aroma of white wine, pear, muted green apple, and a taste reminiscent of champagne and tart apples – $7.00
Coronado Orange Avenue Wit, California – This craft beer is bolstered by orange zest, coriander, and orange blossom honey. Expect a refreshing, light-bodied brew with a citrus zing and a hint of earthy spice – $8.50
Innis & Gunn Original, Scotland – Made with roasted barley, Styrian malts and matured in oak to produce a smooth Scottish beer with hints of toffee, vanilla, and oak – $8.50
Cigar City Jai Alai IPA, Florida – Tampa was once home to a bustling Jai Alai fronton but sadly all that remains of Jai Alai in the Tampa Bay area is this India Pale Ale that we brew in tribute to the merry game – $8.00
Napa Smith Hopageddon, California – At 144 IBUs, Hopageddon glows with a gorgeous, fiery orange color and showcases a distinct, full white head. Unique flavors and a pleasant bitterness are created from the process of dry-hopping and linger on the palate – $9.00
Ommegang  Three Philosophers, New York – Flavors and aromas of roasted malt, molasses, brown sugar, dark fruits, brandied raisins, and chocolate. Three Philosophers has notable sweetness with low hop bitterness – $11.00
Rekorderlig Strawberry-Lime Cider, Sweden – A refreshing cider that perfectly embodies a Swedish summer with the authentic flavor of freshly picked strawberries with a hint of lime – $9.75
California Grill Kids' Menu
Menu Date: 07/2018
Kids' Appetizers
Baby Iceberg Wedge Salad – with curled Carrots, Baby Tomatoes, and Fat-free Ranch Dressing – $5.00
Grilled Seasonal Vegetable Lettuce Wraps – with Hummus Dip – $5.00
Kids' Mickey Check Meals
Served with choice of small low-fat milk or small bottled water

Chicken Breast – Citrus-glazed Grilled Chicken Breast with Steamed Green Beans, Crushed Sweet Potatoes, and Seasonal Fruit Kabobs with Freshly Made Yogurt Dip – $15.00

Wild Salmon – Seared Wild Salmon with Steamed Green Beans, Brown Basmati Rice, and Seasonal Fruit Kabobs with Freshly Made Yogurt Dip – $16.00

Grilled Beef Tenderloin – Grilled Beef Tenderloin with Steamed Green Beans, Crushed Sweet Potatoes, Ketchup Sauce, and Seasonal Fruit Kabobs with Freshly Made Yogurt Dip – $18.00

= Meets Disney Nutrition Guidelines for Complete Meals without substitutions.
Kids' Entrées
Hand-formed Provolone Cheese Pizza – served with choice of Small Lowfat Milk, Small Dasani Water, or Small Minute Maid Apple Juice – $10.00
House-made Macaroni & Cheese – served with choice of Small Lowfat Milk, Small Dasani Water, or Small Minute Maid Apple Juice – $9.00
Kids' Desserts
California Grill Signature Puffed Rice Sushi – $7.00
Seasonal Fruit Kabobs – with Freshly Made Yogurt Dip – $6.00
Cookies n' Cream – Fresh-baked Petite Chocolate Chip Cookies with Vanilla and Chocolate Pop Rocks Ice Cream – $6.00
** California Grill Menu and Prices are Subject to Change Without Notice **