Epcot | World Showcase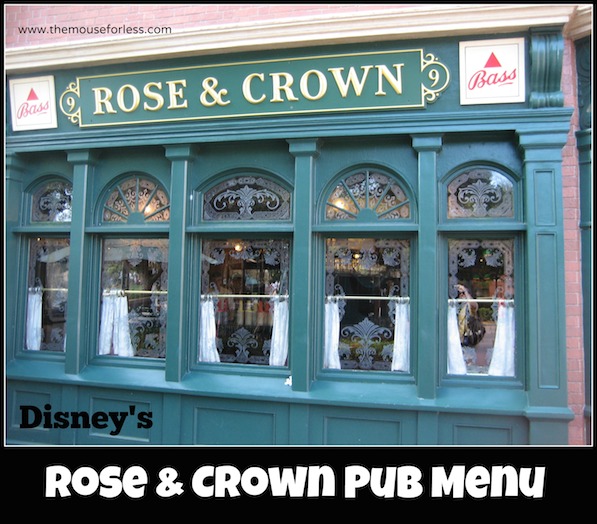 At Rose & Crown Pub, have a jolly ol' good time at this authentic pub that serves quintessentially British food and drink. You won't need reservations to grab a bite to eat. Beer lovers will want to try the Guinness with a Shamrock head at Rose & Crown Pub! Plus you won't want to miss the authentic pub entertainment. Sing along and make song requests!
Restaurant Info: British, Lunch/Dinner A la carte, $$ – $15 to $34.99 per adult
Find out how you can save money on dining at Walt Disney World by using one of Disney's Dining Plans.
Rose & Crown Pub Menu
Menu Date: 09/2018
Pub Grub
Scotch Egg – Golden-fried Hard-boiled Cage-free Egg wrapped in Sausage with Mustard Sauce – $11.00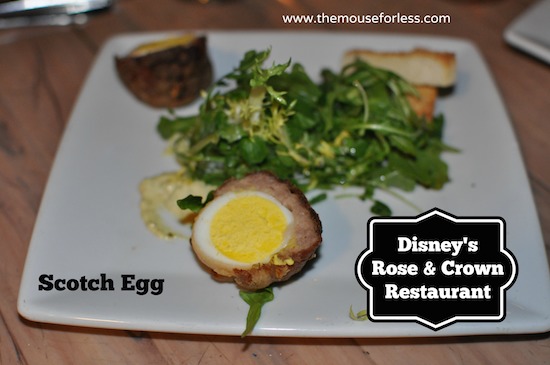 Battered Banger and Chips – served with Branston Mayonnaise- $10.00
British Butty – Choice of Chips, Bacon, or Banger on a Brioche Roll with Crisps and House-made Pickled Onions – $10.00
Fish and Chips – Beer-battered and served with House-made Tartar Sauce  – $12.00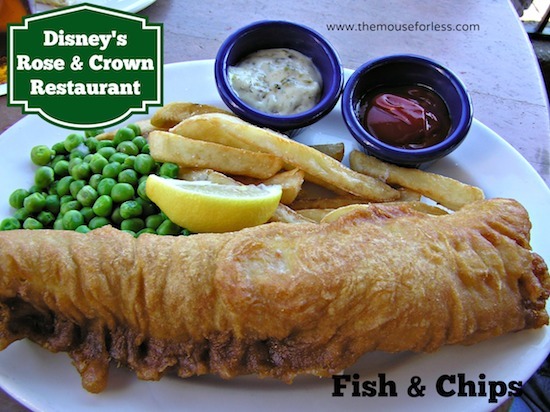 Sides
English Chips – $4.00
House-made Seasoned Chips  – $5.00
Non-Alcoholic Beverages
Assorted Fountain Beverages 
Freshly Brewed Joffrey's Coffee 
Your Shout!
Welsh Dragon – Peach Schnapps, Melon Liqueur, Crème de Menthe, Orange Juice, and Pineapple Juice served in a Souvenir Cup – $11.25
Leaping Leprechaun – Jameson Irish Whiskey, Don Q Cristal Rum, Skyy Vodka, Melon Liqueur, and Sweet-and-Sour topped with Sprite served in a Souvenir Cup – $13.75
Pimm's Cup – Pimm's No. 1 and Sprite – $9.00
Cider and Fireball – Tullamore Dew Irish Whiskey, Fireball Cinnamon Whisky, and Strongbow Cider topped with Ginger Ale served in a Souvenir Cup – $11.25
Scotch Flights
Sinlge Malt Flight – Glenkinchie, Oban, Lagavulin – $20.00
The Macallan Flight – 12yr, 15 yr, and 18 yr – $24.00
Johnnie Walker Flight – Black, Green, Gold – $18.00
Irish Whiskey Flight – Tullamore Dew, Jameson, and Bushmills 16 yr – $17.00
Scotch Whisky
Johnnie Walker Blue – $39.00
The Macallan 18 yr – $39.00
The Macallan 12 yr – $14.00
Oban 14 yr – $19.00
Lagavulin 16 yr – $19.00
Glenkinchie 12 yr – $14.00
Ports
Cockburn Tawny 20 yr, 3 oz – $13.00
Ferreira Tawny 10 yr, 3 oz – $11.00
Cognacs
Courvoisier VS 2 oz – $12.50
Ales, Lagers, and Stouts
Imperial Pint – Choice of – Boddingtons English Pub Ale, Bass Ale, Guinness Stout, Harp Lager, Strongbow Cider, or Smithwick's – $9.00
Imperial Sampler – Bass Ale, Harp Lager, Boddingtons English Pub Ale, and Guinness Stout – $12.25
Served in a Souvenir Cup – Choice of – Boddingtons English Pub Ale, Bass Ale, Guinness Stout, Harp Lager, Strongbow Cider, or Smithwick's – $13.75
Pub Blends
Golden – Half Harp and Half Bass Ale – $9.00 Glass, $13.75 Souvenir Cup
Golden Fox – Half Boddingtons and Half Bass Ale – $9.00 Glass, $13.75 Souvenir Cup
Half & Half – Half Harp and Half Guinness – $9.00 Glass, $13.75 Souvenir Cup
Black & Tan – Half Bass Ale and Half Guinness – $9.00 Glass, $13.75 Souvenir Cup
Cider & Black – Cider with a shot of Black Currant Juice – $9.00 Glass, $13.75 Souvenir Cup
Bumblebee – Half Boddingtons and Half Guinness – $9.00 Glass, $13.75 Souvenir Cup
Shandy – Half Sprite® and Half Bass Ale – $9.00 Glass, $13.75 Souvenir Cup
Snake Bite – Half Cider and Half Harp – $9.00 Glass, $13.75 Souvenir Cup
Blacksmith – Half Smithwick's and Half Guinness – $9.25 Glass, $14.25 Souvenir Cup
Black Velvet – Half Cider and Half Guinness – $9.25 Glass, $14.25 Souvenir Cup
Wine & Sangria
Banfi Rosa Regale, Brachetto d'Acqui DOCG, Piedmont – slightly sweet red sparkling wine with rose petal aromas and strawberries, raspberries, and cranberries on the palate – $23.00 Glass, $53.00 Bottle
Dr. Loosen, Dr. L. Riesling, Mosel – crisp flavors of white peaches and green apples, bright and refreshing clean finish – $10.00 Glass, $45.00 Bottle
Placido Pinot Grigio, Veneto – light fresh floral and mineral aromas with refreshing flavors of citrus and green apple, and a clean fresh lemon zest finish – $9.00 Glass, $39.00 Bottle
Benziger Chardonnay, Carneros – crisp acidity, fresh citrus flavors, and a touch of oak and butterscotch cookie – $9.00 Glass, $39.00 Bottle
Kenwood Vineyards Yulupa White Zinfandel, California – $8.00 Glass, $35.00 Bottle
Parker Station Pinot Noir, California – displays enticing cherry, plum, and strawberry flavors with a hint of spice, clove, and herbs – $9.00 Glass, $39.00 Bottle
Canyon Road Merlot, California – black cherry and juicy plum notes, balanced with a round velvety texture – $9.00 Glass, $39.00 Bottle
Louis Martini Cabernet Sauvignon – $10.00 Glass, $45.00 Bottle
Red Sangria – Beso Del Sol Red Sangria made from a 100% natural marriage of Spanish Tempranillo Grapes, Orange, Blood Orange, and Lemon Juices with a touch of natural Cinnamon – $9.50
** Rose & Crown Pub Menu and Prices are Subject to Change Without Notice **