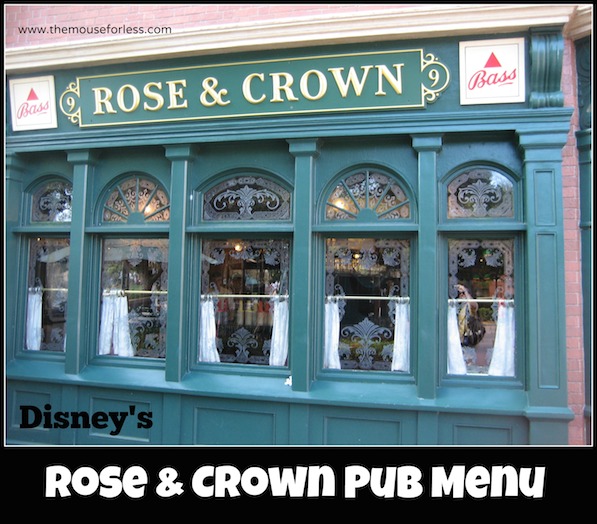 At Rose & Crown Pub, have a jolly ol' good time at this authentic pub that serves quintessentially British food and drink. You won't need reservations to grab a bite to eat. Beer lovers will want to try the Guinness with a Shamrock head at Rose & Crown Pub! Plus, you won't want to miss the authentic pub entertainment. Sing along and make song requests!
Rose & Crown Pub is located in Disney's Epcot theme park.  Find more Walt Disney World dining locations on our Walt Disney World Resort menus page.
Restaurant Info: British, Lunch/Dinner A la carte, $$ – $15 to $34.99 per adult
Find out how you can save money on dining at Walt Disney World by using one of Disney's Dining Plans.

Planning a Walt Disney World Vacation?
For a Free no-obligation quote, contact our sponsor
The Magic For Less Travel
. The Magic For Less Travel is an Authorized Disney Vacation Planner and has been helping guests plan magical vacations since 2002. Receive the best prices and free travel planning services. Their fee-free services will help you save time, money, and stress while planning a vacation designed around you and your needs!
Rose & Crown Pub Menu
Menu Date: 08/2022
Pub Grub
Scotch Egg
Golden-fried Hard-boiled Cage-free Egg wrapped in Sausage with Mustard Sauce – $13.00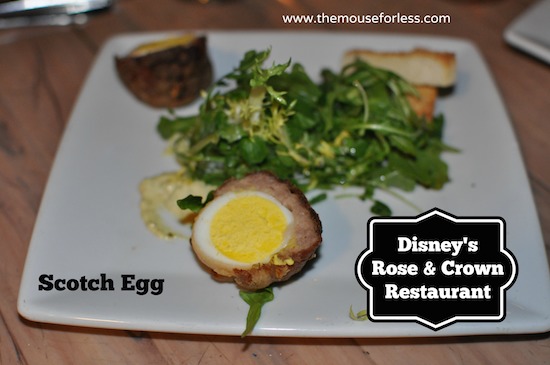 Fish and Chips
Beer-battered and served with House-made Tartar Sauce  – $13.00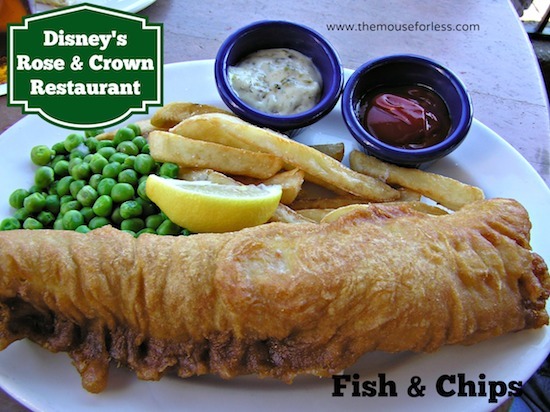 Non-Alcoholic Beverages
Assorted Fountain Beverages 
Freshly Brewed Joffrey's Coffee 
Your Shout!
Magical Beacon Cocktail
Empress 1908 Gin, Bols Blue Curaçao, Minute Maid® Premium Lemonade, Orgeat (Almond), Lemon, Hibiscus Grenadine and a souvenir Glow Cube – $17.00
Pimm's Cup
Pimm's No. 1 and Sprite® – $13.00
Cider and Fireball
Tullamore Dew Irish Whiskey, Fireball Cinnamon Whisky, and Strongbow Cider topped with Ginger Ale served in a Souvenir Cup – $18.00
Leaping Leprechaun
Jameson Irish Whiskey, Don Q Cristal Rum, SVEDKA Vodka, Melon Liqueur, and Sweet-and-Sour topped with Sprite® and served in a Souvenir Cup – $18.00
Welsh Dragon
Peach Schnapps, Melon Liqueur, Crème de Menthe, Orange Juice, and Pineapple Juice served in a Souvenir Cup – $16.00
Scotch Whisky
Johnnie Walker Blue – $40.00
The Macallan 18 yr – $40.00
The Macallan 12 yr – $18.00
Oban 14 yr – $23.00
Lagavulin 16 yr – $22.00
Glenkinchie 12 yr – $17.00
Cognacs
Courvoisier VS 2 oz – $15.00
Ales, Lagers, and Stouts
Imperial Pint
Choice of – Boddingtons English Pub Ale, Bass Ale, Guinness Stout, Harp Lager, Strongbow Cider, or Smithwick's – $10.00
Imperial Sampler
Bass Ale, Harp Lager, Boddingtons English Pub Ale, and Guinness Stout – $13.50
Served in a Souvenir Cup
Choice of – Boddingtons English Pub Ale, Bass Ale, Guinness Stout, Harp Lager, Strongbow Cider, or Smithwick's – $15.00
Pub Blends
Golden Imperial Pint – Half Harp and Half Bass Ale – $10.00
Golden in a Souvenir Cup – Half Harp and Half Bass Ale – $15.00
Golden Fox Imperial Pint – Half Boddingtons and Half Bass Ale – $10.00
Golden Fox in a Souvenir Cup – Half Boddingtons and Half Bass Ale – $15.00
Half & Half Imperial Pint – Half Harp and Half Guinness – $10.00
Half & Half in a Souvenir Cup – Half Harp and Half Guinness – $15.00
Bass & Guinness Imperial Pint – Half Bass Ale and Half Guinness – $10.00
Bass & Guinness in a Souvenir Cup – Half Bass Ale and Half Guinness – $15.00
Cider & Black Imperial Pint – Cider with a shot of Black Currant Juice – $10.00
Cider & Black in a Souvenir Cup – Cider with a shot of Black Currant Juice – $15.00
Bumblebee Imperial Pint – Half Boddingtons and Half Guinness – $10.00
Bumblebee in a Souvenir Cup – Half Boddingtons and Half Guinness – $15.00
Shandy Imperial Pint – Half Sprite® and Half Harp Lager – $10.00
Shandy in a Souvenir Cup – Half Sprite® and Half Harp Lager – $15.00
Snake Bite Imperial Pint – Half Cider and Half Harp – $10.00
Snake Bite in a Souvenir Cup – Half Cider and Half Harp – $15.00
Blacksmith Imperial Pint – Half Smithwick's and Half Guinness – $10.00
Blacksmith in a Souvenir Cup – Half Smithwicks's and Half Guinness – $14.75
Black Velvet Imperial Pint – Half Cider and Half Guinness – $10.00
Black Velvet in a Souvenir Cup – Half Cider and Half Guinness – $15.00
Wine & Sangria
Maschio Prosecco, Veneto  – $11.00 Glass, $45.00 Bottle
Dr. Loosen, Dr. L. Riesling, Mosel – crisp flavors of white peaches and green apples, bright and refreshing clean finish – $12.00 Glass, $49.00 Bottle
Kim Crawford Sauvignon Blanc, Marlbough – $13.00 Glass, $53.00 Bottle
Parker Station Pinot Noir, California – displays enticing cherry, plum, and strawberry flavors with a hint of spice, clove, and herbs – $11.00 Glass, $45.00 Bottle
Simi Cabernet Sauvignon, Sonoma County – $16.00 Glass, $59.00 Bottle0
Opici Family Sangria – Made in La Mancha Spain from Tempranillo grapes and has flavors or apple, raspberry, and blackberry with succulent aromas  of natural Valenica oranges and cinnamon- $11.00
** Rose & Crown Pub Menu and Prices are Subject to Change Without Notice **