Resort Restaurants | Boardwalk Resort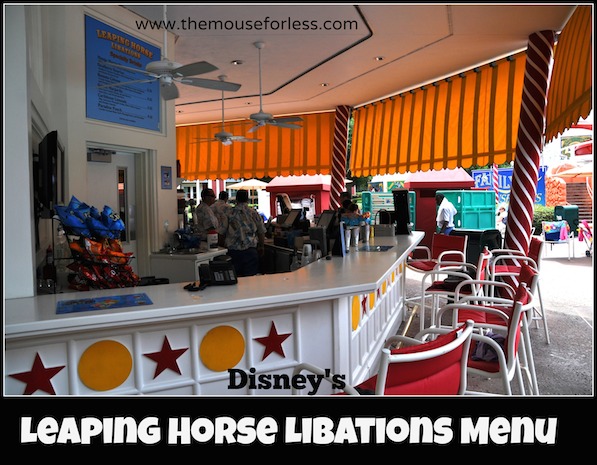 Childhood memories meet adult merriment as you "clown around" at this whimsical carousel-themed bar. Leaping Horse Libations Pool Bar is located by the Luna Park Pool.
Restaurant Info: American, Lunch/Dinner/Snack, $ – $14.99 and under per adult
Find out how you can save money on dining at Walt Disney World by using one of Disney's Dining Plans.
Leaping Horse Libations Pool Bar Menu
Menu Date: 04/2019
Sandwiches and Salads
Greek Salad Sandwich – with Roasted Turkey, Cucumber, Tomato, Olive, Feta and Greek Vinaigrette served with Chips – $9.99
Frankfurter Pretzel Dog – served with Dijon Mustard and Cucumber Salad – $8.79
Chicken Bao Bun – with House-made Pickles, Marinated Cabbage and Spicy Aioli served with Chips – $10.99
Poolside Salad – served with Goat Cheese, Apples, Cranberries and Assorted Greens – $9.99
Poolside Salad with Chicken – served with Goat Cheese, Apples, Cranberries and Assorted Greens – $13.48
Power Bowl – served with Citrus Quinoa, Garbanzo, Pumpkin and Sunflower Seeds, Kale and Lemon Vinaigrette – $11.29
Power Bowl with Chicken – served with Citrus Quinoa, Garbanzo, Pumpkin and Sunflower Seeds, Kale and Lemon Vinaigrette – $14.78
Cheese Ciabatta Pizza – served with Cucumber Salad – $9.49
Pepperoni Ciabatta Pizza – served with Chips – $9.79
Snacks
Ice Cream Cup – choice of Vanilla or Chocolate – $4.49
Root Beer Float – $5.49
Mickey Pretzel with Cheese – $6.59
Kids' Meals
Ham & Cheese Sandwich – includes Carrot Sticks, Applesauce and choice of small Lowfat Milk or small Dasani Water – $6.99
Pepperoni Ciabatta Pizza – includes Carrot Sticks, Applesauce and choice of small Lowfat Milk or small Dasani Water – $6.99
Cheese Ciabatta Pizza – includes Carrot Sticks, Applesauce and choice of small Lowfat Milk or small Dasani Water – $6.99

Meets Disney Nutrition Guidelines for Complete Meals without substitutions
Beverages
Assorted Fountain Beverages – $3.99
Odwalla All-Natural Lemonade – $4.99
Odwalla Wild Strawberry Lemonade – $5.49
Lava Smoothie – Raspberry Purée blended with Piña Colada Mix – $5.99
smartwater – $5.50
Dasani Bottled Water – $3.50
Zico Coconut Water – $4.49
Specialty Drinks
Tilt-A-Whirl – Absolut Citron Vodka, Chambord, and Minute Maid® Light Pomegranate Limeade – $12.00
Carousel – Bacardi "O" Rum blended with Orange Juice – $11.75
The Roller Coaster Meltdown – Parrot Bay Coconut Rum and Myers's Original Dark Rum blended with Piña Colada Mix – $12.25
Bourbon Breeze –  $13.25
Blueberry Lemonade – Three Olives Blueberry Vodka, Blue Curaçao, odwalla® Lemonade, topped with Sprite® and Pom Wonderful Pomegranate Juice – $12.25
Sunshine Margarita – Lunazul Reposado Tequila, Cointreau and Sweet-and-Sour with Juices of Orange and Lime – $13.00
Beer and Wine
Assorted Draft Beer – $7.75 – $11.25
Assorted Bottled Beer – $7.75 – $10.00
Woodbridge by Robert Mondavi – Pinot Grigio, Chardonnay or Cabernet Sauvignon – $9.00
Beso Del Sol Sangria – Red or White – $10.00
** Leaping Horse Libations Pool Bar Menu and Prices are Subject to Change Without Notice **