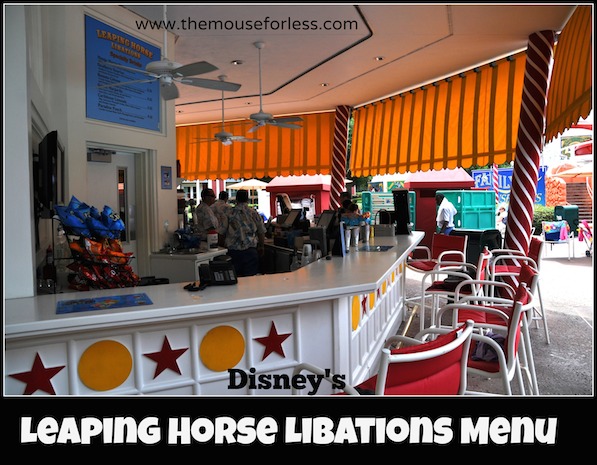 Childhood memories meet adult merriment as you "clown around" at this whimsical carousel-themed bar. Leaping Horse Libations Pool Bar can be found near the Luna Park Pool.
Leaping Horse Libations is located at Disney's Boardwalk Inn Resort.  Find more Walt Disney World dining locations on our Walt Disney World menus page.
Restaurant Info: American, Lunch/Dinner/Snack, $ – $14.99 and under per adult
Find out how you can save money on dining at Walt Disney World by using one of Disney's Dining Plans.

Planning a Walt Disney World Vacation?
For a Free no-obligation quote, contact our sponsor
The Magic For Less Travel
. The Magic For Less Travel is an Authorized Disney Vacation Planner and has been helping guests plan magical vacations since 2002. Receive the best prices and free travel planning services. Their fee-free services will help you save time, money, and stress while planning a vacation designed around you and your needs!
Leaping Horse Libations Pool Bar Menu
Menu Date: 7/2021
Sandwiches and Salads (served until 9:00 p.m.)
Greek Salad Sandwich – Turkey, Cucumber, Onions, Tomato, Olive, Feta and Greek Vinaigrette – $9.99
Pretzel Dog – All-Beef Hot Dog served with Dijon Mustard and Cucumber Salad – $8.79
Chicken Bao Bun – with House-made Pickles, Marinated Cabbage and Spicy Aioli served with Chips – $10.99
Poolside Salad – served with Goat Cheese, Apples, Cranberries and Assorted Greens – $9.99
Poolside Salad with Chicken – served with Goat Cheese, Apples, Cranberries and Assorted Greens – $13.48
Power Bowl – served with Citrus Quinoa, Garbanzo, Apples, Dried Cranberries, Pumpkin and Sunflower Seeds, Kale and Citrua Vinaigrette – $11.29
Snacks (served until 9:00 p.m.)
Mickey Pretzel with Cheese – $6.59
Minute Maid® Frozen Lemonade Cup  –$5.39
Nestlé® Mickey's Premium Ice Cream Bar – $5.69
Kids' Meals (served until 9:00 p.m.)
Ham & Cheese Sandwich – includes Carrot Sticks, GoGo squeeZ® Applesauce, and choice of small Lowfat Milk or small DASANI® Water – $6.99
Non-Alcoholic Beverages
Minute Maid® Premium Lemonade – $4.99
also available in Strawberry or Raspberry for $5.49
Lava Smoothie – Raspberry Purée blended with flavors of Coconut and Pineapple – $5.99
Strawberry Smoothie – Strawberry Purée blended with Nonfat Yogurt – $5.99
DASANI® Bottles water – $3.50
smartwater® – $5.50
POWERade® Mountain Berry Blast – $4.69
Fever Tree Ginger Beer – $4.99
Featured Cocktails
Tilt-A-Whirl – Absolut Citron Vodka, Chambord, and Minute Maid® Light Pomegranate Limeade – $13.00
Fun House – Captain Morgan Original Spiced Rum blended with Strawberry Purée – $13.00
Carousel – Absolut Mandrin Vodka with flavors of Coconut and Pineapple blended with Orange Purée – $13.00
The Roller Coaster Meltdown – Parrot Bay Coconut Rum and Plantation Original Dark Rum blended with flavors of Coconut and Pineapple – $14.00
Cocktails on the Rocks
Sunshine Margarita – Lunazul Reposado Tequila, Cointreau and Sweet-and-Sour with Orange and Lime Juices – $14.00/serving
Blueberry Lemonade – Three Olives Blueberry Vodka, blue Curaçao and Minute Maid® Premium Lemonade topped with Sprite® and Pomegranate Juice – $14.00/serving
Bourbon Breeze – Jim Beam Black Extra-aged Bourbon with Cranberry, Lime and Pomegranate Juices topped with Fever Tree Ginger Beer – $15.00/serving
Cucumber & Mint Mojito – Ketel One Botanical Cucumber and Mint, Lime Juice, and Pure Cane Sugar topped with Soda Water – $14.00/serving
Banana Cabana – Cruzan Mango Rum, Parrot Bay Coconut Rum, Bols Creme de Banana, Orange Juice, and Pineapple Juice with a float of Grenadine – $13.00/serving
Captian's Mai Tai – Captain Morgan Original Spiced Rum, Bols Amaretto, and Tropical Juices topped with a float of Plantation Original Dark Rum – $13.00/serving
Poolside Iced Tea – Absolut Vodka, Bacardi Superior Rum, Beefeater Gin, Corazón Blanco Tequila, Cointreau, and Sweet-and-Sour topped with Coca-Cola® – $15.00/serving
Frozen Cocktails
Frosé – Featuring Meiomi Rosé and Tito's Handmade Vodka – $14.00/serving
Piña CoLava – Bacardi Raspberry Rum blended with flavors of Coconut, Pineapple, and Raspberry Purée – $13.00/serving
Strawberry Margarita – Herradura Resposado Tequila and Lime Juice blended with Strawberry Purée – $15.00/serving
Wine and Sangria
Opici Red Sangria – $11.00/serving
Opici Family White Sangrai – $11.00/serving
Copa da Vino – $9.00
Single Serve 185 mL: Pinot Grigio, Chardonnay or Cabernet Sauvignon
Jackson Estate Chardonnay – $13.00/glass
Meiomi Rosé – $12.00/glass
Louis M. Martini Cabernet Sauvignon – $13.00/glass
Assorted Beer – Bottle, Can, or Draft; $8.00-$10.25
Pale Lager 
Budweiser – Bud Light – Bud Light Lime – Coors Light – Corona Extra – Heineken – Michelob Ultra – Miller Lite – Modelo Especail – Stella Artois
Amber Lager 
Concrete Beach Havana Lager – Kona Longboard Island Lager – Yeungling Traditional Lager
Wheat & Whit 
Blue Moon Belgian White – Schöfferhofer Pink Grapefruit Hefeweuizen
Blonde Ale 
Blue Point Imperial Sunshine Blonde Ale
Amber Ale 
New Belgium Fat Tire
Pale Ale 
Sierra Nevada Pale Ale – SweetWater 420 Extra Pale Ale
India Pale Ale 
Cigar City Jai Alai IPA – Goose Island APA – Sierra Nevada Tropical Torpedo IPA
Seasonal 
Samuel Adams
Hard Cider & Hard Seltzer 
Angry Orchard Crisp Apple Hard Cider – Truly Wild Berry Hard Seltzer
** Leaping Horse Libations Pool Bar Menu and Prices are Subject to Change Without Notice **