Disney Springs | The Landing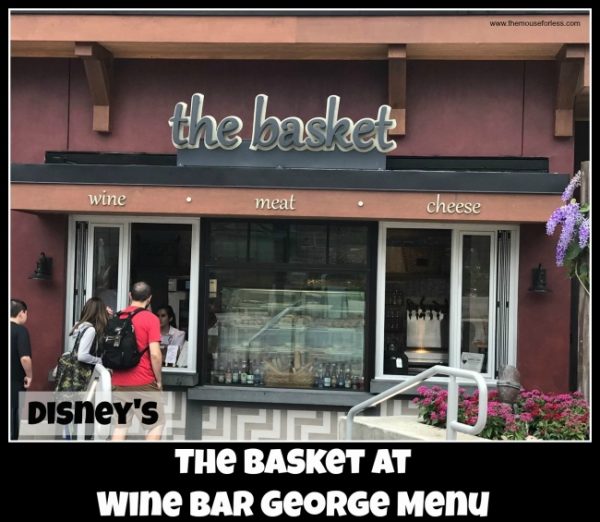 The Basket at Wine Bar George Menu
Pick up everything you need for the perfect picnic at this gourmet spot. Discover provisions like European-style sandwiches, cheese, olives, hummus, charcuterie, cookies and wines on tap—served to-go by the glass or carafe.
Restaurant Info: French, Italian, $ – $14.99 and under per adult
Find out how you can save money on dining at Walt Disney World by using one of Disney's Dining Plans.
Lunch and Dinner Menu
Menu Date: 04/2019
The Basket
Build a Picnic Basket – Choice of any sandwich, cookie, wine and bites – $60.00
Sandwiches
Goat Cheese / Fig / Arugula / Ficelle –  $12.00

Speck (Prosciutto) / Brie / Olive Salad / Baguette –  $14.00
Ham / Gruyere / Ciabatta –  $14.00
Bites & Boxes
Olives & Hummus – $11.00
Crispy Mac & Cheese Bites – $11.00
Calabrese / Brie / Honey / Crackers – $11.00
Sopressata / Cheddar / Fig / Crackers – $11.00
Chorizo / Manchego / Almonds / Crackers – $11.00
Chicken Skewer / Togarashi / Asian Slaw – $4.00
Cookies
Chocolate Chip – $4.00
Rosé All Day – $4.00
Beverages
Coke, Diet Coke, Sprite – $3.50
Iced Tea – $3.50
Juice Box – $2.50
Coffee – $3.50
Espresso – $3.50
Cappuccino – $5.50
smartwater – $6.00
Dasani – $4.00
Cold Brew Coffee – $5.00
Wine on Tap
Quintet, Melon de Bourgogne, Muscadet, France – $9.00
El Rede, Malbec, Mendoza, Agentina – $11.00
Vezzi, Barbera, Piedmont, Italy – $9.00
MacRostie, Chardonnay, Sonoma Coast, California – $14.00
Bonny Dune, Grenáche, Close du Gilroy, Grenache, Central Coast of California – $15.00
Sabine, Rosé, Provence, France – $9.00
Argyle, Pinot Noir, Willamette, Oregon – $15.00
Halter Ranch, Grenache Blanc, Paso Robles, California – $15.00
Beer and Cider
Orlando Brewing Organic Blonde Ale – Orlando, FL – $8.00
Pilsner Urqeull Pilsen – Czech Republic – $8.00
Cigar City Maduro Brown Ale – Tampa, FL – $8.00
Paulaner Hefe-Weizen – Germany – $8.00
Sweetwater Extra Pale Ale 420 – Atlanta, GA – $8.00
Crooked Can High Stepper IPA – Winter Garden, FL – $8.00
Founder's Breakfast Stout – Grand Rapids, MI – $9.00
Bud Light – St. Louis, MO – $7.00
Keel & Curley Strawberry Cider – Plant City, FL – $8.00
** The Basket at Wine Bar George Menu and Prices are Subject to Change Without Notice **