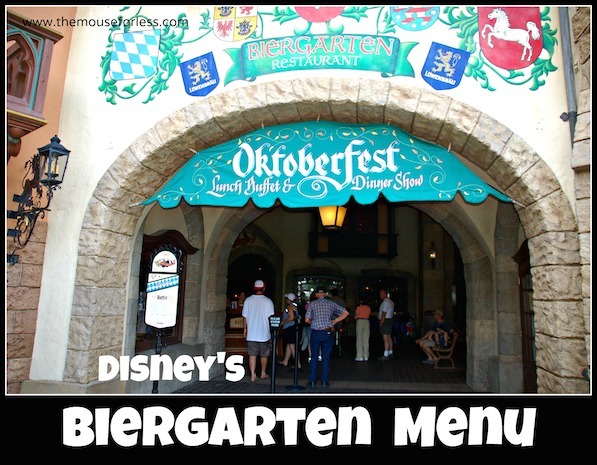 In the Germany Pavilion, every day is Oktoberfest at this all-you-care-to-eat unique German buffet. Get to Biergarten close to opening for lunch, and you may be selected to open the beer tap for the day and score some free beer!
Biergarten is located in Disney's Epcot theme park.  Find more Walt Disney World dining locations on our Walt Disney World Resort menus page.
Restaurant Info: Lunch/Dinner Buffet, $$$ – $35.00 to $59.99 per adult
Find out how you can save money on dining at Walt Disney World by using one of Disney's Dining Plans.

Planning a Walt Disney World Vacation?
For a Free no-obligation quote, contact our sponsor
The Magic For Less Travel
. The Magic For Less Travel is an Authorized Disney Vacation Planner and has been helping guests plan magical vacations since 2002. Receive the best prices and free travel planning services. Their fee-free services will help you save time, money, and stress while planning a vacation designed around you and your needs!
Biergarten Lunch/Dinner Menu
Menu Date: 08/2022
Lunch is served from 12:00 p.m. to 3:55 p.m.
Dinner is served from 4:00 p.m. to 9:00 p.m.
Adult Price: $46.00
Child Price (ages 3 – 9): $25.00
Prices vary by season and include tax, but not gratuity.
Partial Listing of Selections
Seasonal Salads
Traditional Sausage
Rotisserie Chicken
Chef's Carving Station
Sauerkraut
Potatoes
Spätzle
Schnitzel
Nudel Gratin
Assorted Desserts
Kid's Entrees
Biergarten Kids' Offerings 
Roasted Chicken
Hot Dogs
Green Beans
Macaroni and Cheese
Beer Selection
German Beer Flight (Four Pours – 5 oz each)
Beck's Pilsner, Warsteiner Dunkel, König Ludwig Weissbier, and Schöfferhofer Grapefruit Hefeweizen – $15.00
Schöfferhofer Grapefruit Hefeweizen (1/2 Liter or Liter)
A unique combination of sparkling smooth hefeweizen with grapefruit juice. Refreshing well-rounded taste with tangy character and hints of sweetness that is pleasing to the palate. The world's first unfiltered grapefruit hefeweizen-mix – $10.50 – $16.00
König Ludwig Weissbier (1/2 Liter or Liter)
Bavarian hefeweizen wheat beer with a full-bodied lively taste perfectly balanced with complex fruit aromas – $10.50 – $16.00
Beck's Pilsner (1/2 Liter or Liter)
Classic German lager beer with a distinctive full-bodied taste, fresh hoppy bouquet, golden color and full, rich head. Adding to its complexity is a slightly fruity but firm crispness and a dry, clean finish – $10.50 – $16.00
Warsteiner Dunkel (1/2 Liter or Liter)
Classic German-style dark pilsner that has a deep chestnut brown hue with a smooth, toasty malt flavor and mocha aromas – $10.50 – $16.00
White Wines
German White Wine Flight (Three Pours 2-oz each)
Villa Wolf Pinot Gris, J.H. Selbach Blue Label Riesling, and Valckenberg Madonna Riesling Spätlese – $16.00
Villa Wolf Pinot Gris, Pfalz
full-bodied and dry with refreshing, unoaked fruit and a crisp texture – $11.00 Glass, $45.00 Bottle
J.H. Selbach Blue Label Riesling, Mosel
crisp aromas of lemon, white peach, and melon with a hint of mineral on the palate – $12.00 Glass, $49.00 Bottle
Dr. Loosen, Dr. L Riesling, Mosel
lightly sweet, green apple and citrus flavors elegantly laced withracy acidity and minerality from steep slate slopes – $11.00 Glass, $49.00 Bottle
Valckenberg Madonna Riesling Spätlese, Rheinhessen
silky sweet aromas with flavors of apple, peach, and spiced pear – $11.00 Glass, $45.00
Red Wines
August Kesseler Pinot Noir Spätburgunder, Rheingau
delicate, elegant, light in style, and well structured with delicate cherry flavors, a hint of black currant, and plenty of spice – $14.00 Glass, $55.00 Bottle
Heinz Eifel Dornfelder, Rheinhessen
full-bodied with flavors of dark red fruits with a well-balanced sweetness – $10.00 Glass, $45.00 Bottle
Schnapps and Shots
Jägermeister – $13.00
Bärenjäger Honey & Bourbon – $13.00
** Biergarten Menu and Prices are Subject to Change Without Notice**