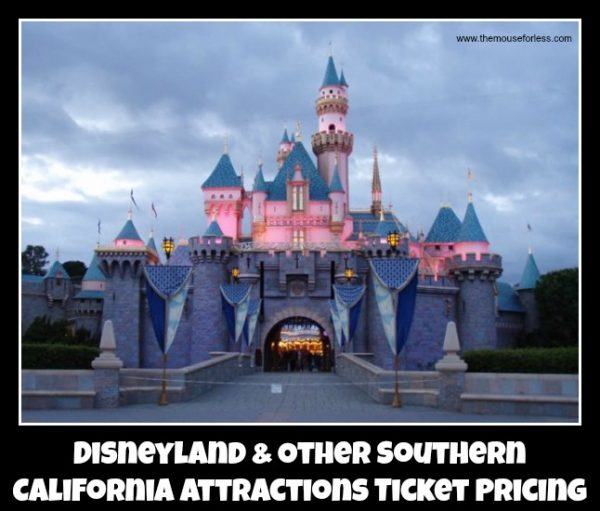 Disneyland Ticket Prices and Options
The pricing for Disneyland tickets are based on the Guests' specific dates of travel. Pricing may be lower during off-peak travel periods. Tickets will need to be used during a specific time period as well. Multi-day tickets are a better value than single-day tickets. Multi-day discounts will vary depending on the length of the ticket.
Park Reservations
A valid park reservation for each day you plan to visit is needed in addition to valid theme park tickets.
Additionally, the illegal ticket rental business has been booming at Disneyland in recent years. Disneyland Multi-day tickets are not transferable, however, and in an effort to prevent ticket fraud, Disneyland resort is now requiring that all guests using multi-day tickets have their photo taken. When the multi-day pass is used a second time, cast members manning the park turnstiles will see a photo of the guest pop up on a screen. The photo must match the person using the ticket in order to gain entry into the park.
"Magic Morning" Tickets
Pre-pandemic, Disneyland guests who purchase multi-day tickets of 3 days or longer will receive one Magic Morning early admission with select attractions at Disneyland Park. The Magic Morning program offers access to Disneyland on Tuesdays, Thursdays and Saturdays one hour prior to scheduled park opening. Guests can only use this benefit once, and will not have early access to Disney California Adventure under the Magic Morning program.  This benefit have not been reactivated at this time.
Purchasing 2022 Disneyland Tickets
Disneyland tickets can be purchased in advance online at disneyland.com. The only delivery option available online is the eTicket option and is free of charge. Tickets will be emailed as a pdf file to the email address specified. Printed e-tickets will be have a unique bar code that can be scanned at park turnstiles. Printed eTickets will then be exchanged for regular Disneyland admission tickets or Park Hoppers of the appropriate number of days.  Park reservations must be selected prior to the ticket purchase.
The costs of a single park Disneyland ticket prices depends on the day of your visit and are as follows:
1 Day 1 Park from $104
2 Day 1 Park from $128 per day
3 Day 1 Park from $110 per day
4 Day 1 Park from $90 per day
5 Day 1 Park from $76 per day
Park Hopper option can be added for $60 extra per day.
Disneyland admission tickets are also offered by a number of ticket brokers and vendors online that buy tickets from Disney in bulk and pass on the savings. We recommend ARES Travel for discounted Southern California attraction tickets.
Ticket Upgrades
The value of an unused or partially used ticket or pass can be applied to upgrading to a higher value ticket or Magic Key as long as the upgrade occurs prior to the ticket expiration. For instance, a partially used 3-Day Park Hopper that has not expired and is within 13 days of first use can be upgraded a 5-Day Park Hopper or to a Magic Key. Visit any Guest Services window to upgrade your ticket or pass. For tickets purchased at a discount, the price you "actually" paid will be applied to your upgrade; this information is encoded in the ticket. Older Disneyland passes with no printed expiration date are still valid as admission media at Disneyland Resort, but because of their low value, are probably better used for park admission than applying towards an upgrade.
Magic Keys
Disneyland Annual Passports have been retired after the parks' closure due to COVID-19. In it's place is the new Magic Key.
There are four levels of Magic Key Passes.  Choose the one that fits your needs best!
Disney allows Annual Passholders who live in SoCal the ability renew or buy a new pass and pay for it by the month. The initial cost is equivalent to the cost of a 1-Day, 1-Park ticket, and the remaining cost is spread out over 12 months. There is no finance charge to use this option. A discount is available on Premium and Deluxe renewals.

 See our Disney Discount page for discounts on Disneyland Hotels and Vacation Packages.

Planning a Disneyland Vacation?
For a Free no-obligation quote, contact our sponsor 
The Magic For Less Travel
. Services are provided free of charge and their expert planning advice will help you make the most of your vacation time and money.
See All ARES Discounted LOS ANGELES Attraction Tickets
See All ARES Discounted SAN DIEGO Attraction Tickets
Other Ways to Get Disneyland Ticket Discounts
First, never buy tickets sold on eBay, Craigslist or any unauthorized source. Disneyland tickets come with a printed expiration date and used tickets expire 13 days after first use. There is no way to tell how many days may be left on a multi-day ticket other than at the park turnstiles, or for that matter, if the tickets are even real. Furthermore, Disneyland Resort tickets are non-transferable, so don't expect Disney to help if you get burnt buying a great deal. If you have any doubt about the wisdom of this statement, you can read about ticket scams that took place in the Disneyland area and on Craigslist. As a result of this and similar incidents and ticket rental scams, Disney is now requiring that guests have their photo taken when using all multi-day tickets. Online, use ticket vendors recommended on long-standing Disney information sites and communities when purchasing any attraction tickets and avoid all others. Most Disney communities have a long history with reliable vendors and you will see those vendors mentioned often on forums, boards, and email lists.
Last Minute Ticket Discounts
Disneyland ticket discounts may occasionally be available at some Disneyland "Good Neighbor" hotels and area supermarkets, but, typically are not as good as the advance purchase prices available through ARES Travel.
If you are in the Southern California vicinity and haven't purchased attraction tickets yet, slightly discounted tickets for major theme parks and attractions are available at the Anaheim Visitor & Postal Center. A Disneyland Welcome Center is located in the DoubleTree Guest Suites Anaheim Resort at 2085 S. Harbor Blvd in Anaheim. Slightly discounted Disneyland and other attraction tickets can be purchased on site.
Some Northern and Central California Safeway stores and AAA Offices may carry discounted promotional tickets. Disneyland tickets offered at these onsite locations tend to be limited and varied, and the full array of Disneyland admission media may not be available.
Military Ticket Discounts
Active and retired military as well DOD employees can obtain discounted Disneyland tickets through their military base MWR offices. A military identification card or Department of Defense identification card is required at the time of Purchase.
Travel, Rewards and Discount Clubs, Programs and Cards, Oh My!
Check the web sites of any Travel or Discount Clubs to which you belong for attraction discounts and offers. Costco has been known to carry special deals on Disneyland tickets, both in store and online, and AAA sometimes carries tickets members can purchase at a discount. And don't overlook Rewards programs. These can include hotel, airlines, banking, merchant and grocery store rewards programs. Hilton HHonors program allows members to trade in points for Disneyland passes. Borders Rewards Perks gives members the ability to purchase Disneyland tickets at a discount. Giant Eagle's fuel perks program sells Disney Gift cards and gives you a discount on gas for your purchase. The Disney Gift Card can be used throughout Disneyland Resort as a form of payment towards admission, hotel stays, tours, merchandise and dining at participating locations. Theme park tickets can be purchased in advance by calling the Walt Disney Travel Company California at 1-866-470-5119 (gift cards can not be used to make online ticket purchases).  Disney's Reward Visa Card's Dream Dollars can be redeemed for Disneyland Tickets.
Corporate & Credit Union Disneyland Ticket Prices and Offers
Corporate Clubs offer a variety of travel discounts to companies or large private groups. These clubs are often able to offer good discounts on attraction tickets. Check with your employee benefit office to see if you are eligible for any Corporate offers.
Discounted Disneyland tickets may also be available through some California credit unions. California residents living or working in select California counties can open a Golden 1 Credit Union account that offers very good discounts on Disneyland tickets. Tickets can be purchased online under the "self services" section. Look for a link in the 'special offers' box.
Occupational & Student Ticket Discounts
California teachers who are members of the California Teachers Association are occasionally offered Disneyland and other attraction discounts. The best way to find them is to visit the TSA web site or call TSA/First Financial Credit Union. Discounts on an adult Disneyland tickets can be substantial. Members of other state education associations may want to check for available Disneyland ticket discounts.
Southern California university and college students can often obtain one park/single day discounted Disneyland tickets through their student union offices.
Southern California Residents Ticket Discounts
Southern California residents can purchase special ticket deals from Disney during select months of the year that are valid only for Southern California residents within ZIP codes 90000-93599 and Northern Baja California residents within ZIP codes 21000-22999; proof of residency is required for purchase and admission. When offered, this benefit at Disneyland.com or at Disney Stores, Vons and other retail locations, as well as any Disneyland ticket booth. When purchased in advance, 3-day tickets include one Magic Morning early entry to Disneyland. This benefit is not available to tickets purchased at Disneyland ticket booths. Watch here for more information about special offers from Disney for Southern California residents when they become available. Check our Disneyland Current Discounts page for current availability.
Disney Vacation Club Members Ticket Discounts
DVC members qualify for a number of Disney discounts.  Check your membership benefits for details.
---
*The ability of Magic Key holders to make and hold park reservations will be impacted by the "no show" policy. Magic Key holders who are a "no show" for 3 reservations in a 90-day window will be unable to make new park reservations for 30 days. Existing park reservations at that time will not be cancelled. The 30-day period begins the day after the third "no-show," and will continue even if the pass is upgraded to another pass during that time. A Magic Key holder who enters the designated park any time before closing on the day of the reservation is not considered a "no-show." If the reservation is for both parks, only one park needs to be entered to avoid being a "no-show." Magic Key holders who timely cancel a reservation are also not considered a "no-show." Cancellation of a reservation must be done by 11:59 PM PT on the day before the reserved date. Rules and policies are subject to change without notice.
**Magic Key holders must present their valid Magic Key pass prior to purchases to receive any applicable benefits or discounts. Further identification may be required. Benefits and discounts are valid only at select locations, are subject to restrictions and exclusions, and are determined solely by Disney at Disney owned and operated locations. Check third-party locations for details about their offered benefits and discounts, if any. Disney is not responsible or liable for benefits and discounts offered by any third parties. Please ask about any applicable discounts at a location prior to purchase. The benefits and discounts are nontransferable, subject to restrictions and change or cancellation without notice, and may not be combined with any other discount, offer or promotion. The benefits are for personal use only, and may not be used for commercial purposes or for the benefit of others including, without limitation, the purchase of merchandise with the intent to resell such merchandise or the sharing of benefits with persons who are not the Magic Key holder. See full Magic Key Terms and Conditions.
***Parking benefit is valid for parking, or for discounted parking, for one (1) standard vehicle only at pay-on-entry lots at the Disneyland Resort. Oversized vehicles, preferred parking spaces and valet services are not included in this parking benefit and will require an additional fee. Parking is not guaranteed, and is subject to capacity and applicable Pass blockout dates (i.e., a Pass is not valid for parking on a date for which such Pass is blocked out).