Disney Springs | The Landing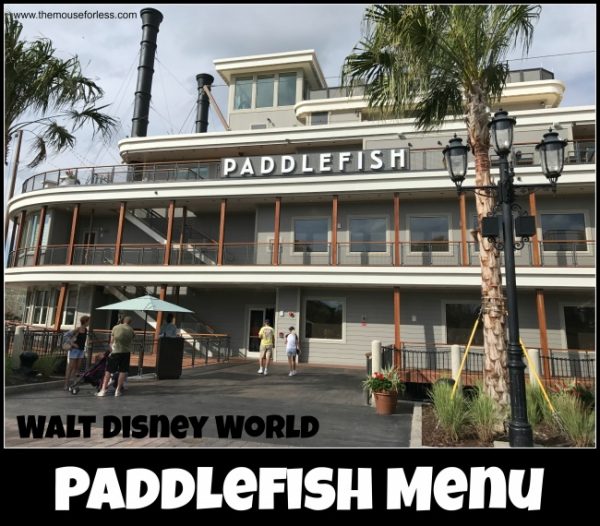 Lunch Menu Dinner Menu Kids Menu Lounge Menu
At Paddlefish, board an iconic paddleboat anchored on Lake Buena Vista to feast on fresh seafood and savory steaks. Anticipate fan-favorites such as Florida stone crab and eclectic dishes like lobster guacamole—made right before your eyes.
Restaurant Info: American, Seafood Cuisine; Lunch/Dinner, A la carte; $$-$$$ – $15.00 to $59.99 per adult
Find out how you can save money on dining at Walt Disney World by using one of Disney's Dining Plans.
Booking Information
Guests can make reservations for Paddlefish using Disney's reservation system. The restaurant is open daily from 11:00 a.m. 1:00 a.m., serving lunch beginning at 11:00 a.m. and dinner from 5:00 p.m. to 11:00 p.m. From 9:30 p.m. to 1:00 a.m. appetizers and drinks are served on the 3rd Deck Lounge.
Paddlefish Sunday Brunch Menu
Menu Date: 04/2019
Brunch
The King Meets the Captain – Peanut Butter and Banana-stuffed French Toast crusted with everyone's favorite Breakfast Cereal, fresh Berry Compote – $23.00
Crab and Asparagus Benedict – Two-poached Eggs, Jumbo Lump Crab, Asparagus, Grilled Nueske Bacon Slab, Hollandaise Sauce – $23.00
Monte Cristo – French Toast, Ham, Applewood Bacon, Fried Egg, Swiss Cheese, fresh Berry Compote, Maple Syrup – $16.00
Corned Beef Hash – Red Skin Potatoes, Caramelized Onions, Bell Peppers, Poached Eggs – $16.00
Steak & Eggs – Flat Iron, Two-poached Eggs, Hash Browns, Hollandaise – $24.00
The Omelet – Three Cage-free Eggs and Home Fries. Choose one: Ham, Shrimp, or Chorizo. Choose two: Bell Pepper, Jalapeño, Onion, Mushroom, Tomato, Cheddar Cheese – $15.00
Paddlefish Lunch Menu
Menu Date: 04/2019
Starters
Crab Cake – Maque choux, fried green tomato, remoulade – $17.00
Beef Skewers – Garlic mojo, hazelnut romesco, picked onions – $13.00
Calamari – Shishito, carambola, peppadew piri piri – $16.00
Jumbo Lump Crab Topped Fries – Skin-on french fries, lump blue crab, Louie dressing – $14.00
Fried Green Tomatoes – Elote, pickled watermelon, queso fresco, remoulade – $9.00
Lobster Corn Dogs – Sweet chili aïoli – 16.00
Littleneck Clams – White Wine, Garlic, Lemon Butter – $14.00
Soups & Salads
New England Clam Chowder – Bacon, potatoes, cream – $6.00 cup | $9.00 bowl
Lobster Bisque – Sherry cream – $6.00 cup | $9.00 bowl
Green Salad – Romaine hearts, cucumber, grape tomato, red onion, Asian pear, yuzu. – $9.00 side | $12.00 full
Caesar Salad – Romaine hearts, sourdough crouton, white anchovy. – $8.00 side | $11.00 full
Wedge Salad – Iceberg, Tomatoes, Red Onions, Bacon, Blue Cheese Dressing. – $11.00 side | $14.00 full
Add Chicken to your Salad – $5.00
Add Shrimp to your Salad – $10.00
Add Salmon to your Salad – $12.00
Sandwiches
Lobster Roll – Maine lobster, lemon-infused mayonnaise, celery, split top bun – $31.00
Crab Cake "BLT" – Bacon, Avocado, Cheddar, Lettuce, Beefsteak Tomato, Rémoulade, Ciabatta – $20.00
Cajun Chicken – Beefsteak tomato, lettuce, onion, remoulade, ciabatta – $12.00
Caprese – Fresh Mozzarella, Beefsteak Tomato, Basil Aïoli, Ciabatta – $12.00
Buffalo Chicken – Fried, hot sauce, tomato, lettuce, onion, blue cheese, brioche – $16.00
Chicken Caesar Wrap – Romaine, parmesan, tomato, whole-wheat wrap – $12.00
Blackened Catfish – Lettuce, tomato, onion, remoulade, brioche – $17.00
Fried Clam Roll – Ipswich whole bellies, lemon-caper aïoli, pickles, split top bun – $16.00
Crispy Fish – Flash fried flounder, lemon-caper aioli, house pickle, romaine, tomato, red onion, brioche – $16.00
The Burger – 9 ounce proprietary blend, house-made pickles, red onion, pimento cheese, brioche – $19.00
Half & Half Combinations
Soup and Salad – Choose a cup of soup and any side salad – $14.00
Half Chicken Caesar Wrap – Choose either a cup of soup or any side salad paired with half a Chicken Caesar Wrap – $15.00
Crab and Lobster
King Crab – Dutch Harbor, AK – served with corn and new potatoes – $65.00
Snow Crab – Gulf of St. Lawrence, Canada – served with corn and new potatoes – $40.00
Maine Lobster – 1 1/4 pound served with corn and new potatoes – $65.00
Chilled and Raw Seafood
Tableside Lobster Guacamole – Maine Lobster, tortilla planks, tajin (serves 4) – $36.00
Ahi Poke – Sweet black soy, yuzu, avocado, cucumber pickle – $16.00
Shrimp Cocktail – Jumbo shrimp, classic cocktail sauce – $20.00
Crab Ceviche – Blue crab, avocado, bell pepper, jalapeno, cilantro, lime, tortillas – $15.00
Tower – Dutch Harbor King crab, jumbo Gulf shrimp, market fresh oysters, lump crab ceviche, Ahi tuna poke (serves 4)- $70.00
Market Fresh Oysters (each) – cocktail sauce – $3.00
Main
Filet Mignon – 10 ounce, mashed potatoes – $44.00
Half Chicken – Carolina mop sauce, edamame-smoked bacon succotash, pickled watermelon – $27.00
Fish & Chips – Beer-battered Flounder, sweet potato fries, tartar sauce – $28.00
Catfish – Cornmeal crust, edamame-bacon succotash, creole mustard, pickled watermelon – $22.00
Salmon – Spring vegetable, Israeli couscous, watermelon coulis – $34.00
Linguine & Clams – Cedar Key littlenecks, white wine, garlic, lemon, parsley – $26.00
Vegetarian Pasta – Linguine Garlic, Olive Oil, Market Vegetables – $18.00
Fish Tacos – Market Catch, red cabbage slaw, papaya-mango salsa, sweet chili aïoli – $17.00
Shrimp Pasta – Linguine, Parmesan Cream, Cherry Tomato, Basil – $22.00
Seafood Boil
1 1/4 Pound Maine Lobster – served with Sweet Corn on the Cob, Red Potatoes, and Cornbread – $65.00
PEI Mussels – 1 lb served with Sweet Corn on the Cob, Red Potatoes, and Cornbread – $19.00
Littleneck Clams – served with Sweet Corn on the Cob, Red Potatoes, and Cornbread – $24.00
Shrimp – ½ lb served with Sweet Corn on the Cob, Red Potatoes, and Cornbread – $26.00
Snow Crab – 10 oz served with Sweet Corn on the Cob, Red Potatoes, and Cornbread – $29.00
Alaskan King Crab – 10 oz served with Sweet Corn on the Cob, Red Potatoes, and Cornbread – $42.00
Desserts
Brownie Milkshake – Chocolate ganache, caramel popcorn, whipped cream – $10.00
Flourless Chocolate Cake – Mascarpone, raspberry coulis – $10.00
Chocolate Crème Brûlée – Fresh raspberries – $10.00
Charred Carrot Cake – Caramelized carrot puree, cream cheese mousse, shortbread cookie crumb – $10.00
Spiced Apple Bread Pudding – vanilla ice cream, caramel – $9.00
Pecan Chicory Espresso Martini – Cathead Pecan vodka, Hoodoo Chicory liqueur, espresso – $15.00
Key Lime Pie – Graham cracker, candied zest, meringue – $10.00
Draft
Key Lime White – Local Ale – $9.00
Sailfish Sunrise – IPA – $9.00
Stella Artois – Pilsner – $9.00
Yuengling – Amber Lager – $9.00
Sweetwater 420 – EPA – $9.00
Blue Moon – Wheat Ale – $9.00
Imported & Domestic
Coors Light or Miller Lite – $7.00
Michelob Ultra – $7.00
Corona, Sam Adams, or Guiness – $8.00
Heineken or Modelo Especial – $8.00
Redbridge (Gluten-free) – $7.00
O'Doul's (Non-Alcoholic) – $7.00
American Craft Beers
Fat Tire – Belgian-style Ale – $9.00
Atlantic City Mayport – Red Ale – $9.00
Key West Sunset Ale – $9.00
Sierra Nevada – Pale Ale – $9.00
Sailfish White Marlin – Wit – $9.00
Lagunitas – IPA – $9.00
Southern Tier – Double IPA – $9.00
Angry Orchard – Cider – $9.00
Kona Longboard – Lager – $9.00
Seasonal Selection– $9.00
Libations and Rocks
Lily Spritz – Mas Fi, Cocchi Rosa, strawberries, seltzer – $14.00
Mayan Empress – Santa Teresa Anejo Rum, passion fruit, pineapple juice, fresh lemon – $16.00
Prohibition Mai Tai – Scarlet Ibis, orgeat, banana liqueur, fresh lime, Scrappy Orleans, amarena cherry – $17.00
Southern Sangria – Medley Bros. Bourbon, peach liqueur, Tempranillo, seasonal fruit – $15.00
Not Everyone's Margarita – Nuestra Soledad Mezcal, El Destilador Blanco, Crème de Mûre, House Sour – $15.00
Captain Handsome – Boyd and Blair, fresh raspberries, framboise, thyme – $16.00
The Bloody Mary – King crab, jumbo shrimp, candied Neuske's bacon – $20.00
Gold Rush – Kinahan's Irish Whiskey, Fever Tree Ginger Beer, fresh lime – $20.00
White Wines by the Glass
Sparkling La Spinetta Quaglia, Moscato d'Asti – $13.00
Sparkling Syltbar, Prosecco – $14.00
Sparkling Laurent Perrier Brut, Champagne – $25.00
Pinot Gris Ponzi, Oregon – $12.00
Pinot Grigio Zenato, Italy – $10.00
Albariño Finca de Arantei, Rias Baixas – $14.00
Riesling Kabinett, Kessler, Pflaz – $10.00
Viognier Yalumba, Australia – $10.00
Sauvignon Blanc Groth, Napa Valley  – $13.00
Sauvignon Blanc Fire Road, Marlborough – $12.00
Chardonnay Textbook, Napa Valley – $15.00
Chardonnay Drouhin, Chablis – $16.00
Rosado Viña Real, Rioja – $12.00
Red Wines by the Glass
Pinot Noir Angeline, California – $14.00
Pinot Noir Lemelson 'Thea's Select', Willamette Valley – $18.00
Pinot Noir Crossbarn by Paul Hobbs, Sonoma Coast – $20.00
Merlot Trefethen, Napa Valley – $17.00
Cabernet Franc Renacer 'Punto Final', Mendoza – $12.00
Tempranillo Buenas, Rioja – $10.00
Malbec Zuccardi 'Serie A', Mendoza – $13.00
Cabernet Sauvignon Turnbull, Napa Valley – $21.00
Cabernet Sauvignon Felino, Mendoza – $13.00
Red Blend The Prisoner, Napa Valley – $25.00
Red Blend Intrinsic, Columbia Valley – $15.00
Shiraz Penfolds "Koonunga Hills", South Australia – $13.00
A full bar featuring mixed drinks, spirits, and wines also available
Paddlefish Dinner Menu
Menu Date: 04/2019
Starters
Crab Cake – Maque choux, fried green tomato, remoulade – $17.00
Beef Skewers – Garlic mojo, hazelnut romesco, picked onions – $13.00
Calamari – Shishito, carambola, peppadew piri piri – $16.00
Jumbo Lump Crab Topped Fries – Skin-on french fries, lump blue crab, Louie dressing – $14.00
Fried Green Tomatoes – Elote, pickled watermelon, queso fresco, remoulade – $9.00
Lobster Corn Dogs – Sweet chili aïoli – 16.00
Littleneck Clams – White Wine, Garlic, Lemon Butter – $14.00
Charred Octopus – Cannellini bean, chourico, smoked paprika oil – $15.00
Soups & Salads
New England Clam Chowder – Bacon, potatoes, cream – $6.00 cup | $9.00 bowl
Lobster Bisque – Sherry cream – $6.00 cup | $9.00 bowl
Green Salad – Romaine hearts, cucumber, grape tomato, red onion, Asian pear, yuzu. – $9.00 side | $12.00 full
Caesar Salad – Romaine hearts, sourdough crouton, white anchovy. – $8.00 side | $11.00 full
Wedge Salad – Iceberg, Tomatoes, Red Onions, Bacon, Blue Cheese Dressing. – $11.00 side | $14.00 full
Add Chicken to your Salad – $5.00
Add Shrimp to your Salad – $10.00
Add Salmon to your Salad – $12.00
Chilled and Raw Seafood
Tableside Lobster Guacamole – Maine Lobster, tortilla planks, tajin (serves 4) – $36.00
Ahi Poke – Sweet black soy, yuzu, avocado, cucumber pickle – $16.00
Shrimp Cocktail – Jumbo shrimp, classic cocktail sauce – $20.00
Crab Ceviche – Blue crab, avocado, bell pepper, jalapeno, cilantro, lime, tortillas – $15.00
Tower – Dutch Harbor King crab, jumbo Gulf shrimp, market fresh oysters, lump crab ceviche, Ahi tuna poke (serves 4)- $70.00
Market Fresh Oysters (each) – cocktail sauce – $3.00
Crab and Lobster
King Crab – Dutch Harbor, AK – served with Corn and New Potatoes – $65.00
Snow Crab – Gulf of St. Lawerence, Canada – served with Corn and New Potatoes – $40.00
Maine Lobster – 1 ¼ pound served with Corn and New Potatoes – $65.00
From the Port
Scallops – Brown butter, cauliflower puree, crispy brussels sprouts, bacon – $36.00
Crispy Shrimp – Flash-fried, Cocktail Sauce, Skin-on Fries – $27.00
Salmon – Spring Vegetable, Couscous – $34.00
Swordfish – Wasabi-whipped Potato, Shiitake, and Snow Pea Stir Fry, Miso Sauce – $30.00
Catch of the Day – Macadamia nut crust, red curry, crab fried rice – $38.00
Catfish – Cornmeal crust, edamame-smoked bacon succotash, creole mustard – $22.00
Shrimp & Grits – Cheddar grits, spicy black pepper-butter sauce – $30.00
Linguine & Clams – Cedar Key littlenecks, white wine, garlic, lemon, parsley – $26.00
Shrimp Pasta – Linguine, Parmesan Cream, Cherry Tomato, Basil – $28.00
Blackened Catfish – Lettuce, Tomato, Onion, Rémoulade, Brioche – $17.00
Crab Cake "BLT" – Bacon, Avocado, Cheddar, Lettuce, Beefsteak Tomato, Rémoulade, Ciabatta – $20.00
Cioppino – Shrimp, littleneck clams, mussels, octopus, seasonal fish, crab, tomato broth – $39.00
From the Land
Prime Strip – 12 ounce, caramelized onions and crimini mushrooms – $49.00
Filet Mignon – 8 ounce, mashed potatoes – $44.00
Pork Osso Bucco – Cider-braised, cheddar grits – $28.00
Half Chicken – Carolina Mop Sauce, Edamame-smoked Bacon Succotash – $27.00
Pork Chop – Asparagus, Blue Cheese Mash, Apple Cider Reduction – $28.00
The Burger – 9 oz proprietary blend, pickles, red onion, pimento cheese, brioche – $19.00
Vegetarian Pasta – Linguine Garlic, Olive Oil, Market Vegetables – $18.00
Seafood Boil
1 1/4 Pound Maine Lobster – served with Sweet Corn on the Cob, Red Potatoes, and Cornbread – $65.00
PEI Mussels – 1 lb served with Sweet Corn on the Cob, Red Potatoes, and Cornbread – $19.00
Littleneck Clams – served with Sweet Corn on the Cob, Red Potatoes, and Cornbread – $24.00
Shrimp – ½ lb served with Sweet Corn on the Cob, Red Potatoes, and Cornbread – $26.00
Snow Crab – 10 oz served with Sweet Corn on the Cob, Red Potatoes, and Cornbread – $29.00
Alaskan King Crab – 10 oz served with Sweet Corn on the Cob, Red Potatoes, and Cornbread – $42.00
Finishing Touches
Oscar – $12.00
Blue Cheese– $6.00
Béarnaise – $4.00
Sides to Share
Crispy Brussels Sprouts – shaved parmesan, sweet chili aïoli –  $10.00
Asparagus – $10.00
Edamame-smoked Bacon Succotash – $8.00
Maque Choux – $8.00
Mac n' Cheese – 7 cheese, cavatappi, panko crust  – $15.00
Blistered Green Beans with Ginger – $8.00
Skin-on Fries – $7.00
Sweet Potato Fries – $7.00
Red Bliss Potatoes – $7.00
Desserts
Brownie Milkshake – Chocolate ganache, caramel popcorn, whipped cream – $10.00
Flourless Chocolate Cake – Mascarpone, raspberry coulis – $10.00
Chocolate Crème Brûlée – Fresh raspberries – $10.00
Charred Carrot Cake – Caramelized carrot puree, cream cheese mousse, shortbread cookie crumb – $10.00
Spiced Apple Bread Pudding – vanilla ice cream, caramel – $9.00
Pecan Chicory Espresso Martini – Cathead Pecan vodka, Hoodoo Chicory liqueur, espresso – $15.00
Key Lime Pie – Graham cracker, candied zest, meringue – $10.00
Draft
Key Lime White – Local Ale – $9.00
Sailfish Sunrise – IPA – $9.00
Stella Artois – Pilsner – $9.00
Yuengling – Amber Lager – $9.00
Sweetwater 420 – EPA – $9.00
Blue Moon – Wheat Ale – $9.00
Imported & Domestic
Coors Light or Miller Lite – $7.00
Michelob Ultra – $7.00
Corona, Sam Adams, or Guiness – $8.00
Heineken or Modelo Especial – $8.00
Redbridge (Gluten-free) – $7.00
O'Doul's (Non-Alcoholic) – $7.00
American Craft Beers
Fat Tire – Belgian-style Ale – $9.00
Atlantic City Mayport – Red Ale – $9.00
Key West Sunset Ale – $9.00
Sierra Nevada – Pale Ale – $9.00
Sailfish White Marlin – Wit – $9.00
Lagunitas – IPA – $9.00
Southern Tier – Double IPA – $9.00
Angry Orchard – Cider – $9.00
Kona Longboard – Lager – $9.00
Seasonal Selection– $9.00
Libations and Rocks
Lily Spritz – Mas Fi, Cocchi Rosa, strawberries, seltzer – $14.00
Mayan Empress – Santa Teresa Anejo Rum, passion fruit, pineapple juice, fresh lemon – $16.00
Prohibition Mai Tai – Scarlet Ibis, orgeat, banana liqueur, fresh lime, Scrappy Orleans, amarena cherry – $17.00
Southern Sangria – Medley Bros. Bourbon, peach liqueur, Tempranillo, seasonal fruit – $15.00
Not Everyone's Margarita – Nuestra Soledad Mezcal, El Destilador Blanco, Crème de Mûre, House Sour – $15.00
Captain Handsome – Boyd and Blair, fresh raspberries, framboise, thyme – $16.00
The Bloody Mary – King crab, jumbo shrimp, candied Neuske's bacon – $20.00
Gold Rush – Kinahan's Irish Whiskey, Fever Tree Ginger Beer, fresh lime – $20.00
White Wines by the Glass
Sparkling La Spinetta Quaglia, Moscato d'Asti – $13.00
Sparkling Syltbar, Prosecco – $14.00
Sparkling Laurent Perrier Brut, Champagne – $25.00
Pinot Gris Ponzi, Oregon – $12.00
Pinot Grigio Zenato, Italy – $10.00
Albariño Finca de Arantei, Rias Baixas – $14.00
Riesling Kabinett, Kessler, Pflaz – $10.00
Viognier Yalumba, Australia – $10.00
Sauvignon Blanc Groth, Napa Valley  – $13.00
Sauvignon Blanc Fire Road, Marlborough – $12.00
Chardonnay Textbook, Napa Valley – $15.00
Chardonnay Drouhin, Chablis – $16.00
Rosado Viña Real, Rioja – $12.00
Red Wines by the Glass
Pinot Noir Angeline, California – $14.00
Pinot Noir Lemelson 'Thea's Select', Willamette Valley – $18.00
Pinot Noir Crossbarn by Paul Hobbs, Sonoma Coast – $20.00
Merlot Trefethen, Napa Valley – $17.00
Cabernet Franc Renacer 'Punto Final', Mendoza – $12.00
Tempranillo Buenas, Rioja – $10.00
Malbec Zuccardi 'Serie A', Mendoza – $13.00
Cabernet Sauvignon Turnbull, Napa Valley – $21.00
Cabernet Sauvignon Felino, Mendoza – $13.00
Red Blend The Prisoner, Napa Valley – $25.00
Red Blend Intrinsic, Columbia Valley – $15.00
Shiraz Penfolds "Koonunga Hills", South Australia – $13.00
A full bar featuring mixed drinks, spirits, and wines also available
Paddlefish Kids' Menu
Menu Date: 04/2019
Kids' Appetizers
Kid's Salad – Romaine, cherry tomato, carrots, croutons, ranch dressing – $4.00
Fruit Skewers – Seasonal Fruit and Berries – $4.00
Cup of Soup – $4.00
Kids' Entrees
Filet Skewers – served with mashed potatoes and green beans – $15.00
Grilled Chicken – served with mashed potatoes – $9.00
Shrimp Pasta – with garlic butter – $12.00
KM- The Kid's Burger – Proprietary blend, brioche bun – $9.00
Snow Crab – served with Corn on the Cob and Red Potatoes – $15.00
Fish of the Day – served with Green Beans – $12.00
All Beef Hot Dog – $9.00
Kids' Desserts
Hot Fudge Brownie Sundae– Vanilla bean ice cream, whipped cream, cherry on top – $5.00
Cookies and milk – Warm chocolate chip cookies, ice cold milk – $5.00
Fruit Skewers – Seasonal Fruit and Berries – $4.00
Late Night Lounge Menu (Available after 9:30pm)
Menu Date: 05/2018
Sunset Rooftop
Crab Cake – Maque choux, fried green tomato, remoulade – $17.00
Beef Skewers – Garlic mojo, hazelnut romesco, picked onions – $13.00
Maine Mussels – Yellow curry, cilantro, grilled breads – $15.00
Charred Octopus – Cannellini bean, chourico, smoked paprika oil – $15.00
Point Judith Calamari – Shishito, carambola, peppadew piri piri – $16.00
Crab Fries – Skin-on french fries, lump blue crab, Louie dressing – $14.00
Fried Green Tomatoes – Elote, pickled watermelon, queso fresco, remoulade – $9.00
Lobster Corn Dogs – Sweet chili aïoli – 16.00
Tableside Lobster Guacamole – Maine Lobster, tortilla planks, tajin (serves 4) – $36.00
Ahi Poke – Sweet black soy, yuzu, avocado, cucumber pickle – $16.00
Shrimp Cocktail – Jumbo shrimp, classic cocktail sauce – $20.00
Tower – Dutch Harbor King crab, jumbo Gulf shrimp, market fresh oysters, lump crab ceviche, Ahi tuna poke (serves 4)- $70.00
Market Fresh Oysters (half dozen) – Champagne-cucumber mignonette and cocktail sauce – $20.00
Late Night Appetizers
Crab Cake – Maque choux, fried green tomato, remoulade – $17.00
Beef Skewers – Garlic mojo, hazelnut romesco, picked onions – $13.00
Cured Meats & Artisan Cheeses (minimum of two orders) – Prosciutto Cured 24 Month, Salame Piccante, Finocchiona, Aged 24 Month Parmigiano-Reggiano, Pecorino Romano, Fontina Val d'Aosto, Olives, Grissini (bread sticks) – $15.00
Charred Octopus – Cannellini bean, chourico, smoked paprika oil – $15.00
Calamari – Shishito, carambola, peppadew piri piri – $16.00
Jumbo Lump Crab Topped Fries – Skin-on french fries, lump blue crab, Louie dressing – $14.00
Fried Green Tomatoes – Elote, pickled watermelon, queso fresco, remoulade – $9.00
Lobster Corn Dogs – Sweet chili aïoli – 16.00
Tableside Lobster Guacamole – Maine Lobster, tortilla planks, tajin (serves 4) – $36.00
Ahi Poke – Sweet black soy, yuzu, avocado, cucumber pickle – $16.00
Shrimp Cocktail – Jumbo shrimp, classic cocktail sauce – $20.00
Tower – Dutch Harbor King crab, jumbo Gulf shrimp, market fresh oysters, lump crab ceviche, Ahi tuna poke (serves 4)- $70.00
Market Fresh Oysters (each) – cocktail sauce – $3.00
Draft
Key Lime White – Local Ale – $9.00
Sailfish Sunrise – IPA – $9.00
Stella Artois – Pilsner – $9.00
Yuengling – Amber Lager – $9.00
Sweetwater 420 – EPA – $9.00
Blue Moon – Wheat Ale – $9.00
Imported & Domestic
Coors Light or Miller Lite – $7.00
Michelob Ultra – $7.00
Corona, Sam Adams, or Guiness – $8.00
Heineken or Modelo Especial – $8.00
Redbridge (Gluten-free) – $7.00
O'Doul's (Non-Alcoholic) – $7.00
American Craft Beers
Fat Tire – Belgian-style Ale – $9.00
Atlantic City Mayport – Red Ale – $9.00
Key West Sunset Ale – $9.00
Sierra Nevada – Pale Ale – $9.00
Sailfish White Marlin – Wit – $9.00
Lagunitas – IPA – $9.00
Southern Tier – Double IPA – $9.00
Angry Orchard – Cider – $9.00
Kona Longboard – Lager – $9.00
Seasonal Selection– $9.00
Libations and Rocks
Lily Spritz – Mas Fi, Cocchi Rosa, strawberries, seltzer – $14.00
Mayan Empress – Santa Teresa Anejo Rum, passion fruit, pineapple juice, fresh lemon – $16.00
Prohibition Mai Tai – Scarlet Ibis, orgeat, banana liqueur, fresh lime, Scrappy Orleans, amarena cherry – $17.00
Southern Sangria – Medley Bros. Bourbon, peach liqueur, Tempranillo, seasonal fruit – $15.00
Not Everyone's Margarita – Nuestra Soledad Mezcal, El Destilador Blanco, Crème de Mûre, House Sour – $15.00
Captain Handsome – Boyd and Blair, fresh raspberries, framboise, thyme – $16.00
The Bloody Mary – King crab, jumbo shrimp, candied Neuske's bacon – $20.00
Gold Rush – Kinahan's Irish Whiskey, Fever Tree Ginger Beer, fresh lime – $20.00
White Wines by the Glass
Sparkling La Spinetta Quaglia, Moscato d'Asti – $13.00
Sparkling Syltbar, Prosecco – $14.00
Sparkling Laurent Perrier Brut, Champagne – $25.00
Pinot Gris Ponzi, Oregon – $12.00
Pinot Grigio Zenato, Italy – $10.00
Albariño Finca de Arantei, Rias Baixas – $14.00
Riesling Kabinett, Kessler, Pflaz – $10.00
Viognier Yalumba, Australia – $10.00
Sauvignon Blanc Groth, Napa Valley  – $13.00
Sauvignon Blanc Fire Road, Marlborough – $12.00
Chardonnay Textbook, Napa Valley – $15.00
Chardonnay Drouhin, Chablis – $16.00
Rosado Viña Real, Rioja – $12.00
Red Wines by the Glass
Pinot Noir Angeline, California – $14.00
Pinot Noir Lemelson 'Thea's Select', Willamette Valley – $18.00
Pinot Noir Crossbarn by Paul Hobbs, Sonoma Coast – $20.00
Merlot Trefethen, Napa Valley – $17.00
Cabernet Franc Renacer 'Punto Final', Mendoza – $12.00
Tempranillo Buenas, Rioja – $10.00
Malbec Zuccardi 'Serie A', Mendoza – $13.00
Cabernet Sauvignon Turnbull, Napa Valley – $21.00
Cabernet Sauvignon Felino, Mendoza – $13.00
Red Blend The Prisoner, Napa Valley – $25.00
Red Blend Intrinsic, Columbia Valley – $15.00
Shiraz Penfolds "Koonunga Hills", South Australia – $13.00
A full bar featuring mixed drinks, spirits, and wines also available
** Paddlefish Menu and Prices are Subject to Change Without Notice **