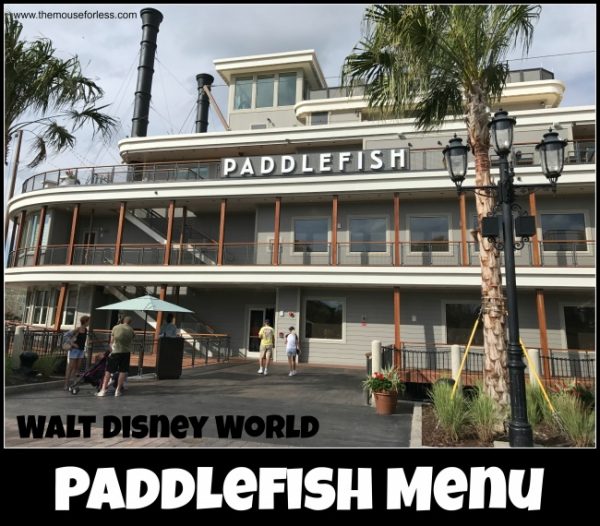 At Paddlefish, board an iconic paddleboat anchored on Lake Buena Vista to feast on fresh seafood and savory steaks. Anticipate fan-favorites such as Florida stone crab and eclectic dishes like lobster guacamole—made right before your eyes.
Paddlefish is located in Disney Springs.  Find more Walt Disney World dining locations on our Walt Disney World menus page.
Restaurant Info: American, Seafood Cuisine; Lunch/Dinner, A la carte; $$-$$$ – $15.00 to $59.99 per adult
Find out how you can save money on dining at Walt Disney World by using one of Disney's Dining Plans.
Lunch Menu  Dinner Menu  Kids Menu  Lounge Menu

Planning a Walt Disney World Vacation?
For a Free no-obligation quote, contact our sponsor
The Magic For Less Travel
. The Magic For Less Travel is an Authorized Disney Vacation Planner and has been helping guests plan magical vacations since 2002. Receive the best prices and free travel planning services. Their fee-free services will help you save time, money, and stress while planning a vacation designed around you and your needs!
Booking Information
Guests can make reservations for Paddlefish using Disney's reservation system. The restaurant is open daily from 11:00 a.m. 1:00 a.m., serving lunch beginning at 11:00 a.m. and dinner from 5:00 p.m. to 11:00 p.m. From 9:30 p.m. to 1:00 a.m. appetizers and drinks are served on the 3rd Deck Lounge.
Paddlefish Lunch Menu
Menu Date: 9/2021
Starters
Crab Cake – Maque choux, fried green tomato, remoulade – $18.00
Beef Skewers – House sSteak Sauce, Picked Onions – $14.00
Calamari – Shishito, Peppadew Piri Piri – $16.00
Crab-topped Fries (GF) – Skin-on french fries, Blue Crab, Louie Dressing – $16.00
Fried Green Tomatoes – Elote, queso fresco, remoulade – $9.00
Crab Cake – Crispy chourico, shishitos, sweet chilli aoli – $14.00
Soups & Salads
New England Clam Chowder – Bacon, potatoes, cream – $6.00 cup | $9.00 bowl
Green Salad (GF) – Romaine hearts, cucumber, grape tomato, red onion, Roasted Shallot Vinaigrette – $9.00 side | $12.00 full
Caesar Salad (GF) – Romaine hearts, sourdough crouton – $8.00 side | $11.00 full
Wedge Salad (GF) – Iceberg, Tomatoes, Red Onions, Bacon, Blue Cheese Dressing. – $11.00 side | $14.00 full
Caprese Salad (GF) – Fresh mozzarella, beefsteak tomatoes, olive oil – $10.00
Add Salmon to your Salad – $12.00
Add Shrimp to your Salad – $10.00
Add Chicken to your Salad – $5.00
From the Steamer
Crab (GF) – served with Corn on the Cob and New Potatoes – $75.00
Whole Main Lobster (GF) – served with Corn on the Cob and New Potatoes – $65.00
Peel & Eat Key West Pink Shrimp (GF) – served with Corn on the Cob and New Potatoes – $39.00
Chilled and Raw Seafood
Ahi Poke – Sweet black soy, avocado, cucumber pickle, tortilla chips – $16.00
Shrimp Cocktail (GF) – Jumbo shrimp, classic cocktail sauce – $20.00
Crab Ceviche (GF) – Blue Crab, Avocado, Bell Pepper, Jalapeño, Cilantro, Lime, Tortilla Chips – $17.00
Crab Guacamole (GF) – Lump Crab, Onion, Tomato, Jalapeño, Cilantro, Lime, Avocado and Tajin Tortilla Chips (serves 4) – $36.00
Main
Stuffed Cod – Shrimp and Scallop Corn Bread Stuffing, Asparagus, Red Potato, Mustard Cream Sauce – $35.00
Catfish – Cornmeal Crust, Edamame-smoked Bacon Succotash, Creole Mustard – $27.00
Crispy Shrimp – Flash-fried, Cocktail Sauce, Skin-on Fries – $20.00
Shrimp Pasta – Linguine, Florida Rock Shrimp, Asparagus, Tomato, Crab Broth – $24.00
Salmon – Miso vinaigrette, vegetable stir fry, wasabi mash, crimini bacon – $34.00
Vegetarian Pasta (V) – Linguine, garlic, olive oil, market vegetables – $18.00
Chicken Breast (GF) – Carolina Mop Sauce, Edamame-smoked Bacon Succotash – $20.00
Pork Chop – Herb roasted potatoes, marinated peppers, chimichurri – $28.00
Filet Mignon (GF) – 8 ounce, Mashed Potatoes, Asparagus, House Steak Sauce – $46.00
Sandwiches
Blackened Catfish Sandwich – Lettuce, Tomato, Onion, Rémoulade, Brioche – $17.00
Chicken Caesar Wrap – Romaine, Parmesean, Tomato, Whole-Wheat Wrap – $12.00
Lobster Roll – Maine Lobster, Celery, Lemon Mayo, New England Split Roll – $31.00
Cajun Chicken – Beefsteak Tomato, Lettuce, Onion, Rémoulade, Ciabatta – $12.00
Crab Cake "BLT" – Bacon, Avocado, Cheddar, Lettuce, Beefsteak Tomato, Rémoulde, Ciabatta – $20.00
Caprese Sandwich – Fresh Mozzarella, Beefsteak Tomato, Basil Aïoli, Ciabatta – $17.00
The Burger – 9 ounce Proprietary Blend, House-Made Pickles, Red Onion, Pimento Cheese, Brioche – $19.00
Fish Tacos – Market Catch, Red Cabbage Slaw, Papaya-Mango Salsa, Sweet Chili Aïoli – $17.00
Half & Half Combinations
Soup and Salad – choose a cup of soup and any side salad – $14.00
Half Chicken Caesar Wrap – choose either a cup of soup or any side salad paired with Half a Chicken Caesar Wrap – $15.00
Sides to Share
Asparagus (GF) (V) – $10.00
Edamame Bacon Succotash (GF) – $10.00
Maque Choux (GF) – $8.00
Blistered Green Beans (GF) (V) – $8.00
Skin-on Fries – $7.00
Red Bliss Potatoes (GF) – $7.00
Desserts
New York-style Cheesecake – Farm-fresh strawberry compote – $9.00
Chocolate Layer Cake – Fresh Berries and Whipped Cream – $9.00
Key Lime Pie – Graham cracker, candied zest, meringue – $10.00
Kids' Appetizers
Kid's Salad – Romaine, cherry tomato, carrots, croutons, ranch – $4.00
Seasonal Fruit Cup and Berries – $4.00
Cup of Soup – $4.00
Kids' Entrees
Filet Skewers – served with mashed potatoes and green beans – $15.00
Grilled Chicken – served with mashed potatoes – $9.00
Chicken Fingers – served with french fries – $10.00
Chicken Linguine – with marinara or parmesan cream – $10.00
Shrimp Linguine – with marinara or parmesan cream – $12.00
All-Beef Hot Dog – $9.00
The Kid's Cheeseburger – Proprietary blend, mild cheddar, Brioche bun, frecnh fries – $10.00
Peel & Eat Key West Shrimp – served with corn on the cob and red potatoes – $15.00
Fish of the day – served with Green Beans – $12.00
Crispy Shrimp – french fries, classic cocktail sauce – $12.00
Kids' Desserts
Hot Fudge Brownie Sundae – vanilla bean ice cream, whipped cream, cherry on top – $5.00
Cookies and Milk – warm chocolate chip cookies, ice cold milk – $5.00
Fruit Skewers – seasonal fruit and berries – $4.00
Mocktails
Strawberry Basil Lemonade – fresh strawberries, basil, lemonade, sprite – $11.00
Cucumber Sipper – cucumber simple syrup, fresh lime juice, lemonade – $11.00
Draft
Key Lime White – Local Ale – $9.00
Sailfish Sunrise – IPA – $9.00
Reef Donkey – American Pale – $9.00
Crooked Can – Florida Lager – $9.00
Florida Ave – Hazy IPA – $9.00
Blood Orange Wheat – Citrus Wheat Ale – $9.00
American Craft Beers
Fat Tire – Belgian-style Ale – $9.00
No Wake Zone – Coconut Ale – $9.00
Sierra Nevada – Pale Ale – $9.00
Islamorada – Citrus Ale – $9.00
Lagunitas – IPA – $9.00
Southern Tier – Double IPA – $9.00
Angry Orchard – Cider – $9.00
Seasonal Selection– $9.00
Imported & Domestic
Corona, Sam Adams, or Guiness – $8.00
Heineken or Modelo Especial – $8.00
Coors Light, Miller Lite, or Michelob Ultra – $7.00
Redbridge (GF) – $7.00
Blue Moon, Stella Artois (Pilsner), or Truly (Seltzer) – $8.00
Yuengling – $7.00
O'Doul's (Non-Alcoholic) – $7.00
Libations and Rocks
Lili's Steamboat Breeze – Broadbent Rose, Cathead Honeysuckle, Elderflower, Fresh Lemon – $15.00
Mayan Empress – Santa Teresa Anejo Rum, apricot fruit liquour, pineapple juice, fresh lemon – $16.00
Not Everyone's Margarita – Nuestra Soledad Mezcal, El Destilador Blanco, Crème de Mûre, House Sour – $15.00
Captain Handsome – Boyd and Blair, fresh raspberries, framboise, thyme – $16.00
The Privateer – Haymans London Dry, Comoz Vermouth Blanc, Garden Party Cucumber – $15.00
Sunset
House-made Red/White Sangria – Assorted premium fruity liquors, juices, white or red wine, seltzer, seasonal fruit | carafe 48 – $14.00
Old Fashioned – Larceny Small Batch Bourbon, Grand Quina, orange bitters, splash black cherry juice | Sub for a shot of Paddlefish Private Label Knob Creek 5 – $15.00
Kendra's Mez'Merizer – Vida mezcal, Grand Marnier, agave nectar, lime juice, orange juice – $14.00
Mid-Shipman – James Pepper Rye, Boudier grapefruit, grapefruit juice, Scrappy Lime bitters – $15.00
The Bloody Mary – King crab, jumbo shrimp, candied Neuske's bacon – $20.00
Flights
Knob Creek – Knob Creek, Knob Creek Rye, Knob Creek Single Barrel – $19.00
Maker's Mark – Maker's Mark, Maker's Mark 46, Maker's Mark Cask Strength – $19.00
Glenmorangie – Glenmorangie 10, Glenmorangie 12 "Lasanta", Glenmorangie 12 "Nectar d'Or" – $20.00
Glenfiddich – Glenfiddich 12, Glenfiddich 14, Glenfiddich 15 – $21.00
Del Maguey Mezcal – Las Milpas, Rio Minas, Wild Tobola | Add a shot of Creme de mezcal 5 – $21.00
White Wines by the Glass
Sparkling La Spinetta Quaglia, Moscato d'Asti – $13.00
Sparkling, La Gioiosa, Prosecco – $14.00
Sparkling Laurent Perrier Brut, Champagne – $20.00
Pinot Gris Ponzi, Oregon – $12.00
Pinot Grigio Zenato, Italy – $10.00
Albariño Finca de Arantei, Rias Baixas – $14.00
Riesling Kabinett, Kessler, Pflaz – $10.00
Turbiana, Ca' Dei Frati, Laguna – $13.00
Sauvignon Blanc Groth, Napa Valley  – $13.00
Sauvignon Blanc Fire Road, Marlborough – $12.00
Chardonnay Textbook, Napa Valley – $15.00
Chardonnay Drouhin, Chablis – $16.00
Rosado Viña Real, Rioja – $12.00
Red Wines by the Glass
Pinot Noir, Three Saints, Santa Barbara – $14.00
Pinot Noir Lemelson 'Thea's Select', Willamette Valley – $18.00
Pinot Noir Crossbarn by Paul Hobbs, Sonoma Coast – $20.00
Merlot Trefethen, Napa Valley – $17.00
Chianti Classico, Cafaggio, "Single Estate," Tuscany – $13.00
Tempranillo Buenas, Rioja – $10.00
Malbec Zuccardi 'Serie A', Mendoza – $13.00
Cabernet Sauvignon Turnbull, Napa Valley – $21.00
Cabernet Sauvignon Felino, Mendoza – $13.00
Red Blend The Prisoner, Napa Valley – $25.00
Red Blend Intrinsic, Columbia Valley – $15.00
Shiraz Penfolds "Koonunga Hills", South Australia – $13.00
A full bar featuring mixed drinks, spirits, and wines also available
Paddlefish Dinner Menu
Menu Date: 9/2021
Starters
Crab Cake – Maque choux, fried green tomato, remoulade – $18.00
Beef Skewers – House sSteak Sauce, Picked Onions – $14.00
Calamari – Shishito, Peppadew Piri Piri – $16.00
Crab-topped Fries (GF) – Skin-on french fries, Blue Crab, Louie Dressing – $16.00
Fried Green Tomatoes – Elote, queso fresco, remoulade – $9.00
Crab Cake – Crispy chourico, shishitos, sweet chilli aoli – $14.00
Soups & Salads
New England Clam Chowder – Bacon, potatoes, cream – $6.00 cup | $9.00 bowl
Green Salad (GF) – Romaine hearts, cucumber, grape tomato, red onion, Roasted Shallot Vinaigrette – $9.00 side | $12.00 full
Caesar Salad (GF) – Romaine hearts, sourdough crouton – $8.00 side | $11.00 full
Wedge Salad (GF) – Iceberg, Tomatoes, Red Onions, Bacon, Blue Cheese Dressing. – $11.00 side | $14.00 full
Caprese Salad (GF) – Fresh mozzarella, beefsteak tomatoes, olive oil – $10.00
Add Salmon to your Salad – $12.00
Add Shrimp to your Salad – $10.00
Add Chicken to your Salad – $5.00
From the Steamer
Crab (GF) – served with Corn on the Cob and New Potatoes – $75.00
Whole Main Lobster (GF) – served with Corn on the Cob and New Potatoes – $65.00
Peel & Eat Key West Pink Shrimp (GF) – served with Corn on the Cob and New Potatoes – $39.00
Chilled and Raw Seafood
Ahi Poke – Sweet black soy, avocado, cucumber pickle, tortilla chips – $16.00
Shrimp Cocktail (GF) – Jumbo shrimp, classic cocktail sauce – $20.00
Crab Ceviche (GF) – Blue Crab, Avocado, Bell Pepper, Jalapeño, Cilantro, Lime, Tortilla Chips – $17.00
Crab Guacamole (GF) – Lump Crab, Onion, Tomato, Jalapeño, Cilantro, Lime, Avocado and Tajin Tortilla Chips (serves 4) – $36.00
From the Port
Stuffed Cod – Shrimp and Scallop Corn Bread Stuffing, Asparagus, Red Potato, Mustard Cream Sauce- $35.00
Catfish – Cornmeal crust, edamame-smoked bacon succotash, creole mustard – $22.00
Crispy Shrimp – Flash-fried, Cocktail Sauce, Skin-on Fries – $20.00
Shrimp Pasta – Linguine, Florida Rock Shrimp, Asparagus, Tomato, Crab Broth- $24.00
Salmon – Miso vinaigrette, vegetable stir fry, wasabi mash, crimini bacon- $34.00
Mahi – Caponata, salsa verde, herb roasted potatoes – $29.00
Crab Cake "BLT" – Bacon, Avocado, Cheddar, Lettuce, Beefsteak Tomato, Rémoulade, Ciabatta – $20.00
Scallops (GF) – Cauliflower purée, crispy Brussels sprouts, bacon – $36.00
From the Land
Rib-Eye – 16 ounce, herb roasted potatoes, house-made steak sauce – $48.00
Filet Mignon (GF) – 8 ounce, Mashed Potatoes, Asparagus, Béarnaise – $46.00
Chicken Breast (GF) – Carolina mop sauce, edamame-smoked bacon succotash – $20.00
Pork Chop  – Herb roasted potatoes, marinated peppers, chimichurri- $28.00
Caprese Sandwich – Fresh Mozzarella, Beefsteak Tomato, Basil Aïoli, Ciabatta – $12.00
The Burger – 9 ounce proprietary blend, house-made pickles, red onion, pimento cheese, brioche – $19.00
Vegetarian Pasta (V) – Linguine, garlic, olive oil, market vegetables – $18.00
Sides to Share
Asparagus (GF) (V) – $10.00
Edamame Bacon Succotash (GF) – $10.00
Maque Choux (GF) – $8.00
Blistered Green Beans (GF) (V) – $8.00
Skin-on Fries – $7.00
Red Bliss Potatoes (GF) – $7.00
Desserts
New York-style Cheesecake – Farm-fresh strawberry compote – $9.00
Chocolate Layer Cake – Fresh Berries and Whipped Cream – $9.00
Key Lime Pie – Graham cracker, candied zest, meringue – $10.00
Kids' Appetizers
Kid's Salad – Romaine, cherry tomato, carrots, croutons, ranch – $4.00
Seasonal Fruit Cup and Berries – $4.00
Cup of Soup – $4.00
Kids' Entrees
Filet Skewers – served with mashed potatoes and green beans – $15.00
Grilled Chicken – served with mashed potatoes – $9.00
Chicken Fingers – served with french fries – $10.00
Chicken Linguine – with marinara or parmesan cream – $10.00
Shrimp Linguine – with marinara or parmesan cream – $12.00
All-Beef Hot Dog – $9.00
The Kid's Cheeseburger – Proprietary blend, mild cheddar, Brioche bun, frecnh fries – $10.00
Peel & Eat Key West Shrimp – served with corn on the cob and red potatoes – $15.00
Fish of the day – served with Green Beans – $12.00
Crispy Shrimp – french fries, classic cocktail sauce – $12.00
Kids' Desserts
Hot Fudge Brownie Sundae – vanilla bean ice cream, whipped cream, cherry on top – $5.00
Cookies and Milk – warm chocolate chip cookies, ice cold milk – $5.00
Fruit Skewers – seasonal fruit and berries – $4.00
Mocktails
Strawberry Basil Lemonade – fresh strawberries, basil, lemonade, sprite – $11.00
Cucumber Sipper – cucumber simple syrup, fresh lime juice, lemonade – $11.00
Draft
Key Lime White – Local Ale – $9.00
Sailfish Sunrise – IPA – $9.00
Reef Donkey – American Pale – $9.00
Crooked Can – Florida Lager – $9.00
Florida Ave – Hazy IPA – $9.00
Blood Orange Wheat – Citrus Wheat Ale – $9.00
American Craft Beers
Fat Tire – Belgian-style Ale – $9.00
No Wake Zone – Coconut Ale – $9.00
Sierra Nevada – Pale Ale – $9.00
Islamorada – Citrus Ale – $9.00
Lagunitas – IPA – $9.00
Southern Tier – Double IPA – $9.00
Angry Orchard – Cider – $9.00
Seasonal Selection– $9.00
Imported & Domestic
Corona, Sam Adams, or Guiness – $8.00
Heineken or Modelo Especial – $8.00
Coors Light, Miller Lite, or Michelob Ultra – $7.00
Redbridge (GF) – $7.00
Blue Moon, Stella Artois (Pilsner), or Truly (Seltzer) – $8.00
Yuengling – $7.00
O'Doul's (Non-Alcoholic) – $7.00
Libations and Rocks
Lili's Steamboat Breeze – Broadbent Rose, Cathead Honeysuckle, Elderflower, Fresh Lemon – $15.00
Mayan Empress – Santa Teresa Anejo Rum, apricot fruit liquour, pineapple juice, fresh lemon – $16.00
Not Everyone's Margarita – Nuestra Soledad Mezcal, El Destilador Blanco, Crème de Mûre, House Sour – $15.00
Captain Handsome – Boyd and Blair, fresh raspberries, framboise, thyme – $16.00
The Privateer – Haymans London Dry, Comoz Vermouth Blanc, Garden Party Cucumber – $15.00
Sunset
House-made Red/White Sangria – Assorted premium fruity liquors, juices, white or red wine, seltzer, seasonal fruit | carafe 48 – $14.00
Old Fashioned – Larceny Small Batch Bourbon, Grand Quina, orange bitters, splash black cherry juice | Sub for a shot of Paddlefish Private Label Knob Creek 5 – $15.00
Kendra's Mez'Merizer – Vida mezcal, Grand Marnier, agave nectar, lime juice, orange juice – $14.00
Mid-Shipman – James Pepper Rye, Boudier grapefruit, grapefruit juice, Scrappy Lime bitters – $15.00
The Bloody Mary – King crab, jumbo shrimp, candied Neuske's bacon – $20.00
Flights
Knob Creek – Knob Creek, Knob Creek Rye, Knob Creek Single Barrel – $19.00
Maker's Mark – Maker's Mark, Maker's Mark 46, Maker's Mark Cask Strength – $19.00
Glenmorangie – Glenmorangie 10, Glenmorangie 12 "Lasanta", Glenmorangie 12 "Nectar d'Or" – $20.00
Glenfiddich – Glenfiddich 12, Glenfiddich 14, Glenfiddich 15 – $21.00
Del Maguey Mezcal – Las Milpas, Rio Minas, Wild Tobola | Add a shot of Creme de mezcal 5 – $21.00
White Wines by the Glass
Sparkling La Spinetta Quaglia, Moscato d'Asti – $13.00
Sparkling, La Gioiosa, Prosecco – $14.00
Sparkling Laurent Perrier Brut, Champagne – $20.00
Pinot Gris Ponzi, Oregon – $12.00
Pinot Grigio Zenato, Italy – $10.00
Albariño Finca de Arantei, Rias Baixas – $14.00
Riesling Kabinett, Kessler, Pflaz – $10.00
Turbiana, Ca' Dei Frati, Laguna – $13.00
Sauvignon Blanc Groth, Napa Valley  – $13.00
Sauvignon Blanc Fire Road, Marlborough – $12.00
Chardonnay Textbook, Napa Valley – $15.00
Chardonnay Drouhin, Chablis – $16.00
Rosado Viña Real, Rioja – $12.00
Red Wines by the Glass
Pinot Noir, Three Saints, Santa Barbara – $14.00
Pinot Noir Lemelson 'Thea's Select', Willamette Valley – $18.00
Pinot Noir Crossbarn by Paul Hobbs, Sonoma Coast – $20.00
Merlot Trefethen, Napa Valley – $17.00
Chianti Classico, Cafaggio, "Single Estate," Tuscany – $13.00
Tempranillo Buenas, Rioja – $10.00
Malbec Zuccardi 'Serie A', Mendoza – $13.00
Cabernet Sauvignon Turnbull, Napa Valley – $21.00
Cabernet Sauvignon Felino, Mendoza – $13.00
Red Blend The Prisoner, Napa Valley – $25.00
Red Blend Intrinsic, Columbia Valley – $15.00
Shiraz Penfolds "Koonunga Hills", South Australia – $13.00
A full bar featuring mixed drinks, spirits, and wines also available
** Paddlefish Menu and Prices are Subject to Change Without Notice **