Disney's Hollywood Studios | Echo Lake Area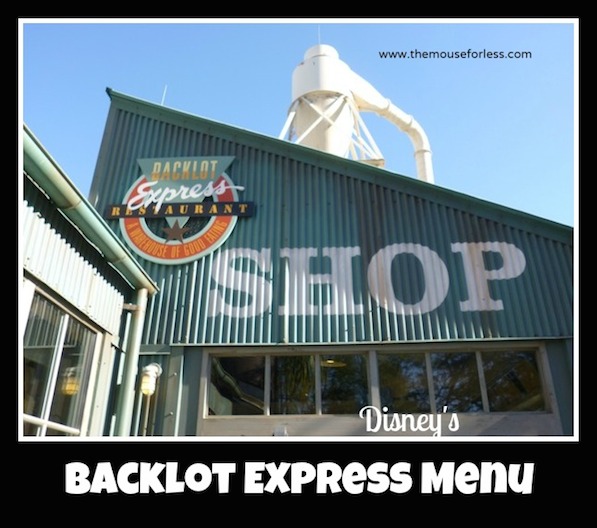 Lunch and Dinner Menu   Kids' Menu
At Backlot Express, eat in a movie-studio prop shop like a member of the art department in the Echo Lake Area. Your artistic and sensory palates will be pleased by an assortment of burgers, hot dogs, salads, chicken strips, sandwiches and more!
Restaurant Info: American, Lunch/Dinner/Snack, $ – under $14.99 per adult
Find out how you can save money on dining at Walt Disney World by using one of Disney's Dining Plans.
Backlot Express Lunch and Dinner Menu
Menu Date: 09/2018
Entrées
Royal Guard Burger – 1/3 lb Angus Beef Burger, topped with Barbecued Brisket, Pepper Jack Cheese, Lettuce, Tomato and Pickles on a Dark Bun served with Carrot Sticks or French Fries – $13.49
1/3 lb. Angus Bacon Cheeseburger – 1/3 lb Angus Bacon Cheeseburger on a Kaiser Roll served with Carrot Sticks or French Fries – $11.49
1/3 lb. Angus Cheeseburger – 1/3 lb Angus Cheeseburger on a Kaiser Roll served with Carrot Sticks or French Fries – $10.49
Dark Side Chicken and Waffles – Darth Vader Waffles topped with Chicken Breast Nuggets served with Maple Syrup – $11.49
Chicken Breast Nuggets  – served with Carrot Sticks or French Fries – 6 piece – $7.99; 10 piece – $10.99
Galactic Chicken Salad – Mixed Greens topped with Grilled Chicken Breast, Crisp Wonton, Black Bean Relish and Avocado served with Vinaigrette Dressing – $10.99
California Chicken Club – Grilled Chicken topped with Bacon, Guacamole, Pepper Jack Cheese, Lettuce, Tomato and Pickles served with choice of Carrot sticks or French Fries – $11.49
Caprese Sandwich – Marinated Fresh Mozzarella, Vine-ripe Tomatoes, Herb-cheese Pesto and Arugula on ciabatta bread served with Carrot Sticks or French Fries – $9.99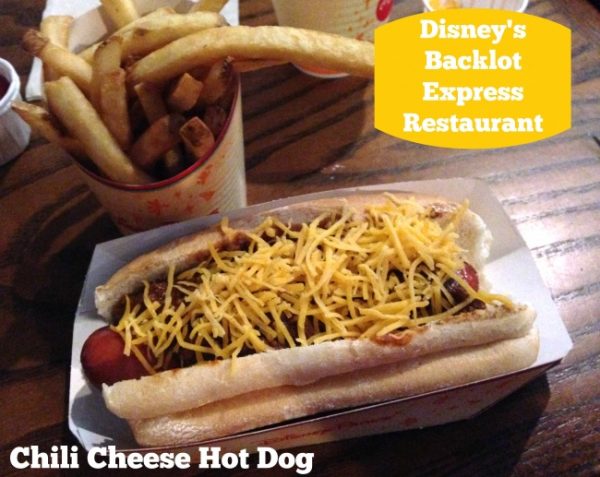 All-Beef Hot Dog – served with choice of Carrot Sticks or French Fries – $8.49
Chili Cheese All-Beef Hot Dog –  Served with choice of carrot sticks or French Fries –  $10.49
Galactic Salad – Galactic Mixed Greens Salad topped with Crisp Wonton, Black Bean Relish and Avocado and served with Vinaigrette Dressing – $8.99
Sides
French Fries – $3.49
Waffles – $4.99
Desserts
BB-8 Cupcake – lemon cupcake with vanilla buttercream – $5.99
Kylo Ren Cupcake – chocolate peanut butter cupcake – $5.99
Chocolate Mousse – $4.99
Beverages
Assorted Fountain Beverages – $3.29
Padawan Limeade – served with a Death Star glow cube – $7.99
BB-8 Souvenir Stein – with Fountain Beverage – $13.99
Fanta Wild Cherry Slushy – $4.29
Blue Raspberry Slushy – $4.29
Dasani Bottled Water – $3.00
smartwater – $4.50
Milk – $3.29
Nesquik Chocolate Milk – $3.29
Nestle Hot Cocoa – $2.79
Coffee – Regular or decaf – $2.79
Hot Tea – $2.79
Simply Orange Juice – $4.29
Apple Juice – $3.29
Alcoholic Beverages
Bud Light – $7.50
Yuengling – $8.00
Safari Amber – $9.25
Samuel Adams Rebel IPA – $9.00
Woodbridge by Robert Mondavi Chardonnay or Cabernet Sauvignon- $8.00
Frozen Golden Margarita – Sauza Gold Tequila, BOLS Triple Sec and Sweet-and-Sour – $10.50
Frozen Strawberry Daiquiri – Frozen Strawberry Daiquiri featuring Don Q Cristal Rum – $9.50
Galactic Lemonade – crafted with Tito's Handmade Vodka, Guava and odwalla® All-Natural Lemonade – $9.25
Backlot Express Kids' Menu
Menu Date: 09/2018
Mickey Check Meals

 Smucker's Uncrustables – Served with Danimals Smoothie, Carrot Sticks, and choice of small Lowfat Milk or small Water – $5.99

Meets Disney Nutrition Guidelines for Complete Meals without substitutions
Kids' Meals
Dark Side Chicken and Waffles – Chicken and Vader Waffles with Barbecue Sauce and Maple Syrup served with Danimals Smoothie, Carrot Sticks, and choice of small Lowfat Milk or small Dasani Water – $7.99
Chicken Breast Nuggets –  Chicken Nuggets served with Danimals Smoothie, Carrot Sticks, and choice of LowFat Milk or Dasani Water – $6.99
** For an Allergy Friendly Menu see a Cast Member at the Backlot Express**
** Backlot Express Menu and Prices are Subject to Change Without Notice **