.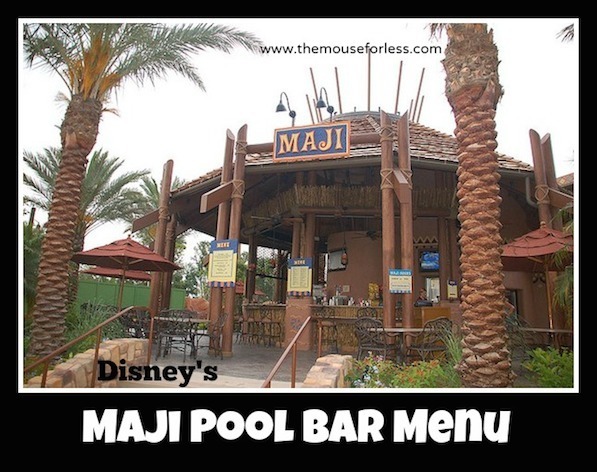 Swahili for "water," the secluded poolside Maji Pool Bar offers other liquids as well, in addition to sandwiches, salads, fruit, and other snacks. Private dining is also available.
Maji Pool Bar is located in Disney's Animal Kingdom Lodge Resort.  Find more Walt Disney World dining locations on our Walt Disney World menus page.
Restaurant Info: American, Lunch/Beverages, $ – $14.99 and under per adult
Find out how you can save money on dining at Walt Disney World by using one of Disney's Dining Plans.

Planning a Walt Disney World Vacation?
For a Free no-obligation quote, contact our sponsor
The Magic For Less Travel
. The Magic For Less Travel is an Authorized Disney Vacation Planner and has been helping guests plan magical vacations since 2002. Receive the best prices and free travel planning services. Their fee-free services will help you save time, money, and stress while planning a vacation designed around you and your needs!
                                                              Maji Pool Bar Food Menu
Menu Date: 11/2020
Entrees
Kenya Coffee Barbecue Sandwich – Spiced-rubbed Pulled Pork served on a Brioche Bun – $10.79
All-Beef Hot Dog with Chili & Cheese  – served on a Baguette-style Bun – $11.49
Caesar Salad with Tandoori Chicken – Tandoori Chicken sliced with Romaine Lettuce, Parmesan Cheese and Caesar Dressing – $9.99
Berbere Black-eyed Peas Harvest Salad – served on Mixed Greens with Cucumber, Tomato, and Red Onions – $8.99
Turkey Sandwich – Roasted Turkey served Whole – Grain Bread with Mixed Greens, Tomato-Bacon Jam, and Sambal Mayonnaise – $9.29
Lemon – Caper – Tuna Salad – Served with Pita, Carrots and Celery Sticks – $8.99
Snacks
Chips – $2.99
Crunchy Vegetable Slaw – with Root Vegetables, Mustard Seed and Kale –  $3.49
Warm Pretzel – with Cheese Sauce – $6.79
Desserts
Frozen Novelties – $5.19-$5.69
Seasonal Brownie – $4.79
Seasonal Cupcake – $5.99
Seasonal Cookie – $3.99
Kids' Meals
For Guests 9 and Under

Smucker's Uncrustables – includes a choice of Grapes or Applesauce and choice of small Lowfat Milk or small Dasani Water – $6.19

Turkey Sandwich – includes a choice of Grapes or Applesauce and choice of small Lowfat Milk or small Dasani Water – $6.99

= Meets Disney Nutrition Guidelines for Complete Meals without substitutions.
Non-Alcoholic Beverages
Minute Maid Premium Lemonade – $4.99
Strawberry or Raspberry – $5.49
Lava Smoothie – Raspberry Puree blended with flavors of Coconut and Pineapple  – $5.99
Strawberry Smoothie – Strawberry Purée blended with Nonfat Yogurt – $5.99
Smart Water – $5.50
POWERADE – $4.69
Dasani Bottled Water – $3.50
Fever Tree Ginger Beer – $4.99
                                                                       Alcohol Menu
Menu Date: 11/2020
Frozen Beverages
Piña CoLAVA – Bacardi Raspberry Rum blended with flavors of Coconut, Pineapple, and Raspberry Puree – $13.00
Strawberry Margarita – Herradura Reposado Tequila and fresh Lime Juice blended with Strawberry Purée – $15.00
Frosé – featuring Meiomi Roséand Tito's Handmade Vodka – $14.00
On The Rocks
Bourbon Breeze – Jim Beam Black Extra-aged Bourbon with Cranberry, Lime and Pomegranate Juices topped with Fever Tree Ginger Beer – $15.00
Banana Cabana – Cruzan Mango Rum, Parrot Bay Coconut Rum, Bols Crème de Banana, Orange Juice and Pineapple Juice with a float of Grenadine  –$13.00
Poolside Iced Tea – Absolut Vodka, Bacardi Superior Rum, Beefeater Gin, Corazón Blanco Tequila, Cointreau, and Sweet-and-Sour topped with Coca-Cola® – $15.00
Sunshine Margarita – Lunazul Reposado Tequila, Cointreau, and Sweet-and-Sour with Orange and Lime Juices – $14.00
Blueberry Lemonade – Three Olives Blueberry Vodka, Bols Blue Curaçao, Minute Maid Premium Lemonade with Juices of Lemon and Pomegranate topped with Sprite® – $14.00
Cucumber & Mint Vojito – Ketel One Botanical Cucumber and Mint Vodka, Lime Juice and Pure Cane Sugar topped with Soda Water – $14.00
Captain's Mai Tai – Captain Morgan Original Spiced Rum, Bols Amaretto, and Tropical Juices topped with a float of Plantation Dark Rum – $13.00
Specialty Drinks
Mauritius Mule – Star African Rum and Lime Juice topped with Fever Tree Ginger Beer – $14.00
Cape Mountain Mule – Bain's Cape Mountain Whisky and Lime Juice topped with Fever Tree Ginger Beer – $12.00
Marula Shake – Amarula Cream Liqueur blended with Kahlua Coffee Liqueur and Vanilla Ice Cream – $12.00
Hakuna Colada – Star African Rum and Amarula Cream Liqueur blended with Pineapple and Coconut – $13.00
Pembe Lemonade – Star African Rum, Cointreau, and Minute Maid Premium Lemonade – $13.00
Elephant Slide – Amarula Cream Liqueur, Van der Hum Tangerine Liqueur, and Kahlua Coffee Liqueur blended with Vanilla Ice Cream – $12.00
Funky Monkey – Parrot Bay Coconut Rum with Godiva Chocolate Liqueur and Banana puree – $13.00
Maji Dawa – Snow Leopard Vodka with Pure Cane Sugar and Lime Juice – $12.00
Beer & Wine
Draft, Bottle, & Can Beer $7.50 – $10.25
Budweiser
Bud Light
Coors Light
Corona Extra
Heineken
Michelob Ultra
Miller Lite
Modelo Especial
Stella Artois
Kona Longboard Island Lager
Yuengling Traditional Lager
Blue Moon Belgian White
Schofferhofer Pink Grapefruit Hefeweizen
New Belgium Fat Tire
Sierra Nevada Pale Ale
Sweet Water 420 Extra Pale Ale
Cigar City Jai Alai IPA
Goose Island IPA
Bud Light Lime
Concrete Beach Havana Lager
Blue Point Imperial Sunshine Blonde Ale
Sierra Nevada Tropical Torpedo IPA
Samuel Adams Seasonal
Spring – Cold Snap | Summer – Summer Ale | Fall – OctoberFest | Winter – Winter Lager
Angry Orchard Crisp Apple Hard Cider
Truly Wild Berry Hard Seltzer
Opici Family Sangria – Red or White – $11.00
** Maji Pool Bar Menu and Prices are Subject to Change Without Notice **