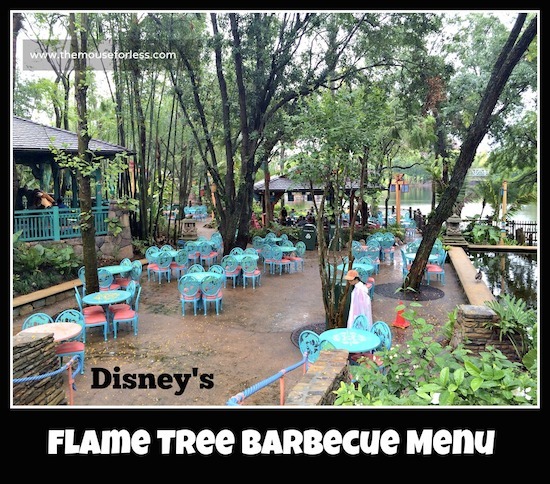 At Flame Tree Barbecue, you can soak in the sights and sounds of a tropical jungle as you dine on delicious smoked barbecue ribs and chicken and pork sandwiches in one of the serene, colorful and exotic outdoor dining pavilions overlooking Discovery River.
Flame Tree Barbecue is located in Disney's Animal Kingdom theme park. Find more Walt Disney World dining locations on our Walt Disney World Resort menus page.
Restaurant Info: American, Lunch/Dinner/Snack, $ – under $14.99 per adult
Find out how you can save money on dining at Walt Disney World by using one of Disney's Dining Plans.

Planning a Walt Disney World Vacation?
For a Free no-obligation quote, contact our sponsor,
The Magic For Less Travel
. The Magic For Less Travel is an Authorized Disney Vacation Planner and has been helping guests plan magical vacations since 2002. Receive the best prices and free travel planning services. Their fee-free services will help you save time, money, and stress while planning a vacation designed around you and your needs!
Flame Tree Barbecue Lunch/Dinner Menu
Menu Date: 05/2022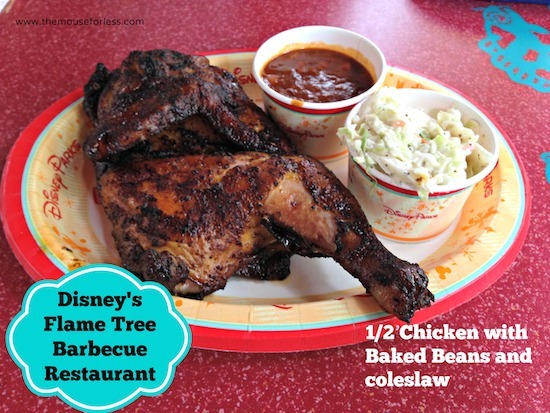 Entrees
1/2 Chicken – Marinated Slow-smoked Chicken served with Signature Baked Beans and Coleslaw – $13.29
St. Louis Rib Dinner – St. Louis Ribs served with Beans and Coleslaw – $16.49
Ribs and Chicken Combo  – Ribs and Chicken served with Signature Baked Beans and Coleslaw – $15.69
Smoked Pulled Pork Sandwich – Smoked Pulled Pork Sandwich topped with Coleslaw and served with Signature Baked Beans – $11.49
Smokehouse Chicken Salad – Pulled Chicken on top of Mixed Greens Salad tossed with Smoked Cheddar, Diced Granny Smith Apples, Dried Cranberries, Cornbread Croutons, Crispy Onions, and Barbecue-Ranch Dressing – $11.29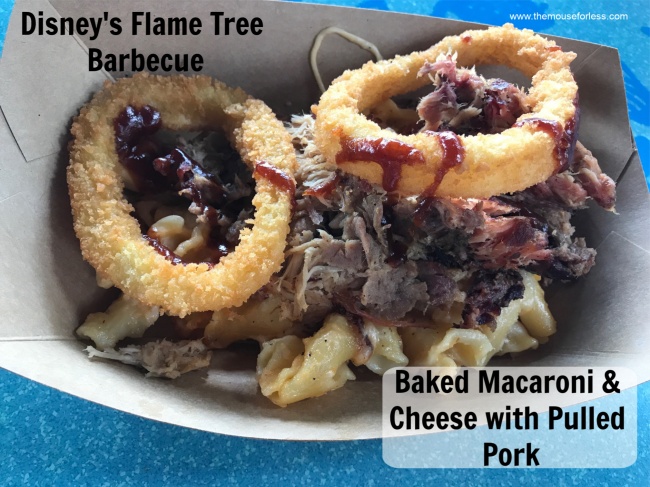 Baked Macaroni & Cheese with Pulled Pork – Baked Macaroni and Cheese topped with Smoked Pulled Pork, Onion Rings and Coleslaw – $12.49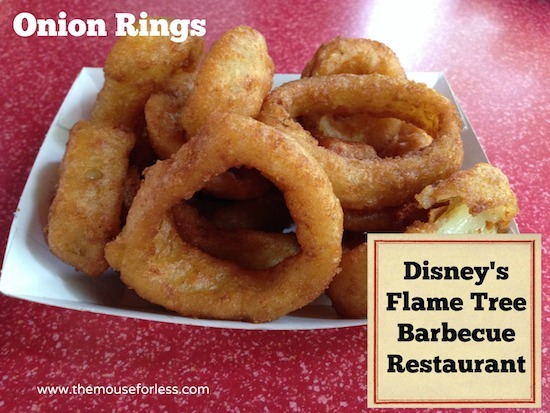 Plant Based
Hot Link Smokehouse Sandwich – Plant-based Sausage topped with a Tangy Mustard Barbecue Sauce, Slaw, and Crispy Onions on a House-made New England-style Roll – $11.49
Sides
Onion Ring Basket – $4.49
French Fries – $4.49
A Cuties Mandarin – $1.99
Bug-shaped Graham Crackers – $1.99
Mickey Check Meals Meals
For Guests Ages 9 and Under
Chicken Baked Drumstick – Served with choice of two Sides and choice of Small Lowfat Milk or Small DASANI® Bottled Water. Meets Disney Nutrition Guidelines for Complete Meals without substitutions – $7.49
Pulled Pork Platter – Served with choice of two Sides and choice of Small Lowfat Milk or Small DASANI® Bottled Water. Meets Disney Nutrition Guidelines for Complete Meals without substitutions – $7.19
Kid's Meals
For Guests Ages 9 and Under
PB&J Uncrustable – Served with choice of two Sides and choice of Small Lowfat Milk or Small DASANI® Bottled Water – $6.49
All-Beef Hot Dog – Served with choice of two Sides and choice of Small Lowfat Milk or Small DASANI® Bottled Water – $7.29
Desserts
50th Anniversary Celebration Cupcake – Lemon Cake, Lemon Chiffon Filling, and Vanilla Frosting with Celebration Sprinkles, Splatter-coated Chocolate Mickey, and a Gold-dusted 50th Anniversary Medallion – $6.29
Turning Red Cupcake – Vanilla Cupcake, Pineapple Compote Filling, Pineapple Buttercream Bao Bun with Dark Chocolate Chopsticks, Sweet Magnolia Blossom, and a White Chocolate Medallion – $5.99
Beverages
EARidescent Firefly – Pineapple Juice, POWERADE® Mountain Berry Blast, topped with a splash of Sprite®, and garnished with Pineapple "Ears" – $5.49
Frozen Mango Slushy – $5.49
Frozen Raspberry Slushy – $5.49
Tropical Breeze – Layers of Frozen Mango and Raspberry – $5.49
Loggerhead Turtle – Sprite® and Granny Smith Apple Syrup over Ice with Gummy Worm and a Sugar Lime Rim – $4.49
Assorted Fountain Beverages – $3.99 Regular | $4.49 Large
Dasani Bottled Water – $3.50
Smartwater – $5.50
Freshly Brewed Joffrey's Coffee – Regular or Decaf – $3.49
Twinings London Hot Tea – $3.49
Hot Cocoa – $3.49
Lowfat Milk – $1.99
Small Minute Maid Apple Juice – $1.99
Small NESQUICK Chocolate Milk – $1.99
Souvenir Specialties
Loggerhead Turtle with Green Glow Cube – Sprite® and Granny Smith Apple Syrup over Ice with a Gummy Worm, Sugar Lime Rim, and souvenir Glow Cube – $9.99
EARidescent Firefly with Glow – Pineapple Juice, POWERADE® Mountain Berry Blast, topped with a splash of Sprite®, and garnished with Pineapple "Ears" with Glow Cube – $9.99
Frozen Mango Slushy with Glow Cube – $8.49
Frozen Raspberry Slushy with Glow Cube – $8.49
Tropical Breeze with Glow Cube – $8.49
Souvenir Specialties with Alcohol
Island Breeze with Glow Cube – Parrot Bay Coconut Rum with layers of Frozen Mango and Raspberry served with a Glow Cube – $16.00
Beverages with Alcohol
Rotten Apple with Red Glow Cube – Angry Orchard Crisp Apple Hard Cider and Fireball Cinnamon Whisky over Ice garnished with Gummy Worms and a souvenir Glow Cube – $16.00
Island Breeze – Parrot Bay Coconut Rum with layers of Frozen Mango and Raspberry – $13.00
Rotten Apple – Angry Orchard Crisp Apple Hard Cider and Fireball Cinnamon Whisky over Ice garnished with Gummy Worms – $12.00
Safari Amber – St. Louis, MO – 20-oz Draft – Red Lager with toasted notes of Caramel, Malt, and Hops – $10.00
Copa Chardonnay, Oregon – 187 mL Glass – Tropical Fruit and Buttery Pear aromas overlay a smooth, creamy texture – $9.00
Copa Merlot, Oregon – 187 mL Glass – Tropical Fruit and Buttery Pear aromas overlay a smooth, creamy texture – $9.00
Copa Moscato, Oregon – 187 mL Glass – Fresh, fragrant bouquet composed of peach and apricot aromas. On the palate, it is clean and pleasantly sweet with a crisp, refreshing finish – $9.00
Copa Pinot Grigio, Oregon – 187 mL Glass – Light, fresh floral and mineral aromas with refreshing flavors of citrus and green apple, and a clean, fresh lemon zest finish – $9.00
Bud Light Lager – St. Louis, MO – 20-oz Draft – Golden-colored with flavors that are dry, clean, crisp, and refreshing with subtle bitterness – $8.25
** Flame Tree Barbecue Menu and Prices are Subject to Change Without Notice **