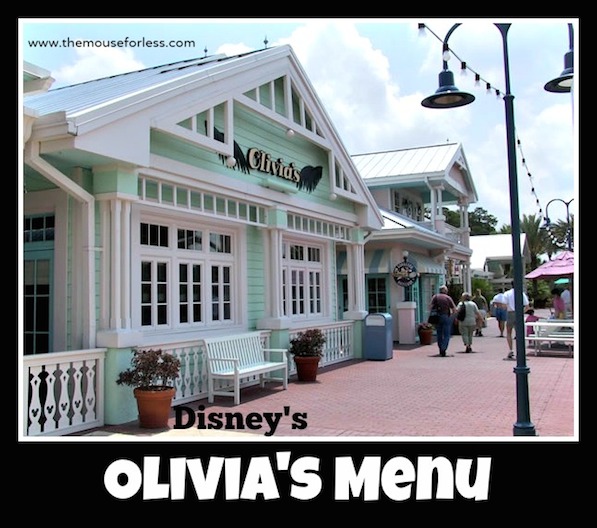 Olivia's Cafe is a family-style restaurant that is sure to get you into a Key West state of mind.
Olivia's Cafe is located in Disney's Old Key West Resort.  Find more Walt Disney World dining locations on our Walt Disney World menus page.
Restaurant Info: American, Breakfast/Lunch/Dinner A la carte, $$
Find out how you can save money on dining at Walt Disney World by using one of Disney's Dining Plans.
Brunch Menu  Kids' Brunch Menu  Dinner Menu  Kids' Dinner Menu

Planning a Walt Disney World Vacation?
For a Free no-obligation quote, contact our sponsor
The Magic For Less Travel
. The Magic For Less Travel is an Authorized Disney Vacation Planner and has been helping guests plan magical vacations since 2002. Receive the best prices and free travel planning services. Their fee-free services will help you save time, money, and stress while planning a vacation designed around you and your needs!
Olivia's Cafe Brunch Menu
Menu Date: 07/2023
Appetizers
Shrimp Fritters
served with Key Lime Mustard – $13.00
Fresh Fruit – $5.50
Oatmeal Brulee – $7.00
Homemade Soup of the Day – $10.00
Entrées
Southernmost Buttermilk Chicken
Mashed Potatoes, Southern Gravy, Biscuit, and Seasonal Vegetables – $25.00
Banana Bread Pudding 
Topped with a Bahamian-Rum Syrup, Creme Anglaise, and Coconut Whipped Cream served with choice of Bacon, Sausage, or Ham – $16.00
Shrimp and Grits
Sautéed Shrimp over Parmesan Grits with a Roasted Tomato-Red Pepper Vinaigrette – $24.00
Caesar Salad
Chopped Romaine Lettuce tossed with Parmesan, House-made Croutons, and Caesar Dressing – $11.00
Caesar Salad with Chicken
Chopped Romaine Lettuce tossed with Parmesan, House-made Croutons, and Caesar Dressing – $17.00
Caesar Salad with Shrimp
Chopped Romaine Lettuce tossed with Parmesan, House-made Croutons, and Caesar Dressing – $18.00
Seasonal Market Salad
Mixed Greens, Roasted Sweet Potatoes, Quinoa, Avocado, Orange, Toasted Almonds, and Key Lime Vinaigrette – $12.00
Bacon Cheeseburger
Cheddar, Bacon, Lettuce, and Tomato on a Brioche Bun served with French Fries – $21.00
Buttermilk Pancakes and Eggs*
Pancakes with Two Eggs-Any Style served with your choice of Bacon, Ham or Sausage with Maple Syrup or Mixed Berry Sauce – $16.00
Olivia's Breakfast*
Two Eggs-Any Style, Olivia's Breakfast Potatoes, and Buttermilk Biscuit with choice of Bacon or Sausage – $16.00
Sombrero Beach Omelet
Ham, Green Peppers, Onions, and Cheddar topped with Sour Cream and Pico de Gallo served with Olivia's Breakfast Potatoes and a Buttermilk Biscuit – $17.00
Papa's Hash
Tamari-marinated Tofu, Roasted Peppers, Spinach, and Tomatoes with Fried Potatoes (Plant-based) – $15.00
Conch Flats Club Sandwich
Roasted Turkey, Bacon, Lettuce, Tomato, and Mayonnaise on Multi-grain Toast and served with French Fries – $17.00
Non-Alcoholic Beverages
Freshly Brewed Joffrey's Coffee™
Espresso, Café Mocha, Cappuccino, or Latte
French Press Pot – Alto Mayo Protected Forest Coffee Roasted by Joffrey's Coffee™ (Serves Two)
Disney supports Conservation International's Alto Mayo Protected Forest project in Peru, which promotes sustainable coffee growing and economic growth – $9.00
A Selection of Twinning of London® Hot Teas
Whole Milk, 1% Milk, or 1% Chocolate Milk
Assorted Fountain Beverages 
Assorted Juices
Minute Maid® Tomato Juice Blend, Cranberry, or Grapefruit Juice
Grapefruit or Vegetable Juice
Specialty Cocktails
Olivia's Eye Opener
Don Julio Blanco Tequila, Orange Juice, and a splash of Grenadine – $14.50
Loaded Key West Bloody Mary
Ketel One Vodka, Spicy Bloody Mary Mix, Shrimp, and Bacon – $17.50
Parrot Punch
Parrot Bay Coconut Rum, Melon Liqueur, Peach Schnapps, and Pineapple Juice – $14.50
Wine & Beer
Assorted Wines – Reds and Whites
Beer, Hard Cider, and Hard Seltzers – $8.00 – $11.25
Olivia's Cafe Kids' Brunch Menu
Menu Date: 07/2023
For Guests Ages 9 and Under
Kids' Create-Your-Own Brunch Entrées
All meals served with choice of two selections and choice of Small Lowfat Milk, Small Dasani Water or Small Minute Maid Apple Juice
Scrambled Eggs – $10.00
Mickey-shaped Waffles – $9.00
Grilled Chicken – 11.00
Elbow Pasta – $11.00
Kids' Create-Your-Own Selections
Apple Slices
Fruit Cup
Brown Rice
Green Beans
Mashed Potatoes & Gravy
Sausage
Bacon
Kids' Specialty Drink
Specialty Character Drink
Minute Made Zero Sugar Lemonade with flavors of Cotton Candy and served in a souvenir Character Cup – $6.50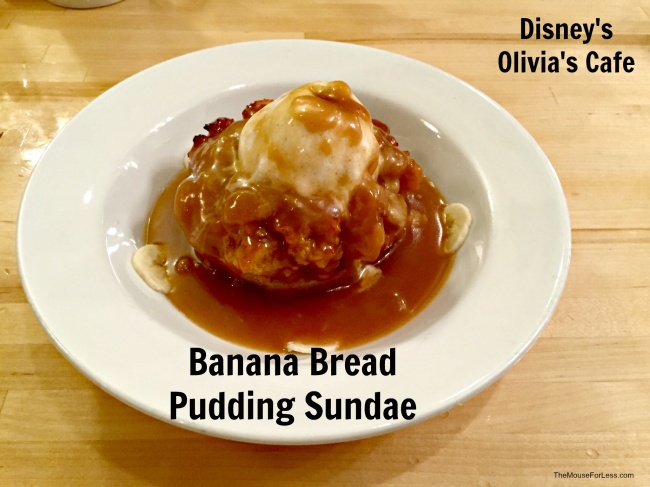 Olivia's Cafe Dinner Menu
Menu Date: 07/2023
Appetizers
Crab Cake
Pan-seared and served with Jalapeño Aïoli Sauce, Grilled Pineapple Salsa, and Chayote Slaw – $15.00
Caesar Salad
Chopped Romaine Lettuce tossed with Parmesan, House-made Croutons, and Caesar Dressing – $11.00
Caesar Salad with Chicken
Chopped Romaine Lettuce tossed with Parmesan, House-made Croutons, and Caesar Dressing – $17.00
Caesar Salad with Shrimp
Chopped Romaine Lettuce tossed with Parmesan, House-made Croutons, and Caesar Dressing – $18.00
Shrimp Fritters
Served with Key Lime-Mustard – $13.00
Homemade Soup of the Day
Made fresh daily, ask your Server for today's special – $10.00
Seasonal Market Salad
Arugula and Spinach with Roasted Sweet Potatoes, Dried Cranberries, Tofu Feta, Toasted Almonds, and Grapes tossed in a Sherry Vinaigrette (Plant-based) – $12.00
Entrées
Captain Wahoo's Catch of the Day* (Market Price)
West Indian Tofu and Coconut Curry
Crispy Tofu in a Creamy Caribbean Curry with Roasted Sweet Potatoes, Marinated Tomatoes, Grilled Broccolini, and Cilantro (Plant-based) – $22.00
Southernmost Buttermilk Chicken
Mashed Potatoes, Southern Gravy, Biscuit, and Seasonal Vegetables – $25.00
Slow-cooked Prime Rib*
14-oz cut with Olivia's Potatoes, Seasonal Vegetables, and Cabernet Demi-glace – $37.00
Bacon Cheeseburger*
Topped with Cheddar Cheese, Bacon, Lettuce, and Tomato, served on a Brioche Bun with French Fries – $21.00
Cayo Hueso Shrimp Pasta
Sautéed Shrimp, Zucchini, Yellow Squash, Grape Tomato, and Spinach tossed with Penne Pasta and Pesto Cream Sauce – $28.00
Desserts
Chocolate Lava Cake
with Vanilla Ice Cream and Strawberry Accents – $9.00
Key Lime Tart
with Mango and Raspberry Sauce – $7.00
Coconut Panna Cotta
Mango Compote, Crispy Lime, Meringue, and Toasted Coconut – $9.00
Olivia's Banana Foster 
Warm Banana Bread, Bananas Foster sauce, and Vanilla Ice Cream – $9.00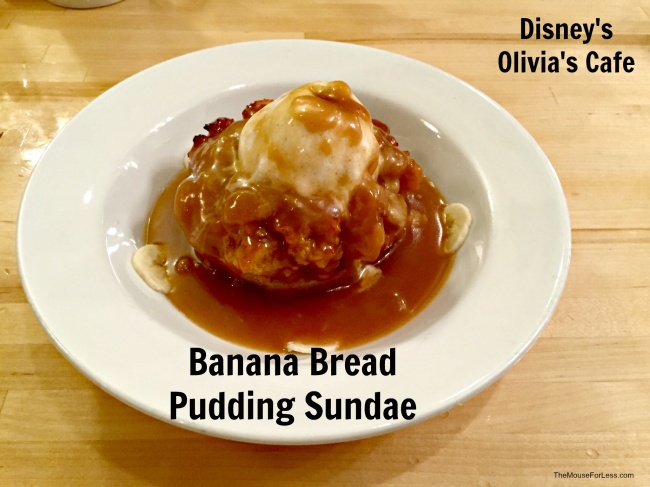 Non-Alcoholic Beverage
Asorted Fountain Beverages
Coca-Cola®, Diet Coke®, Coca-Cola® Zero Sugar, Sprite®, Barq's® Root Beer, Pibb® Xtra, or Minute Maid® Zero Sugar Lemonade
Freshly Brewed Joffrey's Coffee™
Espresso, Café Mocha, Cappuccino, or Latte
French Press Pot – Alto Mayo Protected Forest Coffee Roasted by Joffrey's Coffee™ (Serves Two)
Disney supports Conservation International's Alto Mayo Protected Forest project in Peru, which promotes sustainable coffee growing and economic growth – $9.00
Freshly Brewed Sweet and Unsweet Iced Tea
Twinings of London® Hot Tea
Non-Alcoholic Mocktails
Pink London Spritzer
Lyre's Pink London Spirit, Grapefruit Soda, Pomegranate Green Tea, Lime, and Mint – $11.00
Agave Garden
Lyre's Agave Reserva Spirit, Cold-pressed Lime Juice, Passion-fruit Papaya Green Tea, and Cucumber – $11.00
Specialty Cocktails
Slappy Joe's Bourbon Berry Lemonade
Woodford Reserve Bourbon, Bols Blackberry Brandy, and Minute Maid® Premium Lemonade with a splash of Soda Water – $15.50
Turtle Krawl
Siesta Key White Rum, Parrot Bay Coconut Rum, and Sailor Jerry Spiced Rum with Grenadine, Pineapple, Orange, and Key Lime Juices – $14.50
Key West Freeze
Svedka Vodka, Bols Melon Liquor blended with flavors of Coconut, Pineapple, and Strawberry – $14.50
Rum Runner
Plantation Dark Rum, Crème de Banana, Bols Blackberry Brandy, and Orange and Pineapple Juices with a float of Gosling's 151 Rum – $14.50
Irish Coffee
with Jameson Irish Whiskey – $13.50
Keoke Coffee
with Kahlúa, EandJ Brandy, and Bols Dark Creme de Cacao – $13.50
Beer and Wine
Assorted Beer (Can, Bottle, or Draft) – $8.50 – $12.75
Assorted Wine – $10.00 – $16.00 Glass; $39.00 – $65.00 Bottle
Red or White Sangria – $12.00
Olivia's Cafe Kids' Dinner Menu
Menu Date: 07/2023
For Guests Ages 9 and Under
Appetizers
Garden Salad – $3.00
Celery and Carrot Sticks – $3.00
Grapes – $3.00
Sliced Apples – $3.00
Kids' Create-Your-Own Entrées
Served with choice of two (2) Selections and choice of Small Lowfat Milk, Small Dasani® Water, or Small Minute Maid® Apple Juice
Grilled Chicken -$11.00
Elbow Pasta – with Marinara Sauce – $11.00
Seasonal Grilled Fish – served with Pineapple Salsa – $13.00
Buttermilk Fried Chicken Tender – $11.00
Kids' Create-Your-Own Selections
Green Beans
Brown Rice
Fruit Cup
Yogurt Parfait – with Strawberries
** Olivia's Cafe Menu and Prices are Subject to Change Without Notice **