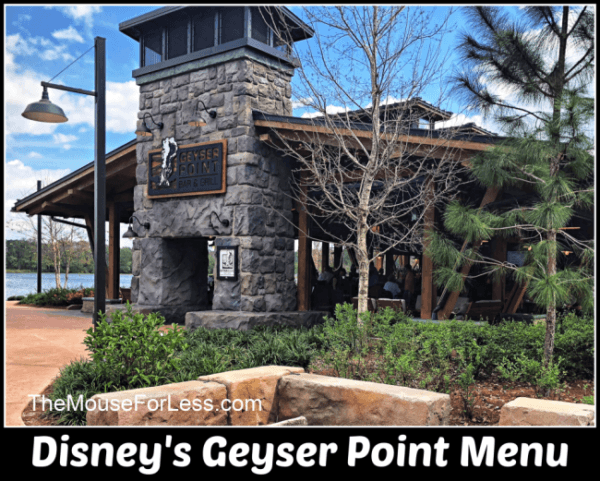 Nestled in the heart of Disney's Wilderness Lodge, Geyser Point Bar and Grill is a scenic outpost that boasts a walk-up window and an all-day menu.
Satisfy your palate from morning till night with a variety of fresh provisions from the comfort of your lounge chair or at a table on the restaurant's spacious outdoor deck.
Geyser Point is located in Disney's Wilderness Lodge Resort.  Find more Walt Disney World dining locations on our Walt Disney World menus page.
Restaurant Info: American, Breakfast/Lunch/Dinner/Snack, $
Find out how you can save money on dining at Walt Disney World by using one of Disney's Dining Plans.
Lunch & Dinner Menu  Lounge Menu  Kids Lunch & Dinner Menu

Planning a Walt Disney World Vacation?
For a Free no-obligation quote, contact our sponsor
The Magic For Less Travel
. The Magic For Less Travel is an Authorized Disney Vacation Planner and has been helping guests plan magical vacations since 2002. Receive the best prices and free travel planning services. Their fee-free services will help you save time, money, and stress while planning a vacation designed around you and your needs!
Geyser Point Lunch & Dinner Menu
Menu Date: 1/2020
Served from 11 a.m. – 11 p.m.
Burgers & Sandwiches
Lump Crab Cake Sandwich – House-made Canadian Bacon, Spicy Cabbage-Carrot Slaw and Miso Tartar Sauce served on an Artisan Roll with Multigrain Salad or Waffle Fries – $14.00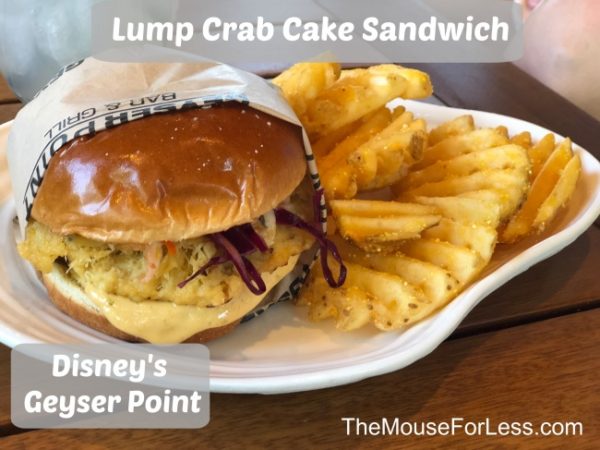 Classic Bacon Cheeseburger – Bacon, Tillamook Cheddar, Lettuce and Tomato served on an Artisan Roll and choice of Multigrain Salad or Waffle Fries – $13.00
Bison Cheeseburger – served on an Artisan Roll with Bacon, Tillamook Cheddar, Sweet Onion Straws, Lettuce, Tomato, Garlic Aïoli, and Marionberry Barbecue Sauce served with choice of Multigrain Salad or Waffle Fries – $16.00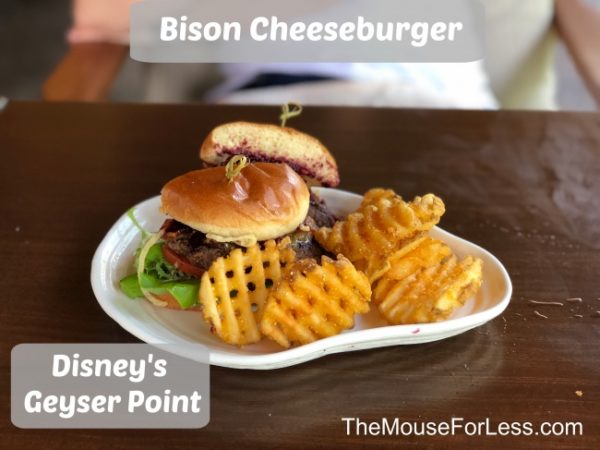 Smoked Turkey Sandwich – Lettuce, Tomato, and Cranberry Mayonnaise served with choice of Multigrain Salad or Waffle Fries – $12.00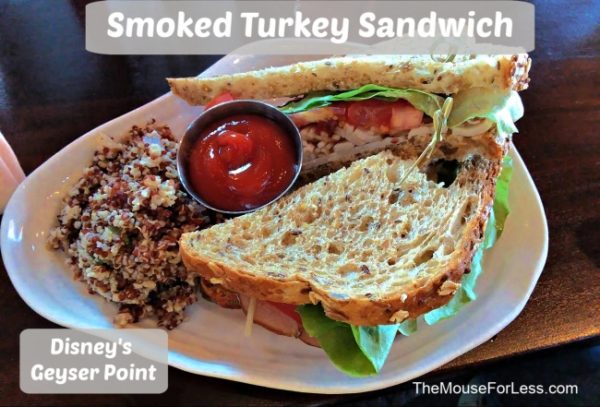 Crispy Chicken Sandwich – served with Chili Aïoli, Lettuce, and Tomato on an Artisan Roll with choice of Multigrain Salad or Waffle Fries – $12.00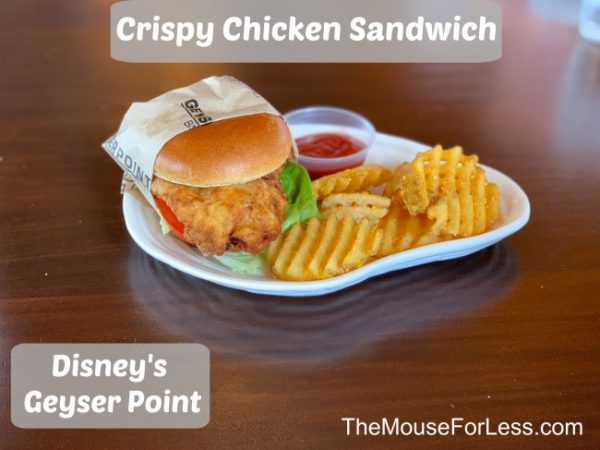 Steak Sandwich – Lemon Balsamic Arugula, Carmelized Onion, Red Peppers, and Gruyere Cheese – $16.00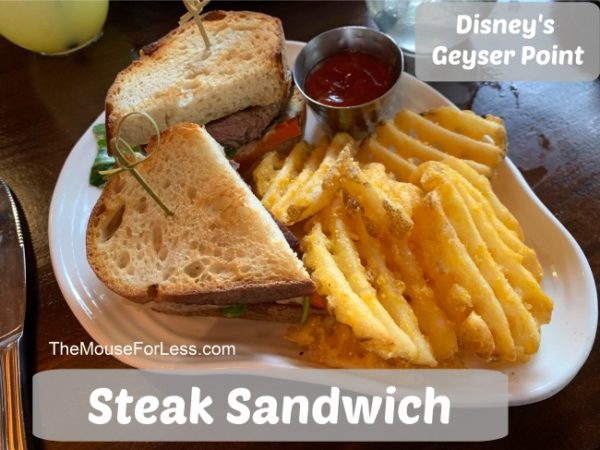 Salads
Grilled Portobello Salad – with grilled Portobello, Zucchini, Roasted Red Peppers, Tomato, and Multi-Grain Salad with Goat Cheese Dressing – $10.00With Chicken – $14.00
With Salmon – $15.00
With Steak – $16.00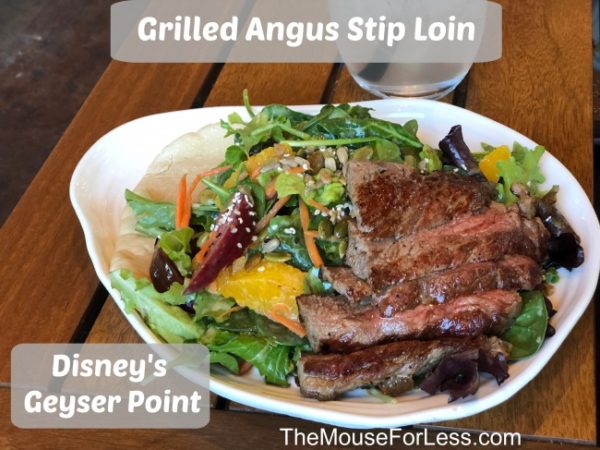 Seasonal Fruit Plate – with Lavender Honey-Yogurt – $9.00
Desserts
Campfire Brownie – Fudge Brownie with Marshmallow Topping and Chocolate Chips – $6.00
Seasonal Pie – $5.99
Apple Cider Sorbet – $4.69
Dark Roast Coffee Infused with Chocolate Gelato – $4.69
Beverages
Assorted Fountain Beverages – $3.99
Dasani Bottled Water – $3.50
Coffee – Regular or Decaf – $3.29
Hot Tea – $3.29
Hot Chocolate – $3.29
Minute Maid Apple Juice – $3.99
Blue Sky Organic Root Beer – $3.29
Simply Orange Juice – $4.99
Northwest Berry Whip (non-alcoholic) – $4.29
smartwater – $5.50
Beer
Bud Light – $7.50
Rogue Dead Guy Ale – $9.25
Elysian Dragonstooth Stout – $9.25
Elysian Space Dust IPA – $9.25
Wine and Sangria
King Estate Pinot Gris, Willamette Valley – $13.00
14 Hands Chardonnay, Washington State – $10.00
Acrobat Pinot Noir, Oregon – $13.00
Columbia Crest H3 Merlot, Horse Heaven Hills – $11.00
Cocktails
Huckleberry Punch – 44° North Mountain Huckleberry Vodka, Bols Crème de Cassis, fresh Lemon Juice, and Cranberry Juice – $15.00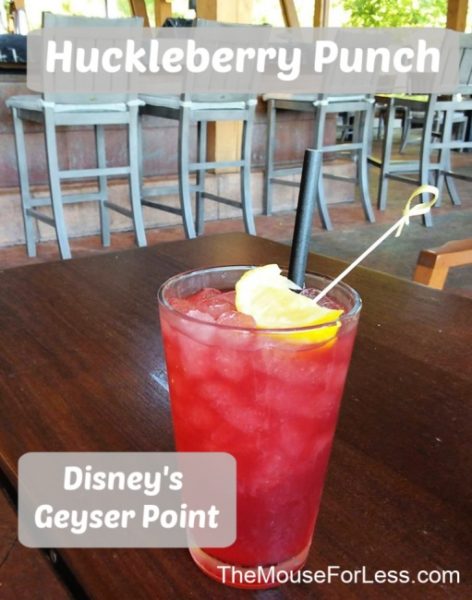 Olympic Mountain Mule – Bacardi Silver, Smoked Hickory Syrup, Sugar Cane Syrup, Lime Juice, Rosemary – $15.00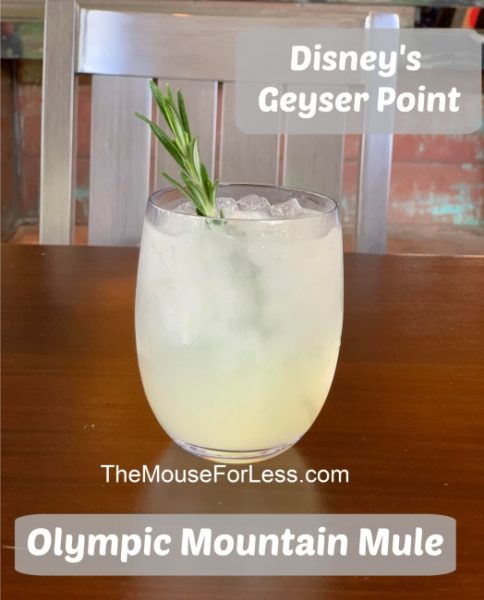 Sunset Margarita – Don Julio Resposado Tequila, Cointreau, fresh lime juice, sweet-and-sour and orange juice – $15.00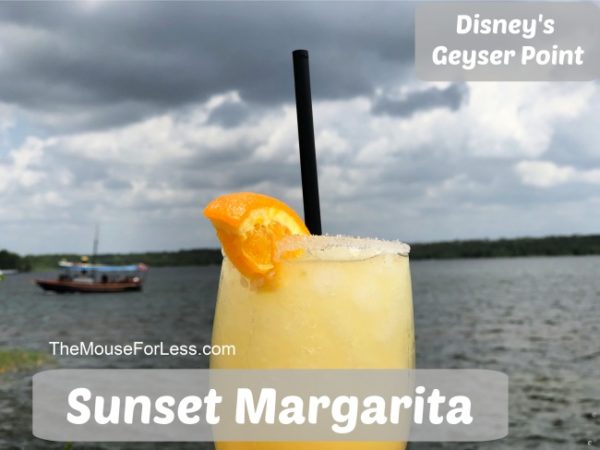 Whipper Snapper Sour – WhipperSnapper Whiskey perfectly mixed with Sweet-and-Sour – $15.00
Cascadia Sangria Cocktail – Zodiac Black Cherry Vodka, fresh Lime Juice, and Orange Juice topped with Columbia Crest H3 Merlot – $15.00
Black Cherry Mule – Zodiac Black Cherry Vodka, fresh Lime Juice, and Agave Nectar topped with Fever Tree Ginger Beer – $14.00
Northwest Iced Tea – Rogue Dark Rum, 44° North Idaho Potato Vodka, Aviation Gin, Cointreau, and Sweet-and-Sour with a splash of Coca-Cola® – $14.00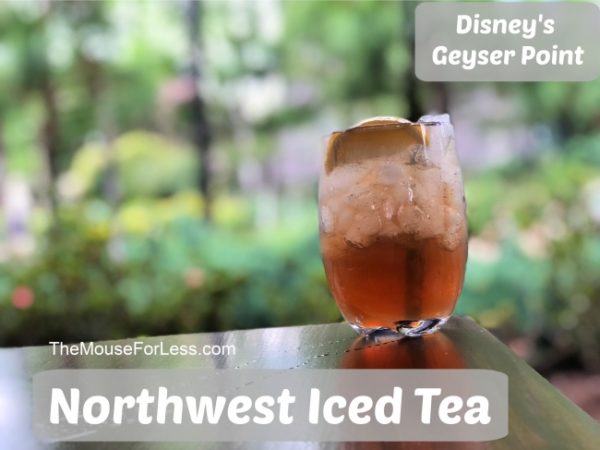 Geyser Point Lounge Menu
Menu Date: 1/2020
Rustic Fare
Edamame – with Chili-Salt – $5.00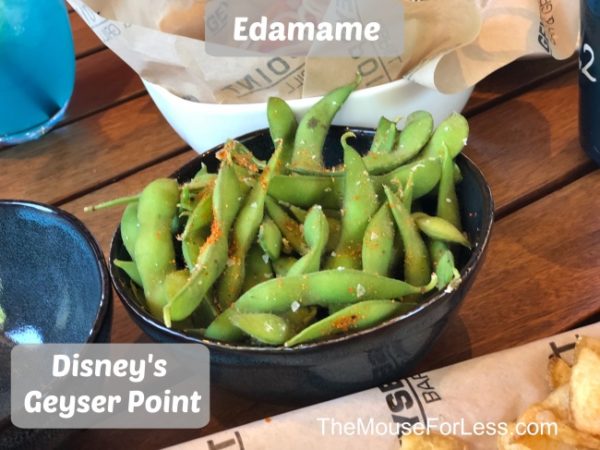 Cheesy Barbecue Brisket – with House-made Chips – $11.00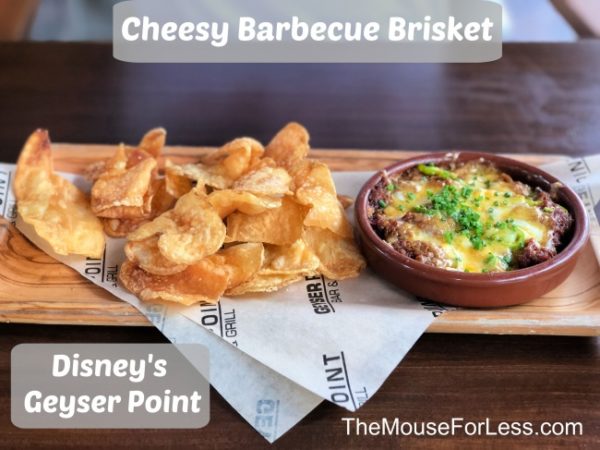 Shrimp on a Wire – with Miso-Lime Vinaigrette, Togarashi, Shishito Peppers and Chili-Aïoli – $13.00
Handcrafted Charcuterie – $14.00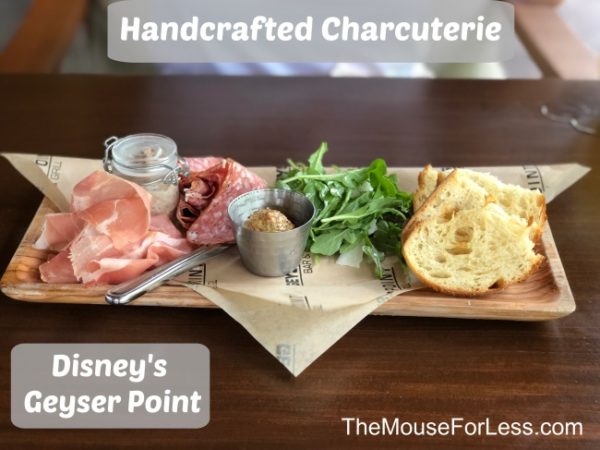 Bison Cheeseburger – served on an Artisan Roll with Bacon, Tillamook Cheddar, Sweet Onion Straws, Lettuce, Tomato, Garlic Aïoli, and Marionberry Barbecue Sauce with choice of Multigrain Salad or Waffle Fries – $16.00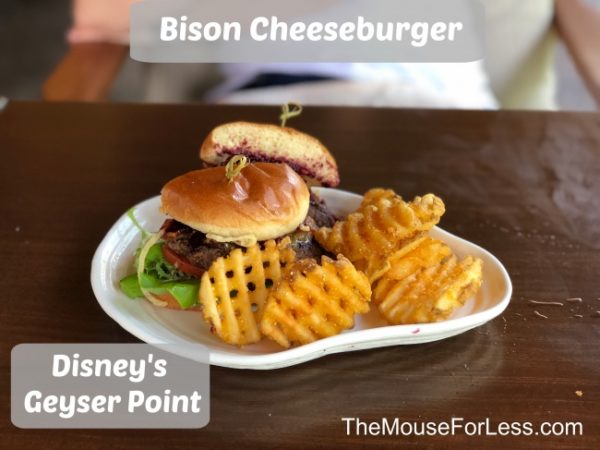 Steak Sandwich – Lemon Balsamic Arugula, Carmelized Onion, Red Peppers, and Gruyere Cheese – $16.00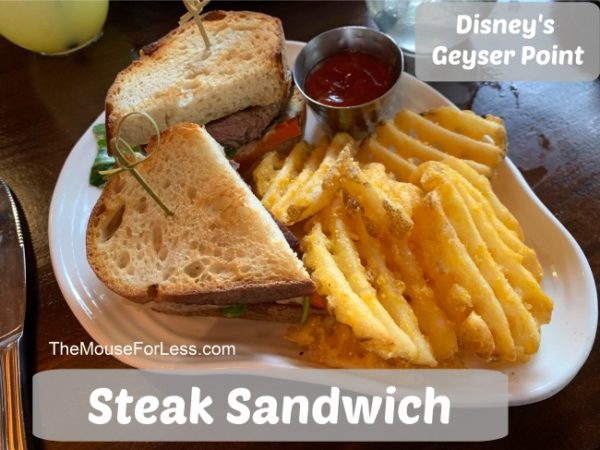 Roasted Salmon – with warm Ancient Grains, Petit Greens, Grilled Vegetables and Lemon Vinaigrette – $16.00
Grilled Angus Strip Loin – with Field Greens, Miso-plums, Ginger Vinaigrette and Amaranth Seeds on a House-made Pita Bread – $17.00
Teriyaki Chicken Wings – with Soy, Sesame and Green Onions – $12.00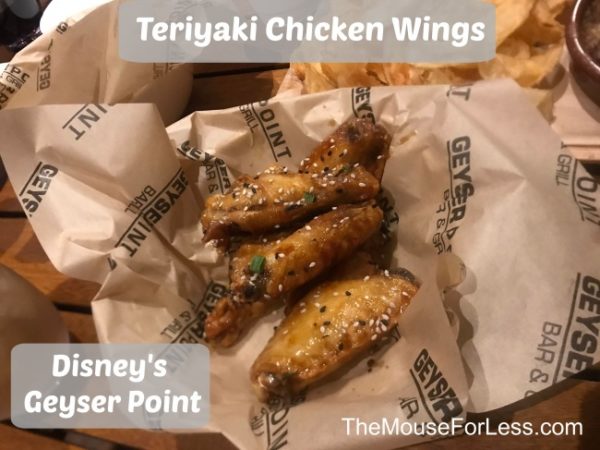 Beverages
Odwalla All-Natural Lemonade – $4.99
Wild Strawberry Lemonade – $5.49
Lava Smoothie – Raspberry Purée blended with Piña Colada Mix – $5.59
Strawberry Smoothie – Strawberry Purée blended with Nonfat Yogurt – $5.59
Blue Sky Organic Root Beer – $3.29
Northwest Berry Whip (non-alcoholic) – $4.29
Beer
Bud Light – $7.50
Rogue Dead Guy Ale – $9.25
Elysian Dragonstooth Stout – $9.25
Elysian Space Dust IPA – $9.25
Wine and Sangria
King Estate Pinot Gris, Willamette Valley – $13.00
14 Hands Chardonnay, Washington State – $10.00
Acrobat Pinot Noir, Oregon – $13.00
Columbia Crest H3 Merlot, Horse Heaven Hills – $11.00
Cocktails
Huckleberry Punch – 44° North Mountain Huckleberry Vodka, Bols Crème de Cassis, fresh Lemon Juice, and Cranberry Juice – $15.00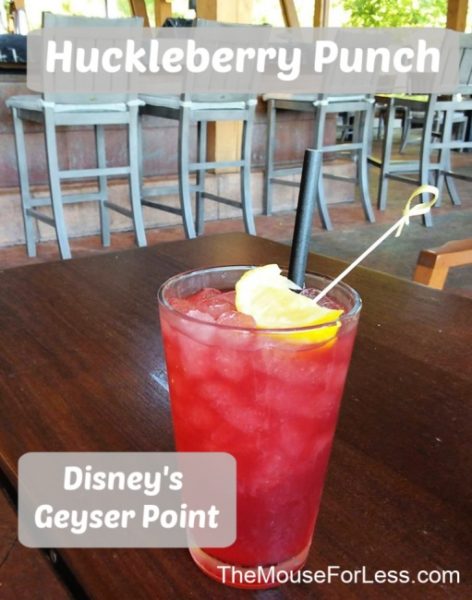 Olympic Mountain Mule – Bacardi Silver, Smoked Hickory Syrup, Sugar Cane Syrup, Lime Juice, Rosemary – $15.00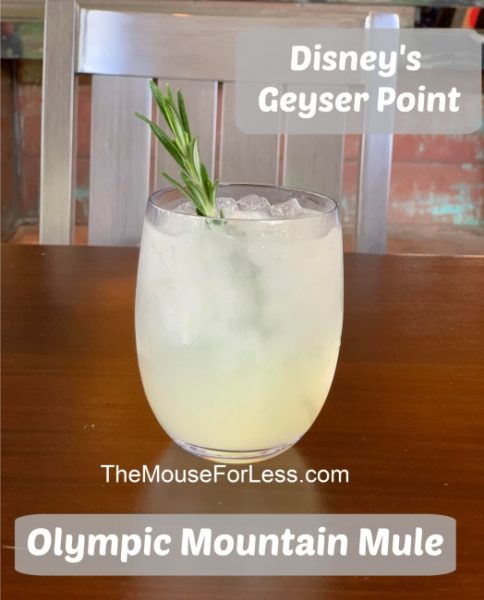 Sunset Margarita – Don Julio Resposado Tequila, Cointreau, fresh lime juice, sweet-and-sour and orange juice – $15.00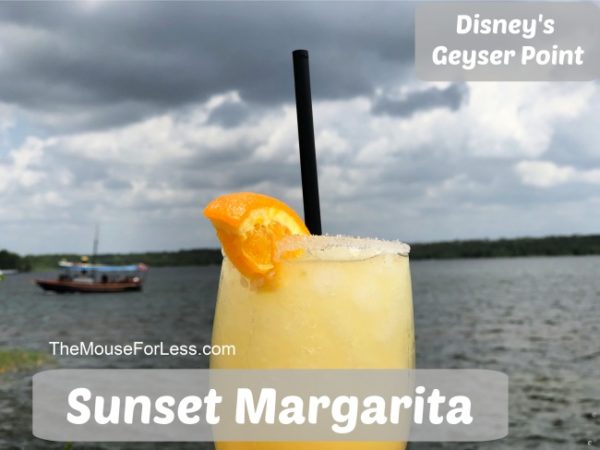 Whipper Snapper Sour – WhipperSnapper Whiskey perfectly mixed with Sweet-and-Sour – $15.00
Cascadia Sangria Cocktail – Zodiac Black Cherry Vodka, fresh Lime Juice, and Orange Juice topped with Columbia Crest H3 Merlot – $15.00
Black Cherry Mule – Zodiac Black Cherry Vodka, fresh Lime Juice, and Agave Nectar topped with Fever Tree Ginger Beer – $14.00
Northwest Iced Tea – Rogue Dark Rum, 44° North Idaho Potato Vodka, Aviation Gin, Cointreau, and Sweet-and-Sour with a splash of Coca-Cola® – $14.00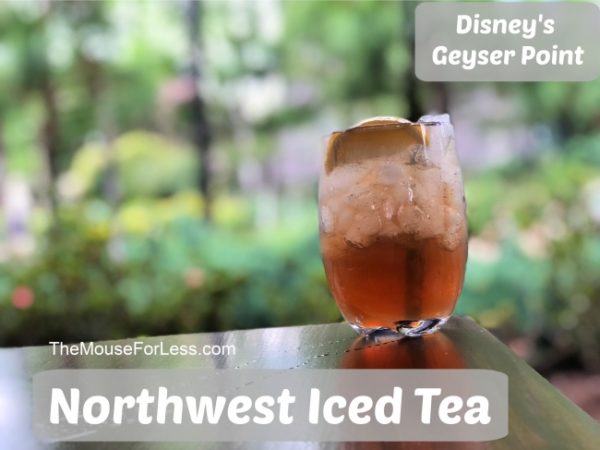 Geyser Point Kids' Lunch & Dinner Menu
Menu Date: 11/2019
Mickey Check Meals
For Guests Ages 9 and Under
All Meals Include Choice of One Beverage: Small Lowfat Milk or Small Bottled Water

Grilled Chicken Strips – served with dipping sauces and choice of Apple Slices or Vegetable Sticks – $7.49

Finger Food Sampler – sliced Smoked Turkey, Tillamook Cheddar, Spiced Apple Jam, Grape Tomatoes, and Sourdough Crisps – $7.19

Meets Disney Nutrition Guidelines for Complete Meals without substitutions
Kid's Meals
For Guests Ages 9 and Under
All Meals Include Grapes and Danimals and Choice of One Beverage: Small Lowfat Milk or Small Bottled Water
Cheeseburger – $7.69
Substitutions available upon request
** Geyser Point Bar and Grill Menu and Prices are Subject to Change Without Notice **