City Works Eatery & Pour House is your new go-to spot for a superb game-viewing experience, gourmet menu and a massive selection of beers.
Located on the West Side, this sprawling space features:
Classic American food with chef-driven twists for lunch and dinner
90+ local and global varieties of beers on tap
Plenty of indoor seating
A large outdoor patio
A retail shop
Gigantic high-definition TVs and state-of-the-art A/V
City Works Eatery & Pour House is located in Disney Springs. Find more Walt Disney World dining locations on our Walt Disney World menus page.
Restaurant Info: American, Lunch/Dinner A la carte, $$
Find out how you can save money on dining at Walt Disney World by using one of Disney's Dining Plans.

Planning a Walt Disney World Vacation?
For a Free no-obligation quote, contact our sponsor
The Magic For Less Travel
. The Magic For Less Travel is an Authorized Disney Vacation Planner and has been helping guests plan magical vacations since 2002. Receive the best prices and free travel planning services. Their fee-free services will help you save time, money, and stress while planning a vacation designed around you and your needs!
City Works Eatery Brunch Menu
Menu Date: 02/2021
Brunch is available Saturday & Sunday 10am to 3pm. 
Mimosas and other specialty cocktails available – $12.00 – $17.00
To Share
Jon Bon Jovi –  Warm jumbo cinnamon roll with vanilla icing – $10.00
Dock of Beignets –  French Doughnuts served with Chocolate Hazelnut sauce, and Mixed Berry Jam for dipping – $10.00
Mains
Sweet Child O' Mine – Stuffed French Toast with Brioche Bread, Baileys Cream cheese, Vanilla Bean Ice cream batter, Mixed berry Compote, and Powered Sugar – $18.00
Johnny Hash – Braised short Rib Hash, Red and Green Bell peppers, Onions, Potatoes, Jalapeno Salsa Verde, Sunny side up Egg – $22.00
Chak Shuka Khan – Shakshuka with spicy tomato sauce, Sunny side up Eggs, Goat Cheese, Toast Garlic Baguette – $17.00
White Wedding – Egg White Frittata with Goat Cheese, Asparagus, Tomato, Onion, Basil Fennel Herb Salad – $18.00
The Clash Smash – Smashed  Avocado on  Toast Challah, Roasted Corn, Red Pickled Onion, Shaved Radish, Sliced hard Boiled Egg – $17.00
Easy Like Sunday Morning – Breakfast flatbread, Topped with house – made Sausage, Scrambled Eggs, Bacon, Mozzarella, Smoked Cheddar, Garlic Puree, Arugula – $17.00
Mother's Little Helper – Our "Hangover Bowl" Filled with Smoked Cheddar Grits, Braised Pork Belly, Breakfast Sausage links,, Fried Egg, Smoked Tomato Charred Scallion Relish – $22.00
Love Me Two Times – Two Eggs – Any style, Two slices thick cut Bacon Strips, Two Breakfast Sausage Links, Toasted Challah Bread, Cheesy Potato Casserole – $18.00
What's The Story Morning Glory – Breakfast Tacos with Scrambled Eggs,  Bacon, Green Onion, Smoked Tomato, Chipotle Maple Glaze, Smoked Cheddar, White Corn Tortillas, Cheesy Potato Casserole – $18.00
Breakfast in American – Breakfast Sandwich on a Green Onion Cheddar Biscuit, with Aged Cheddar Scrambled Eggs, Breakfast Sausage Patty, Cheesy potato Casserole – $18.00
The Boss – 8 oz New York Strip Steak, Eggs Any – Style, Cheesy Potato Casserole – $25.00
Lox n' Roll – Whiskey – house Cured Salmon, of Flatbread with Dill Cream Cheese, Grape Tomato, Mozzarella, Red Onion Capers, Baby Arugula, Citrus – Mustard  Vinaigrette – $18.00
Shareables
Buffalo Chicken Dip – Pull Buffalo Chicken, Blue Cheese Cream, House – made Giardiniera, White Tortilla Chips – $14.00
Kung Pao Cauliflower – Roasted Cauliflower, Sweet Peppers, Green Onions, Garlic, Ginger, Arbol Chiles, Fried Peanut, Chili Oil, Sweet- and – Spicy Tamari, – $15.00 (Add Chicken for $4.00 or Shrimp for $5.00)
Smoked Chicken Wings – Grilled Chili Rubbed Chicken Wings and Drummies, BBQ Sauce, and Mustard BBQ Sauce – $15.00
Cheese Curds – White Cheddar, Cornmeal Battered, Smoked Tomato Coulis – $11.00
Salads
Caesar Salad – Whole Romaine Leaves, Hard Boiled Eggs, Kalamata Olives, Parmesan Garlic Croutons, and Caesar Dressing – $9.00
House Salad – Red Leaf, Romaine,  Iceberg, Tomatoes, Cucumbers, Radish, Red Bell Peppers, Kalamata Olives, Red Onion, Garlic Croutons, Red Wine vinaigrette – $9.00
City Works Chopped Salad – Grilled Chicken, Romaine, Iceberg, Red Leaf, Apple-wood Smoked Bacon, Tomatoes, Cucumbers, Red Onion, Blue Cheese Crumbles, Avocado, Sweet Herb Vinaigrette – $19.00
Burgers and Handhelds
City Works – Aged white cheddar, shredded iceberg, vine-ripened tomato, red onion, dill pickle, brioche bun – $
Bacon Cheeseburger– House-smoked candied thick-cut bacon, aged Vermont white and yellow cheddar cheeses, shredded iceberg, vine-ripened tomato, red onion, brioche bun – $
Impossible Burger
The Impossible Burger is a delicious, juicy burger for meat loves that's made from plants.
Shredded iceberg lettuce, vine-ripened tomatoes, red onion, vegan roasted garlic horseradish aioli – $
+ made vegan upon request 
Nashville Hot Chicken Wrap– Buttermilk breaded crispy chicken breast, hot cayenne pepper mop, romaine, cucumbers, tomatoes, red onion, ranch dressing, flour tortilla – $
Filet Mignon Sliders– Two grilled filet medallions, caramelized onions, horseradish cream, pretzel roll – $
Chicken Tinga– House-smoked pulled chicken, avocado mash, pickled red onion, grilled corn, micro cilantro, queso fresco, white corn tortillas, corn and black bean salad – $
Sides
Toast – $2.00
Bacon – $6.00
Sausage Links – $6.00
Fruit – $5.00
Cheddar Grits – $7.00
Eggs – $4.00
Potato Casserole – $8.00
Kids' Brunch Menu
Ages 9 and under.
Bacon and Eggs – Scrambled Eggs, Applewood smoked Bacon, toasted Challah Bread – $10.00
City Works Eatery Menu-Lunch/Dinner
Menu Date: 02/2021
City Works Eatery & Pour House Bar Bites
Pretzel Bites– Sea salt, IPA cheese sauce V – $
Popcorn Chicken – Nashville Hot or Southern Fried with Ranch dressing – $10.00
Cheese Curds– White cheddar, cornmeal battered, smoked tomato coulis V – $
Fried Pickles– Kosher dill, beer battered, ranch dressing V – $
To Share
Buffalo Chicken Dip– Pulled buffalo chicken, bleu cheese cream, housemade giardiniera, corn tortilla chips GF – $
Smoked Chicken Wings  – Grilled chili-rubbed jumbo wings and drummies, BBQ sauce, mustard BBQ sauce GF – $
Kung Pao Cauliflower– Roasted cauliflower, sweet peppers, green onions, garlic, ginger, arbol chiles, fried peanuts, chili oil, sweet and spicy tamari GF/VG – $
add chicken +4
add shrimp +5
Queso Dip – Hot Chorizo, Pepper Jack Cheese sauce, Queso Fresco, GReen Onions, Micro Cilantro, Corn Tortilla Chips – $12.00
*V: Vegetarian
*GF: Gluten Free
*VG: Vegan
Soups & Salads
Soup of the Day- Ask your server for the chef's seasonal creation of the day- 6.00/8.00
Caesar – Whole romaine leaves, hard boiled eggs, Kalamata olives, Parmesan, garlic croutons, Caesar dressing – $9.00
House – Red leaf, romaine, iceberg, cucumbers, tomatoes, radish, bell peppers, kalamata olives, red onion, garlic croutons, red wine vinaigrette V – $9.00
City Works Chopped – Grilled chicken, romaine, iceberg, red leaf, applewood-smoked bacon, tomatoes, cucumbers, red onion, bleu cheese crumbles, avocado, sweet herb vinaigrette GF – $18.00
BBQ Chicken Chopped– House-smoked pulled BBQ chicken, romaine, iceberg, red leaf, tomatoes, cucumbers, black beans, roasted corn, jicama, crispy buttermilk onion rings, ranch dressing – $19.00
*V: Vegetarian 
*GF: Gluten Free
*VG: Vegan
Burgers
burgers are fresh USDA prime beef patty, served on a toasted brioche bun
served with olive oil parsley fries or side salad
gluten-free/vegan bun available
sub cup of soup for $1.50
sub Impossible Burger for any burger for $2
City Works– Aged white cheddar, shredded iceberg, vine-ripened tomato, red onion, dill pickle, brioche bun – $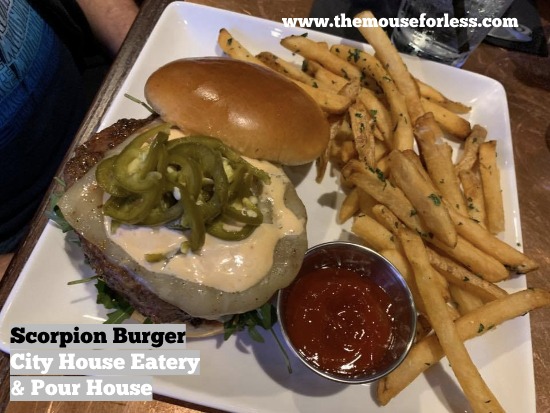 Scorpion– Habanero pepper jack, jalapeños, five pepper jam, arugula, vine-ripened tomato, scorpion pepper aioli – $
Bacon Cheeseburger– House-smoked candied thick-cut bacon, aged Vermont white and yellow cheddar cheeses, shredded iceberg, vine-ripened tomato, red onion, brioche bun – $
Impossible Burger
The Impossible Burger is a delicious, juicy burger for meat loves that's made from plants.
Shredded iceberg lettuce, vine-ripened tomatoes, red onion, vegan roasted garlic horseradish aioli – $
+ made vegan upon request 
Handhelds

sandwiches come with olive oil parsley fries or side salad
Nashville Hot Chicken Wrap – Buttermilk breaded crispy chicken breast, hot cayenne pepper mop, romaine, cucumbers, tomatoes, red onion, ranch dressing, flour tortilla – $
Filet Mignon Sliders – Two grilled filet medallions, caramelized onions, horseradish cream, pretzel roll – $
Fried Chicken Sandwich – Buttermilk breaded crispy chicken, spicy bread and butter pickles, Carolina mustard BBQ sauce, shredded iceberg, brioche bun – $
Tacos
Chicken Tinga – House-smoked pulled chicken, avocado mash, pickled red onion, grilled corn, micro cilantro, queso fresco, white corn tortillas, corn and black bean salad – $
Fish – Cornmeal beer battered mahi-mahi, chipotle coleslaw, pico de gallo, cilantro lime cream, micro cilantro, white corn tortillas, corn and black bean salad – $
Mains
Salmon – Pan-seared salmon, butternut squash purée, olive oil poached fingerling potatoes, salsa verde, succotash – grilled corn, Brussels sprouts, asparagus, butternut squash and grape tomato  GF– $
Pork Chop – 10 oz. bone-in center cut pork chop, potato purée, chipotle maple glaze, cinnamon spiced apples, crispy buttermilk onion rings – $
Smoked BBQ Ribs – Hardwood-smoked full rack baby back ribs, house made BBQ sauce, spicy maple bacon baked beans, mascarpone creamed corn GF – $
Smoked Cheddar Mac n Cheese – Grilled Chicken, Bacon Lardons, smoked Cheddar Cheese sauce, Cavatappi pasta, smoked Cheddar Cheese – $18.00
Tex Mex Mac n Cheese – Spicy Chorizo, roasted Jalapeno, Pepper Jack cheese sauce, crispy Tortilla strips, Cilantro Cavatappi – $16.00
Rigatoni – Italian Sausage, Roma Tomatoes, Basil, Peas, Goat Cheese, Tomato Cream, Rigatoni (Gluten free pasta available upon request) – $18.00
*V: Vegetarian
*GF: Gluten Free
Sides
Fries
Creamed corn
Upcharge to substitute:
Spicy maple bacon baked beans
Brussels sprouts
Dessert
Peanut Butter Snickers Pie – Oreo cookie crust, peanut butter mousse, whipped cream, Snickers, chocolate and caramel sauce V – $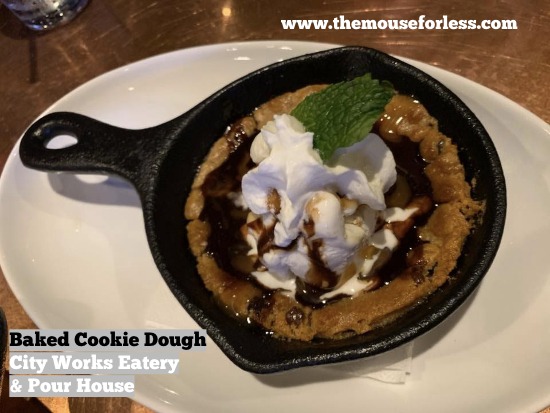 Assorted specialty cocktails available – $13.00 – $15.00
Wines on Tap – $10.00 – $12.00
City Works Eatery & Pour House Kids Lunch/Dinner Menu
Menu Date: 02/2021
served with a drink and choice of fries or fruit cup
Pizza – Choice of cheese or pepperoni, pizza sauce, mozzarella cheese – $
Beef Tacos – Seasoned ground beef, shredded lettuce, cheddar cheese, pico de gallo, flour tortilla – $
Grilled Cheese V – American cheese, white grain bread – $
Mac and Cheese V – Kraft macaroni and cheese – $
Chicken Sandwich – Crispy chicken tenders, shredded lettuce, tomato, red onion, ranch dressing, brioche bun – $
Cheeseburger – Quarter-pound beef patty, American cheese, shredded lettuce, tomato, brioche bun –
Fish and Chips – Breaded cod, tartar sauce, french fries – $
Chicken Tenders – BBQ sauce – $
Smoked BBQ Ribs GF– Hardwood-smoked one-third rack, housemade BBQ sauce – $
 ** City Works Eatery & Pour House Menu and Prices are Subject to Change Without Notice **