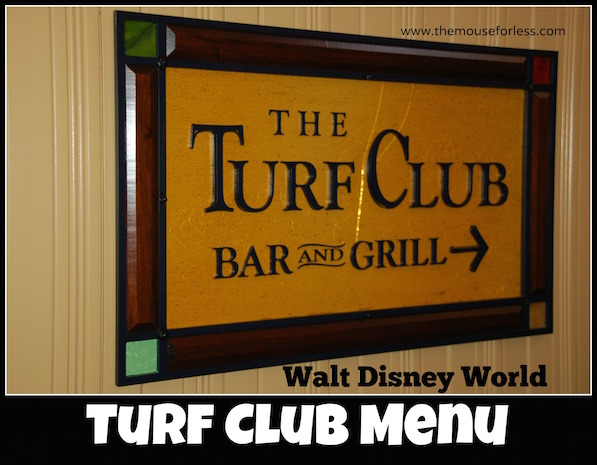 Savor classic American cuisine in a racetrack clubhouse setting with gorgeous golf course and lake views.  At Turf Club, guests can relax, shoot some pool, and enjoy a beverage or appetizer before heading to the restaurant for dinner.
Turf Club is located in Disney's Saratoga Springs Resort.  Find more Walt Disney World dining locations on our Walt Disney World menus page.
Restaurant Info: American, Dinner, $$
Find out how you can save money on dining at Walt Disney World by using one of Disney's Dining Plans.

Planning a Walt Disney World Vacation?
For a Free no-obligation quote, contact our sponsor
The Magic For Less Travel
. The Magic For Less Travel is an Authorized Disney Vacation Planner and has been helping guests plan magical vacations since 2002. Receive the best prices and free travel planning services. Their fee-free services will help you save time, money, and stress while planning a vacation designed around you and your needs!
Turf Club Restaurant Dinner Menu
Menu Date: 2/2020
Appetizers
Turf Club Signature Grilled Romaine Salad – Lightly-grilled Hearts of Romaine, Roasted Tomatoes, Balsamic Vinegar Glaze, Caesar Dressing, and Croutons – $9.00
Asian-Inspired Crispy Shrimp – Spicy Sweet Chili Aïoli and Vegetable Slaw – $12.00
Creamy Buffalo Chicken Dip – Spicy Buffalo Ranch Sauce with Saratoga Chips – $11.00
Fried Buttermilk Calamari – Crispy Calamari and Pepperoncini, Roasted Garlic Aïoli, and spicy Marinara – $13.00
Classical French Onion Soup – Warm Broth, Julienne Onions, Melted Swiss and Gruyère Cheese with Croutons – $9.00
Seasonal Salad – Seasonal Mixed Greens, Watermelon Radish, Orange Segments, Candied Walnuts, and Citrus Vinaigrette – $10.00
Jumbo Crab Cake – Avocado Salsa and Citrus Remoulade – $13.00
Maple – Bourbon Brussels Sprouts – with house-made Apple butter – $10.00
Entrees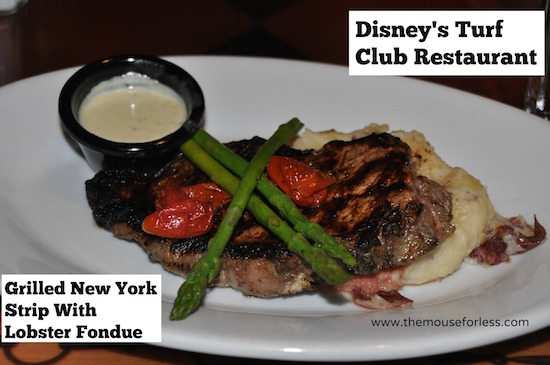 Rancher's Reserve Prime Rib – Yukon Gold Mashed Potatoes, Broccolini, and Au Jus – $33.00
Seared Duck Breast and Confit – Parsnip – Fennel Puree, Asparagus, Pomegranate, Orange Gastrique, and Citrus Gremolata – $28.00
Grilled Verlasso Salmon – Carrot Purée, Crispy Bacon, Asparagus, Fingerling Potatoes, and creamy Cucumber Salad – $20.00
Plant-Based Gnocci – Plant-Based carrot Gnoochi, Sweat Peas, Oven roasted Mushrooms, Toasted Pine Nuts, and Mushroom Sauce  – $20.00
Grilled New York Strip – Yukon Gold Mashed Potatoes, Asparagus, and Sauce Vin Rouge – $36.00
Pan-Seared Airline Chicken – Roasted Rainbow Carrots, Yukon Gold Mashed Potatoes, and Herb Jus – $25.00
Pappardelle Pasta – Sauteed Shrimp in Garlic, capers, Tomatoes, Spinach, Light Butter Sauce, and Fresh Basil – $27.00
Wh0le – Roasted Sustainable Fish  – Stuffed with Fresh Herbs, Lemon, and Roasted with Fresh Citrus Salad, and Salted Potatoes  – $25.00
Pan-seared Sea Scallops – Creamy Sweet Corn-Vegetable Succotash – $29.00
Desserts
Chocolate and Cherries – Brown Butter Mousse, Caramel Sponge, and Poached Sour Cherries – $7.00
Gelatos –  Trio of Seasonal gelati – $8.00
Vanilla Crème Brulee – Madagascar Vanilla Bean Crème Brûlée and a Buttery Breton Crisp – $7.00
Classic Lemon Meringue Pie  – lemon Filling, Buttery Crust, toasted Meringue  – $8.00
Fresh Harvest – Fruit Crisp with a Classic Streusel Crust, Vanilla Crème Fraîche Ice Cream – $8.00
Non-Alcoholic Specialty Beverages
Specialty Character Drink – Minute Maid Light Lemonade Punch served in a souvenir Character cup  with a glowing Character Clip-on Light – $8.00
Milk Shakes – Chocolate or Vanilla – $7.00
Odwalla All-Natural Lemonade – topped with a Wildberry Foam – $5.50
Assorted Fountain Beverages – $4.29
Freshly Brewed Joffrey's Coffee – $3.79
Espresso
Café Mocha – $4.99
Frozen Cappuccino – $5.49
Latte – $4.79
Alto Mayo Protected Forest Coffee Roasted by Joffrey's Coffee® (Serves Two) – $9.00
Alcoholic Beverages
Mint Julep – Woodford Reserve Bourbon muddled with fresh Mint and Agave Nectar – $14.00
Magical Star Cocktail – X-Fusion Organic Mango and Passion Fruit Liqueur, Parrot Bay Coconut Rum, Pineapple Juice, and a souvenir Multicolored Glow Cube – $13.75
The Preakness Cosmo – Skyy Infusions Citrus Vodka, Triple Sec, and Cranberry Juice – $12.50
Travers Stakes – Beefeater Gin and Peach Schnapps topped with Ginger Ale – $11.50
Saratoga Cocktail– Maker's Mark Bourbon, E & J Brandy, and Sweet Vermouth – $12.50
Millionaire's Margarita – 1800 Reposado Tequila, Grand Marnier, Lime Juice, and Sweet-and-Sour – $12.50
Three Minutes to Post Time – Bacardi Raspberry Rum, Blue Curaçao, New Amsterdam Gin, Skyy Vodka, Sprite®, and a splash of Orange Juice – $11.50
The Blue Jockey – Shimmering with Pearl Dust, Cruzan Mango Rum, Blue Curaçao, Watermelon, and Odwalla® Lemonade – $12.50
Cold Brew XO – Patrón XO Cafe Coffee Liqueur, Heavy Cream, and Cold Brew Joffrey's Coffee – $11.25
Banfi Rosa Regale, Brachetto d'Acqui, Piedmont – slightly sweet red sparkling wine with rose petal aromas and strawberries, raspberries, and cranberries on the palate – $14.00 / $55.00
Turf Club Kids' Dinner Menu
Menu Date: 2/2020
For Kids Ages 9 and Under
Appetizers
Chicken Noodle Soup – $3.00
Carrot and Celery Sticks – $3.00
Sliced Apples – $3.00
Garden Salad – $3.00
Mickey Check Meals
Served with choice of Small Lowfat Milk or Small Dasani Water

Grilled Salmon – with Creamy Risotto, Sautéed Green Beans, and Strawberry-Banana Yogurt Pop – $12.00

Pasta with Turkey Marinara Sauce – Whole-Wheat Pasta with Turkey Marinara Sauce and Strawberry-Banana Yogurt Pop – $10.00

Grilled Chicken Breast – Grilled Chicken Breast with Whole-Grain Rice Pilaf, Sautéed Green Beans, and Yogurt Parfait – $10.00

 Oven-Roasted Prime Rib – with Roasted Potato, Sautéed Broccolini, and Strawberry-Banana Yogurt Pop – $12.00

Meets Disney Nutrition Guidelines for Complete Meals without substitutions.
Kids Choice Meals
Choice of one (1) Entrée, one (1) Beverage and one (1) Dessert
Beverages
Small Lowfat Milk
Small Dasani Water
Small Minute Maid Apple Juice
Entrées
Cheeseburger – with French Fries – $11.00
Hot Dog – with French Fries – $9.00
Dessert
Strawberry-Banana Pop
Sliced Apples
** Turf Club Menu and Prices are Subject to Change Without Notice **