Epcot | World Showcase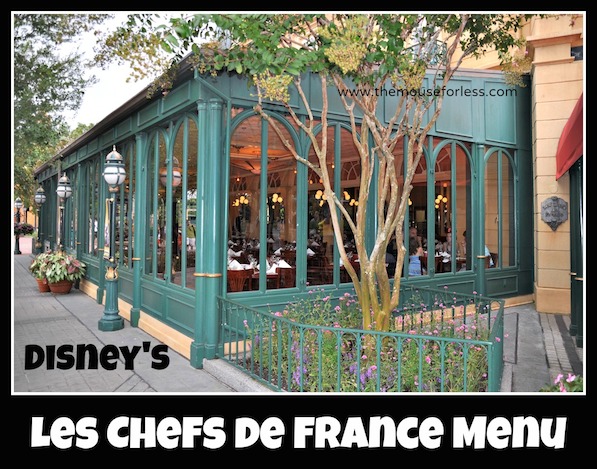 Savor French culinary masterpieces for the discriminating palate at Les Chefs de France. Bon appetit!
Restaurant Info: French, Lunch/Dinner A la carte, $$ – $15 to $34.99 per adult
Find out how you can save money on dining at Walt Disney World by using one of Disney's Dining Plans.
Les Chefs de France Lunch/Dinner Menu
Menu Date: 09/2018
Appetizers
Cassolette d'escargots de Bourgogne au beurre persillé (Escargot) – Casserole of Burgundian escargots baked in parsley and garlic butter – $12.99
Bisque de homard (Lobster Bisque) – $8.99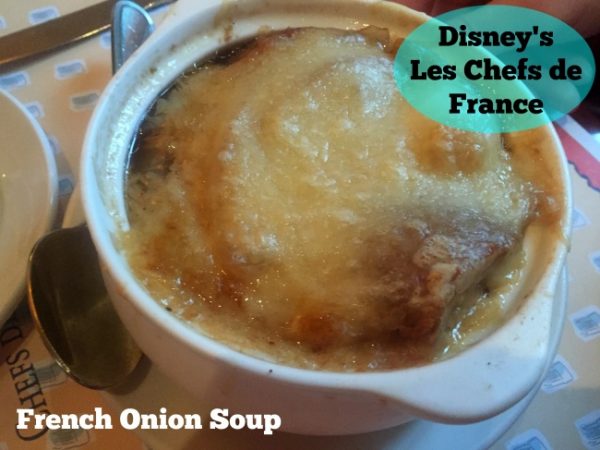 Soupe à l'oignon gratinée (French Onion Soup) – French onion soup topped with Gruyére cheese – $8.99
Salade aux lardons et croutons – Selected greens with house vinaigrette dressing, diced smoked bacon, tomatoes, and housemade croutons – $8.99
Tartare de saumon legerement fume, sauce moutarde – Tartare of raw salmon lightly smoked with cucumber Dill, honey mustard sauce and a homemade brioche bun – $14.99
Salade de chevre chaud (Baked Goat Cheese Salad) – with walnuts, fresh grapes, tomatoes, endives and mixed salad – $11.99
Plateau de fromages de France (Cheese Board) – Imported cheese board, with raisin and walnut bread – $14.99
Assiette Campagnarde (Charcuterie) – Rustic assortment of French pates and charcuteries – $13.99
A la Flamme Alsacienne (Alsace specialty Flatbread) – With Crème fraîche, onion and bacon – $12.99
Tomate et fromage de chèvre (Tomato and Goat Cheese Flatbread) – $13.99
Au Saumon Fumé – Smoked salmon, crème fraîche, onions – $16.99
Entrées
Lasagnes de legumes du soleil a l'huile d'olive au thyme (Vegetable Lasagna) – Zucchini, eggplant, tomatoes, onions and bell peppers baked into thin layers of pasta – $19.99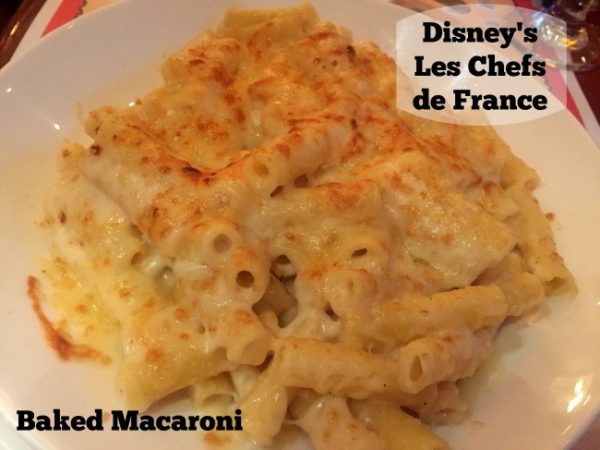 Gratin de Macaroni (Macaroni Baked) – With cream Gruyère cheese – $18.99
Salade Niçoise – Salad with Ahi tuna, tomato, green beans, bell peppers, potatoes, hard boiled eggs, olives, anchovies, vinaigrette dressing – $20.99
Choucroute de la mer (Cod Fish) – Cod fish, shrimp, house-made haddock sausage, served with braised sauerkraut and beurre blanc – $32.99                      
Filet de saumon, mariné auvin blanc et citron – White wine and lemon marinated salmon, broiled, served with steamed vegetables, champagne sauce – $29.99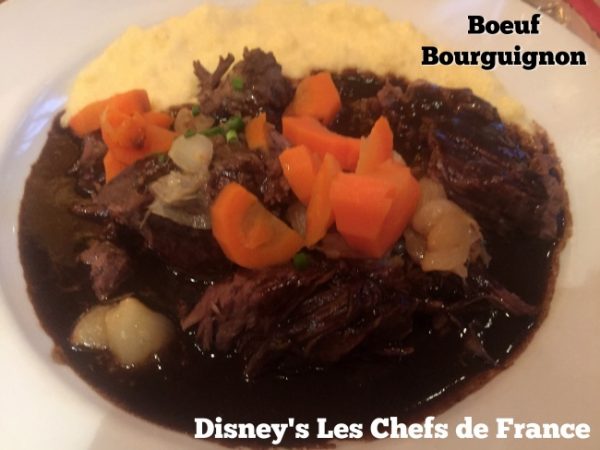 Boeuf Bourguignon, polenta crémeuse (Beef Short Ribs) – Beef short ribs braised in Cabernet with baby onions and carrots, served with creamy polenta – $28.99
Poulet fermier à la Layonnaise, pomme puree – Lyon style roasted chicken served with tomatoes and vinegar sauce, mashed potatoes – $25.99
Canard aux cerises (Duck Breast with Cherries) – Duck breast and leg confit with cherries, sweet potato puree and zucchini – $32.99
Filet de boeuf grillé (Grilled Tenderloin of Beef) – with green peppercorn sauce, potato gratin and green beans – $35.99
Jarret de porc braisé, spaetzels (Pork) – Pork shank braised served with spaetzels egg noodles – $29.99
Steak frites, beurre maitre d'hôtel – Grilled flat iron steak, French fries, lemon and parsley butter – $30.99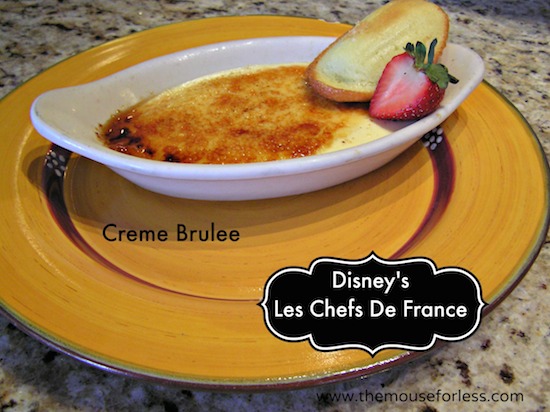 Desserts
Gateau au Chocolat – Chocolate Layer Cake with Chocolate Mousse, Chocolate Sauce, and Mint Chocolate Ice Cream – $9.75
Cygne au chocolat – Swan cream puff filled with chocolate mousse, chocolate sauce, and chocolate ice cream – $9.75
Tarte aux Pommes – Apple Tart with Almond Cream, Caramel Sauce, and Vanilla Ice Cream – $9.75
Meringue aux fruits rouges – Meringue Basket with fresh Berries, Vanilla Cream, Raspberry Sauce, and Strawberry Sorbet – $9.75
Crème Brûlée – Vanilla Crème Brûlée – $9.75
Assiette de sorbets du jour – Daily assortment of fresh sorbets with a madeleine – $9.75  
Beverages
Cafe – regular or decaf – $2.99
Cafe Espresso – $3.79
Cafe Cappuccino – $3.99
Evian – non-sparkling; 1 liter – $6.99
Coca-Cola or Diet Coke – $2.99
Thé Glacé – Nestea Iced Tea – $2.99
Lait – Milk – $2.99
Jus d'Orange – Orange – $3.99
Diabolo Menthe – Sprite with Monin green mint syrup – $3.99
Shirley Temple – Sprite with grenadine with a maraschino cherry – $3.99
Orangina – French Orange Soda – $5.50
Limonade – French Sparkling Limonade – $5.50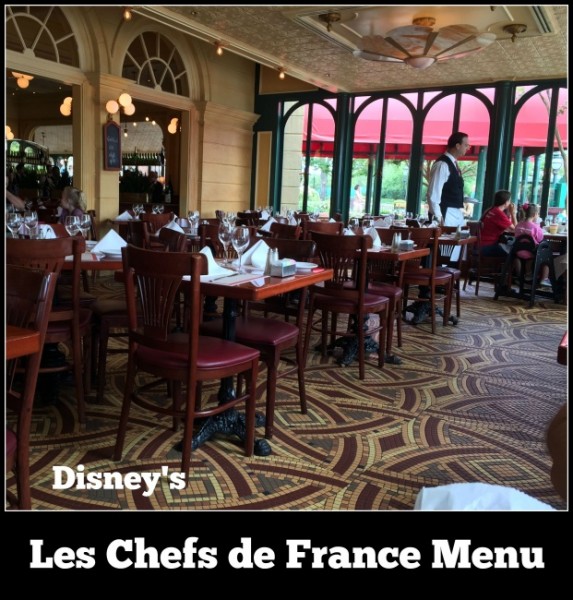 Prix-fixe 3 Courses Menu
Menu Date: 09/2018
Prix-fixe Appetizers (Choice of One)
Soupe a l'oignon gratinée – topped with Gruyère cheese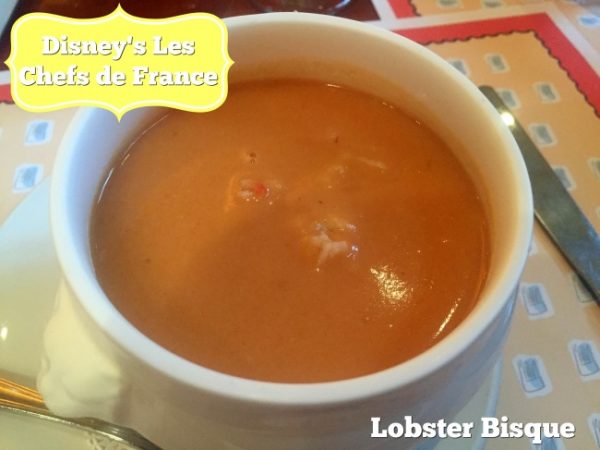 Bisque de homard – Lobster bisque
Salade aux lardons et croutons – Selected greens with house vinaigrette dressing, diced smoked bacon, tomatoes, homemade croutons
Prix-fixe Entrees (Choice of One)
Boeuf Bourguignon, linguine (Braised Beef) – Beef braised in Cabernet with baby onions and carrots, served with linguine pasta
Filet de saumon mariné auvin blanc et citron – White wine and lemon marinated salmon, broiled, served with steamed vegetables, champagne sauce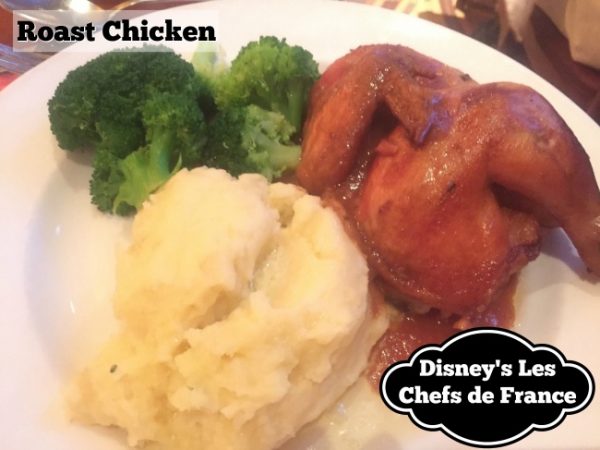 Poulet fermier à la Layonnaise, pomme puree – Lyon style roasted chicken served with tomatoes and vinegar sauce, mashed potatoes
Gratin de macaroni (Macaroni Baked) – with Cream and Gruyère cheese
Prix-fixe Dessert (Choice of One)
Dessert au choix (Dessert of choice)
Les Chefs de France Kids' Menu
Menu Date: 09/2018
Kids' Appetizers
Cheese Puff Pastry – $5.50
Mixed Green Salad – $4.00
Kids' Entrées
Grilled Chicken Tenderloin – Grilled chicken tenderloin and chicken sauce served with choice of green beans, mashed potatoes, or French fries – $8.50
Ground Beef Steak – Ground beef steaks in a brioche bun served with choice of green beans, mashed potatoes, or French fries – $9.50
Seared Salmon – served with choice of green beans, mashed potatoes, or French fries – $10.00
Pasta with Ham – with cheese and béchamel sauce – $7.50
Kids' Desserts
Choice of Ice Cream or Sorbet – Vanilla, Chocolate, Sorbet of the day – $4.00
Chocolate Chip Cookie – $3.50
Lowfat Yogurt – Lowfat yogurt with fresh berries and raspberry sauce – $4.00
** Les Chefs de France Menu and Prices are Subject to Change Without Notice **