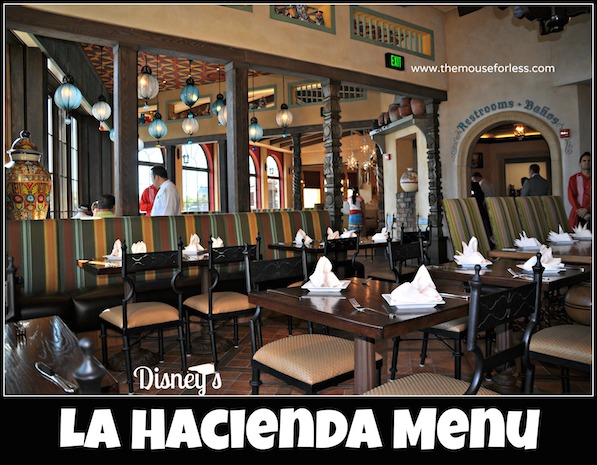 The striking exterior of La Hacienda de San Angel blends beautifully with the Mexico pavilion, designed to look like a warm, inviting home. Step inside, and the attention to detail continues with original artwork and lighting fixtures created by Ernesto Cruz, a noted Mexican artist known for his blown glass. Look up – the cool fixtures in the lobby are made of brilliant blue vinyl stretched around the light. Chairs and tables also were crafted in Mexico for a casual-but sophisticated, south-of-the-border ambiance. The curved glass windows offer a coveted front-row seat for the nightly fireworks spectacular and the music is piped in!
La Hacienda de San Angel is located in Disney's Epcot theme park.  Find more Walt Disney World dining locations on our Walt Disney World Resort menus page.
Restaurant Info: Mexican, Dinner, $$ – $15 to $34.99 per adult
Find out how you can save money on dining at Walt Disney World by using one of Disney's Dining Plans

Planning a Walt Disney World Vacation?
For a Free no-obligation quote, contact our sponsor
The Magic For Less Travel
. The Magic For Less Travel is an Authorized Disney Vacation Planner and has been helping guests plan magical vacations since 2002. Receive the best prices and free travel planning services. Their fee-free services will help you save time, money, and stress while planning a vacation designed around you and your needs!
La Hacienda de San Angel Dinner Menu
Menu Date: 12/2020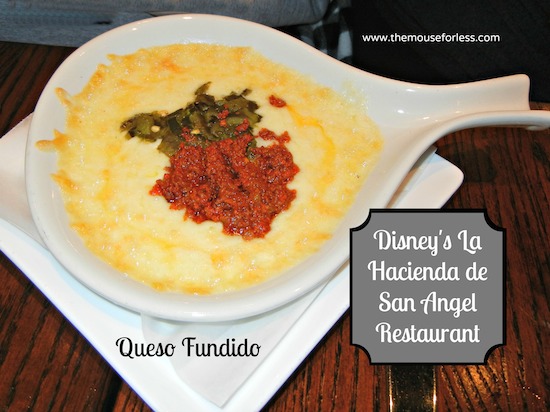 Appetizers
Queso Fundido – Melted cheese with chorizo, peppers, and onions with flour tortillas – $14.00
Guacamole – topped with diced Mangos – $13.00
TlayudasGiant Toastada – Oaxacan tostada, barbacoa Beef, chipotle black beans, chorizo, Mexican sour cream, and pickled onions  – $14.00
Flautas – Fried Tortillas with Potato, Chipotle Chicken, Cheese, and Ranchera sauce  – $13.50
Crema de Elote – Creamy Corn Soup served with spicy Tortilla Chips and Mexican sour cream – $11.00
Ensalada de  la Hacienda  – Spring Mix with Cheese, Pistacios, Beets, Dried Chile Vinaigrette, Guajilo Peppers – $12.50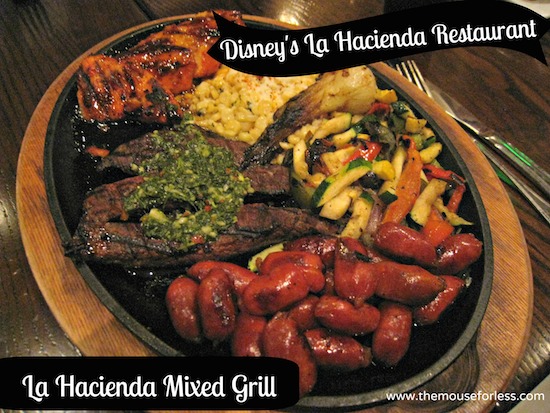 Entrees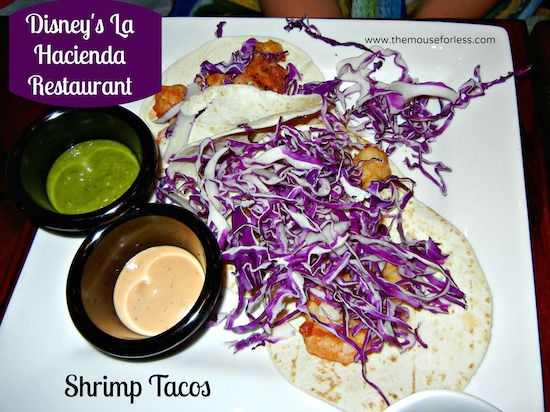 Tacos de Camarones – Fried shrimp, chipotle-lime aioli, cabbage, and salsa verde, all served over flour tortillas – $30.00
Costillas en salsa de Chile – Braised Short Ribs with Potato Puree and Cilantro Chimichurri – $34.00
Pollo al Pastor – Adobo-marinated chicken breast with Chile-Arbol glaze and Pineapple Relish and grilled vegetables – $28.00
Alambre de Res –  Flank steak, bacon, Poblano and bell peppers with Monterey jack Cheese, Lime, and Salsa verde with flour tortillas – $29.00
Baja Tacos de Pescado – Beer-battered Fried Cod, shredded Cabbage, Chipotle-lime Aioli and Pineapple Relish with Flour Tortillas – $29.00
Tacos de Camarones – Fried Shrimp, Chipotle – Lime Aioli, Cabbage, and Salsa Verde on Flour Tortillas – $27.00
Carne Asada – Ancho Agave marinated NY Strip with Sweet Potato mash and diced nopales, black bean and queso-fresco stuffed Acho Pepper, and a Chayote Salad – $48.00
Enchiladas de Vegetables – Vegetable filled Corn Tortilla topped with Melted Cheese and Salsa Ranchera – $22.00
Parrillada del Mar – Grilled Shrimped, Fish, and Scallops served with Vegetables and Esquites (serves 2) – $64.00
Cochinita Pabil – Achiote marinated braised Pork served over Black Beans and topped with Pickled Onions and Oregano – $31.00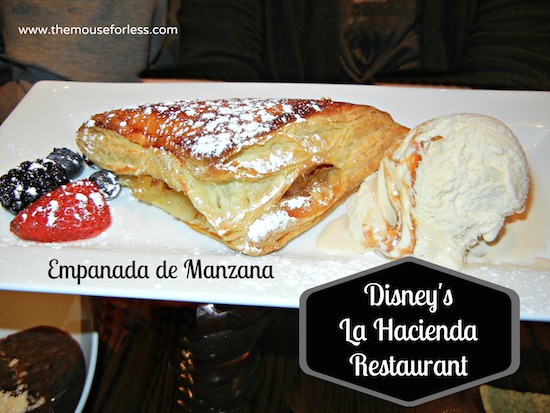 Desserts
Empanada de Manzana – Puff pastry filled with sauteed caramel apples, served with dulce de leche ice cream and cajeta (caramel sauce) – $9.00
Helado de Dulce de Leche – Caramel Ice Cream – $9.00
Chocoflan – Creamy Mexican Custard and chocolate Sponge Cake topped with Cajeta and Toasted Almonds – $10.00
Horchata Cheesecake – Creamy Rice cheesecake served with Cajeta sauce – $10.00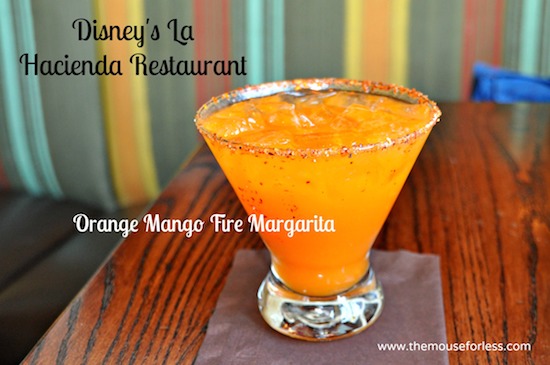 Beverages
Hand Crafted Margaritas – $15.50 to $22.00
La Hacienda de San Angel Kids Menu
Menu Date: 12/2020
Kids' Appetizers (a la carte)
Jr. Garden Salad – $3.00
Fruit Cup – $3.00
Kids' Entrées (choose 1)
Tacos – Two Flour Tortillas with grilled Chicken and choice of fountain soda, milk, or water – $10.00
Grilled Chicken Breast – Served with choice of fountain soda, milk, or water – $10.00
Chicken Tenders – breaded and fried and served with choice of fountain soda, milk or water – $10.00
Macaroni & Cheese – Cavatappi Pasta in a rich White Cheddar Cheese Sauce and served with choice of fountain soda, milk or water – $10.00
Quesadillas – Two Flour Tortillas filled with Monterey Jack grilled golden brown and choice of fountain soda, milk, or water – $10.00
Kids' Side Selections (choose 2)
Green Beans
Corn
Fruit Cup
Rice
Kids' Desserts
Dulce de Leche Ice Cream – $4.00
Chocolate Brownie – $4.50
** La Hacienda de San Angel Menu and Prices are Subject to Change Without Notice **