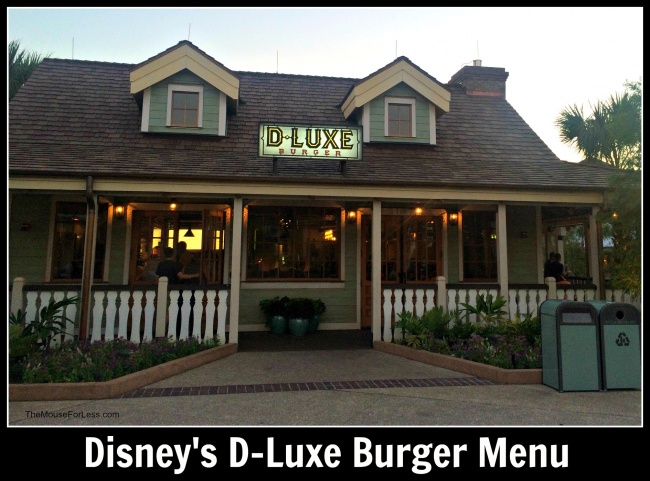 This new Disney owned venue offers an assortment of gourmet burgers using a signature blend of beef, as well as unique toppings and freshly baked buns. Visitors to D-Luxe Burger will also find all-natural chicken and veggie burgers, hand-cut fries and house-made dipping sauces. Beverages included gelato shakes, hard sodas, draft beer, and cider. Seating is both indoors and outdoors.
D-Luxe Burger is located in Disney Springs.  Find more Walt Disney World dining locations on our Walt Disney World menus page.
Restaurant Info: Classic American; Lunch/Dinner; $ – $14.99 and under per adult
Find out how you can save money on dining at Walt Disney World by using one of Disney's Dining Plans.

Planning a Walt Disney World Vacation?
For a Free no-obligation quote, contact our sponsor
The Magic For Less Travel
. The Magic For Less Travel is an Authorized Disney Vacation Planner and has been helping guests plan magical vacations since 2002. Receive the best prices and free travel planning services. Their fee-free services will help you save time, money, and stress while planning a vacation designed around you and your needs!
D-Luxe Burger Breakfast Menu
Menu Date: 09/2019
Entrées
Breakfast Poutine – Fried Egg, Sausage Gravy, and Wisconsin Cheese Curds – $9.49
Classic Breakfast Burger – D-Luxe Signature Patty, Cheddar, Bacon, Egg, and Hash Browns served on a Parker House Roll – $7.99
Crispy Chicken Biscuit – Buttermilk Fried Chicken, Honey Butter, Chipotle Mayonnaise and Pickles on a Cheddar Biscuit – $7.99
Egg White Frittata Sandwich – Egg Whites, Spinach, Hash Browns, Pico de Gallo and Avocado Crema on a Parker House Roll – $7.99
El Diablo Breakfast Burger – Chorizo-Signature Blend Patty, Pepper Jack Cheese, Smoked Bacon-Pepper Jam and Egg on a Cheddar Biscuit – $7.99
D-Luxe Breakfast Sandwich – Egg, Cheddar Cheese and Bacon with choice of D-Luxe Signature Patty, Chorizo Patty or Buttermilk Fried Chicken – $6.99
Breakfast Sandwich – Egg, Cheddar Cheese, and Bacon on a small Park House Roll – $3.99
Fresh-cut Fries with Sausage Gravy – $4.99
Sides
French Fries – Freshly cut and served with a choice of dipping sauces – $4.99 Regular | $7.49 Large
Dipping Sauces: Three-Mustard and Honey • Garlic Ranch • Curry Ketchup • Chipotle Mayo • Horseradish • Buffalo
Artisanal Shakes and Floats
Cake Gelato Shake – Vanilla Gelato blended with Milk and Cupcake Syrup, topped with Whipped Cream, Rainbow Sprinkles, and Maraschino Cherry – $7.50
Cherry Coke® Float – Vanilla Gelato with Cherry Coke® – $7.50
Chocolate Gelato Shake – Vanilla Gelato blended with Milk, Dark Chocolate Sauce, topped with Whipped Cream, Dark Chocolate drizzle and Maraschino Cherry – $7.50
Cookies 'n Cream Gelato Shake – Vanilla Gelato blended with Chocolate Cookies and topped with Whipped Cream – $7.50
Coke® Float – Vanilla Gelato with Coca-Cola® – $7.50
Orange Float – Vanilla Gelato with Fanta® Orange Soda – $7.50
Root Beer Float – Vanilla Gelato with Barq's® Root Beer – $7.50
Salted Caramel Gelato Shake – Vanilla Gelato blended with Milk, Caramel Syrup, and Hawaiian Black Sea Salt, topped with Whipped Cream, Caramel drizzle, and Hawaiian Black Sea Salt – $7.50
S'mores Gelato Shake – Vanilla Gelato blended with Milk, Toasted Marshmallow, Dark Chocolate Sauce, and crushed Graham Crackers, topped with Whipped Cream, Crushed Graham Crackers, Marshmallows and Dark Chocolate drizzle – $7.50
Strawberry Gelato Shake – Vanilla Gelato blended with Milk and Strawberry Sauce, topped with Whipped Cream, Strawberry drizzle, and Maraschino Cherry – $7.50
Vanilla Gelato Shake – Vanilla Gelato blended with Milk, topped with Whipped Cream and Maraschino Cherry – $7.50
Beverages
Assorted Fountain Beverages – Coca-Cola products – $3.99
Dasani Bottled Water – $3.50
Lowfat Milk – $1.99
Alcoholic Beverages
Smoked Bourbon Gelato Shake – Vanilla Gelato blended with Knob Creek Single Barrel Bourbon, Hickory Smoke, and Dark Chocolate Sauce, topped with Bacon Strip – $15.00
Vanilla Porter Gelato Shake – Vanilla Gelato blended with Breckenridge Vanilla Porter and Dark Chocolate Sauce – $11.00
Godiva Chocolate and Strawberry Malt Gelato Shake – Vanilla Gelato blended with Godiva Dark Chocolate Liqueur, Dark Chocolate Sauce, and Malt, topped with Whipped Cream and Strawberry Drizzle – $14.00
Goose Island IPA – Chicago, IL – this bigger brother to the Pale Ale employs a significant amount of Hops with high bitterness and Citrus and Floral aromas – $9.75
Goose Island 312 Urban Wheat – Chicago, IL – easy and refreshing with light notes of Citrus and Spice with low bitterness – $9.75
Funky Buddha Floridian Hefeweizen – German-style Wheat Beer with compelling aromas of Bananas, Citrus, and Cloves – $9.75
Bud Light – $8.00
Angry Orchard Crisp Apple Hard Cider – $9.00
J. Lohr Riverstone Chardonnay – $10.00
Chateau Ste. Michelle Cabernet Sauvignon – $10.00
D-Luxe Burger Lunch/Dinner Menu
Menu Date: 09/2019
Entrées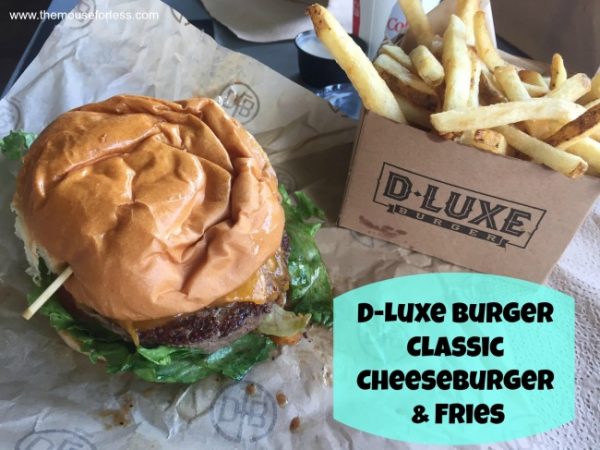 Southern Burger – Signature Blend Beef Patty topped with a Fried Green Tomato, Pimento, Lettuce, Grilled Onion and Bacon – $13.49
Barbecue Burger – Signature Blend Beef Patty topped with a Fried Onion Ring, Smoked Gouda, Bacon, Barbecue Sauce, Grilled Onion and Lettuce – $12.49
Buffalo Chicken Sandwich – Fried Chicken Breast topped with Buffalo Sauce, Blue Cheese Crumbles, Bacon, Lettuce and Tomato – $12.49
El Diablo Burger – Chorizo and Signature Blend Beef Patty, Fried Banana Peppers, Pepper Jack, Lettuce, Tomato, Grilled Onion and Chipotle Mayonnaise – $12.49
Plant-based Pacific Island Burger – Plant-based Patty, with Cabbage and Mushroom Compote, Mango Salsa, Lettuce, and Dill Pickles on Plant-based Parker House Roll – $12.49
Classic Cheeseburger – Signature Blend Beef Patty topped with Cheddar, Lettuce, Tomato, Grilled Onion and Pickle – $10.49
Duos – Serves Two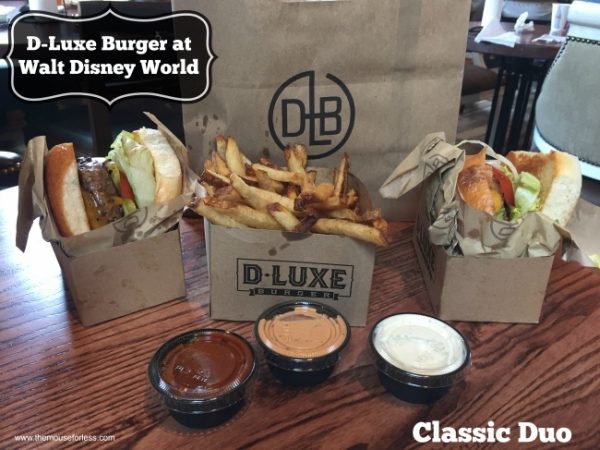 Classic Duo – Two Classic Cheeseburgers and includes one regular French Fry and two Fountain Beverages – $24.99
Premium Duo – One Classic Cheeseburger and choice of one El Diablo, Vegetable, Barbecue, Southern, Cluck or Seasonal Burger and includes one regular French Fry and two Fountain Beverages – $26.99
Ultimate Duo – Choice of two Premium Burgers: El Diablo, Vegetable, Barbecue, Southern, Cluck or Seasonal Burger and includes one regular French Fry and two Fountain Beverages – $28.99
Sides
French Fries – Freshly cut and served with a choice of dipping sauces – $4.99 Regular | $7.49 Large
Dipping Sauces: Garlic Ranch, Horseradish, Chipotle Mayo, 3-Mustard & Honey, Buffalo Blue Cheese, Curry Ketchup
Limited Time Offerings
Oktoberfest Burger – Smoked Sausage, Braised Red Cabbage, and Stout Cheese Sauce with Lettuce, Tomato, Grilled Onion on a Parker House Roll – $13.49
Pepperoni Pizza Burger – Signature-blend Beef Patty topped with Artisan Pepperoni, Fried Mozzarella, Pomodoro Sauce, and Lettuce on a Focaccia Roll – $13.49
Pumpkin Gelato Shake – Vanilla Gelato blended with Pumpkin topped with Whipped Cream and Cinnamon – $7.50
Mobile Order Secret Menu
Bacon and Blue Burger – Signature Blend Beef topped with Bacon, Blue Cheese, Onion Jam, Lettuce and Tomato – $12.49
BLT Sandwich – Grilled Texas Toast topped with Bacon, Lettuce, Tomato and Mayonnaise and served with French Fries – $10.49
Chicken Breast Nuggets – Waffle-breaded Chicken Breast Nuggets served with French Fries – $9.99
Grilled Cheese Sandwich – Grilled Texas Toast with Cheddar Cheese served with French Fries – $9.99
Onion Rings – side of Battered and Deep Fried Onion Rings – $7.49
Loaded Fresh-cut Fries – Large – tossed in Beer Cheese with Bacon, Chopped Chives, and topped with Garlic Ranch and Jalapeños – $8.99
Loaded Fresh-cut Fries – Small – tossed in Beer Cheese with Bacon, Chopped Chives, and topped with Garlic Ranch and Jalapeños – $5.99
Bacon Blue Salad – with Bacon, Tomato, Bleu Cheese, Diced Cucumber and Garlic Ranch – $4.99
Strawberry Shortcake Gelato Shake – Vanilla Gelato blended with Milk, Toasted Marshmallow, crushed Graham Crackers, and Strawberry Sauce, topped with Whipped Cream and Maraschino Cherry – $7.50
Kid's Meals
For Guests Ages 9 and Under
All meals include Dannon Danimals Smoothie, Carrot Sticks and choice of Small Lowfat Milk or Small Bottled Water

Ground Chicken Burger – with lettuce and tomato – $7.99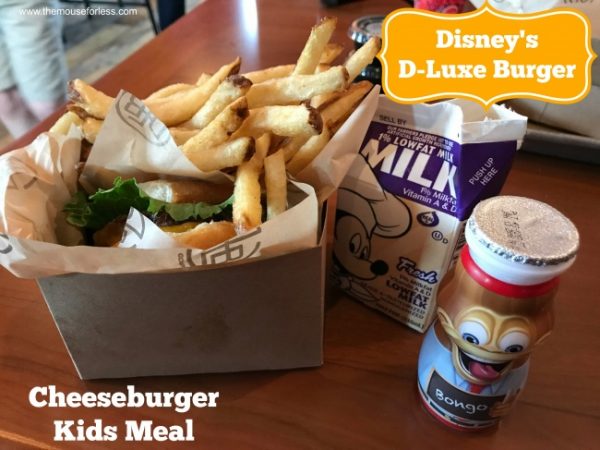 Cheeseburger – with lettuce and tomato – $7.99
Chicken Breast Nuggets – Donut Breaded Chicken Breast Nuggets – $7.99

Mickey Check Meals meet Disney nutrition guidelines for complete meals without substitutions
Artisanal Shakes and Floats
Cake Gelato Shake – Vanilla Gelato blended with Milk and Cupcake Syrup, topped with Whipped Cream, Rainbow Sprinkles, and Maraschino Cherry – $7.50
Cherry Coke® Float – Vanilla Gelato with Cherry Coke® – $7.50
Chocolate Gelato Shake – Vanilla Gelato blended with Milk, Dark Chocolate Sauce, topped with Whipped Cream, Dark Chocolate drizzle and Maraschino Cherry – $7.50
Cookies 'n Cream Gelato Shake – Vanilla Gelato blended with Chocolate Cookies and topped with Whipped Cream – $7.50
Coke® Float – Vanilla Gelato with Coca-Cola® – $7.50
Orange Float – Vanilla Gelato with Fanta® Orange Soda – $7.50
Root Beer Float – Vanilla Gelato with Barq's® Root Beer – $7.50
Salted Caramel Gelato Shake – Vanilla Gelato blended with Milk, Caramel Syrup, and Hawaiian Black Sea Salt, topped with Whipped Cream, Caramel drizzle, and Hawaiian Black Sea Salt – $7.50
S'mores Gelato Shake – Vanilla Gelato blended with Milk, Toasted Marshmallow, Dark Chocolate Sauce, and crushed Graham Crackers, topped with Whipped Cream, Crushed Graham Crackers, Marshmallows and Dark Chocolate drizzle – $7.50
Strawberry Gelato Shake – Vanilla Gelato blended with Milk and Strawberry Sauce, topped with Whipped Cream, Strawberry drizzle, and Maraschino Cherry – $7.50
Vanilla Gelato Shake – Vanilla Gelato blended with Milk, topped with Whipped Cream and Maraschino Cherry – $7.50
Beverages
Assorted Fountain Beverages – Coca-Cola products – $3.99
Dasani Bottled Water – $3.50
Lowfat Milk – $1.99
Alcoholic Beverages
Smoked Bourbon Gelato Shake – Vanilla Gelato blended with Knob Creek Single Barrel Bourbon, Hickory Smoke, and Dark Chocolate Sauce, topped with Bacon Strip – $15.00
Vanilla Porter Gelato Shake – Vanilla Gelato blended with Breckenridge Vanilla Porter and Dark Chocolate Sauce – $11.00
Godiva Chocolate and Strawberry Malt Gelato Shake – Vanilla Gelato blended with Godiva Dark Chocolate Liqueur, Dark Chocolate Sauce, and Malt, topped with Whipped Cream and Strawberry Drizzle – $14.00
Goose Island IPA – Chicago, IL – this bigger brother to the Pale Ale employs a significant amount of Hops with high bitterness and Citrus and Floral aromas – $9.75
Goose Island 312 Urban Wheat – Chicago, IL – easy and refreshing with light notes of Citrus and Spice with low bitterness – $9.75
Funky Buddha Floridian Hefeweizen – German-style Wheat Beer with compelling aromas of Bananas, Citrus, and Cloves – $9.75
Bud Light – $8.00
Angry Orchard Crisp Apple Hard Cider – $9.00
J. Lohr Riverstone Chardonnay – $10.00
Chateau Ste. Michelle Cabernet Sauvignon – $10.00
** D-Luxe Burger Menu and Prices are Subject to Change Without Notice **