Disney Springs | Town Center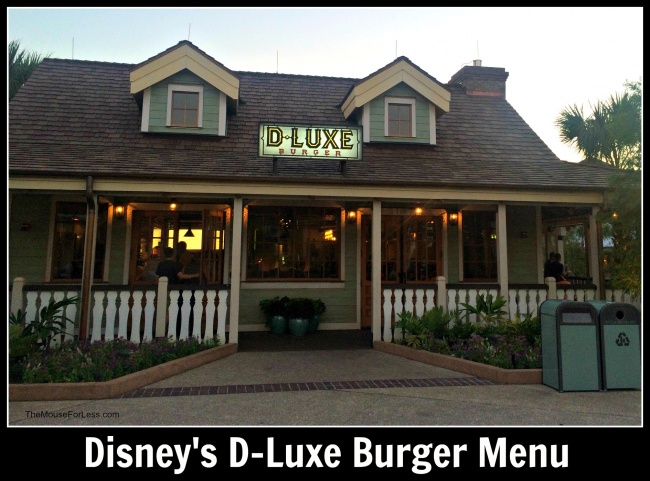 This new Disney owned venue, offers an assortment of gourmet burgers using a signature blend of beef, as well as unique toppings and freshly baked buns. Visitors to D-Luxe Burger will also find all-natural chicken and veggie burgers, hand-cut fries and house-made dipping sauces. Beverages included gelato shakes, hard sodas, draft beer and cider. Seating is both indoors and outdoors.
Restaurant Info: Classic American; Lunch/Dinner; $ – $14.99 and under per adult
Find out how you can save money on dining at Walt Disney World by using one of Disney's Dining Plans.
D-Luxe Burger Breakfast Menu
Menu Date: 04/2019
Entrées
Classic Breakfast Burger – D-Luxe Signature Patty, Cheddar, Bacon, Egg and Hash Browns served on a Parker House Roll – $7.99
Crispy Chicken Biscuit – Buttermilk Fried Chicken, Honey Butter, Chipotle Mayonnaise and Pickles on a Cheddar Biscuit – $7.99
Egg White Frittata Sandwich – Egg Whites, Spinach, Hash Browns, Pico de Gallo and Avocado Crema on a Parker House Roll – $7.99
El Diablo Breakfast Burger – Chorizo-Signature Blend Patty, Pepper Jack Cheese, Smoked Bacon-Pepper Jam and Egg on a Cheddar Biscuit – $7.99
D-Luxe Breakfast Sandwich – Egg, Cheddar Cheese and Bacon with choice of D-Luxe Signature Patty, Chorizo Patty or Buttermilk Fried Chicken – $6.99
Breakfast Sandwich – Egg, Cheddar Cheese and Bacon on a small Park House Roll – $3.99
Greek Yogurt Parfait – Greek Yogurt with Strawberries, Blue Berries and Granola – $5.99
Fresh-cut Fries with Béarnaise Sauce – $4.99
Fresh-cut Fries with Sausage Gravy – $4.99
Sides
French Fries – Freshly cut and served with a choice of dipping sauces – $4.99 Regular | $7.49 Large
Dipping Sauces: Three-Mustard and Honey • Garlic Ranch • Curry Ketchup • Chipotle Mayo • Horseradish • Buffalo
Gelato Shakes and Floats
Artisanal Gelato Shakes – Daily flavors may include: Vanilla, Chocolate, Strawberry, Raspberry, Salted Caramel, Cake or S'mores – $7.50
Smoked Bourbon Gelato Shake – Vanilla Gelato blended with Knob Creek Single Barrel Bourbon  – $14.00
Vanilla Porter Gelato Shake – Vanilla Gelato blended with Breckenridge Vanilla Porter and Dark Chocolate Sauce  – $11.00
Godiva Chocolate and Strawberry Malt Gelato Shake – Vanilla Gelato blended with Godiva Dark Chocolate Liqueur, Dark Chocolate Sauce, and Malt, topped with Whipped Cream and Strawberry Drizzle – $14.00
Beverages
Assorted Fountain Beverages – Coca-Cola products – $3.99
Dasani Bottled Water – $3.50
Lowfat Milk – $1.99
Beer, Hard Soda and Wine
Bud Light – $8.00
Funky Buddha Floridian Hefeweizen – $9.75
Goose Island IPA – $9.75
Angry Orchard Crisp Apple Hard Cider – $9.00
Goose Island 312 Urban Wheat – $9.75
J. Lohr Riverstone Chardonnay – $10.00
Chateau Ste. Michelle Cabernet Sauvignon – $10.00
D-Luxe Burger Lunch/Dinner Menu
Menu Date: 04/2019
Entrées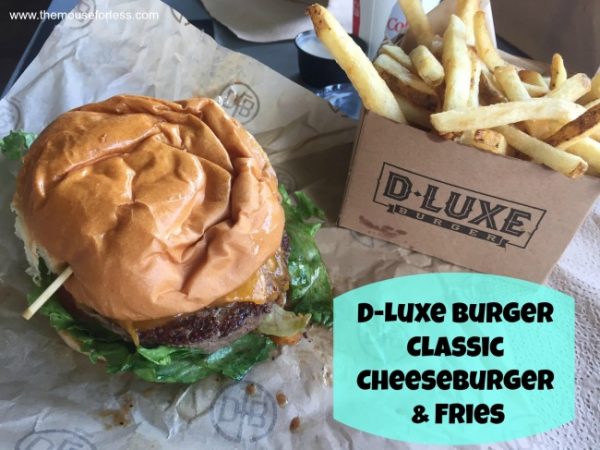 Classic Cheeseburger – Signature Blend topped with Cheddar, Lettuce, Tomato, and Pickle – $10.49
Barbeque Classic Burger – Signature Blend topped with a Fried Onion Ring, Smoked Gouda, Bacon, Barbeque Sauce, and Lettuce – $12.49
El Diablo Burger – Chorizo-and-Signature Blend Patty, Fried Banana Peppers, Pepper Jack Cheese, Lettuce, Tomato, and Chipotle Mayonnaise – $12.49
Southern Classic Burger – Chorizo-and-Signature Blend Patty, Fried Banana Peppers, Pepper Jack Cheese, Lettuce, Tomato, and Chipotle Mayonnaise – $13.49
Veggie Burger – topped with Tzatziki, Green Bean Salad, Lettuce, and Tomato – $10.49
Buffalo Chicken Burger – Fried Chicken Breast topped with Buffalo Sauce, Blue Cheese Crumbles Lettuce and Tomato – $12.49
Duos – Serves Two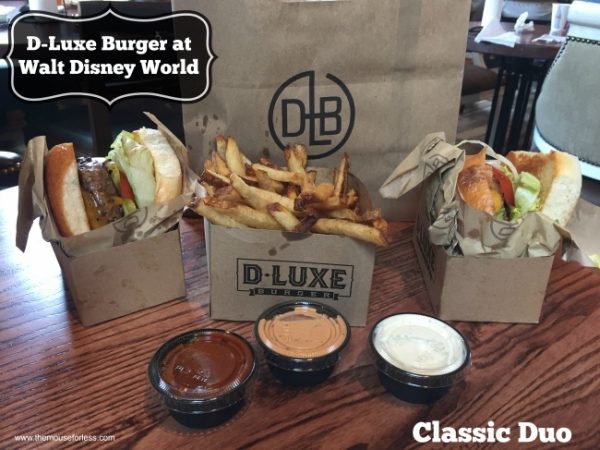 Classic Duo – Two Classic Cheeseburgers and includes one regular French Fry and two Fountain Beverages – $24.99
Premium Duo – One Classic Cheeseburger and choice of one El Diablo, Vegetable, Barbecue, Southern, Cluck or Seasonal Burger and includes one regular French Fry and two Fountain Beverages – $26.99
Ultimate Duo – Choice of two Premium Burgers: El Diablo, Vegetable, Barbecue, Southern, Cluck or Seasonal Burger and includes one regular French Fry and two Fountain Beverages – $28.99
Sides
French Fries – Freshly cut and served with a choice of dipping sauces – $4.99 Regular | $7.49 Large
Dipping Sauces: Garlic Ranch, Horseradish, Chipotle Mayo, 3-Mustard & Honey, Buffalo Blue Cheese, Curry Ketchup
Limited Time Offerings
Caribbean Burger – Signature Blend Patty, Chayote Slaw, Scotch Bonnet Pepper Aïoli, Fried Plantain, Lettuce and Tomato – $12.49
Orange Cream Gelato Shake – Vanilla Gelato blended with Orange topped with Whipped Cream – $7.50
Tostones – Deep-fried flattened Plantains – $4.99
Kid's Meals
For Guests Ages 9 and Under
All meals include Dannon Danimals Smoothie, Carrot Sticks and choice of Small Lowfat Milk or Small Bottled Water

Ground Chicken Burger – with lettuce and tomato – $7.99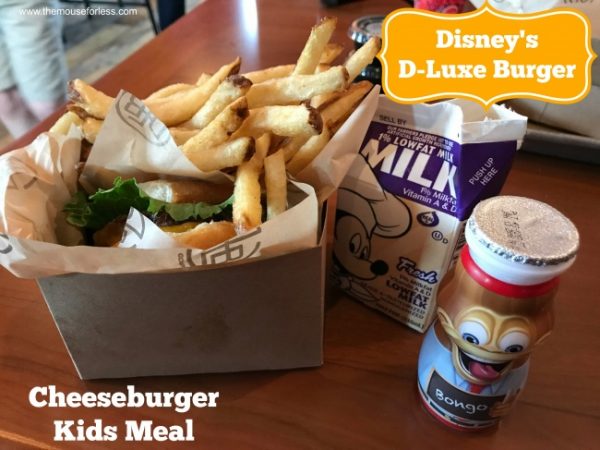 Cheeseburger – with lettuce and tomato – $7.99
Chicken Breast Nuggets – Donut Breaded Chicken Breast Nuggets – $7.99

Mickey Check Meals meet Disney nutrition guidelines for complete meals without substitutions
Gelato Shakes and Floats
Artisanal Gelato Shakes – Daily flavors may include: Vanilla, Chocolate, Strawberry, Raspberry, Salted Caramel, Cake or S'mores – $7.50
Smoked Bourbon Gelato Shake – Vanilla Gelato blended with Knob Creek Single Barrel Bourbon  – $14.00
Vanilla Porter Gelato Shake – Vanilla Gelato blended with Breckenridge Vanilla Porter and Dark Chocolate Sauce  – $11.00
Godiva Chocolate and Strawberry Malt Gelato Shake – Vanilla Gelato blended with Godiva Dark Chocolate Liqueur, Dark Chocolate Sauce, and Malt, topped with Whipped Cream and Strawberry Drizzle – $14.00
Beverages
Assorted Fountain Beverages – Coca-Cola products – $3.99
Dasani Bottled Water – $3.50
Lowfat Milk – $1.99
Beer, Hard Soda and Wine
Bud Light – $8.00
Funky Buddha Floridian Hefeweizen – $9.75
Goose Island IPA – $9.75
Angry Orchard Crisp Apple Hard Cider – $9.00
Goose Island 312 Urban Wheat – $9.75
J. Lohr Riverstone Chardonnay – $10.00
Chateau Ste. Michelle Cabernet Sauvignon – $10.00
** D-Luxe Burger Menu and Prices are Subject to Change Without Notice **