Magic Kingdom | Main Street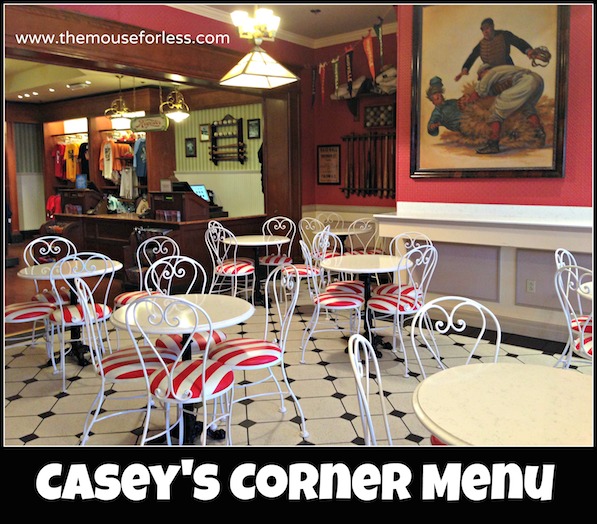 Bite into a tasty morsel of Americana when you sample these deliciously classic hot dogs, French fries and beverages. Casey's Corner is a home run every time!
Restaurant Info: American, Lunch/Snack, $ – $14.99 and under per adult
Find out how you can save money on dining at Walt Disney World by using one of Disney's Dining Plans.
Casey's Corner Lunch/Dinner Menu
Menu Date: 12/2018
Entrees
Chili-Cheese All-Beef Hot Dog – Topped with Chili and Melted Cheddar. Served with Apple Slices or French Fries – $11.49 Regular | $13.49 Foot-Long
Bacon Macaroni & Cheese All-Beef Hot Dog – Topped with Macaroni and Cheese with Bacon, served with Apple Slices or French Fries – $11.49 Regular | $13.49 Foot-Long
All-Beef Hot Dog Meal – Served with Apple Slices or French Fries. – $9.99 Regular | $11.99 Foot-Long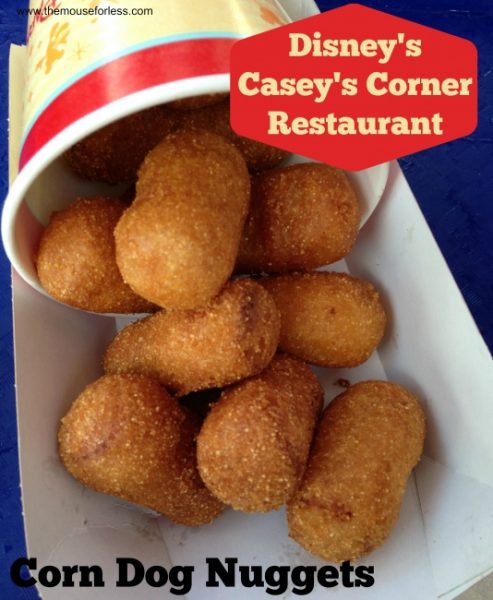 Corn Dog Nuggets Meal – Served with Apple Slices or French Fries – $8.99
Plant-based Dog– Plant-Based Sausage in a Potato Bun served with French Fries or Apple Slices – $9.49
Plant-based Loaded-slaw Dog– Plant-based Sausage topped with Pickled Slaw, BBQ Vegan Aïoli and Roasted Corn Relish served with French Fries or Apple Slices – $11.49
Snacks
Chili-Cheese French Fries – $6.49
Chili – $4.29
French Fries – $4.49
Mac and Cheese – $3.49
Cheese Sauce – $1.00
Brownie – $4.29
Bacon Macaroni & Cheese Fries – French Fries topped with Macaroni and Cheese and Bacon – $6.49
Beverages
Assorted Fountain Beverages – $3.99 Regular
Dasani Bottled Water – $3.50
smartwater – $5.50
Milk or Nesquik Chocolate Milk – $3.79
Minute Maid Apple Juice – $3.99
Coffee – regular or decaf – $3.29
Hot Cocoa – $3.29
Frozen Mint Julep Lemonade – classically blended Mint Julip featuring odwalla® All-Natural Lemonade, topped with fresh Mint Leaves, Cherry and Lemon served with a Mickey Straw – $6.49
** Casey's Corner Menu and Prices are Subject to Change Without Notice **