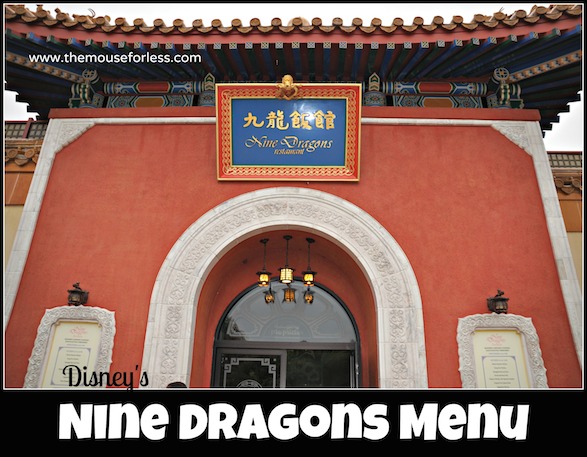 Dine in a Chinese palace on a spectacular meal fit for Chinese royalty at Nine Dragons Restaurant in World Showcase restaurant.
Nine Dragons is located in Disney's Epcot theme park.  Find more Walt Disney World dining locations on our Walt Disney World Resort menus page.
Restaurant Info: Asian/Chinese, Lunch/Dinner A la carte, $$ – $15 to $34.99 per adult
Find out how you can save money on dining at Walt Disney World by using one of Disney's Dining Plans.
Lunch Menu   Dinner Menu   Kids' Menu

Planning a Walt Disney World Vacation?
For a Free no-obligation quote, contact our sponsor
The Magic For Less Travel
. The Magic For Less Travel is an Authorized Disney Vacation Planner and has been helping guests plan magical vacations since 2002. Receive the best prices and free travel planning services. Their fee-free services will help you save time, money, and stress while planning a vacation designed around you and your needs!
Nine Dragons Lunch Menu
Menu Date: 08/2021
Appetizers
Crispy Duck Bao Buns – $13.00
Vegetable Spring Rolls – Sweet Chili Aïoli – $5.25
Pot Stickers – Pan-fried Chicken and Vegetable Dumplings served with Soy Dipping Sauce – $8.50
Sichuan Dumplings – Chicken, Chili Oil Sauce – $13.00
General Tso's Chicken Bao Buns – Fried, Famous Sauce – $10.00
Hot-and-Sour Shrimp and Chicken Soup – $7.95
Vegetable Egg Fried Rice – $5.25
Soups and Side
Hot-and-Sour Chicken Soup – $5.00
Vegetable and Egg Fried Rice – $4.00
Spinach Noodles – with spiced garlic dressing – $5.00
Chicken Dumpling Consomme – $5.00
Entrées
Nine Dragons Lunch Box – Kowloon Spare Ribs (2), General Tso's Chicken Bao Bun (1), and your choice of Soup – $19.00
Grandma's Pork Belly – Red Braised, Stewed Egg, Broccoli – $20.00
Happy Family – Stir-fried Beef, Shrimp, Chicken, Vegetables – $20.00
Canton Pepper Beef – $20.00
Moo Goo Gai Pan – Stir-fried Chicken, Snow Peas, Carrots, Mushrooms – $18.00
Honey-Sesame Chicken – $18.00
Spicy Honey Crispy Chicken – $18.00
Kung Pao Chicken – Peanuts, Dried Chilis – $17.00
Kung Pao Shrimps – Peanuts, Dried Chilis – $22.00
Spicy Mala Beef – Flavors of Mala mean 'numbingly spicy' and are in this dish's famous Pixian Douban (chili beans) Sauce – $18.00
Spicy Mala Chicken – Flavors of Mala mean 'numbingly spicy' and are in this dish's famous Pixian Douban (chili beans) Sauce – $18.00
Salt & Pepper Shrimp – Fried, Spinach Noodles with Garlic Dressing – $22.00
Five-spiced Fish – Sautéed, Special Sauce – $25.00
Nine Dragons Fried Rice – Chicken, Ham, Egg, Vegetables, Grilled Shrimp – $16.00
Vegetable and Tofu Stir Fry – $16.00
Roast Duck Salad – Mixed Greens, Golden Raisins, Walnuts, Scallion, Hoisin Dressing – $16.00
Desserts
Ice Cream – Strawberry-Red Bean or Caramel-Ginger- $4.25
Specialty Cocktails
Ginger Zinger – Ginger Liqueur, Light Rum, Ginger Ale, Lemon Twist – $12.50
South Sea Breeze – Coconut Rum, Grenadine, Pineapple and Orange juices – $12.50
Jade Beauty – Vodka, Honeydew Melon Liqueur, Pineapple Juice, Lemon-Lime Soda – $12.50
Frozen Daiquiris
Strawberry Daiquiri – $10.00
Mango Daiquiri – $10.00
Shangri-La Blend – Strawberry, Mango, Rum –  $10.00
Beer
Tsingtao – Crisp, light malty flavor with a nutty sweet finish –  $8.50
Soft Drinks and More
Raspberry Iced Tea (Sweetened) – $4.75
Assorted Coca-Cola Soft Drinks – Coca-Cola®, Diet Coke®, Caffeine Free Diet Coke®, Sprite®, Minute Maid® Lemonade – $3.99
Variety of Fruit Juices – $5.00
Lowfat Milk – $4.25
Chocolate Milk – $4.25
Hot Chocolate – $4.25
Coffee – regular or decaffeinated – $4.25
Traditional Jasmine Tea – $3.95
Dasani Still Bottled Water – $3.50
Perrier Sparkling Bottled Water – $5.00
Non-Alcoholic Specialties
Strawberry Smoothie – $6.25
Mango Smoothie – $6.25
Shangri-La Smoothie – Exotically fruity and tangy fusion of Strawberry and Mango – $6.25
Sparkling
Brut Mumm Napa, "Prestige", California – Creamy, intense and refreshing sparks of pear, spice and vanilla – $16.25 Serving
Cuvée Mumm Napa, "M", California – Vibrant and luscious notes of strawberry, peach and white chocolate – $59.00 Bottle
White
Riesling Pacific Rim, "J", Washington State – Finely balanced with flavors of apricot, peach and Mandarin orange – $9.00 Glass, $38.00 Bottle
Sauvignon Blanc Brancott, New Zealand – Exhilarating and intense flavors of fresh citrus, peach and sweet pepper – $10.00 Glass, $45.00 Bottle
Gewürztraminer Valckenberg, Germany – Fruity, soft and medium-dry with tones of honey, litchi and spice – $10.00 Glass, $45.00 Bottle
Chardonnay Robert Mondavi, "Private Selection", California – Creamy apple, melon and tropical fruit with spice and soft oak nuances – $10.00 Glass, $45.00 Bottle
Pinot Grigio Riff, Italy – Smooth and medium-bodied with a lovely fruit and citrus vibrancy – $10.00 Glass, $45.00 Bottle
Chenin Blanc Dry Creek, California – Refreshingly crisp and juicy tropical fruit – an exceptionally versatile wine – $10.00 Glass, $45.00 Bottle
White Zinfandel Beringer, California – Bright, balanced and flavorful with floral notes of strawberry and cherry – $8.00 Glass, $33.00 Bottle
Reds
Conundrum Red Blend, California – $12.00 Glass, $52.00 Bottle
Cabernet Sauvignon Kendall-Jackson, California – Soft with earthy aromas of wild blackberry, cassis, and hint of mocha – $12.00 Glass, $52.00 Bottle
Pinot Noir Castle Rock, California – Silky and elegant with complex layers of strawberry, raspberry and plum – $11.00 Glass, $49.00 Bottle
Malbec Don Rodolfo, Argentina – Big, rich and juicy with soft notes of berry and plum – great with beef – $11.00 Glass, $49.00 Bottle
Merlot Two Vines, California –  Crisp, gentle and refined with open textures of cherry and sweet pepper – $9.00 Glass; $38.00 Bottle
Sweets
Plum Takara, California – Rich and aromatic with a lively and lovely tartness – $8.00 Glass, $33.00 Bottle
Port Ferreira, Tawny 10 year old, Portugal – Rich and fruity with deep characters of berry, plum and chocolate – $10.00 Glass, $45.00 Bottle
Moscato d'Asti Villa Rosa, Italy – Naturally sparkling, delicately sweet and fragrant – $42.00 Bottle
Nine Dragons Dinner Menu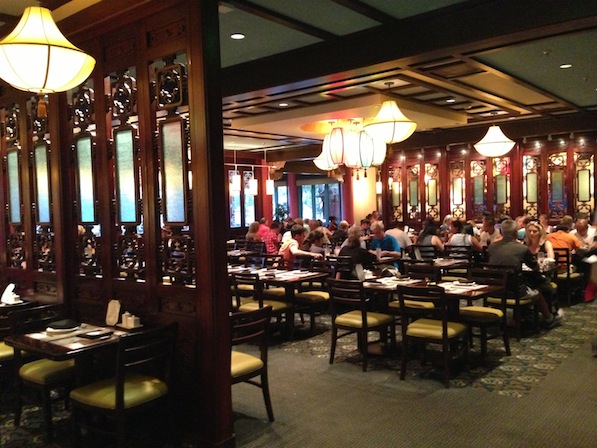 Menu Date: 08/2021
Appetizers & More
Vegetable Spring Rolls – Sweet Chili Aïoli – $5.25
Pot Stickers – Pan-fried Chicken and Vegetable Dumplings served with Soy Dipping Sauce – $8.50
Sichuan Dumplings – Chicken, Chili Oil Sauce – $13.00
Crispy Duck Bao Buns – $13.00
Hot-and-Sour Shrimp and Chicken Soup – $7.95
Vegetable and Egg Fried Rice – $5.25
Entrees
Canton Pepper Beef – $24.00
Honey-Sesame Chicken – $23.00
Spicy Honey Crispy Chicken – $23.00
Kung Pao Duo – Chicken and Shrimp – $25.00
Spicy Mala Happy Family – Beef, Chicken, Shrimp and Vegetables – $25.00
Salt and Pepper Shrimp – Fried, Spinach Noodles with Garlic Dressing – $27.00
Five-spiced Fish – Sautéed, Special Sauce – $25.00
Kowlon Spare Ribs – Braised, Hoisin Glaze, Cabbage – $30.00
Vegetable and Tofu Stir Fry – $18.00
Desserts
Ice Cream – Strawberry-Red Bean or Caramel-Ginger- $4.25
Specialty Cocktails
Ginger Zinger – Ginger Liqueur, Light Rum, Ginger Ale, Lemon Twist – $12.50
South Sea Breeze – Coconut Rum, Grenadine, Pineapple and Orange juices – $12.50
Jade Beauty – Vodka, Honeydew Melon Liqueur, Pineapple Juice, Lemon-Lime Soda – $12.50
Frozen Daiquiris
Strawberry Daiquiri – $10.00
Mango Daiquiri – $10.00
Shangri-La Blend – Strawberry, Mango, Rum –  $10.00
Beer
Tsingtao – Crisp, light malty flavor with a nutty sweet finish –  $8.50
Soft Drinks and More
Raspberry Iced Tea (Sweetened) – $4.75
Assorted Coca-Cola Soft Drinks – Coca-Cola®, Diet Coke®, Caffeine Free Diet Coke®, Sprite®, Minute Maid® Lemonade – $3.99
Variety of Fruit Juices – $5.00
Lowfat Milk – $4.25
Chocolate Milk – $4.25
Hot Chocolate – $4.25
Coffee – regular or decaffeinated – $4.25
Traditional Jasmine Tea – $3.95
Dasani Still Bottled Water – $3.50
Perrier Sparkling Bottled Water – $5.00
Non-Alcoholic Specialties
Strawberry Smoothie – $6.25
Mango Smoothie – $6.25
Shangri-La Smoothie – Exotically fruity and tangy fusion of Strawberry and Mango – $6.25
Sparkling
Brut Mumm Napa, "Prestige", California – Creamy, intense and refreshing sparks of pear, spice and vanilla – $16.25 Serving
Cuvée Mumm Napa, "M", California – Vibrant and luscious notes of strawberry, peach and white chocolate – $59.00 Bottle
White
Riesling Pacific Rim, "J", Washington State – Finely balanced with flavors of apricot, peach and Mandarin orange – $9.00 Glass, $38.00 Bottle
Sauvignon Blanc Brancott, New Zealand – Exhilarating and intense flavors of fresh citrus, peach and sweet pepper – $10.00 Glass, $45.00 Bottle
Gewürztraminer Valckenberg, Germany – Fruity, soft and medium-dry with tones of honey, litchi and spice – $10.00 Glass, $45.00 Bottle
Chardonnay Robert Mondavi, "Private Selection", California – Creamy apple, melon and tropical fruit with spice and soft oak nuances – $10.00 Glass, $45.00 Bottle
Pinot Grigio Riff, Italy – Smooth and medium-bodied with a lovely fruit and citrus vibrancy – $10.00 Glass, $45.00 Bottle
Chenin Blanc Dry Creek, California – Refreshingly crisp and juicy tropical fruit – an exceptionally versatile wine – $10.00 Glass, $45.00 Bottle
White Zinfandel Beringer, California – Bright, balanced and flavorful with floral notes of strawberry and cherry – $8.00 Glass, $33.00 Bottle
Reds
Conundrum Red Blend, California – $12.00 Glass, $52.00 Bottle
Cabernet Sauvignon Kendall-Jackson, California – Soft with earthy aromas of wild blackberry, cassis, and hint of mocha – $12.00 Glass, $52.00 Bottle
Pinot Noir Castle Rock, California – Silky and elegant with complex layers of strawberry, raspberry and plum – $11.00 Glass, $49.00 Bottle
Malbec Don Rodolfo, Argentina – Big, rich and juicy with soft notes of berry and plum – great with beef – $11.00 Glass, $49.00 Bottle
Merlot Two Vines, California –  Crisp, gentle and refined with open textures of cherry and sweet pepper – $9.00 Glass; $38.00 Bottle
Sweets
Plum Takara, California – Rich and aromatic with a lively and lovely tartness – $8.00 Glass, $33.00 Bottle
Port Ferreira, Tawny 10 year old, Portugal – Rich and fruity with deep characters of berry, plum and chocolate – $10.00 Glass, $45.00 Bottle
Moscato d'Asti Villa Rosa, Italy – Naturally sparkling, delicately sweet and fragrant – $42.00 Bottle
Nine Dragons Kids' Lunch and Dinner Menu
Menu Date: 08/2021
For Guests 9 and Under
Appetizer
Pot Stickers – Classic Sautéed Pork and Vegetable Dumplings – $3.68
Vegetable Spring Rolls – Crispy Spring Rolls filled with fresh Vegetables – $4.98
Entrees
Honey Chicken Nuggets – $8.98
Sweet and Sour Shrimp with Lo Mein –  $9.98
Kids Deluxe Entree – shrimp and chicken served with egg fried rice, carrots, broccoli and sweet and sour sauce – $11.98
Desserts
Ice Cream – Strawberry-Red Bean or Caramel-Ginger- $4.28
** Nine Dragons Menu and Prices are Subject to Change Without Notice **