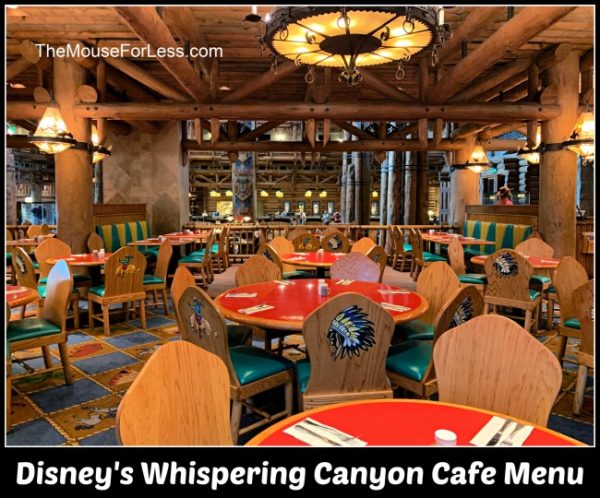 For a rowdy, rootin' tootin' good time, round up the whole family for hearty western fare and antics aplenty at Whispering Canyon Cafe.
Whispering Canyon Cafe is located in Disney's Wilderness Lodge Resort.  Find more Walt Disney World dining locations on our Walt Disney World menus page.
Restaurant Info: American, Breakfast/Lunch A La Carte/Dinner Family Style, $-$$$
Find out how you can save money on dining at Walt Disney World by using one of Disney's Dining Plans.
Breakfast Menu  Kids' Breakfast Menu  Lunch Menu  Dinner Menu  Kids Lunch & Dinner Menu

Planning a Walt Disney World Vacation?
For a Free no-obligation quote, contact our sponsor
The Magic For Less Travel
. The Magic For Less Travel is an Authorized Disney Vacation Planner and has been helping guests plan magical vacations since 2002. Receive the best prices and free travel planning services. Their fee-free services will help you save time, money, and stress while planning a vacation designed around you and your needs!
Whispering Canyon Cafe Breakfast Menu
Menu Date: 06/2020
All-You-Care-To-Enjoy Signature Skillets
The Heritage – Scrambled Eggs, Country Potatoes, Hickory-smoked Bacon, Sausage, Mickey Waffles, House-made Buttermilk-Cheddar Biscuits, and Sausage Gravy – $22.00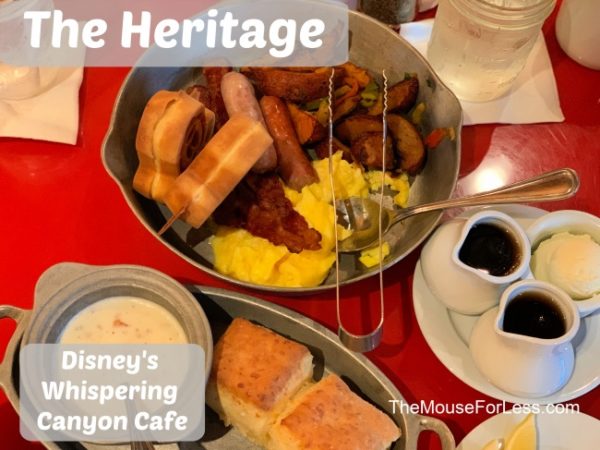 The Carnivore – House-made Buttermilk-Cheddar Biscuits and Sausage Gravy with Scrambled Eggs, House-smoked Ham, Oak-smoked Beef Brisket, Hickory-smoked Bacon, Pork Sausage Links – $22.00
The Lighter Side – Bircher Muesli (Swiss Oatmeal), Fresh Fruit, and Yogurt with Egg White-Spinach Frittata, Turkey Bacon, Turkey Sausage, Country Potatoes, Mickey Waffles – $22.00
Omelet and Frittata
Ham and Cheese Omelet – Country Potatoes and a House-made Buttermilk Cheddar Biscuit – $16.00
Pepper Jack 'Cheese' Frittata – Peppers, Onions, Spicy Plant-based Sausage – $16.00
Other Favorites
Steel-cut Oatmeal – with fresh Fruit and Spiced Apple Muffin – $11.00
Two Eggs Any Style – Country Potatoes, a House-made Buttermilk-Cheddar Biscuit, and your choice of Hickory-smoked Bacon or Sausage – $16.00
Belgian-Style Waffle – Fresh Berries and your choice of Hickory-smoked Bacon or Sausage – $14.00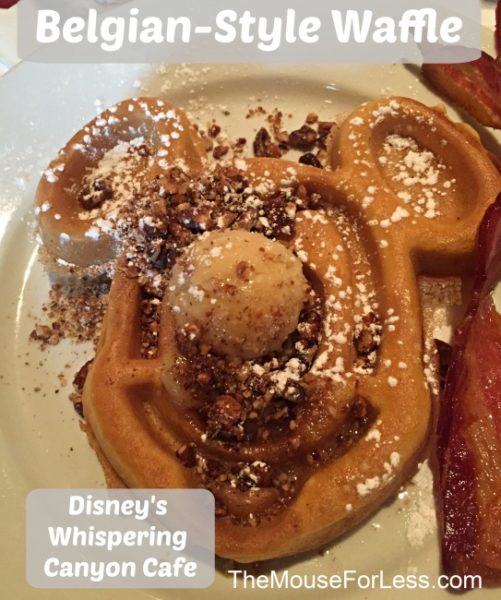 Seasonal Fresh Fruit Plate – Honey-Ginger Greek Yogurt and Granola – $12.00
Side Orders
Toast – white, wheat or rye – $4.00
Hickory-smoked Bacon or Sausage – $5.00
Blueberry Muffin – $4.00
Sausage Gravy – $6.00
House-made Buttermilk-Cheddar Biscuits – $5.00
Non-Alcoholic Beverages
Juice – Orange, Cranberry, Grapefruit, Apple, Tomato or V8
Odwalla Blueberry Monster

Freshly Brewed Joffrey's Coffee – $3.79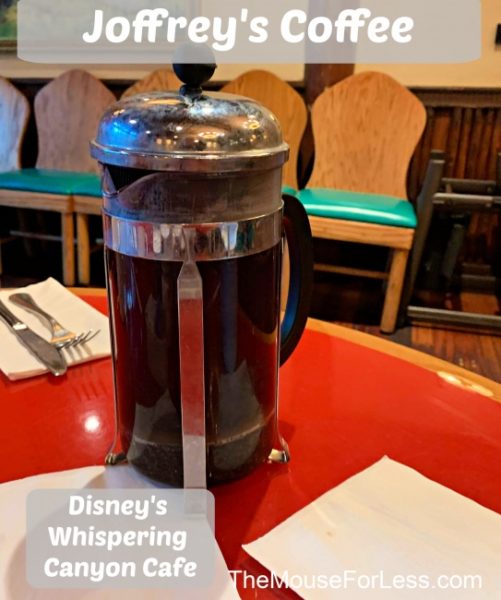 Alto Mayo Protected Forest Coffee Roasted by Joffrey's Coffee – $9.00
Alcoholic Beverages
Mimosa – Domaine Ste. Michelle Brut and Orange Juice – $12.00
Bloody Mary – Svedka Vodka and Bloody Mary Mix – $11.00
Bourbon Sweet Tea – Maker's Mark Bourbon and House-brewed Sweet Tea – $14.00
Whispering Canyon Cafe Kids' Breakfast Menu
Menu Date: 06/2020
Kids Skillet
Served with choice of small low-fat milk, small water, or small apple juice
All-You-Care-To-Enjoy Breakfast Skillet – $13.00
Kids Create-Your-Own Entrées (choose one)
Served with choice of small low-fat milk, small water, or small apple juice
One Egg – $9.00
Mickey Waffles – $8.00
Steel-cut Oatmeal – $6.00
Kids Create-Your-Own Selections (choose two)
Fresh Fruit Cup

Country Potatoes
Bacon
Honey-Wheat Toast
Sausage Link
Whispering Canyon Cafe Lunch Menu
Menu Date: 06/2020
Trailblazing Starters
Maple-Chipotle Barbecue-braised Jackfruit Dip – Plant-based Pepper Jack Cheese, Jalapeño, Tortilla Chips – $12.00
'Burnt Ends' Nachos – topped with Beef Brisket, Barbecue Pulled Pork, Cheese Sauce, and fresh Salsa (Serves Two) – $12.00
Signature Skillet
All-You-Care-To-Enjoy Skillet – Maple-Chipotle Barbecue Slow-smoked Pork Ribs, Barbecued Pulled Pork, Citrus-Herb Chicken, Mashed Yukon Potatoes, Buttered Corn, Charred Carrots, Roasted Peppers, Sautéed Green Beans. Plant-based option available upon request – $24.00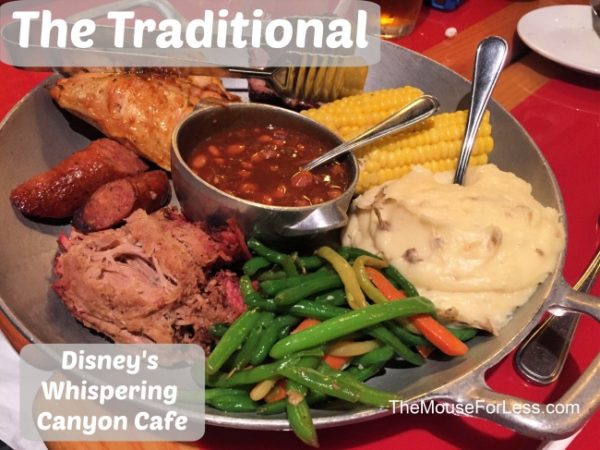 Trail Sandwiches
Applewood-smoked Turkey Sandwich – Toasted Multigrain Bread, Arugula, Tomato, and Cranberry Mayonnaise served with choice of French Fries, Sweet Potato Fries, or Fresh Fruit – $15.00
Slow-smoked Pulled Pork Sandwich – House-made Bun, Caramelized Onion, Vinegar-Barbecue Sauce, and Coleslaw served with choice of French Fries, Sweet Potato Fries, or Fresh Fruit – $14.00
Main Claim Entrées
Chopped Bison Burger – House-made Bun, Chipotle Aïoli, Candied Hickory-smoked Bacon, White Cheddar, Fried Pickle, and Sweet Potato Fries. Plant-based option available upon request – $19.00
Chopped Salad – Mixed Greens, Hickory-smoked Bacon, Tomatoes, House-smoked Turkey, Dried Cherries, Cheddar Cheese, Cornbread Croutons, and Chipotle-Ranch Dressing – $18.00
Skillet-seared 'Burger' – Plant-based Brioche Bun, Spicy Aïoli-Pepper Jack 'Cheese', Bibb Lettuce, Tomato, Caramelized Onions, and Sweet Potato Fries – $19.00
Desserts
Whispering Canyon Pioneer Chocolate Cake – $8.00
Rice Milk Panna Cotta, A no Sugar Added Dessert – with Marionberries and Strawberries – $9.00
Granny Smith Apple Pie – a la mode – $9.00
Beverages
Assorted Fountain Beverages – Coca-Cola, Coca-Cola Zero, Diet Coke, Sprite, Minute Maid Light Pomegranate Lemonade, Barq's Root Beer
Freshly Brewed Joffrey's Coffee – $3.79
Espresso – $3.99
Cappuccino – Featuring Freshly Brewed Joffrey's Coffee – $4.79
Latte – $4.79
Café Mocha – $4.99
Alto Mayo Protected Forest Coffee Roasted by Joffrey's Coffee – $9.00
Alcoholic Beverages
Magical Star Cocktail – X-Fusion Organic Mango and Passion Fruit Liqueur, Parrot Bay Coconut Rum, Pineapple Juice, and a souvenir Multicolored Glow Cube – $15.00
Moonshine Lemonade – Ole Smoky Moonshine with Blackberry, Strawberry, or Watermelon – $14.00
Mountaineer Margarita – Don Julio Blanco Tequila, Cointreau, Smoked Hickory Syrup, Fresh Lime Juice, Agave Nector – $14.00
Mountain Trail Cocktail – Ole Smoky Moonshine, Chambord Liqueur, Blackberry Brandy, and Wildberry topped with Lemonade – $14.00
Hazelnut Manhattan – Bulleit Bourbon, Frangelico Liqueur, Sandeman Fine Tawney Port Wine, Hazelnut Syrup – $14.00
Bourbon Sweet Tea – Maker's Mark Bourbon and House-brewed Sweet Tea – $14.00
Godiva Chocolate Martini – Godiva Chocolate Liqueur, Stoli Vanil Vodka, White Crème de Cacao, and Frangelico – $14.00
Baileys and Coffee – Baileys Irish Cream mixed with Hot Joffrey's Coffee™ – $12.00
Cold Brew XO – Patrón XO Cafe Coffee Liqueur, Heavy Cream, and Cold Brew Joffrey's Coffee™ – $13.00
White and Red Wines
Eroica Riesling, Columbia Valley – aromas and flavors of white peach, grapefruit, and sweet lime with subtle mineral notes – $14.00 Glass, $55.00 Bottle
King Estate Pinot Gris, Oregon – ripe flavors of pear and apple profile a creamy texture and refreshingly long finish – $13.00 Glass, $55.00 Bottle
Pacific Rim Sweet Riesling, Columbia Valley – delicately sweet, with pineapple and lemon flavors that reveal spicy accents – $11.00 Glass, $45.00 Bottle
14 Hands Chardonnay, Columbia Valley – bright aromas of apples and pears with a touch of caramel and spice – $10.00 Glass, $45.00 Bottle
Argyle Pinot Noir, Willamette Valley – ripe raspberry, black cherry, and plum flavors with a juicy cherry finish – $15.00 Glass, $59.00 Bottle
Waterbrook Merlot, Columbia Valley – black currant and juicy plum notes balanced with a round and juicy texture – $10.00 Glass, $45.00 Bottle
Chateau Ste. Michelle Syrah, Columbia Valley – flavors of vanilla, huckleberry, and blackberry are met with a touch of baking spice – $11.00 Glass, $45.00 Bottle
Borne of Fire Cabernet Sauvignon, Columbia Valley – powdery tannins frame flavors of cherry, currant, savory spice, and red pepper – $14.00 Glass, $55.00 Bottle
Purple Cowboy Trail Boss Cabernet Sauvignon, Paso Robles – dark red with hints of purple, aromas of ripe plum, cherry, and cassis are accented with cola and vanilla – $11.00 Glass, $45.00 Bottle
Featured Draft and Bottled Beers
Moosehead Draft (16-oz) – $8.25
Space Dust IPA Draft – $9.25
Funky Buddha Floridian Hefeweizen – $9.00
3 Daughters Bimini Twist IPA – $9.00
Lagunitas IPA – $9.00
Cigar City Jai Alai IPA – $9.00
Blue Moon Belgian White – $7.75
SweetWater 420 Extra Pale Ale – $9.00
Full Sail Session Lager – $9.00
Whispering Canyon Cafe Dinner Menu
Menu Date: 06/2020
Trailblazing Starters
Whispering Canyon House Salad – Dried Cranberries, Seed Brittle, Goat Cheese, and Cranberry-Poppyseed Vinaigrette – $9.00
'Burnt Ends' Nachos – topped with Beef Brisket, Barbecue Pulled Pork, Cheese Sauce, and fresh Salsa (Serves Two) – $12.00
All-You-Care-To-Enjoy-Signature Skillet
The Traditional – Oak-smoked Mustard-Barbecue Beef Brisket, Maple-Chipotle Pork Ribs, Slow-smoked Pulled Pork, Citrus-Herb Chicken, Western-style Sausage, Mashed Yukon Potatoes, Buttered Corn, Sautéed Green Beans – $34.00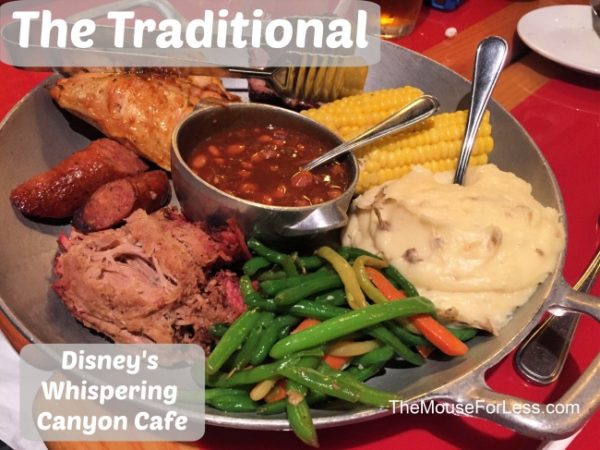 The Pig – Braised Pork Belly, Maple-Chipotle Barbecue Pork Ribs, Slow-smoked Pulled Pork, Mustard-Barbecue 'Piggy Wings', Western-style Sausage, Mashed Yukon Potatoes, Buttered Corn, Sautéed Green Beans – $34.00
The Land and Sea – House-smoked Salmon, Citrus-Herb Chicken, Spicy Vegan Sausage, Charred Portobella, Barbecue Cauliflower, Roasted Potatoes, Sautéed Green Beans, Oven-roasted Carrots – $34.00
Plant-based – Maple-Chipotle Barbecue Jackfruit, Spicy Sausage, Mustard-glazed Beefless Tips, Herb-brushed Trick'n Chick'n, Roasted Potatoes, Oven-roasted Carrots, Sautéed Green Beans, Charred Peppers – $34.00
Main Claim Entrées
Pan-fired Red Quinoa Cakes – Pickled Corn, Oven-roasted Peppers, and Avocado Spread – $19.00
Cedar Plank Salmon – House-smoked Salmon, Ancient Grains, Roquette, Fennel, Parmesan, Lemon Crème Fraîche – $26.00
Char-crusted New York Strip – Honey-roasted Carrots, Crispy-fried Red Potatoes, and Whiskey-Onion Butter – $34.00
Desserts
Whispering Canyon Pioneer Chocolate Cake – $8.00
Rice Milk Panna Cotta, A no Sugar Added Dessert – with Marionberries and Strawberries – $9.00
Granny Smith Apple Pie – a la mode – $9.00
Beverages
Assorted Fountain Beverages – Coca-Cola, Coca-Cola Zero, Diet Coke, Sprite, Minute Maid Light Pomegranate Lemonade, Barq's Root Beer
Freshly Brewed Joffrey's Coffee – $3.79
Espresso – $3.99
Cappuccino – Featuring Freshly Brewed Joffrey's Coffee – $4.79
Latte – $4.79
Café Mocha – $4.99
Alto Mayo Protected Forest Coffee Roasted by Joffrey's Coffee – $9.00
Alcoholic Beverages
Magical Star Cocktail – X-Fusion Organic Mango and Passion Fruit Liqueur, Parrot Bay Coconut Rum, Pineapple Juice, and a souvenir Multicolored Glow Cube – $15.00
Moonshine Lemonade – Ole Smoky Moonshine with Blackberry, Strawberry, or Watermelon – $14.00
Mountaineer Margarita – Don Julio Blanco Tequila, Cointreau, Smoked Hickory Syrup, Fresh Lime Juice, Agave Nector – $14.00
Mountain Trail Cocktail – Ole Smoky Moonshine, Chambord Liqueur, Blackberry Brandy, and Wildberry topped with Lemonade – $14.00
Hazelnut Manhattan – Bulleit Bourbon, Frangelico Liqueur, Sandeman Fine Tawney Port Wine, Hazelnut Syrup – $14.00
Bourbon Sweet Tea – Maker's Mark Bourbon and House-brewed Sweet Tea – $14.00
Godiva Chocolate Martini – Godiva Chocolate Liqueur, Stoli Vanil Vodka, White Crème de Cacao, and Frangelico – $14.00
Baileys and Coffee – Baileys Irish Cream mixed with Hot Joffrey's Coffee™ – $12.00
Cold Brew XO – Patrón XO Cafe Coffee Liqueur, Heavy Cream, and Cold Brew Joffrey's Coffee™ – $13.00
White and Red Wines
Eroica Riesling, Columbia Valley – aromas and flavors of white peach, grapefruit, and sweet lime with subtle mineral notes – $14.00 Glass, $55.00 Bottle
King Estate Pinot Gris, Oregon – ripe flavors of pear and apple profile a creamy texture and refreshingly long finish – $13.00 Glass, $55.00 Bottle
Pacific Rim Sweet Riesling, Columbia Valley – delicately sweet, with pineapple and lemon flavors that reveal spicy accents – $11.00 Glass, $45.00 Bottle
14 Hands Chardonnay, Columbia Valley – bright aromas of apples and pears with a touch of caramel and spice – $10.00 Glass, $45.00 Bottle
Argyle Pinot Noir, Willamette Valley – ripe raspberry, black cherry, and plum flavors with a juicy cherry finish – $15.00 Glass, $59.00 Bottle
Waterbrook Merlot, Columbia Valley – black currant and juicy plum notes balanced with a round and juicy texture – $10.00 Glass, $45.00 Bottle
Chateau Ste. Michelle Syrah, Columbia Valley – flavors of vanilla, huckleberry, and blackberry are met with a touch of baking spice – $11.00 Glass, $45.00 Bottle
Borne of Fire Cabernet Sauvignon, Columbia Valley – powdery tannins frame flavors of cherry, currant, savory spice, and red pepper – $14.00 Glass, $55.00 Bottle
Purple Cowboy Trail Boss Cabernet Sauvignon, Paso Robles – dark red with hints of purple, aromas of ripe plum, cherry, and cassis are accented with cola and vanilla – $11.00 Glass, $45.00 Bottle
Featured Draft and Bottled Beers
Moosehead Draft (16-oz) – $8.25
Space Dust IPA Draft – $9.25
Funky Buddha Floridian Hefeweizen – $9.00
3 Daughters Bimini Twist IPA – $9.00
Lagunitas IPA – $9.00
Cigar City Jai Alai IPA – $9.00
Blue Moon Belgian White – $7.75
SweetWater 420 Extra Pale Ale – $9.00
Full Sail Session Lager – $9.00
Whispering Canyon Cafe Kids' Lunch & Dinner Menu
Menu Date: 06/2020
For Kids Ages 9 and Under
Appetizers
Garden Salad – $3.00
Fruit Salad – $3.00
Carroteenies – $3.00
Kids' Skillet
Served with choice of small low-fat milk or small water
All-You-Care-to-enjoy-Skillet – $16.00
Kids Choice Meals
Served with choice of One Entree and 2 Selections and choice of small low-fat milk, small water, or small apple juice
Entrees
Cheeseburger – $11.00
Macaroni and Cheese – $9.00
Chicken Nuggets – $10.00
Grilled Chicken Breast – $10.00
Selections
Green Beans
Chocolate Chip Cookies
Sliced Apples
Corn
** Whispering Canyon Cafe Menu and Prices are Subject to Change Without Notice **