Resort Restaurants | Animal Kingdom Lodge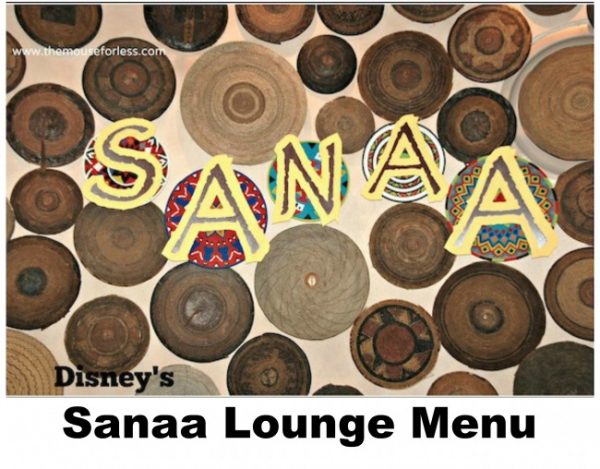 Check out the Saana Lounge Menu!  It invites you to savor unique African wines and specialty drinks at this inviting lounge inspired by the spice markets of Africa. Snack on an Indian-influenced appetizer with your cocktail, we highly recommend the bread service with different sauces, and then venture outside to see exotic animals roam the savanna.
Restaurant Info: African/Indian Cuisine, Lunch/Dinner, $ – $14.99 and under per adult
Find out how you can save money on dining at Walt Disney World by using one of Disney's Dining Plans.
Sanaa Lounge Menu
Appetizers
Indian-style Bread Service – Choice of Five Breads with all Nine Accompaniments – Traditional Naan, Garlic-Ginger Naan, Spiced Naan, Onion Kulcha, or Paneer Paratha. Accompaniments – Red Chile Sambal, Cucumber Raita, Coriander Chutney, Mango Chutney, Tomato-Date Jam, Garlic Pickle, Spicy Jalapeño-Lime Pickle, Roasted Red Pepper Hummus, or Tamarind Chutney – $21.00
Samosas – Potato and Pea Samosa with Tamarind and Mango Chutney (Plant-based) – $10.00
Salad Sampler – Berber Black-Eyed Pea, Watermelon and Pickled Fennel, Tunisian Beet Chermoula – $10.00
Cocktails
Blood Orange Margarita – Sauza Conmemorativo Anejo Tequila, Cointreau, Lime Juice, and Blood Orange Sour – $14.00
Golden Haze Margarita – Teremana Blanco Tequila, Grand Marnier Liqueur, Smoked Chili Bitters, Lime, Agave – $16.00
Spicy Poblano Margarita – Patron Silver Tequila, Ancho Reyes Verde Liqueur, Lime Juice, and Pure Cane Sugar – $14.00
Watermelon Margarita – Patron Silver Tequila, Watermelon, and Lime Juice – $14.00
Paloma – Don Julio Blanco Tequila with Juices of Ruby Red Grapefruit and Lime topped with Soda Water – $14.00
Rum Swizzle – Mount Gay Eclipse Rum with Tropical Juices and flavors of Guava and Mango – $13.00
Antioxidant Lemonade – Van Gogh Acai Blueberry Vodka, Minute Maid Premium Lemonade, and Pomegranate Juices topped with Sprite – $13.00
Raspberry Mojito – Bacardi Raspberry Rum, Mount Gay Eclipse Rum, Lime Juice, Mint, and Raspberry Puree topped with Soda Water – $13.00
Bacardi Mojito – Bacardi Superior Rum, Lime Juice, Pure Cane Sugar, and Mint topped with Soda Water – $13.00
Walk The Plank – Crown Royal Northern Harvest Rye Whisky, Orange Juice, Orgeat (Almond), and Lemon Juice garnished with Luxardo Gourmet Maraschino Cherries – $15.00
Smoked Turkey – Wild Turkey 101 Bourbon, Red Stag Black Cherry  Bourbon, Grenadine, and Minute Maid Premium Lemonade with a hint Hickory Smoke, garnished with Luxardo Gourmet Maraschino Cherries – $15.00
Whiskey Breeze – Jim Beam Black Extra-aged Bourbon, Cointreau, and Lime Juice with flavors of Guava and Mango – $14.00
Moscow Mule – Russian Standard Vodka, Lime Juice, and Pure Cane Sugar topped Fever Tree Ginger Beer – $14.00
Kentucky Mule – Buffalo Trace Kentucky Bourbon, Lime Juice, and Pure Cane Sugar topped with Fever Tree Ginger Beer – $15.00
Negroni – Bombay Sapphire Gin, Campari, and Carpano Antica Sweet Vermouth – $15.00
Bahama Mama – Parrot Bay Coconut Rum, Plantation Original Dark Rum, Bols Crème de Banana, and Tropical Juices – $13.00
Pina Colava – Bacardi Raspberry Rum blended with flavors of Coconut, Pineapple, and Raspberry Puree – $13.00
Ultimate Long Island Iced Tea – Bacardi Superior Rum, Tito's Handmade Vodka, Hendrick's Gin, Corazon Blanco Tequila, Cointreau, and Sweet-and-Sour with a splash of Coca-Cola – $15.00
Captain's Mai Tai – Captain Morgan Original Spiced Rum, Bols Amaretto, and Tropical Juices topped with a float of Plantation Original Dark Rum – $13.00
Blue "Glow-Tini" – Skyy Infusions Citrus Vodka, Bols Peach Schnapps, Bols Blue Curacao, and Pineapple Juice with a Sugared Rim and souvenir Glow Cube – $15.00
Cold Brew XO – Patron XO Café Coffee Liqueur, Heavy Cream, and Cold Brew Joffrey's Coffee – $13.00
Godiva Chocolate Martini – Godiva Chocolate Liqueur, Stoli Vanil Vodka, Bols White Crème de Cacao,  and Frangelico – $14.00
Magical Star Cocktail – X-Fusion Organic Mango and Passion Fruit Liqueur, Parrot Bay Coconut Rum, Pineapple Juice, and a souvenir multicolored Glow Cube – $15.00
Red Sangria – Opici Family Red Sangria is made in La Mancha, Spain from Tempranillo Grapes and has flavors of Raspberry, Apple, and Blackberry with succulent aromas of Valencia Oranges and Cinnamon – $11.00
White Sangria – Opici Family White Sangria is made in La Mancha, Spain from Airen Grapes and has flavors of Banana, Pineapple, and Grapefruit with a hint of Ginger – $11.00
Beer, Hard Cider, & Hard Seltzer
Assorted Bottle, Can, or Draft – $8.50 – $12.75
Non- Alcoholic Mocktails
Pomegranate Lemonade – Minute Maid® Premium Lemonade with Pomegranate and Lime Juices – $5.49
Grapefruit Spritzer – Ruby Red Grapefruit and Lime Juices topped with Soda Water – $5.49
Sparkling No-Jito – Lime Juice, Pure Cane Sugar, and Mint topped with Soda Water – $4.99
Watermelon Lemonade – Minute Maid Premium Lemonade and Watermelon – $5.49
** Sanaa Lounge Menu and Prices are Subject to Change Without Notice **