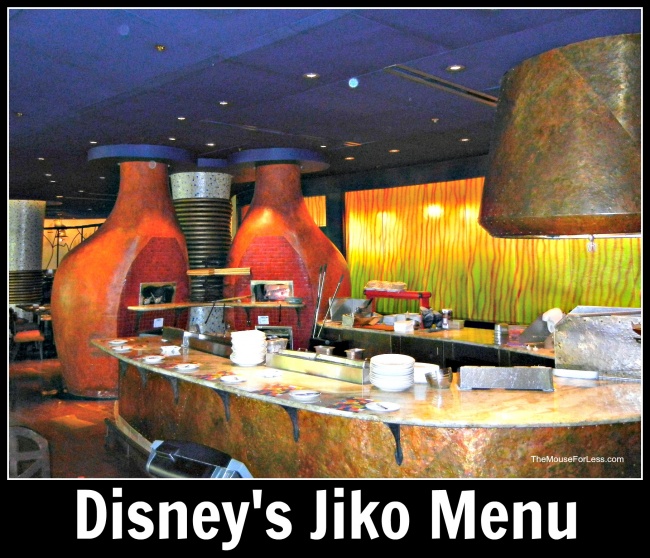 Relax and enjoy the warm, soothing colors of an African sunset in a beautiful setting as you savor a truly unique culinary experience with a modern African flair at Jiko.
Jiko is located in Disney's Animal Kingdom Lodge Resort.  Find more Walt Disney World dining locations on our Walt Disney World menus page.
Restaurant Info: African, Dinner A la carte, $$$ – $35 to $59.99 per adult
Find out how you can save money on dining at Walt Disney World by using one of Disney's Dining Plans.
With one of the finest collections of South African wines in the U.S., sommeliers at Jiko – The Cooking Place at Disney's Animal Kingdom Lodge love sharing tastes. Each Wednesday from 3-4 p.m., take a journey through the wine regions of South Africa and sample three delicious vintages paired with cheese and fruit. Cost is $25 plus tax and gratuity, and reservations can be made at 407-938-7149.
Limited Time Lion King Experience  Dinner Menu  Kids' Menu

Planning a Walt Disney World Vacation?
For a Free no-obligation quote, contact our sponsor
The Magic For Less Travel
. The Magic For Less Travel is an Authorized Disney Vacation Planner and has been helping guests plan magical vacations since 2002. Receive the best prices and free travel planning services. Their fee-free services will help you save time, money, and stress while planning a vacation designed around you and your needs!
Limited Time Lion King Dining Experience
Details
Three Course Prix Fixe Meal inspired by "The Lion King

Cost is $65 per person, plus tax and gratuity
Wine pairings offered at additional cost
Can be selected in the restaurant, a separate unique reservation for this experience is not needed (reservations for dinner at Jiko are still recommended)
The Experience
The meal is accompanied by talented musicians performing vibrant African melodies and live performances of favorites from the Lion King soundtrack
The first course is the "I Just Can't Wait to be King" starter – a dish featuring Young Cedar Creek clam malata, potatoes, pomegranate, and a bone marrow finish. This dish symbolizes the playfulness of Simba's joyous childhood and his desire to one day become king.
For the entrée: Be Prepared. Choose from two entrées: Bone-In Ribeye with hibiscus, nettles, and fregula or Lobster Sosatie with red shrimp, squid, mussels, and fragrant rice. These dishes are inspired by the eerie elephant boneyard and Simba's courage to persevere through trials and tribulations.
Don't worry because the third course, Hakuna Matata, celebrates balance as Simba grows up and learns what is truly needed to lead the Pride Lands successfully. This dessert features caramelized orange, chocolate choux, and playful foliage.
Last, you will finish off the evening with "Can You Feel the Love Tonight?" and reflect on your journey with a selection of friandeses and teas to cap off your meal.
Jiko Dinner Menu
Menu Date: 12/2019
Appetizers
North African-spiced Scallops  –Herb Chermoula, Curried Feta Crumbles – $18.00
Grilled Wild Boar Tenderloin – Mealie Pap, Chakalaka, Herb-smoked Oil, Micro Cilantro – $19.00
Jiko Salad – EPCOT Land Pavilion Greens, Heirloom Apples, Goat Cheese Spread, Honey-Balsamic Vinaigrette, Sweet-and-Spicy Pumpkin Seeds – $16.00
Mushroom Flatbread – Trio of Mushrooms, Duxelle, Maize – crusted pickled mushroom, Curried Ricotta, Midnight moon goat cheese Add a choice of braised beef or Sumac Shrimp (6) – $14.00
Tour of Africa – Duck Biltong, Boerewores Sausage,  Honeyed Goat Cheese, Pimento Spread, House-made Hummus, Spiced Olives, Egyptian Fatir Bread, and Seasonal Garnishes – $19.00
Curried Cauliflower Bisque – Curry – roasted Cauliflower Cream, Charred Baby Cauliflower, Citrus – Tomato Jam, Candied Pumpkin Seed, Lemon – Rosemary Shortbread Crumble – $14.00
Tibs in Brik – Ethiopian – stye Mushroom, spinach, Cheese in Crispy Filo, Apples, Curry Vinaigrette – $12.00
From the Cooking Place
Charcuterie and Cheese – Chef's Selection of House-made Meats and Artisanal Cheese with Seasonal Accompaniments – $20.00
Inguday Tibs in Birk – Mushroom, Spinach, Cheese in crispy Tunisian Filo, Apples, Curry Vinaigrette – $12.00
Mushroom Flatbread – Trio of Mushrooms, Duxelle, Maize-crusted Pickled Mushrooms, Curried Ricotta, Midnight Moon Goat Cheese – $14.00
Taste of Africa – African-inspired Dips, Pappadum, Sesame Fatir, House-made Flax Seed Naan – $15.00
Mauritius Poached Shrimp – Meyer Lemon-Sumac Vinaigrette, Rougaille Sauce, Pickled Radish, Chile Oil – $13.00
Entrées
Mrouzia-style Moroccan Lamb Shank – Parsnip Silk, Root Spinach, Medjool Date Smoor, Pomegranate Glaze – $46.00
Cocoa-crusted Bison – Butternut Gnopi, Glazed Root Vegetables, Whisky-poached Stone Fruit, Saffron Crema, Ghana Chocolate Demi-glace – $49.00
Peri Peri Chicken – Gujurati-style Potato Salad, Braai Spring Onion Soubise – $35.00
Sustainable Vulcan-spiced Fish – Black Grouper, Succotash, Green Papaya Atchar, Tomato-Butter Sauce – $46.00
Oak-grilled Filet Mignon – Grilled Asparagus, Olive Oil Potatoes, South African Red Wine Sauce – $52.00
Bone – In Grilled Short Rib – Hibiscus Glaze, Roasted Carrots, Toasted Couscous Salad  – $57.00
West African Koki Corn – Mushrooms, Avocado, Poblano-Tomatillo Purée, Roasted Red Pepper Sauce – $30.00
Cape Malay Seafood Curry – Lobster, Calamari, Red Shrimp, Mussels, Saffron Rice – $47.00
Enhancements
4-oz Lobster Tail – Cold Water Lobster Tail, Vulcan Spice, and Spiced Lobster Butter – $21.00
Coconut-Curry Shrimp – Poblano Pepper, Red Pearl Onions, Curry Sauce – $16.00
Egyptian Kushari – Ancient Grains, Pasta, Chickpeas, Chakalaka, Olives, Roasted Vegetables – $11.00
Desserts
African Drum Beets – Coconut -Strawberry – Beet Mousse, Chocolate Cake, Candied Beets, balsamic Strawberries – $13.00
Melktert – African Milk Custard Tart seasoned with Cinnamon and Cardamom accompanied by Honey and vanilla – infused Cantaloupe – $11.00
Braai Brownie – Ghana Dark Chocolate Brownie with Braai Spice, madagascar Milk Chocolate Chantilly, Kenyan Coffee Streusel, vanilla, Marshmallow, and raspberrier – $11.00
Malva Pudding – Melktart Ice Cream, Kataifi, Kanu Tuile, Cabernet Gelée – $13.00
Angel Food Cake, No Sugar Added – White Chocolate Panna Cotta, Seasonal Fruit Compote, and Citrus Gel – $11.00             
Featured Wines
Chamonix Chardonnay, Franschhoek Valley, South Africa – $19.00
Rudi Schultz Syrah, Stellenbosch – $20.00
Jiko Kids Dinner Menu 
For Kids Ages 9 and Under
Kids' Appetizers
Seasonal Garden Salad – $5.00
Seasonal Fruit – $5.00
Seasonal Vegetable and Dip – $4.00
Kids' Create-Your-Own Meals
Served with two selections and choice of Lowfat Milk, small Bottled Water or Apple Juice
Grilled Chicken Breast – $14.00
Market-fresh Fish – $17.00
Shrimp with Kushari –  $16.00
Cheese Pizza – With Tomato Sauce – $9.00
Macaroni & Cheese – With White Cheese Sauce – $9.00
Grilled Steak – $13.00
Kids' Selections
Seasonal Vegetables
Ancient Grains
Macaroni & Cheese
KM – Seasonal Fruit
Not-So-Hidden Mickey Fruit and Yogurt
African Shield
Vanilla Ice Cream
Pumbaa's Dessert Grub
** Jiko Menu and Prices are Subject to Change Without Notice **