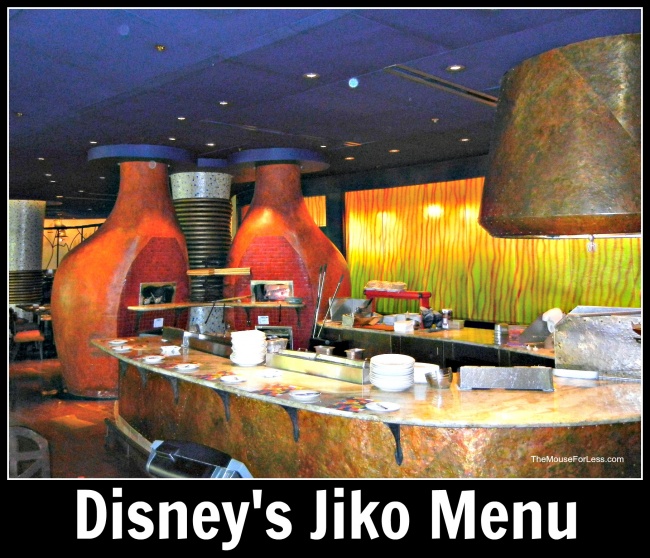 Relax and enjoy the warm, soothing colors of an African sunset in a beautiful setting as you savor a truly unique culinary experience with a modern African flair at Jiko.
Jiko is located in Disney's Animal Kingdom Lodge Resort.  Find more Walt Disney World dining locations on our Walt Disney World menus page.
Restaurant Info: African, Dinner A la carte, $$$ – $35 to $59.99 per adult
Find out how you can save money on dining at Walt Disney World by using one of Disney's Dining Plans.
With one of the finest collections of South African wines in the U.S., sommeliers at Jiko – The Cooking Place at Disney's Animal Kingdom Lodge love sharing tastes. Each Wednesday from 3-4 p.m., take a journey through the wine regions of South Africa and sample three delicious vintages paired with cheese and fruit. Cost is $25 plus tax and gratuity, and reservations can be made at 407-938-7149.
Limited Time Lion King Experience  Dinner Menu  Kids' Menu

Planning a Walt Disney World Vacation?
For a Free no-obligation quote, contact our sponsor
The Magic For Less Travel
. The Magic For Less Travel is an Authorized Disney Vacation Planner and has been helping guests plan magical vacations since 2002. Receive the best prices and free travel planning services. Their fee-free services will help you save time, money, and stress while planning a vacation designed around you and your needs!
Limited Time Lion King Dining Experience
Begins June 30, 2019
Details
Three Course Prix Fixe Meal inspired by "The Lion King

Cost is $65 per person, plus tax and gratuity
Wine pairings offered at additional cost
Can be selected in the restaurant, a separate unique reservation for this experience is not needed (reservations for dinner at Jiko are still recommended)
The Experience
The meal is accompanied by talented musicians performing vibrant African melodies and live performances of favorites from the Lion King soundtrack
The first course is the "I Just Can't Wait to be King" starter – a dish featuring Young Cedar Creek clam malata, potatoes, pomegranate, and a bone marrow finish. This dish symbolizes the playfulness of Simba's joyous childhood and his desire to one day become king.
For the entrée: Be Prepared. Choose from two entrées: Bone-In Ribeye with hibiscus, nettles, and fregula or Lobster Sosatie with red shrimp, squid, mussels, and fragrant rice. These dishes are inspired by the eerie elephant boneyard and Simba's courage to persevere through trials and tribulations.
Don't worry because the third course, Hakuna Matata, celebrates balance as Simba grows up and learns what is truly needed to lead the Pride Lands successfully. This dessert features caramelized orange, chocolate choux, and playful foliage.
Last, you will finish off the evening with "Can You Feel the Love Tonight?" and reflect on your journey with a selection of friandeses and teas to cap off your meal.
Jiko Dinner Menu
Menu Date: 11/2018
Appetizers
North African-spiced Scallops – Herb Chermoula, Curried Feta Crumbles – $17.00
Berkshire Pork Tenderloin – Mealie Pap, Chakalaka, Herb-smoked Oil, Micro Cilantro – $19.00
Green Tomato Gazpacho – Macerated Toybox Tomatoes, Almond Cream, Speck – $12.00
Jiko Salad – EPCOT Land Pavilion Greens, Heirloom Apples, Goat Cheese Spread, Honey-Balsamic Vinaigrette, Sweet-and-Spicy Pumpkin Seeds – $15.00
Pear and Watermelon Salad – Chai Tea-poached Forelle Pears, Olive Oil Compressed Watermelon, Ginger-Vinegar Toy Box Tomatoes, Goat Feta Cheese, Chai-Pear Caramel – $15.00
Artisanal Cheese Selection
Cremont – This cheese is named for the "Cream of Vermont." It combines local fresh cow's milk and goat's milk, and a hint of Vermont cream. This cheese originally crafted in the bucolic Green Mountains of Vermont combines nutty taste with a creamy texture. The fresh curd of Cremont is shaped by hand and then aged for two weeks to develop the unique cream-colored rind and luxurious, smooth interior
Bayley Hazen Blue – This natural-rind blue cheese is named for the iconic Bayley Hazen Military Road that traverses the Northeast Corridor of the US and Canada. The usual peppery spice character associated with traditionally produced blue cheese takes a backseat to sweet, nutty, and grassy flavors. The breakdown of fats and proteins during ripening often show a distinct licorice flavor
SeaHive – Beehive Cheese Company produces this cheese. Each round of cheese is rubbed with local wildflower honey and Redmond Sea Salt, harvested from an ancient seabed near Redmond, Utah. SeaHive is made from the milk of Jersey cows in northern Utah and is a full-bodied cheese with a smooth, creamy texture. SeaHive gains its unique flecks of color from more than 50 natural trace minerals
From the Cooking Place
Elk Confit Flatbread – Elk Loin, Harissa-infused Goat Cheese, Olive-Arugula Salad – $13.00
Charcuterie and Cheese – Chef's Selection of House-made Meats and Artisanal Cheese with Seasonal Accompaniments – $20.00
Inguday Tibs in Birk – Mushroom, Spinach, Cheese in crispy Tunisian Filo, Apples, Curry Vinaigrette – $12.00
Heirloom Tomato Flatbread – Goat Cheese Crema, Curried Farmer's Cheese, Rocket Gelée, African Blue Basil – $13.00
Taste of Africa – African-inspired Dips, Pappadum, Sesame Fatir, House-made Flax Seed Naan – $15.00
Mauritius Poached Shrimp – Meyer Lemon-Sumac Vinaigrette, Rougaille Sauce, Pickled Radish, Chile Oil – $13.00
Entrées
Mrouzia-style Moroccan Lamb Tagine – Parsnip Silk, Root Spinach, Medjool Date Smoor, Pomegranate Glaze – $46.00
Chermoula Chicken – Baba Ganoush, Fregula Salad, Pickled Eggplant – $35.00
Sustainable Vulcan-spiced Fish – Whole Fish, Succotash, Green Papaya Atchar, Tomato-Butter Sauce – $45.00
Oak-grilled Filet Mignon – Spiced Pole Beans, Lemon-Salsify Puree, South African Red Wine Sauce – $49.00
Snake River Farms Wagyu Strip Loin – Macaroni and Cheese, Kachumbari, Brussels Sprouts, South African Red Wine Sauce – $49.00
Durham Ranch Elk Loin – Celery Root Purée, Hibiscus-candied Apples, Turnip Atjar, Lemon-Elk Jus – $49.00
Botswana-style "Seswaa" Beef Short Rib – Istambu Samp and Beans, Sambal, Sukuma Wiki, Mushrooms – $48.00
West African Koki Corn – Mushrooms, Avocado, Poblano-Tomatillo Purée, Roasted Red Pepper Sauce – $30.00
Bo Kaap Malay Seafood Curry – Lobster, Calamari, Red Shrimp, Mussels, Coconut-Curry Sauce, Saffron Rice – $47.00
Enhancements
North African-spiced Scallops – Herb Chermoula, Curried-Feta Crumbles -$17.00
Coconut-Curry Shrimp – Poblano Pepper, Red Pearl Onions, Curry Sauce – $16.00
Egyptian Kushari – Ancient Grains, Pasta, Chickpeas, Chakalaka, Olives, and Roasted Vegetables – $11.00
Zulu-style Sampan Beans – Cracked Hominy, Speckled Beans, Fragrant Masala, Braised Oxtail – $12.00
Desserts
Spiced Peanut Butter Mousse – Mixed Berry Cremeux, Mango Ribbon, Mango-Clove Gel, Peanut Crumble – $12.00
Safari Sunset – Carrot Cake, Cornbread Calamansi and Lemon Crémeux, Kenyan Coffee Streusel, Citrus Gel, Valrhona Dulcey Mousse, Candied Carrots – $11.00
Kilimanjaro – Tanzanian Chocolate Mousse, Pistachio Financier, Pink Peppercorn Meringue, Cacao Nib Crunch, Ras el Hanout Pineapples – $11.00
Malva Pudding – Melktart Ice Cream, Kataifi, Kanu Tuile, Cabernet Gelée – $13.00
Strawberry Shortcake – Local Florida Strawberries, Lavender Scone, Swiss Milk Chocolate, Cubeb Peppercorn – $11.00
Specialty Teas
Flowery Earl Grey – An amazingly aromatic prescription for relaxation: Sip, Inhale, and Unwind. One of our signature Earl Greys, accented with pretty blue cornflower petals – $6.29
Nobo Whole Fruit – Caffeine-free blend of Wild Strawberries, Blackberries, and Raspberries – $6.29
Pear Tree Green Tea – Estate China green tea, perfumed with the essence of freshly plucked ripe Pears, crisp and sweet – $6.29
Organic Rooibos South Africa – Rooibos comes from the rugged slopes of the Western Cape Mountains in South Africa. The famous red bush tea is caffeine-free but tastes like a light Ceylon black – $6.29
Lemon Verbena – A beautiful slip into sweet lemon-drop daydreams, memories of carefree afternoons, and let your heart be light with this naturally caffeine-free infusion of Lemon Verbena, Lemon Grass, and Lemon Balm. Simple bliss – $6.89
Thunderbolt Darjeeling – Darjeeling of "Land of the Thunderbolts" is a Black Tea which harkens from the hills of India, charged with flavor, and offers exquisite bouquet, good body, and lingering floral notes – $6.89
Floral Jasmine Green Tea – This delicate and fragrant tea will transport you to a quieter time. This tea is made with golden jasmine blossoms – $6.29
Masala Black Tea Chai – Complex blend of top-quality fresh spices – Cardamom, Cinnamon, Ginger, Pepper, Cloves, and Indian Black Tea. A perfect after-dinner beverage – $6.29
Vanilla Rooibos – Vanilla Bean sweetens this Rooibos, producing a round, full-cup which is ideal with a spot of Milk – $5.95
Harmony – A tranquil herbal infusion of golden Chamomile and Orange Blossoms, Peppermint, and Allspice – $6.29
After-Dinner Drinks
Zebratini – Captain Morgan Spiced Rum, Godiva White Chocolate Liqueur, Frangelico, Amarula, and a shot of Espresso in a Chocolate Zebra-striped Martini Glass
Nutty African – Amarula, Frangelico, and Coffee topped with Whipped Cream – $10.25
Kenyan Press Pot Coffee – $6.29
Keoke Coffee – Brandy, Kahlúa, Dark Crème de Cacao, and Coffee topped with Whipped Cream – $9.25
Cape Town Coffee – Van der Hum, Kahlúa, and Coffee topped with Whipped Cream – $10.25
Rémy Martin Louis XIII                
Featured Wines
Hamilton Russell Chardonnay, Hemel-en-Aarde – $15.00
Rudi Schultz Syrah, Stellenbosch – $14.00
Brandy's and Ports
Courvoisier VSOP – $11.25
Martell Cordon Bleu – $20.00
Fonseca Bin 27 – $10.00
Taylor Fladgate 10 yr Tawny – $9.00
Axe Hill – $11.00
Rémy Martin VSOP – $17.00
Hennessy XO – $32.00
Morgenhof Cape Vintage – $14.50
De Krans Cape Ruby – $10.00
Single Malts and Liqueurs
Glenfiddich 12 yr Speyside – $11.00
Oban 14 yr Western Highlands – $17.00
The Macallan 18 yr Speyside – $35.50
Fonseca Bin 27 – $10.00
Grand Marnier – $10.50
Grand Marnier 100 yr Anniversary – $29.00
Grand Marnier 150 yr Anniversary – $37.00
Lagavulin 16 yr Islay – $17.00
The Macallan 12 yr Speyside – $18.50
The Macallan 25 yr Speyside – $95.00
Amarula – South African Cream Liqueur – $9.25
Jiko Kids Dinner Menu 
For Kids Ages 9 and Under
Kids' Appetizers
Seasonal Garden Salad – $5.00
Seasonal Fruit – $5.00
Seasonal Vegetable and Dip – $4.00
Mickey Check Meals
Served with choice of small Lowfat Milk or small Bottle Water
Grilled Chicken Breast – With Ancient Grains and Vegetables, and Seasonal Fruit – $14.00
Market-fresh Fish – With Ancient Grains and Vegetables, and Seasonal Fruit – $17.00
Shrimp with Kushari – Steamed Shrimp with Ancient Grains, Vegetables, and Seasonal Fruit – $16.00

Meets Disney Nutrition Guidelines for Complete Meals without substitutions.
Kids' Meals
Served with choice of Lowfat Milk, small Bottled Water or Apple Juice
Cheese Pizza – With Tomato Sauce – $9.00
Macaroni & Cheese – With White Cheese Sauce – $9.00
Market-fresh Fish – With Ancient Grains and Vegetables – $13.00
Grilled Chicken Breast – With Ancient Grains and Vegetables – $10.00
Grilled Steak – With Macaroni and Cheese and Vegetables – $13.00
Kids' Desserts
No So Hidden Mickey Fruit and Yogurt – Seasonal Fruit dipped in Chocolate, Kulfi, and Berry Yogurt – $5.00
Pumbaa's Dessert Grub – Chocolate Pudding, Oreo Crumble, and Gummy Worms – $6.00
African Shield Brownie – Paint-Your-Own White Chocolate-covered Brownie Shield. Accompanied by Vanilla Bean Ice Cream – $6.00
Vanilla Ice Cream – $5.00
** Jiko Menu and Prices are Subject to Change Without Notice **