Magic Kingdom | Adventureland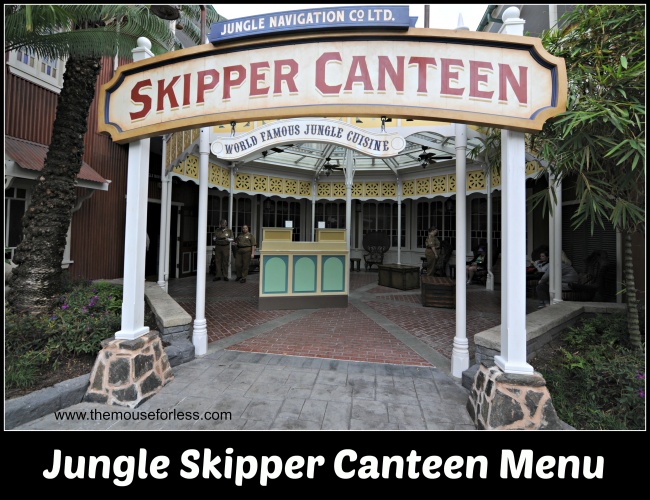 Lunch and Dinner Menu Kids' Menu
Enjoy the tropical cuisine and atmosphere of this Table Service family eatery. Jungle Skipper Canteen is a converted cargo shipping venture run by the infamous crews of the Jungle Cruise! Jungle Cruise passengers are seated in one of three rooms: Crew's Mess Hall, Falls Family Parlor and Secret Meeting Room of the S.E.A.
Restaurant Info: African, American, Asian, Latin Cuisine, Lunch/Dinner, A La Carte, $$ – $15.00 to $34.99 per adult
Find out how you can save money on dining at Walt Disney World by using one of Disney's Dining Plans.
Jungle Skipper Canteen Lunch/Dinner Menu
Menu Date: 11/2018
Appetizers
Shiriki Noodle Salad – Rice Noodles, Edamame Beans, Mushrooms, Green Mango, and Cucumber tossed with a Sweet Chili Sauce. Famously served at Hotel Hightower on December 31, 1899 – $11.00
Falls Family Falafel – A secret recipe of Chickpeas, Garlic, Onions, Lemon Juice, and Herbs served with House-made Edamame Hummus and Toasted Pumpkin Seeds – $10.00
S.E.A. Shu Mai – A legendary blend of Pork, Shrimp, Mung Beans, and Spices wrapped in Gyoza Skin then steamed – $12.00
Jungle Green Salad – From the depths of the Jungle…Skipper Bill's Iceberg Wedge with Shishito Peppers, Radish, Hearts of Palm, Cucumbers, and Pistachios with an Ají Pepper-Yogurt Dressing – $11.00
Orinoco Ida's Cachapas – And you thought our jokes were corny! House-made Corn Pancakes, Mojo-braised Pork, Black Bean Salad, Avocado Cream – $11.00
Lost and Found Soup – Chef's Seasonal Soup prepared with the freshest unclaimed cargo! Please ask you Skipper for today's selection – $9.00
Entrees
Dr. Falls' Signature Grilled Steak – Marinated New York Strip, Pico de Gallo Butter, Jasmine Rice, and Braised Black Beans with Applewood-smoked Bacon – $35.00
"Tastes Like Chicken" – Because It Is! – Crispy Fried Chicken with Citrus and Ginger-scented Rice, Chili Glaze, and Seasonal Vegetables – $24.00
Curried Vegetable Crew Stew – a favorite of the Crew Stew Crew (especially Stu). Seasonal Vegetables and pineapple Tofu in a House-made Curry Sauce served with Coconut Rice – $24.00
"Hardy Har Char" Siu Pork– Char Siu-marinated Pork served with Seasonal Vegetables and Jasmine Rice – $24.00
Whole Fried Fish – You'll get hooked on Skipper Annette's latest catch! Served with Jasmine Rice, Grilled Scallions, and Soy-Ginger Vinaigrette – $31.00
Sustainable Fish – "Not Piranha," served over Chinese Broccoli, Carrots, Shiitake Mushrooms, and Red Bell Peppers in a fragrant Lemon Grass Broth – $29.00
Perkins Thai Noodles – Chicken, Tofu, Seasonal Vegetables, and Rice Noodles tossed in a Spicy Soy-Chili-Garlic Sauce. A favorite of our friend Pamelia Perkins, President of the Adventurers Club – $24.00
Sankuru Sadie's Seafood Stew – Shrimp, Sustainable Fish, Mussels, and Octopus simmered in a fragrant Coconut Sauce. Served with Jasmine Rice – $27.00
Baa Baa Berber Lamb Chops – Berber-spiced Lamb Chop, Mint Couscous, Curried Carrots, Sun Chokes, Lamb-Butter Sauce – $28.00
"A Lot at Steak" Salad – We're betting it all on this one! Grilled Steak, Romaine Lettuce, Spring Mix, Pickled Jalapeños, Red Onion, Queso Fresco, and Pumpkin Seeds tossed in a Chimichurri Vinaigrette – $19.00
Desserts
Coconut Bar with Pineapple-Basil Compote and Vanilla Cream – Vanilla Chiffon Cake with Coconut and Lime-White Chocolate Ganache – $8.00
Bertha's Banh Bong Lan Cake with Mango-Lime Sorbet – Vanilla Chiffon Cake soaked with Lemon Grass-Ginger Syrup – $8.00
Kungaloosh! – A African-inspired Chocolate Cake with Caramelized Bananas served with Cashew-Caramel Ice Cream topped with Coffee Dust – $8.00
Quick Sand!!! – Jasmine Rice Pudding, Mango Sauce, Lemon Curd, Hibiscus Meringue, and Pineapple – $8.00
Non-Alcoholic Beverages
Punch Line Punch – Topical Fruit Juices and Mango Puree. – $5.50
(Also available with a savory spiced-rim for an extra zinger!)
Served in a Jungle Skipper Canteen Souvenir Mug – $13.50
Schweitzer Slush – Frozen Apple Juice and Passion Fruit topped with Bursting Green Apple Boba Balls, first concocted by the noted explore and humanitarian, Dr. Albert Slush – $6.50
Served in a Jungle Skipper Canteen Souvenir Mug – $14.50
Exotic Coca-Cola Selections – Guarana Kuat (Brazil) and Fanta Melon Frost (Thailand)
Cold Beverages – Coca-Cola, Coca-Cola Zero, Diet Coke, Sprite, Fanta Orange, Barq's Root Beer, Minute Maid Pomegranate Light Lemonade, or Powerade Mountain Berry Blast Iced Tea
Hot Twinings Tea Collection – London Strand Earl Gray, Golden Tipped English Breakfast, Two Seasons Darjeeling, Pure Sencha Green Tea, Summer Berry Green Tea, Golden Caramel Rooibos, Berry Blush Infusion, Budding Meadow Camomile, Medley of Mint
Freshly Brewed Joffrey's Coffee – Espresso, Cappuccino, and Latte
Alto Mayo Protected Forest Coffee Roasted by Joffrey's Coffee – Disney supports Conservation International's Alto Mayo Protected Forest project in Peru, which promotes sustainable coffee growing and economic growth (Serves Two) – $8.00
Specialty Cocktails
House-made Spiced Sangria – Zolo Red Wine blended with ruby grapefruit juice and a trio of fruit – $10.00
Jungle Navigation Co. Shandy – Blue Moon Belgian White Ale mixed with Simply Lemonade® – $10.00
Beer
Stella Artois Pale Lager, Belgium – Stella Artois is an authentic, imported blonde Belgian lager beer with a floral hop aroma. Well-balanced fruity malt sweetness, crisp hop bitterness, and a soft dry finish (16-oz Can) – $10.00
Blue Moon Belgian White Ale, Colorado – Blue Moon has a zesty orange fruitiness with a spicy wheat aroma. The Valencia orange peel gives a subtle sweetness to the beer (16-oz Draft) – $7.75
Michelob Ultra Lager, St. Louis – Refreshing, low carb, and light beer (16-oz Draft) – $7.75
Kungaloosh Spice Excursion Ale, Florida – African inspired deep amber ale brewed exclusively for Walt Disney World® (16-oz Draft) – $9.50
Tampa Bay Brewing Old Elephant IPA, Florida – Hoppy American IPA complimented by soft malt undertones – $9.75
Tusker Lager, Kenya – A light-bodied beer with a crisp palate and soft malty hops – $9.00
Wines
Iron Horse 'Fairy Tale Celebration Cuvée Brut, Green Valley Sonoma – Ripe apples, pears, and citrus with a toasty finish – $17.00 Glass, $75.00 Bottle
King Estate Pinot Noir, Willamette Valley – Strawberry and cherry flavors with a silky texture – $13.00 Glass, $55.00 Bottle
Dr. Loosen 'Dr. L' Rielsing, Mosel – Slightly sweet with peach and citrus characteristics – $10.00 Glass, $45.00 Bottle
Franciscan Chardonnay, Napa Valley – Dry, rich, and luscious with apple and pineapple flavors – $12.00 Glass
Bodega Colomé Torrontes, Argentina – Light and refreshing with notes of citrus, banana, jasmine, and spice – $10.00 Glass, $45.00 Bottle
Montes Alpha Cradonnay, Chile – Powerful aromas and flavors of ripe apple and citrus fruit with layers of vanilla – $14.00 Glass, $59.00 Bottle
Zolo Signature Red Blend, Argentina – Fresh raspberry and blackberry fruit aromas with a long and luscious mouthfeel – $10.00 Glass, $45.00 Bottle
Rust en Vrede Cabernet Sauvigon, South Africa – Classic blackberry and dark cherry with tobacco, mocha, and vanilla spice – $15.00 Glass, $65.00 Bottle
Recuerdo Malbec, Argentina on Tap – Intense blackberries and juicy plums with mocha, savory spice, and violets – $12.00 Glass
Graham Beck Brut Rose, South Africa – Red berry flavors enhanced by bright acids. Fun, yet elegant – $11.00 Glass, $49.00 Bottle
Raats Original Chenin Blanc – Zesty flavors of apple, melon, and lime – $10.00 Glass, $45.00 Bottle
Veramonte Sauvignon Blanc, Chile – Crisp with lime, tangerine, floral notes, and a juicy finish – $10.00 Glass, $45.00 Bottle
Black Pearl Oro Cabernet-Shiraz, South Africa – Distinctive strawberry and mulberry with a sage bouquet and firm tannins – $11.00 Glass, $49.00 Bottle
Jungle Skipper Canteen Kids' Lunch/Dinner Menu
Menu Date: 11/2018
Appetizers
Serengeti Salad – Romaine with Tomato, Carrots, Broccoli, and Cucumber with a Fat-free Italian Dressing – $3.00
Safari Snack– Yucca Fries and Cucumber Planks with Dipping Sauce – $3.00
Kid's Create-Your-Own Entrées (choose one)
Served with Choice of Two Selections Small Lowfat Milk,Small Dasani Water, or Small Minute Maid Apple Juice
Tiki Tiki Shrimpy Shrimpy – $12.00
Sizzling Savanna Grilled Seasoned Steak – $13.00
Smiley's Little "Croc" or Chicken Soup –  $11.00
Congo Connie's Coconut-Curry Concoction -with pineapple tofu and jasmine rice-  $12.00
Junioe Skip's Macaroni & Cheese –  $10.00
Chef Tandaji's Crispy Chicken –  $11.00
Kids' Selections
Steamed Broccoli
Seasonal Vegetables
Fingerling Potatoes
Jade Rice Blend
Mango Sorbet
Volcano! – Gooey Chocolate Cake with Caramel Lava and Exploding Chocolate Rocks will make you shout "UH OA!"
Monkey Bites – with Candied Chocolate-Sunflower Seeds and Chocolate-dipped Banana Bites
Seasonal Fruit
Kids' Souvenir Drink
Specialty Character Drink – Minute Maid® Light Lemonade Punch served in a souvenir Pirates or Ariel cup with a glowing Pirate Skull or Ariel Clip-on Light – $8.00
** Jungle Skipper Canteen Menu and Prices are Subject to Change Without Notice **