Disney Springs | The Landing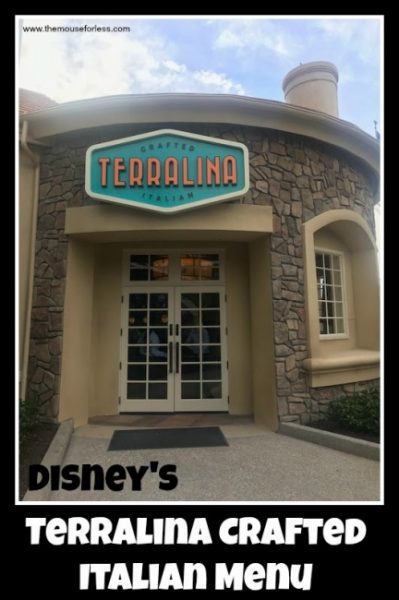 Delight in a dining experience with sweeping waterfront views and authentic Italian home cooking inspired by the design and lifestyle of Italy's famed Lake District.
Mingle outside at the veranda bar, settle into one of the uniquely furnished dining rooms or make yourself at home in the heart of the restaurant—Chef's kitchen, an ideal gathering place to savor the space's infectious, welcoming spirit.
Restaurant Info: Italian
Disney Dining plans not accepted at this location.
Terralina Crafted Italian Lunch and Dinner Menu
Menu Date: 03/2019
Antipasti
Antipasti Tower (serves four) – Prosciutto, Spicy Capicola, Grana Padano, Bocconcini, Tomatoes, Pickled Vegetables, Grilled Zucchini, Parmesan Crisp, Olives, House-made Pecorino-Truffle Potato Chips – $36.00
Fried Olives – Herb Ricotta-stuffed – $9.00
Crispy Eggplant Fries – Lemon-Caper Aïoli – $11.00
Burrata – Beets, Kale, Lemon, Crostini – $13.00
Mozzarella-stuffed Rice Balls – Tomato-Basil Sauce – $12.00
Crispy Italian Chicken Bites – Chili-Sage Aïoli – $13.00
Crab Crostini – Lemon-Caper Aïoli, fresh Herbs – $16.00
Calamari Fritti – Pickled Vegetables, Chili-Sage Aïoli – $15.00
Littleneck Clams – Spicy Italian Sausage, Tomato, Thyme, Crostini – $16.00
Meatballs – Tomato-Basil Sauce, creamy Polenta, Shaved Parmesan – $14.00
Carpaccio – Baby Arugula, Mint-Basil Aïoli, Shaved Parmesan, Fried Capers, Grilled Crostini – $15.00
From the Garden
Seasonal Soup – $7.00
Caprese – Vine-ripened Tomatoes, fresh Mozzarella, Basil, Terralina Crafted Italian Olive Oil, Balsamico – $12.00
Baby Greens – Carrot, Celery, Onion, Fennel, Tomato, Red Wine Vinaigrette – $6.00 half order; $10.00 full order
Caesar – Croutons, Parmesan, Garlic, Anchovy Dressing – $7.00 half order; $12.00 full order
Terralina Crafted Italian Salad – Romaine, Bocconcini, Shaved Parmesan, Fennel, Grape Tomatoes, Salami, Pepperoncini, Red Wine Vinaigrette – $14.00
Wood-fired Pizza
Artisan Pepperoni – Pepperoni, fresh Mozzarella, Tomato, Basil – $16.00
Calzone – Roasted Pork, Sweet Peppers, Spinach, fresh Mozzarella, Goat Cheese – $15.00
Funghi – Portobello, Shiitake, Cremini, Roasted Garlic, fresh Mozzarella – $15.00
Margherita – Fresh Mozzarella, Tomato, Basil – $15.00
Sausage – House-made Pork Sausage, Calabrian Chiles, fresh Mozzarella – $14.00
Pizza of the Week – Ask your Server – $15.00
Sandwiches and Salad
Italian Grinder – Soppresata, Peppers, Zucchini, tomatoes, Arugula, Fontina, and Chili-Sage Aïoli served with House-made Pecorino-Truffle Potato Chips and Garlic Pickles – $14.00
Crispy Chicken – Arugula, Tomato, Lemon-Caper Aïoli served on Toasted Ciabatta Bun with House-made Pecorino-Truffle Potato Chips and Garlic Pickles – $16.00
Roasted Pork – Escarole, Toasted Garlic, Fontina, and Chili-Sage Aïoli served with House-made Pecorino-Truffle Potato Chips and Garlic Pickles – $16.00
Grilled Vegetable – Zucchini, Portobello Mushroom, Roasted Red Pepper, fresh Mozzarella, Basil, Balsamico served on Toasted Ciabatta Bun with House-made Pecorino-Truffle Potato Chips and Garlic Pickles – $14.00
Chicken Parmesan Sandwich – Mozzarella and Herbed Pesto served with House-made Pecorino-Truffle Potato Chips and Garlic Pickles – $14.00
Eggplant Parmesan Sandwich – Mozzarella and Herbed Pesto served with House-made Pecorino-Truffle Potato Chips and Garlic Pickles – $13.00
Baby Arugula Salad– Strawberry, Goat Cheese, Shaved Fennel, Citrus Vinaigrette – $11.00
For the Table
Citrus-Herb Brick Chicken – Fresh Gremolata served with Shaved Fennel Salad and choice of Roasted Potato Planks, crispy Polenta Fries, or Yukon Gold Mashed Potatoes (serves two and price is per person) – $26.00
House-made Porchetta – Apple Mostarda served wtih Shaved Fennel Salad and choice of Roasted Potato Planks, crispy Polenta Fries, or Yukon Gold Mashed Potatoes (serves two price is per person) – $38.00
Slow-roasted Beef Short Rib – Honey-Balsamic Glaze served with Shaved Fennel Salad and choice of Roasted Potato Planks, crispy Polenta Fries, or Yukon Gold Mashed Potatoes (serves two price is per person) – $42.00
Pasta
Spaghetti Pomodoro and Meatballs – Tomato, Basil, Garlic, Olive Oil – $22.00
House-made Lasagna – Spinach, Ricotta, Mozzarella, Pecorino, spicy Tomato – $23.00
Ravioli Gigante – Spinach, fresh Ricotta, Parmesan, Roasted Garlic-Tomato Cream – $23.00
Bucatini with Clams – White Wine, Garlic, Olive Oil, Parsley – $26.00
Capellini with Crab – Toasted Garlic, Olive Oil, Serrano Chili Pepper – $26.00
Penne and Shrimp – Spinach, Blistered Cherry Tomatoes, Parmesan Cream – $26.00
Rigatoni Calabrese – House-made Sausage, Tomato, Olive, Mushroom, Escarole – $23.00
Gnocchi – Nonna's Pork Ragu, Shaved Parmesan – $25.00
Spaghetti Bologonese – Tomato, Beef, Pork, Pancetta Meat Sauce, Shaved Parmesan – $24.00
From the Hearth
Eggplant Parmesan Stack – Spaghetti Pomodoro – $21.00
Chicken Parmesan – Spaghetti Pomodoro – $27.00
Parmesan Duo – Chicken and Eggplant Parmesan, Spaghetti Pomodoro – $26.00
Seafood Cannelloni – House-made Pasta, Fish, Shrimp, Scallop, Mascarpone, Lobster Cream – $26.00
From the Grill
Crispy Parmesan Burger – Ground Chuck and Brisket, Arugula, Tomato, Pickled Fennel, Parmesan Crisp, Pesto Aïoli, Toasted Ciabatta Bun, House-made Pecorino-Truffle Potato Chips, House-made Garlic Pickles – $20.00
Swordfish Pepronatta – Roasted Peppers, Caper, Onion, Lemon Zest, Tomato, Basil, Fennel Salad with fresh Herbs – $28.00
Catch of the Day (Market Price) – Ask your Server for Today's Fresh Catch
Ribeye – Crispy Herbed Fries, Pickled Red Onions – $44.00
Center-cut Pork Chop – Creamy Polenta, Sweet Peppers, Broccolini – $32.00
Sides
Broccolini – $8.00
Yukon Gold Mashed Potatoes – $8.00
Green Beans – $8.00
Crispy Polenta Fries – $8.00
Seasonal Grilled Vegetables – $8.00
Roasted Potato Planks – $8.00
Enhancements
Add Grilled Chicken – $8.00
Add Grilled Shrimp – $9.00
Add Grilled Salmon – $11.00
Desserts
Cappuccino Crème Brûlée – Whipped Sweet Cream – $9.00
Chocolate Paradiso – Chocolate Layer Cake, Chocolate Ganache, Toffee Crunch – $11.00
Biramisu – Vanilla Porter, Lady Fingers, Sweet Cream – $11.00
Chocolate Dipped Gelato Sandwich – pizzelle, salted caramel gelato, chocolate dipped, toffee crunch – $10.00
Lemon-Thyme Panna Cotta – $9.00
Cannoli – Chocolate Chips, Toffee Crunch – $10.00
Gelato Sundae – pistachio, chocolate, and vanilla gelato, amareno cherries, toffee crumbles, hazelnut brittle, whipped sweet cream – $10.00
Gelato – ask Server for flavors – $8.00
Terralina Crafted Italian Kid's Menu (Lunch and Dinner)
Menu Date: 4/2018
Kid's Entrées
Kid's Spaghetti with Tomato Sauce – $6.00
Kid's Spaghetti with Meat Sauce – $7.00
Kid's Spaghetti with Meatball – $7.00
Mac & Cheese – Creamy blend of Parmesan, mozzarella and cheddar – $6.00
Hamburger – Accompanied by your choice of Applesauce, fresh Fruit, Seasonal Vegetables, or French Fries – $7.00
Chicken Fingers – accompanied by your choice of applesauce, fresh fruit, seasonal vegetables or french fries – $7.00
Hot Dog – accompanied by your choice of applesauce, fresh fruit, seasonal vegetables or french fries – $6.00
Grilled Chicken – Accompanied by your choice of Applesauce, fresh Fruit, Seasonal Vegetables, or French Fries – $9.00
Grilled Fresh Fish – accompanied by your choice of applesauce, fresh fruit, seasonal vegetables or french fries – $11.00
Cheeseburger Pizza – Hamburger, CHeddar, Ketchup, Mustard, and Pickle – $8.00
Cheese Pizza – mozzarella and tomato sauce – $7.00
Pepperoni Pizza – mozzarella, pepperoni and tomato sauce – $8.00
Kid's Desserts
Kid's Sundae – choice of gelato, chocolate sauce, toffee crunch, whipped cream, cherry – $5.00
Fresh Fruit – $4.00
Sorbet – $5.00
** Terralina Crafted Italian Menu and Prices are Subject to Change Without Notice **