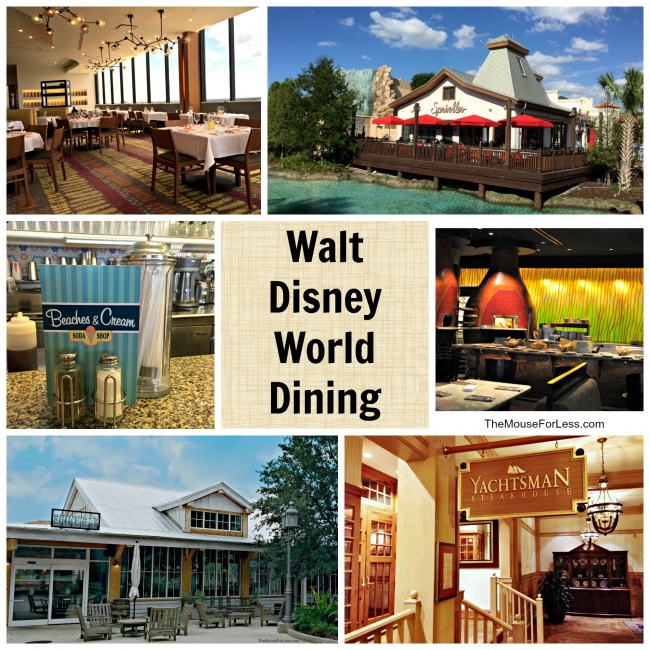 Dining at Walt Disney World is an experience that you won't want to miss. You can find traditional theme park fare such as chicken strips and hamburgers.  There is also so much more to offer both in the parks and at the resorts. Guests will find cuisine from around the world created by award winning chefs.
Walt Disney World Dining
Guests can choose from quick-service meals, full table-service restaurants, or just a quick snack on the go. No matter what the venue, guests will find something unique with Walt Disney World Dining. The Disney chefs also make sure that there are healthy ingredients on the menu. Fresh fruits and vegetables can be found at virtually all restaurants. Disney is renowned for being sensitive to special dietary needs.  Guests with special dietary restrictions can be accommodated.  If you are dining at a sit down restaurant, note your needs on your reservation and ask to speak to a chef before you dine.
There are so many wonderful restaurants, how do you choose? Start by taking a look at the restaurant menus. Then browse all of the tips and ideas for making the most of your meals while you are at Walt Disney World.
Walt Disney World Restaurants & Dining Options
Restaurant Menus
Advance Dining Reservations
Seasonal Dining Information
Animal Kingdom Dining Options
Disney's Hollywood Studios Dining
Epcot Future World/World Showcase Dining Options
Magic Kingdom Dining Options
Water Parks Dining Options
Walt Disney World Dining Packages
Disney's Dining Packages
Disney's Quick Service Dining Package
Disney's Standard Dining Package
Disney's Deluxe Dining Package
Participating Disney Restaurants 2019
Disney Dining Plan 2 Table Service Credit Restaurants
Disney Dining Plan Snacks
Disney Dining Plan Tracker (in Excel format)
Best Walt Disney World Quick Service Restaurant Values
Best Walt Disney World 1 Table Service Credit Restaurants
How To Use Disney's Quick Service Dining Plan During Epcot's Festivals
Walt Disney World Dining Discounts and Money Saving Tips
Annual Passholder Dining Discounts
Tables in Wonderland
Disney Dining Discounts Pocket Guides
Top Ten Ways to Save Money on Dining
Money-Saving Disney Dining Tips
Walt Disney World Area Grocery Delivery Services
Walt Disney World Area Grocery Stores
Saving Money on Walt Disney World Restaurants
Disney World and Orlando Restaurant Coupons
Refillable Mugs & Beverage Tips
Refillable Souvenir Popcorn Buckets
General Walt Disney World Dining Tips
How to Use Disney's Mobile Ordering System
Tips for Making Hard to Get Dining Reservations at Walt Disney World
Tips for Making Dining Reservations for Large Parties at Walt Disney World
Tips for Making a Reservation and Dining at Be Our Guest Restaurant
Best Walt Disney World Foods & Restaurants
All You Can Eat at Walt Disney World
Best Character Breakfasts
Best Character Lunches
Best Character Dinners
Best Walt Disney World Desserts & Snacks
Best Walt Disney World Drinks
Best Walt Disney World Classic Lunch & Dinners
Best One Table Service Credit Restaurants
Top Ten Walt Disney World Adult Drinks
Top Ten Snacks Walt Disney World Snacks
Top Ten Disney Themed Table Service Restaurants
Top Ten Quick Service Restaurants at Walt Disney World
Top Ten Buffets / Family Style Restaurants at Walt Disney World
Top Ten Fine / Signature Restaurants at Walt Disney World
Top Dining Locations for a Celebration or Special Event at Walt Disney World
Special Walt Disney World Dining Options
Character Dining: Meals, Dinner Shows & Tea Parties
Wonderland Tea Party at 1900 Park Fare
Character Meet and Greet Opportunities (Which character is at what dining location)
Walt Disney World Dining Packages & Dessert Parties
Walt Disney World Dessert Parties Overview
Fantasmic! Dinner Package
Fantasmic! Dessert and VIP Viewing Experience
Rivers of Light Dining Package
Rivers of Light Dessert Party
Star Wars: A Galactic Spectacular Dessert Party
Magic Kingdom Fireworks Dessert Party
Candlelight Processional Dining Package
Eat to the Beat Concert Series Dining Package
Garden Rocks Concert Series Dining Package
Frozen Ever After Sparkling Dessert Party
IllumiNations Dining Package (at Rose & Crown)
Celebration at the Top
Highway in the Sky Dine Around
Festival of the Lion King Dining Package
Special Dietary Needs
Gluten-Free Dining at WDW
Vegetarian Dining at WDW
Tips for Dining with Allergies at Walt Disney World
Dining with Picky Eaters at Walt Disney World