Epcot | World Showcase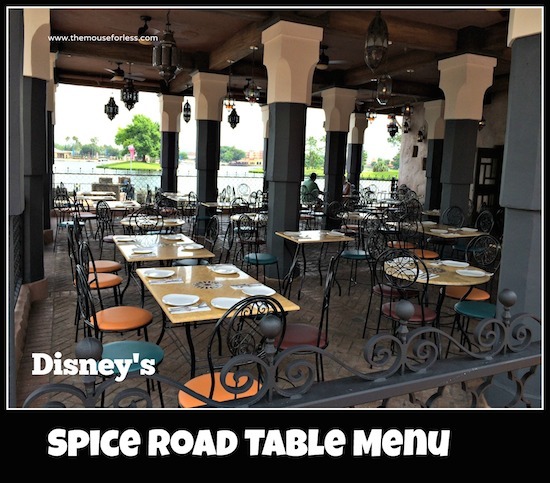 Spice Road Table offers a variety of Moroccan small plates and specialty drinks. Inspired by the outdoor cafes along the Mediterranean, the whitewashed façade of Spice Road Table is accented in icy shades of blue from the famous "Blue City" of Chefchaouen in Morocco's Rif Mountains. The restaurant offers 120 outdoor terrace seats, 60 cozy, indoor booths, Moroccan light fixtures, tilework, tapestries and art representing Morocco's indigenous Berber tribes. Regional flavors from the Mediterranean will also be highlighted, along with a scenic view of the World Showcase lagoon in front of the Morocco pavilion – perfect for viewing "IllumiNations: Reflections of Earth." Spice Road Table accepts advance dining reservations for both lunch and dinner.
Restaurant Info: Moroccan, Lunch/Dinner A la carte, $$ – $15.00 to $34.99 per adult
Find out how you can save money on dining at Walt Disney World by using one of Disney's Dining Plans.
Spice Road Table Lunch & Dinner Menu
Menu Date: 09/2018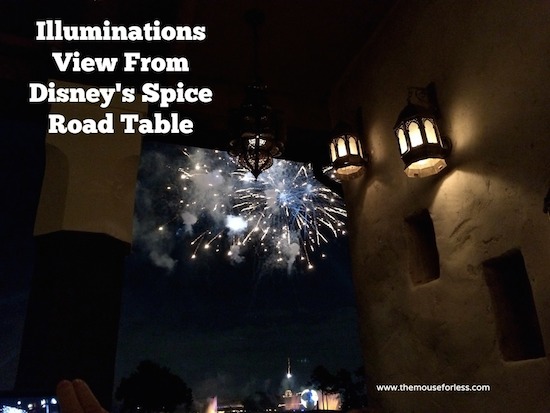 Mediterranean Small Plates
Hummus and Imported Olives – with Cornichons and Zaatar Pita Bread – $11.99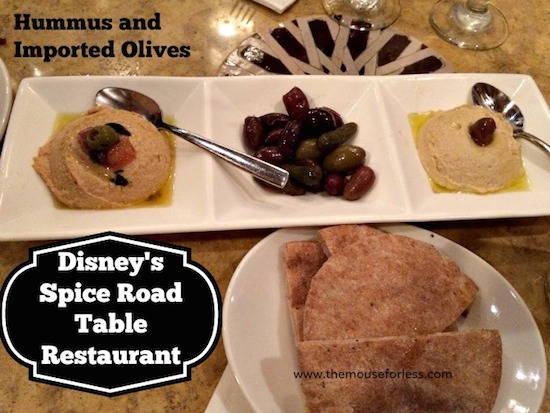 Fresh Fish Croquettes – Caper Aïoli and Black Olive Tapenade – $10.99
Spicy Garlic Shrimp – Sautéed Shrimp with Dried Chilies and Fried Garlic – $10.99
Moroccan Lamb Sausage – North African Spicy Lamb Sausage served with Tomato, Red Onion, and Cilantro Salad – $9.99
Fried Calamari – with spicy Harissa and Capers Aïoli Sauce – $12.99
Rice-stuffed Grape Leaves – Fried Capers, Raisins, and fresh Nutmeg – $8.99
Harissa Chicken Roll – with Spicy Ketchup – $8.99
Brie Fondue – Baked Brie with Rosemary Croutons – $10.99
Hummus Fries – Cumin, Cilantro, and Preserved Lemon Aioli – $8.99
Mediterranean Specialty Entrées
Mix Grill Skewers – Marinated Beef and Chicken with French Green Beans, Toasted Almonds, and Rosemary Potatoes – $29.99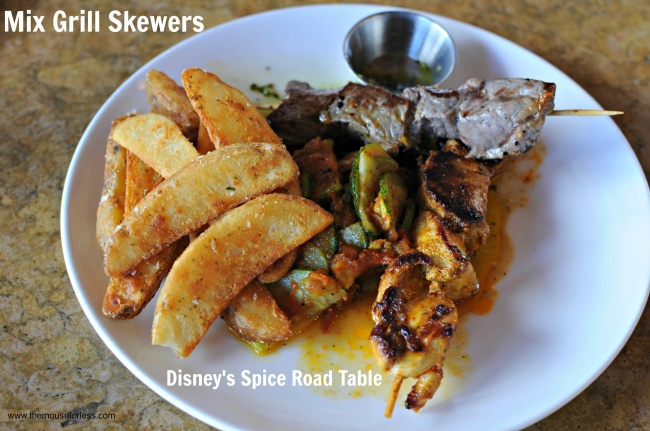 Coriander-crusted Rack of Lamb – Basmati Rice, Roasted Tomatoes, and Zucchini – $32.99
Yellowfin Tuna – Spicy Tuna with Eggplant, Zucchini, Capers Salad, and Basil Oil – $28.99
All Natural Roasted Chicken – Fennel-Fingerling Potatoes in Star Anise Ouzo Sauce – $26.99
Mediterranean Vegetable Platter – Harissa Hummus Fries, Rice-stuffed Grape Leaves, Mixed Olives, and Baba Ghanoush served with Pita Bread – $22.99
NY Strip Steak – served with Rosemary Potatoes, Green Beans, and Harissa Demi Glace – $34.99
Lamb Sliders (Three) – Brioche, Cucumber Dill, and Mint Tzatziki Sauce served with Hummus Fries – $24.99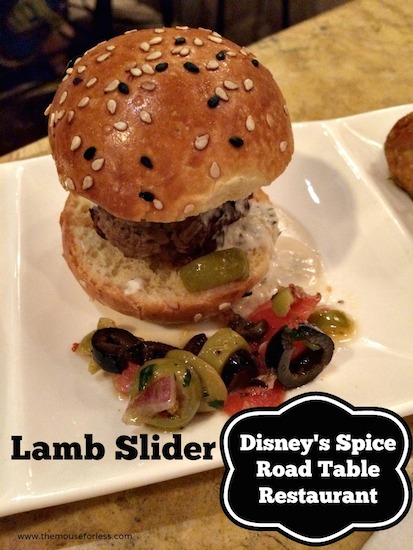 Desserts
Chocolate Pyramid – with Ice Cream – $8.99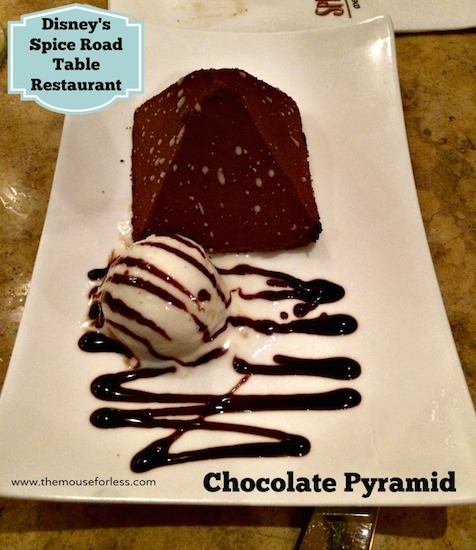 Pistachios, Saffron, and Orange Blossom Water Custard – $7.99
Assorted Baklavas – $7.99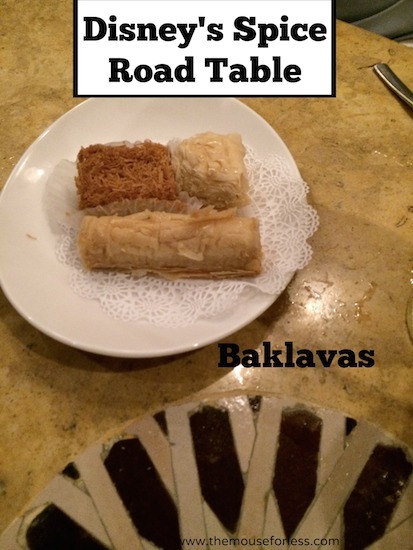 Non-Alcoholic Beverages
Iced Mint Tea or Regular Iced Tea – $3.25
Watermelon Delight – Watermelon, Cranberry Juice, and Orange Water – $6.99
Natural Sparkling Water – $4.99 small | $9.99 large
Natural Spring Water – $9.99
Soda – CocaCola Classic, Sprite, Orange Soda – $3.25
Moroccan Sunrise – Pineapple Juice, Strawberry, and Orange Water – $6.99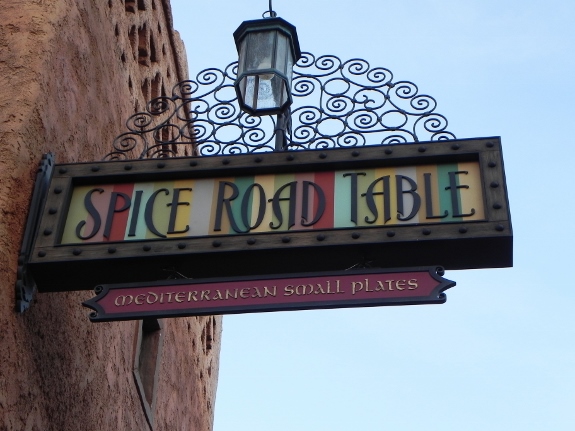 Mediterranean Beers
Casa Beer – $7.99
Efes – $7.99
Almaza – $7.99
Alfa (Greece) – $7.99
Estrella Damm – $7.99
Specialty Drinks
Spice Road Signature Sangria – White, Red, or Sparkling (Certified Organic) – $11.99 Glass, $36.99 Pitcher
Tangier's Breeze – Peach Vodka, Midori and Pineapple Juice – $12.99
Mediterranean Journey – Cointreau, Peach Vodka, Orange Juice topped with Grenadine – $12.99
Pomegranate Mimosa – Sparkling Wine, Pomegranate Juice and Orange Liqueur – $12.99
Marbella Summer – Torres Brandy, Grand Gala Liqueur, Strawberry Puree served Frozen – $12.99
Andalusian Nights – Apricot Brandy, Myers Dark Rum, Orange Juice and Piña Colada Mix – $12.99
Cyprus Sun – Almond Liqueur, Cream de Coco, Orange Juice, and Coconut Milk served Frozen – $12.99
Champagne & Sparkling Wines
Kila Cava, Spain – Classic cava scents of pear, apple, and citrus – $45.00
Tattinger – Peach and almond flavors with a full mouth feel – $80.00
Laurent Perrier, France – Crisp, fresh and elegant with hints of citrus and white fruit – $65.00
White & Rose Wines
Ksar White – Light, fruity, and vibrant blended wine – $9.50 glass, $38.00 bottle
Protocolo Vino de La Terra de Castilla Rosé, Spain – Light pink with strawberries, herbs and red currants – $7.99 glass, $28.00 bottle
La Cana Albariño, Spain – Gentle white with peach, apple and tropical fruits – $10.99 glass, $45.00 bottle
Ksara Blanc de Blanc, Lebanon – Golden hues with flavors of hazelnuts and exotic fruits – $8.50 glass, $32.00 bottle
Guerrouane White – Crisp and refreshing with citrus notes – $8.99 glass, $36.00 bottle
Moscatel de La Marina, Spain – Bright gold with peach, apricot, and grapefruit aromas – $8.99 glass, $36.00 bottle
Queen of Hearts White, Greece – Bright Gold with Aromas of Spring Flowers – $8.99 glass, $36.00 bottle
Angora Beyaz, Turkey – Pale yellow with tropical fruit flavors – $9.50 glass, $38.00 bottle
Red Wines
Guerrouane Rouge, Morocco – Ruby red with fragrances of strawberry and raspberry – $10.99 glass, $45.00 bottle
Bodegas Zerran, Spain – Bright violet color with spicy cherry and earth flavors – $11.99 glass, $48.00 bottle
Marques de Caceres Rioja, Spain – Bright ruby color with intense bouquet of raspberries and vanilla – $10.99 glass, $45.00 bottle
Tsantali Nemea Rouge, Greece – Ruby red with red fruit aromas – $11.99 glass, $48.00 bottle
Angora, Turkey – Bright violet with aromas of green pepper, tobacco and nuts – $8.99 glass, $36.00 bottle
Amazigh Red, Morocco – Deep purple with jammy black currant flavors – $9.50 glass, $38.00 bottle
Tarima Monastrell, Spain – Bright purple with powerful aromas of blueberry and blackberry – $8.99 glass, $36.00 bottle
Ksara Reserve Du Couvent, Lebanon – Dark red with a nose of smoked fruits and vanilla – $8.99 glass, $36.00 bottle
King of Hearts Red, Greece – Ruby red with red berries and sweet spices – $8.99 glass, $36.00 bottle
** Spice Road Table Menu and Prices are Subject to Change Without Notice **