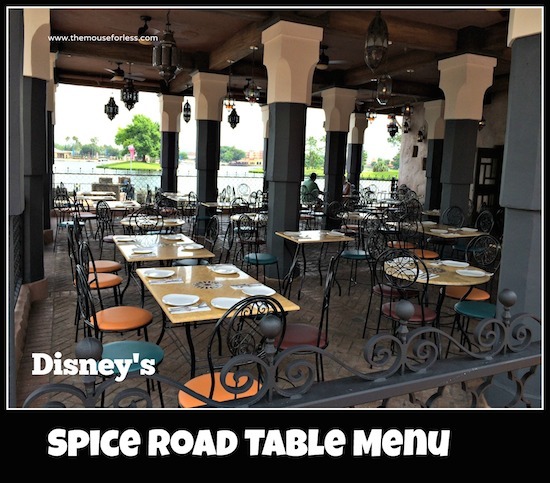 Spice Road Table offers a variety of small Moroccan plates and specialty drinks. Inspired by the outdoor cafes along the Mediterranean, the whitewashed façade of Spice Road Table is accented in icy shades of blue from the famous "Blue City" of Chefchaouen in Morocco's Rif Mountains. The restaurant offers 120 outdoor terrace seats, 60 cozy, indoor booths, Moroccan light fixtures, tilework, tapestries and art representing Morocco's indigenous Berber tribes. Regional flavors from the Mediterranean will also be highlighted, along with a scenic view of the World Showcase lagoon in front of the Morocco pavilion – perfect for viewing "Harmonious." Spice Road Table accepts advance dining reservations for both lunch and dinner.
Spice Road Table is located in Disney's Epcot theme park.  Find more Walt Disney World dining locations on our Walt Disney World Resort menus page.
Restaurant Info: Moroccan, Lounge A la carte, $$ – $15.00 to $34.99 per adult
Find out how you can save money on dining at Walt Disney World by using one of Disney's Dining Plans.

Planning a Walt Disney World Vacation?
For a Free no-obligation quote, contact our sponsor
The Magic For Less Travel
. The Magic For Less Travel is an Authorized Disney Vacation Planner and has been helping guests plan magical vacations since 2002. Receive the best prices and free travel planning services. Their fee-free services will help you save time, money, and stress while planning a vacation designed around you and your needs!
Spice Road Table Lounge Menu
Menu Date: 2023
Mediterranean Small Plates
Tagine – Seasonal Vegetables, Spiced Chickpea Stew, Herbed Couscous – $13.00
House Made Hummus Fries – Citrus Chipotle and Preserved Lemon (Plant-based) – $10.00
Pomegranate-Chili Crispy Cauliflower – Red Pepper Aleppo Sauce (Plant-based) – $11.00
Fried Calamari – Rémoulade and Harissa Sauce – $13.00
Grilled Lamb Kefta – Tzatziki, Radish and Blistered Cherry Tomato – $12.00
Naan Spreads – Hummus, Chermoula, Marinated Olives, Za'atar – $11.00
Spicy Shrimp – Chili, Garlic, Peri Peri Sauce – $14.00
Tiropitakia – Cheese-filled Phyllo, Cucumber-Tomato Relish – $9.00
Dolmas – Grape Leaves filled with Rice and Herbs, Marinated Olives, Charred Lemon (Plant-based) – $9.00
Spiced Chicken – Ras el Hanout, Mint Yogurt and Tabbouleh – $11.00
Spice Road Table Sampler – Lamb Kefta, Spiced Chicken, Tiropitakia – $15.00
Dessert Platter – Assorted Moroccan Pastries – $10.00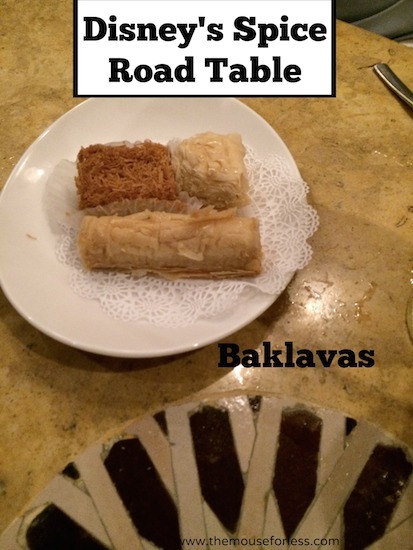 Non-Alcoholic Beverages
Moroccan Hot Tea Service– $4.29
Iced Mint Tea – $4.29
Premium Sparkling Water – $4.25
Assorted Fountain Beverages – Coca-Cola®, Diet Coke®, Sprite®, Minute Maid® Zero Sugar Lemonade – $4.59
smartwater – $5.75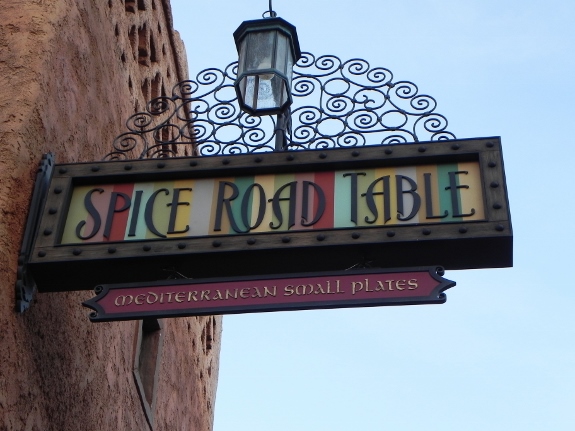 Beer & Cider
Mediterranean Beer – $9.75 – $12.00
Maeloc Strawberry Hard Cider, Spain – $10.75
Specialty Beverages
Pomegranate Acai – vitaminwater® Açai-Blueberry-Pomegranate, Bacardí Dragonberry Rum, Lime Juice, Agave, and Soda Water – $13.50
Pomegranate Mimosa – $13.50
Hibiscus Mimosa – $13.50
Blood Orange Mimosa – $13.50
Moroccan Mule – Figenza Fig Vodka, Ginger Beer, Agave, and Lime – $15.50
Medina Mixer – Starr African Rum, Van der Hum Tangerine Liqueur, and Cranberry Juice – $15.50
Sahara Spritz – Ketel One Botanical Cucumber and Mint Vodka, Soda Water, and Lime – $15.50
Iced Mint Tea – with Bombay Sapphire Gin – $14.50
Wine and Sangria
Assorted Wine – glass $11-$16; $39-$64 bottle
Allergy-Friendly Mediterranean Small Plates
Guests must speak to a Cast Member about their allergy-friendly request
Tagine – Seasonal Vegetables, Spiced Chickpea Stew, Herbed Couscous (For Egg, Fish/Shellfish. Milk, Peanut/Tree Nut, Sesame, and Soy Allergies) – $13.00
House-made Hummus Fries – Citrus Chipotle and Preserved Lemon (For Egg, Fish/Shellfish, Milk, Peanut/Tree Nut, Sesame, and Soy Allergies) – $10.00
Fried Calamari – Rémoulade and Harissa Sauce (For Gluten/Wheat, Egg, Peanut/Tree Nut, and Soy Allergies) – $13.00
Grilled Lamb Kefta – Tzatziki, Radish, Blistered Cherry Tomato (For Gluten/Wheat, Egg, Fish/Shellfish, Peanut/Tree Nut, Sesame, and Soy Allergies) – $12.00
Tiropitakia – Cheese-filled Phyllo, Cucumber-Tomato Relish (For Fish/Shellfish and Sesame Allergies) – $9.00
Naan Spreads – Hummus, Chermoula, Marinated Olives, Za'atar (For Egg, Fish/Shellfish, Peanut/Tree, and Soy Allergies) – $11.00
Spicy Shrimp – Chili, Garlic, Peri Peri Sauce (For Egg, Fish, Milk, and Peanut/Tree Nut Allergies) – $12.00
Pomegranate-Chili Crispy Cauliflower – Red Pepper Aleppo Sauce (For Egg, Fish/Shellfish, Milk, Peanut/Tree Nut, Sesame, and Soy Allergies) – $11.00
Spiced Chicken – Ras el Hanout, Mint Yogurt, Tabbouleh (For Egg, Fish/Shellfish, Peanut/Tree Nut, and Soy Allergies) – $11.00
Dolmas – Grape Leaves filled with Rice and Herbs, Marinated Olives, Charred Lemon (For Gluten/Wheat, Egg, Fish/Shellfish, Milk, Peanut/Tree Nut, and Soy Allergies) – $9.00
Spice Road Table Sampler – Lamb Kefta, Spiced Chicken, Tiropitakia (For Peanut Allergies) – $15.00
Dessert Platter – Assorted Moroccan Pastries (For Fish/Shellfish and Sesame Allergies) – $10.00
** Spice Road Table Menu and Prices are Subject to Change Without Notice **