Disney Springs | The Landing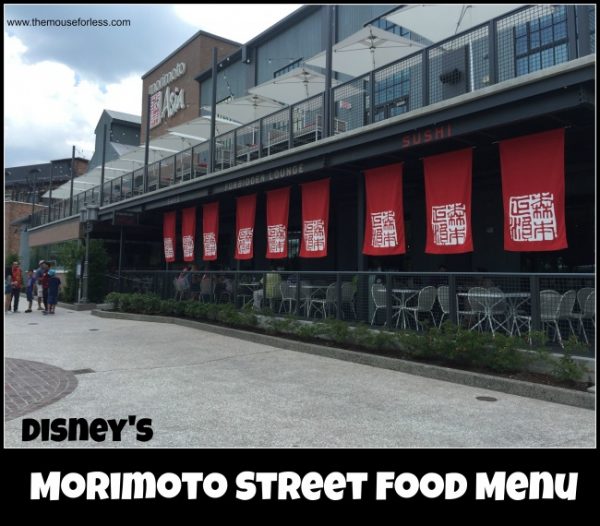 Quick Service dining located on the lower outdoor terrace of the Morimoto Asia restaurant. Morimoto Street Foods offers a range of popular menu items priced at $15 and under.
Restaurant Info: Asian and Sushi Cuisine; Dinner; $ – $14.99 and under per person
Find out how you can save money on dining at Walt Disney World by using one of Disney's Dining Plans.
Morimoto Street Food Menu
Menu Date: 04/2019
Ramen
Spicy Kimchi Ramen – Bulgogi Beef, Scallion, Kimchi, Soy Marinated Egg, Beef and Chicken Broth – $14.00
Ginger Chicken Ramen – Sake Steamed Ginger Chicken, Soy Marinated Egg, Scallion, Cilantro and Sesame – $12.00
Bites
Morimoto Baby Ribs (3 pcs) – Pork Ribs, Cilantro and Hoisin Sweet Chili Glaze – $10.00
Takoyaki (6 pcs) – Octopus Fritter, Nori, Pickled Ginger and Okonomi Sauce – $6.00
Pork Egg Roll (2 pcs) – Pork and Cabbage – $8.00
Noodles
Chilled Sesame Lo-Mein Noodle – Sesame peanut sauce, nappa cabbage, cilantro, thai basil, peppers – $12.00
Sushi and Onigiri
California Roll – Guacamole, cucumber – $8.00
Shrimp Tempura Roll – Lettuce, cucumber – $8.00
Beverages
Assorted Beverages – $3.00
Dasani Bottled Water – $3.00
Assorted Iced Teas – Organic green tea with citrus and ginkgo or pekoe black tea – $5.00
Nitro Tea – Nitrogen Infused Organic Tea – $6.00
Popping Boba Tea – Organic Green Tea with Citrus and Ginko or Pekoe Black Tea with choice of Boba Flavors – $6.00
South Seas Slush – Black tea and lemonade, guava mango, pineapple and ginger – $6.00
Alcoholic Beverages
Kirin Beer – $9.00
Selection of Canned Beer – $7.00 -12oz; $9.00 – 16oz; $11.00 – 21oz
Baird Japanese Seasonal Craft Beer – $11.00
Singapore Slush – Yuzu lemonade with kaffir lime vodka – $8.00
** Morimoto Street Food Menu and Prices are Subject to Change Without Notice **