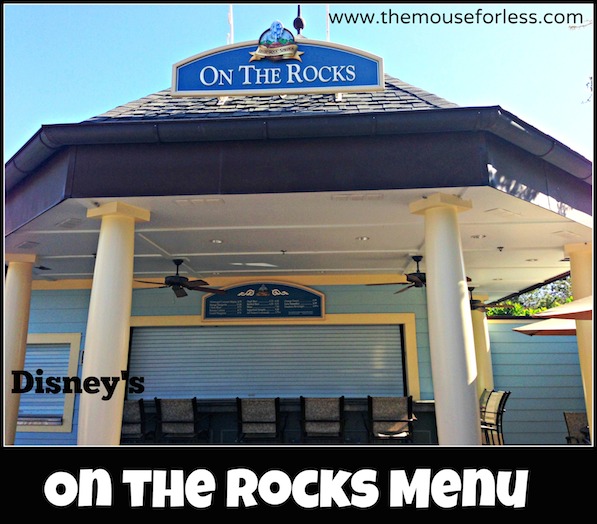 Sip on spring water or more robust refreshments like Saratoga Lager at this poolside gazebo bar.  On the Rocks Pool Bar offers a view of the High Rock Spring pool.
On the Rocks Pool Bar is located in Disney's Saratoga Springs Resort.  Find more Walt Disney World dining locations on our Walt Disney World menus page.
Restaurant Info: Beverage, $
Find out how you can save money on dining at Walt Disney World by using one of Disney's Dining Plans.

Planning a Walt Disney World Vacation?
For a Free no-obligation quote, contact our sponsor
The Magic For Less Travel
. The Magic For Less Travel is an Authorized Disney Vacation Planner and has been helping guests plan magical vacations since 2002. Receive the best prices and free travel planning services. Their fee-free services will help you save time, money, and stress while planning a vacation designed around you and your needs!
On the Rocks Pool Bar Menu
Menu Date: 2023
Signature Salads
Saratoga with Chicken – $11.59
Chilled Chicken, mixed Field Greens, Dried Blueberries and Cranberries, Apples, spiced Walnuts, Crispy Croutons, and Lemon-Poppy Seed Dressing
Without Chicken – $9.59
Caesar Salad with Chicken – $11.29
Chilled Chicken, Romaine, Crispy Croutons, and Shredded Parmesan served with Caesar Dressing
Without Chicken – $9.29
Savory Selections
Cheese Steak Sandwiches – $11.79
Sliced Beef, Caramelized Onions, Red Peppers, and Provolone on a French Baguette served with House-made Saratoga Chips
Hot Ham and Cheese Sandwich – $11.29
Black Forest Ham, Smoked Gouda, Dijon Mustard, Herbed Oil, and Quattro Formaggi Spread on a Ciabatta Bread served with House-made Saratoga Chips
Italian Sub Sandwich – $11.29
Sliced Ham, Salami, Mortadella, Provolone, Pepperoncini, Lettuce, and Tomato on a French Baguette with Herbed-Red Wine Vinaigrette served with House-made Saratoga Chips
Barbecue Pulled Pork Sandwich – $10.79
Barbecue Pork topped with Creamy Coleslaw and Mango Rum Barbecue Sauce on a Kaiser Roll served with House-made Saratoga Chips – $10.79
Plant-based Gyro – $10.79
Plant-based Sausage, Hummus, Plant-based Tzatziki, Lettuce, Tomato, Onion, Cucumber, Kalamata Olives, and Golden Raisins in a baked Pita with House-made Saratoga Chips
Chicken (4 Piece) – $10.49
Served with House-made Saratoga Chips
Thin Crust Pies
Three Meat Pizza – $10.79
Pepperoni, Meatball, Bacon, and Red Pepper Flakes
Margherita Pizza – $10.29
Roma Tomatoes, Fresh Mozzarella, Basil, and Roasted Garlic Aioli
Pepperoni Pizza – $10.29
Cheese Pizza – $9.79
Kids' Meals
PB&J Uncrustables (Plant-based) – $6.79
Served with Grapes, Carrot Sticks, and choice of small Lowfat Milk or small Dasani Water Bottle
Macaroni & Cheese – $7.29
Served with Grapes, Carrot Sticks, and choice of small Lowfat Milk or small Dasani Water Bottle
Chicken Strips – $9.49
Served with Grapes, Carrot Sticks, and choice of small Lowfat Milk or small Dasani Water Bottle
Featured Cocktails
Millionaire Margarita – $15.50
1800 Reposado Tequila, Grand Marnier, Lime Juice, and Sweet-and-Sour
Alcoholic Beverages
Sunshine Margarita – $16.50
Lunazul Reposado Tequila, Cointreau, and Sweet-and-Sour with Juices of Orange and Lime
Blueberry Lemonade – $15.50
Three Olives Blueberry Vodka, Bols Blue Curaçao, and Minute Maid® Premium Lemonade with Juices of Lemon and Pomegranate topped with Sprite®
Bourbon Breeze – $16.50
Old Forester Bourbon with Cranberry, Lime and Pomegranate juices topped with Fever-Tree Ginger Beer
 Banana Cabana – Cruzan Mango Rum, Parrot Bay Coconut Rum, Bols Crème de Banana,Orange Juice, and Pineapple Juice with a float of Grenadine – $15.00
Captain's Mai Tai – $15.50
Captain Morgan Original Spiced Rum, Bols Amaretto, and Tropical Juices topped with float of Plantation Original Dark Rum
Cucumber and Mint Vojito – $15.50
Poolside Iced Tea – $16.50
Absolut Vodka, Bacardi Superior Rum, Beefeater Gin, Jose Cuervo Tradicional Tequila, Cointreau, and Sweet-and-Sour topped with Coca-Cola
Frozen Alcoholic Beverages
Pina CoLAVA – $15.50
Bacardi Raspberry Rum blended with flavors of Coconut, Pineapple, and Raspberry Purée
Frose – $15.50
Featuring Meomi Rosé and Tito's Handmade Vodka
Strawberry Margarita – $16.59
Lunazul Reposado Tequila and Lime Juice blended with Strawberry Purée
Beer
Assorted Beer Bottle, Can, or Draft – $8.50 – $12.75
Wine and Sangria
Assorted Wine – $10.00 – $15.00
Opici Family Sangria – $12.00
Red or White
Non-Alcoholic Beverages
Minute Maid Premium Lemonade – $4.99
Strawberry Smoothie – $5.99
Strawberry Purée blended with Nonfat Yogurt
DASANI Bottled Water – $3.75
Lava Smoothie – $5.99
Raspberry Purée blended with Piña Colada Mix
smartwater – $5.75
POWERade Mountain Berry Blast – $4.69
Fever Tree Ginger Beer – $4.99
** On the Rocks Menu and Prices are Subject to Change Without Notice **