Disney's Hollywood Studios | Hollywood Blvd. Area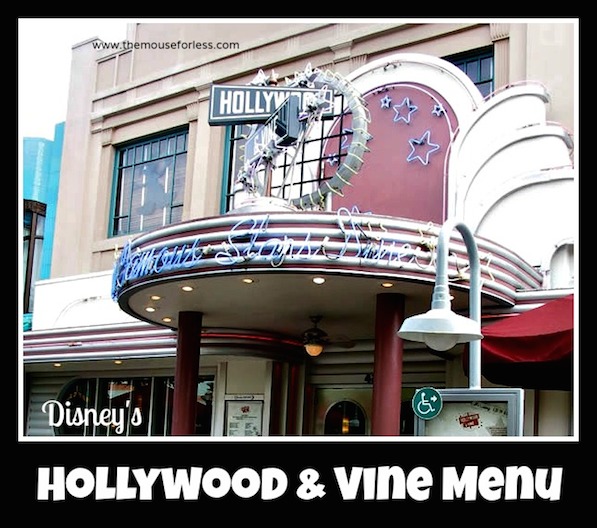 Disney Junior Play n' Dine Breakfast Buffet Menu
Minnie's Seasonal Dine Lunch & Dinner Menu
Hollywood and Vine entertains you with Disney Junior character dining for breakfast. Plus, during special musical moments kids are invited to get up and join in the fun with the characters. For lunch and dinner, Hollywood and Vine offers Minnie's Seasonal Dine.
Restaurant Info: American; Character Breakfast, Lunch and Dinner Buffets; $$ – $$$ – $35.00 to $59.99 per adult
Find out how you can save money on dining at Walt Disney World by using one of Disney's Dining Plans.
Hollywood and Vine Disney Junior Play 'n Dine Breakfast Buffet
Menu Date: 08/2018
Breakfast from 8:00 a.m. – 10:45 a.m.
A few of your Disney Junior favorites are coming to Hollywood & Vine as a Part of the Disney Junior Play n' Dine breakfast. Don't miss this chance to eat, play and laugh along with friends from Doc McStuffins, Sofia the First, Jake and the Never Land Pirates and Roadster Racers Goofy during this fun and interactive dining experience.
Entrees
Chef's Selection of Fresh Sliced Fruits, Yogurts, and Cottage Cheese
Breakfast Pastries – Danishes, Croissant, Cinnamon Rolls, and Assorted Breads
Assorted Hot and Cold Cereals
Omelets Made to Order
Breakfast Meats – Bacon, Sausage, and Sliced Ham
Breakfast Frittata, Scrambled Eggs and Breakfast Potato Casserole
Sausage Gravy and Biscuits
Children's Breakfast Buffet – Mickey Waffles, Pancakes, Potato Tots
Hollywood and Vine –  Minnie's Seasonal Dine Lunch & Dinner Buffet
Menu Date: 08/2018
Minnie Mouse will be hosting special dinner parties throughout the year at Hollywood & Vine restaurant, celebrating the cheerful togetherness of the holidays, the glamour of Hollywood, the delight of spring, the excitement of summer and the frightening fun of Halloween. Each season brings with it unique music, décor, costumes, menu items, party favors, and interactive musical moments.
Characters that may appear: Minnie Mouse hosts, Mickey Mouse, Donald Duck, Daisy Duck and Goofy
Guests can see which seasonal offerings are available during their selected dates at the time they make their reservations by calling 407-WDW-DINE or visiting Disneyworld.com/dine. A 12-month schedule is also listed below and meals may be reserved up to 180 days in advance.
Minnie's Silver Screen Dine is available to attend from early January through mid-March. Minnie's Silver Screen Dine will celebrate the glitz and glam of Hollywood.
Minnie's Springtime Dine is available to attend from mid-March through early June 4. Minnie's shaking off the winter chill with a fabulous dspringtime celebration! This character dining experience features Minnie Mouse and friends dressed in their garden party best as they host a springtime soiree. Items on the menu include classic picnic foods with a twist, like refreshing coconut-lavender lemonade and springtime salads like watercress or basil-lime fruit salad. Guests can also awaken their senses with enchanting entrees, a spring spectacular carving station and divine desserts.
Minnie's Summertime Dine is available to attend from early June through early September. It's a sizzling summer celebration as Minnie Mouse and all of her friends head to Hollywood & Vine for a beach-inspired dinner bash celebrating the excitement of summer.
Minnie's Halloween Dine is available to attend from early September through early November. Head on down to Minnie Mouse's favorite haunt as she invites all her friends for a frightfully festive Halloween dinner party at Hollywood & Vine!
Minnie's Holiday Dine  is available from early November through early January. Deck the halls at a dazzling dinner party filled with holiday cheer and the joy of the season!
Creative array of Salads
Freshly Made Soup
Pastas and Baked Breads
Peel n' Eat Shrimp
Roasted Carved Meat
Chicken
Seasonal Fish
Vegetable Creations
Children's Buffet – Chicken Nuggets, Broccoli, Macaroni & Cheese
Desserts
Hand-crafted Desserts and Pastries
Soft Serve Ice Cream – Chocolate and Vanilla
** Hollywood and Vine Menu and Prices are Subject to Change Without Notice **