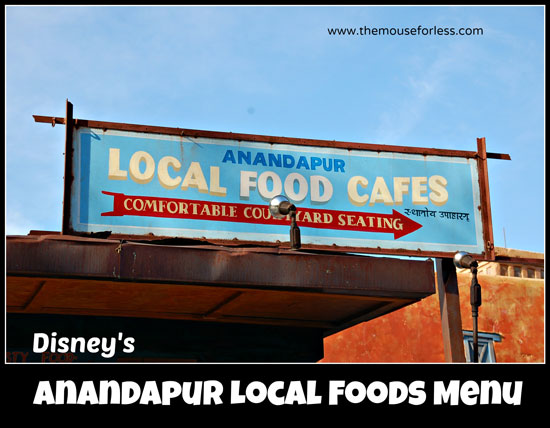 Anandapur Local Food Cafes has the feel of a local Indian market and features a partially covered outdoor eating area with a lovely water fountain. This is a great place to stop by after riding Kali River Rapids. Small shops near the courtyard offer flip flops, towels, socks and other supplies for riders who have emerged from Kali and are looking for something to help dry off!
Anandapur Local Food Cafes is located in Disney's Animal Kingdom theme park. Find more Walt Disney World dining locations on our Walt Disney World Resort menus page.
Restaurant Info: American, Lunch/Dinner/Snack, $ – under $14.99 per adult
Find out how you can save money on dining at Walt Disney World by using one of Disney's Dining Plans.

Planning a Walt Disney World Vacation?
For a Free no-obligation quote, contact our sponsor
The Magic For Less Travel
. The Magic For Less Travel is an Authorized Disney Vacation Planner and has been helping guests plan magical vacations since 2002. Receive the best prices and free travel planning services. Their fee-free services will help you save time, money, and stress while planning a vacation designed around you and your needs!
Anandapur Local Food Cafes Breakfast Menu
Menu Date: 05/2022
Entrées
Egg White English Muffin – Egg Whites, American Cheese, and tomato on a toasted English Muffin. Served with Hash Brown Bites. – $9.49
Sausage and Egg English Muffin – Eggs, American Cheese, Sausage on a toasted English Muffin. Served with Hash Brown Bites. – $10.99
Breakfast Bowl – Scrambled Eggs, Cheddar Cheese, Breakfast Potatoes, Pepper and Onions – $10.99
Breakfast Bowl with Bacon or Sausage – Scrambled Eggs, Cheddar Cheese, Breakfast Potatoes, Pepper and Onions with choice of Bacon or Sausage – $11.49
Salads and Sides
Fruit Salad – Fresh Seasonal Fruit – $7.99
Yogurt Parfait – Lowfat Yogurt and Strawberry Compote served with Granola – $7.99
Hash Brown Bites – $4.99
Kids' Meals
For Guests Ages 9 and Under
Pancake and Sausage Stick – includes choice of 1% Mickey Milk, Small Bottled Water or 100% Minute Maid® Apple Juice – $8.99
French Toast Sticks – includes choice of 1% Mickey Milk, Small Bottled Water or 100% Minute Maid® Apple Juice – $8.99
Beverages
Simply Orange Orange Juice – $4.59
Coffee – Regular or Decaf – $4.50
Minute Maid Apple Juice – $4.59
Anandapur Local Foods Cafes Lunch and Dinner Menu
Menu Date: 05/2022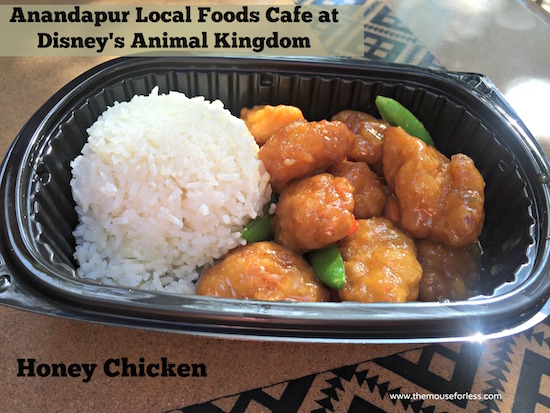 Entrees
Honey Chicken – Tempura Chicken, Carrots, Snap Peas, Honey Sauce and White Rice – $12.99
American Kobe Beef Cheeseburger –  served with American Cheese, Lettuce, Tomato, Asian Pickles and French Fries – $15.99
Teriyaki Chicken Salad – $12.99
Vegetable Tikka Masala -Garbanzo Beans, Zucchini, Peppers, Onions and Tomatoes in a creamy Tikka Masala Sauce served with White Rice   – $12.99
Sweet – n – Sour Tempura shrimp – Golden Crisp Tempura Shrimp, sweet – n- sour sour sauce and white rice  – $14.99
Korean Fried Chicken Sandwich – $13.99
Sides
Side Pork Egg Rolls (2) – $6.99
Chicken Fried Rice – $5.99
Basket of French Fries – $4.49
Desserts
Minute Maid Frozen Lemonade Cup – $5.29
Mini Mango Pie – $5.29
Mini Chocolate Silk Cake – $5.29
Kids' Meals
For Guests Ages 9 and Under
Cheeseburger – includes Carrot Sticks, Fresh Fruit and choice of 1% Mickey Milk, Small Bottled Water or 100% Apple Juice $8.99
Chicken Strips – includes Carrot Sticks, Fresh Fruit and choice of 1% Mickey Milk, Small Bottled Water or 100% Apple Juice – $8.99
Uncrustables – includes Carrot Sticks, Fresh Fruit and choice of 1% Mickey Milk, Small Bottled Water or 100% Apple Juice – $8.49
Beverages
Assorted Fountain Beverages – $4.50
Souvenir Panda Cup – $10.49
Dasani Bottled Water – $3.50
Milk – $3.59
Nestlé® Nesquik® Chocolate Milk – $3.59
Minute Maid Apple Juice – $4.59
Alcoholic Beverages
Bud Light – $8.00
Safari Amber – $9.00
Beso Del Sol Sangria – $11.00
** Anandapur Local Food Cafes Menu and Prices are Subject to Change Without Notice **