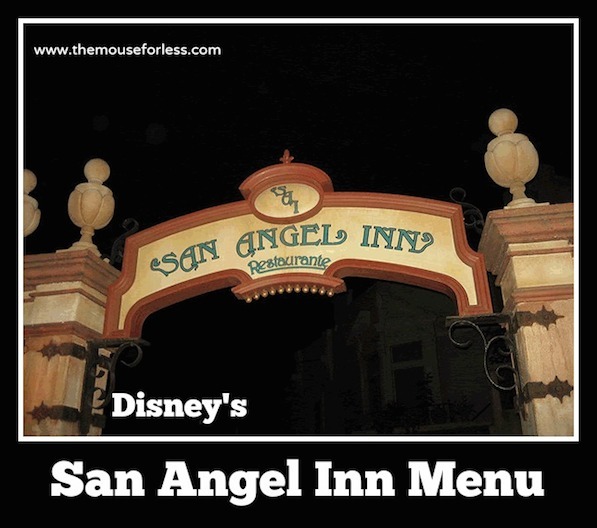 Bienvenidos to this colorful and delicioso twilight retreat of a restaurant on the banks of the Mexico pavilion's "River of Time." San Angel Inn is modeled after a 17th-century hacienda at the base of Mayan ruins.
San Angel Inn is located in Disney's Epcot theme park.  Find more Walt Disney World dining locations on our Walt Disney World Resort menus page.
Restaurant Info: Mexican, Lunch/Dinner A la carte, $$ – $15.00 to $34.99 per adult
Find out how you can save money on dining at Walt Disney World by using one of Disney's Dining Plans.
Lunch/Dinner Menu   Kids Lunch & Dinner Menu

Planning a Walt Disney World Vacation?
For a Free no-obligation quote, contact our sponsor
The Magic For Less Travel
. The Magic For Less Travel is an Authorized Disney Vacation Planner and has been helping guests plan magical vacations since 2002. Receive the best prices and free travel planning services. Their fee-free services will help you save time, money, and stress while planning a vacation designed around you and your needs!
San Angel Inn Lunch/Dinner Menu
Menu Date: 02/2023
Soups and Appetizers
Queso Fundido – Melted Monterey Jack Cheese topped with Chorizo, Poblano Peppers and Onions served with Flour Tortillas – $15.00
Guacamole – Topped with Mango and Toasted Pumpkin Seeds served with Chicharrónes and Salsa Valentina – $13.00
Tostadas de Pollo – Crispy corn tortillas topped with beans, chipotle chicken, chopped romaine lettuce, queso fresco and crema Mexicana – $15.00
Sopa Azteca – Traditional Tortilla Soup served with Fried Corn Tortilla Strips, Avocado, Cheese, and Chile Pasilla – $12.00
Totopos Con Queso – Corn Tortillas with sides of White Cheddar Cheese and Salsa – $6.00
Entrées
Pollo a Las Rajas – Grilled Chicken Breast over a bed of Roasted Garlic Potatoes with Onions, Poblano Peppers, Corn, and Poblano Pepper Cream Sauce topped with Queso Fresco – $30.00
Huarache Vegeteriano – Fried corn masa topped with pinto beans, grilled queso fresco, nopales and pea tendrils served with a side of salsa verde. Add Chicken or shaved Ribeye $8 – $22.00
Tacos de Ribeye – Ribeye, thinly sliced, with Poblano peppers, red onions, bacon and Monterey Jack cheese served with corn tortillas and plantains, topped with crema Mexicana and cotija cheese – $30.00
Camarones a la Diabla – Guajillo Pepper and Garlic-sautéed Shrimp served atop Poblano Rice served with roasted cauliflower – $31.00
Ensalada Cesar – Whole-leaf Romaine Lettuce served with Caesar Dressing and topped with Shaved Parmesan and Crispy Monterey Jack Cheese. Add Chicken 6.00 or Shrimp 8.00  – $18.00
Chuleta de Puerco – Bone-in pork chop topped with mole sauce made with nuts and spices served with roasted cauliflower and plantains topped with queso cotija and crema Mexicana – $39.00
Enchiladas de Pollo – Corn Tortillas filled with Chipotle Chicken covered with Salsa Verde, Crema Mexicana, Cotija Cheese and Crispy Onion Straws atop Refried Beans served with Plantains topped with Crema Mexicana and Cotija Cheese – $27.00
Baja Tacos de Pescado – Beer-battered fried Cod, Shredded Cabbage, Chipotle-Lime Aioli and Pineapple Relish in flour tortillas – $30.00
Carne Asada – New York Strip topped with chipotle butter served with grilled queso fresco, nopales relish, grilled spring onion and plantains topped with queso cotija and crema Mexicana – $52.00
Pescado A la Veracruzana – Seared snapper atop potatoes with a cilantro-lime vinaigrette made with capers, olives, bell peppers, Spanish onions and tomatoes – $38.00
Desserts
Chocolate Fiesta Pyramid – A festively decorated Chocolate Pyramid filled with Mexican Chocolate Mousse and Toffee atop a traditional Tres Leches Cake, and accompanied by Ice Cream. Perfect for sharing. – $34.00
Tres Leche de Horachata – Rice Milk soaked Sponge Cake topped with Sweet Corn Ice Cream and toasted Almonds – $11.00
Capirotada – Abuelita chocolate bread pudding with chocolate Creme Anglaise – $11.00
Trio di Nieves – assortment of seasonal Mexican flavored sorbets with a Berry Coulis – $10.00
Brownie Sundae – Fudge brownie served with dulce de leche ice cream and topped with cajeta sauce – $10.00
Sweet Corn Ice Cream – $9.00
Signature Drinks & Margaritas
San Angel Inn Margarita – Casa Dragones blanco tequila, La Favorite orange liqueur, agave nector, freshly squeezed lime juice. Served on the rocks with black ant salt rim – $23.00
Black Magic – Created by Neil Patrick Harris. Ojo de Tigre mexcal, blackberry purée, black currant liqueur, lime and mint. Served frozen. – $21.00
La Cava Avocado – Tromba blanco tequila, melon liqueur, fresh avocado, lime juice, hibiscus salt rim – $17.00
El Diablo – Tromba blanco tequila, Ilegal mezcal, fresh lime juice, agave, cucumber-jalapeño juice, hibiscus salt rim – $17.00
The Cucumber – Tromba blanco tequila, fresh cucumber and lime juice, orange liqueur, Abasolo corn whiskey, agave, Tajín chile-lime powder rim – $16.00
Blood Orange – Ambhar Blanco Tequila, sweet-tart mix of blood orange, rum, Ancho Reyes chile liqueur, Tajín chile-lime powder rim – $17.00
The Wild One – Libélula joven tequila, Combier orange liqueur, mango purée, ginger-passion fruit cordial, fresh lime juice, hint of ilegal mezcal, hibiscus salt rim – $17.00
Clasica – Mi Campo reposado tequila, orange liqueur, lime juice, agave with a salt rim – $16.00
San Angel Inn Premium Tequila Flight – Casa Dragones Blanco, Clase Azul Reposado, Santanera Blend Extra Añejo – $45.00
Traditional Tequila Flight – Volans blanco, Ambhar reposado, Tromba añejo – $25.00
Mezcal Tequila Flight – Bozal ensamble, ilegal espadín, Sacrvm Madrecuixe – $20.00
San Angel Inn Kids' Lunch/Dinner Menu
Menu Date: 02/2023
Kid's Appetizers (a la Carte)
Jr Garden Salad – Chopped Romain Lettuce and Tomato topped with Queso Fresco and choice of dressing – $4.00
Fruit Cup – Chef's Selection – $3.50
Kids' Create-Your-Own Entrées (choose 1)
Tacos – Two flour tortillas filled with grilled chicken – $11.00
Quesadillas – Two flour tortillas filled with Monterey Jack and grilled golden brown – $10.50
Grilled Chicken Breast – $11.00
Chicken Tenders – Breaded and fried chicken tenderloins – $11.00
Macaroni & Cheese – Cavatappi pasta in a rich white cheddar sauce – $11.50
Kids' Create-Your-Own Selections (choose 2)
Green Beans

Corn
Rice
Fruit (Chef's Selection)
Kids' Dessert
Dulche de Leche Ice Cream – $5.00
Chocolate Brownie – $6.00
Kids' menu items for children ages 9 and younger.
Look for the Disney Check icon on printed menus to find options that meet Disney's nutrition guidelines.
** San Angel Inn Menu and Prices are Subject to Change Without Notice **