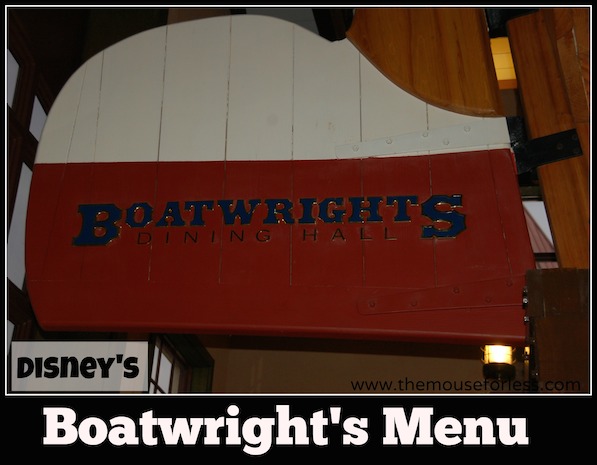 At Boatwright's Dining Hall, enjoy American cuisine with flavors of the South in this shipbuilder's paradise along the Sassagoula River. The unique shipbuilding tools, fireplaces, and frame of an authentic Louisiana Lugger are the backdrop to this casual family dining hall. After your meal at Boatwright's Dining Hall, stop by the River Roost Lounge next door for some lively entertainment by Yehaa Bob, beginning at 8:00 p.m.
Boatwright's Dining Hall is located in Disney's Port Orleans Riverside Resort.  Find more Walt Disney World dining locations on our Walt Disney World menus page.
Restaurant Info: Southern and American, Dinner, $$
Find out how you can save money on dining at Walt Disney World by using one of Disney's Dining Plans.

Planning a Walt Disney World Vacation?
For a Free no-obligation quote, contact our sponsor
The Magic For Less Travel
. The Magic For Less Travel is an Authorized Disney Vacation Planner and has been helping guests plan magical vacations since 2002. Receive the best prices and free travel planning services. Their fee-free services will help you save time, money, and stress while planning a vacation designed around you and your needs!
Boatwright's Dining Hall Menu
Menu Date: 11/2021
Appetizers
French Onion Soup Au Gratin
Gruyère Cheese, Onions, and a Toasted Crouton in a rich Beef Broth reminiscent to Pierre D'Orr's Home Village – $10.00
Mardi Gras Fritters
House-made Pimiento Cheese Fritters with Pepper Jelly – $12.00
Boudin Balls
A mix of Andouille Sausage, Smoked Sausage, and Dirty Rice Breaded and Fried. Served with Remoulade, Creole Mustard, and Pickled Vegetables. – $13.00
Amelia's Salad
Romaine Heart with Rainbow Carrots, Watermelon Radish, Roasted Tomatoes, and Crispy Black-Eye Peas with an Avocado-Tarragon Dressing (Plant-based) – $10.00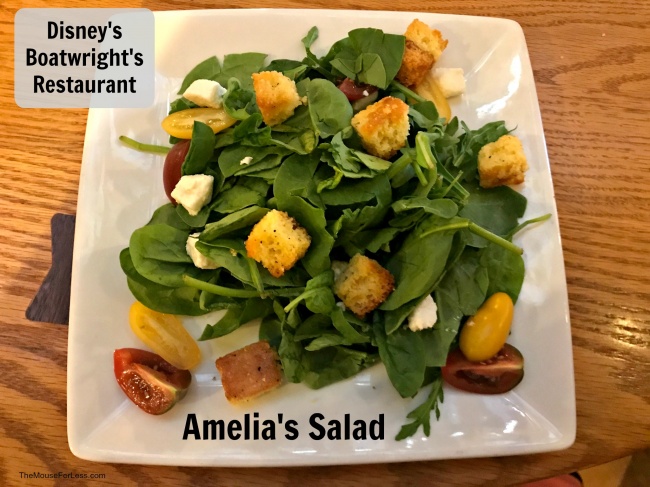 Entrées
All-You-Care-To-Enjoy Chef's Platter
Ribs, Nashville Hot Chicken, Smoked Sausage, Barbecued Beef Brisket with Mashed Potatoes, Macaroni and Cheese, Street Corn, and Green Beans – $35.00
Boatwright's Jambalaya
A New Orleans Dinnertime favorite! A Slow-cooked Spicy Shrimp, Andouille Sausage, and Chicken served with Rice. – $21.00
Boatwright's Harvest Jambalaya
Spicy Tomato Rice with Mushroom, Peppers, Onions, and Garlic (Plant-based) – $21.00
Nashville Hot Chicken
Hand-battered, Crispy-fried Hot Chicken served with Barbecue Baked Beans and Collard Greens with House-Pickles – $23.00
General Fulton's Prime Rib*
Slow-roasted Prime Rib rubbed with our specialty crafted Chicory-Coffee Blend, Mashed Potatoes, Seasonal Vegetables, and Horseradish Cream – $36.00
The Big Easy
with Dirty Rice, Seasonal Vegetables, Pickled Onions and Brown Butter Beurre Blanc – $26.00
Deep South Shrimp and Grits
Sustainable Shrimp and Andouille Sausage served with Spicy Cream Sauce over our Creamy Charleston-style Grits – $24.00
Sides
Seasonal Vegetables – $5.00
Fried Okra – $5.00
Southern Greens – $5.00
Desserts
Mississippi Mud Crème Brûlée
Chocolate Crème Brûlée, Chocolate Ganache, Chocolate Gluten-Friendly Shortbread Cookie, garnished with Fresh Strawberries and more Ganache – $8.00
Pecan Pie Cheesecake
Pecan-Graham Cracker Crust, Creamy Vanilla Cheesecake, Pecan Pie Filling, Bourbon-Caramel Sauce and Spicy Candied Pecans (Dessert contains alcohol) – $8.00
Banana Cream Pie Bread Pudding
House-made Bread Pudding with Fresh Bananas, Vanilla Crème Anglaise, Caramel Sauce, Bourbon-soaked Golden Raisins and Vanilla Ice Cream (Dessert contains alcohol) – $7.00
Sorbet
A Trio of Southern-inspired Sorbets  – $6.00
Non-Alcoholic Beverages
EARidescent Sip-a-bration
Minute Maid® Premium Lemonade and Fruity Strawberry Punch, served in a souvenir 50th Celebration Cup with a surprise Character and a little bit of magic! – $10.00
Pomegranate Lemonade
Minute Maid® Premium Lemonade with Pomegranate and Lime Juice – $5.49
Grapefruit Spritzer
Ruby Red Grapefruit and Lime Juices topped with Soda Water – $5.49
Assorted Fountian Beverages
Coca-Cola®, Diet Coke®, Coca-Cola® Zero Sugar, Sprite®, Barq's® Root Beer, Minute Maid® Zero Sugar Lemonade
Freshly Brewed Joffrey's Coffee™ – $3.79
New Orleans Chicory Coffee (Serves Two)
French Press Pot – $9.00
Specialty Hot Beverages
New Orleans Chicory Coffee (Serves Two)
French Press Pot – $9.00
Espresso
Featuring Freshly Brewed Joffrey's Coffee™ – $3.99
Cappuccino
Featuring Freshly Brewed Joffrey's Coffee™ – $4.79
Latte
Featuring Freshly Brewed Joffrey's Coffee™ – $4.79
Café Mocha – $4.99
Freshly Brewed Joffrey's Coffee™ – $3.79
Specialty Cocktails
Sazerac
Knob Creek Rye, Agave Nectar and Peychaud's Bitters with a splash of Pernod – $14.00
Southern Hurricane
Plantation Original Dark Rum, Bayou Silver Rum, and Tropical Juices topped with a float of Southern Comfort – $13.00
Rum-A-Rita
Bayou Select Rum with Bayou Satsuma Orange Liqueur, Freshly Squeezed Lime Juice, Orange Juice, and Sour Mix – $14.00
Citrus Smash
Bayou Satsuma Orange Rum Liqueur mixed with Orange Juice and topped with Tonic Water – $13.00
Dessert Cocktails
Godiva Chocolate Martini
Godiva Chocolate Liqueur, Stoli Vanil Vodka, White Crème de Cacao and Frangelico – $14.00
Baileys and Coffee
Baileys Irish Cream mixed with Freshly Brewed Joffrey's Coffee™ – $12.00
Fonseca Bin 27 Character Port
3-oz Pour – $11.00
Boatwright's Dining Hall Kids Menu
Menu Date: 11/2021
For Guests Ages 9 and Under
Appetizers
Garden Salad
with Fat-free Ranch Dressing – $3.00
Chicken Noodle Soup – $3.00
Kid's Create-Your-Own Entrée
All meals served with choice of small Lowfat Milk, small Dasani Water, or Small Minute Maid Apple Juice and two Selections
Grilled Chicken Breast – $10.00
Grilled Fish – $12.00
Cheeseburger – $10.00
Marinara with Pasta – $10.00
Macaroni and Cheese – $9.00
Kids' Create-Your-Own Selections
Broccoli
Frozen Banana Chunks
dipped in Chocolate
Green Beans
Strawberry-Banana Popsicle
House Salad
Roasted Potatoes
Mixed Fruit Cup
Mashed Potatoes
Ice Cream Sundae
** Boatwright's Dining Hall Menu and Prices are Subject to Change Without Notice **